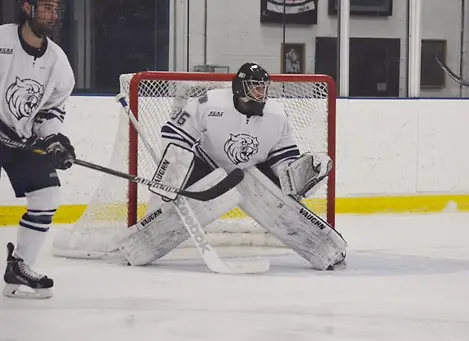 While not everyone was playing meaningful games over the weekend, there were a few trick or treat results in both the East and West over the weekend with some teams enjoying the treats and others not so happy being tricked.
Here is a quick summary of the action:
ECAC Northeast
Johnson and Wales opened the season with a dominating 5-0 win against D-II Franklin Pierce, while Suffolk also won its opener against another NE-10 school by defeating Assumption 4-3 in overtime. Endicott played its first game of the season as a member of the ECAC Northeast and tied Stonehill 1-1 despite outshooting the Skyhawks by a 44-23 margin. Stonehill's William Palmer made 43 saves to hold off the Gulls in the opener for both teams. Wentworth, behind two goals from Jake McDonough, opened with a 6-0 over Worcester State before losing on Saturday to the host school.
ECAC West
Manhattanville got out of the gates fast with a two-win weekend, including an exciting 5-4 overtime win over Salve Regina followed by a 6-1 win over independent Daniel Webster. Hobart followed a hard-fought loss at Babson with a 1-1 tie against the University of New England and Neumann came out strong, scoring 15 goals in its two wins over Daniel Webster and Salve Regina. Nazareth tied Buffalo State 2-2 on Saturday night.
MASCAC
Plymouth State accomplished something it didn't do all last season – the Panthers won a nonconference game opening with a 5-3 win over Becker at home. Fitchburg State split its games in their own shootout following Friday's loss with a convincing 7-2 win over Wentworth. Westfield State used three-point nights from both Dalton Jay and Jackson Leef to knock of Western New England by a 6-2 score.
MIAC
St. Thomas opened its season with a 4-2 win over Augsburg Friday in the MIAC Showcase. The Tommies got a pair of goals from Thomas Williams, while Joe Morris made 28 saves. The Tommies squared off with St. John's Saturday and the two teams skated to a 4-4 tie. Williams scored for the second straight game. Neal Smith scored twice to pace the Johnnies … Hamline and Gustavus Adolphus battled to a 3-3 tie in the MIAC Showcase Saturday. John Sellie-Hanson showed why he is one of the top goaltenders in the conference as he stopped a total of 40 shots. Charlie Adams,
Brandon Zurn and Kevin Novakovich all scored goals for the Pipers, who are ready to contend for a conference title and NCAA tournament berth one more time.
NCHA
Adrian and the Milwaukee School of Engineering are both going to be contenders for the NCHA title this year and played a huge season-opening series over the weekend. The Bulldogs and Raiders split their two games. MSOE won the first game 5-1 as five players scored. Kyle Brothers tallied the lone goal for the Bulldogs, while Tyler Parks, a transfer from St. Lawrence, made 24 saves for Adrian, which lost an opener for the first time in program history. Brothers propelled Adrian to a 5-3 win in the finale Saturday, scoring twice, while Mathew Thompson came through with three assists. The Bulldogs showed off their depth in goal as Kevin Entmaa made his college debut and racked up 22 saves. The Raiders got goals from three different players and should be one of the deeper teams in the league this season … Billy Kent had a big weekend for Lake Forest, scoring two goals in the Foresters' 3-2 win over Concordia (Wis.) Friday. The Foresters fell 4-1 on Saturday in the series finale as Connor Hogg scored a pair of goals for the Falcons. But Lake Forest managed to keep the Border Battle Cup by winning a shootout that followed the game. Charlie Izaguirre and Shawn Nelson both scored for the Foresters.
NEHC (formerly ECAC East)
The New England Hockey Conference is now officially replacing the conference's former alignment under the ECAC. The new name saw some of the same results in week one of the season.
Norwich defeated defending ECAC Northeast champion Nichols by a score of 3-1 on Saturday, while conference rivals Babson and Massachusetts-Boston both opened with nonconference wins. Babson took two at home against Hobart and Curry, who had lost on Friday to the Beacons. Elsewhere, Southern Maine went 1-1 in the Fitchburg Shootout, beating the hosts before being shut out by Worcester State on Saturday. Castleton and Skidmore both dropped their opening contests to Utica and Canton, respectively.
SUNYAC
Lots of conference matchups to open the season in Week 1 that saw Oswego rally from two goals down to tie Geneseo on Friday and defeat Brockport in their home opener on Saturday by a score of 2-0 and collect a valuable three points.
Geneseo took a pair of ties with Oswego and Cortland on Saturday.
Fredonia and Buffalo State tied each other on Friday night and both won nonconference games on Saturday with Fredonia posting an impressive 7-2 win over Southern New Hampshire.
Potsdam opened the season by taking both ends of a home-and-home set with conference foe Morrisville, winning the first in overtime and the road matchup by a 6-3 score behind a hat trick from Dylan Vander Esch.
Plattsburgh won its nonconference game with Canton on Saturday by a 6-2 score after racing to a 5-0 lead led by Kevin Emmerling's two goals.
WIAC
Wisconsin-Stevens Point, coming off a season where it was the national runner-up, was sharp on the power play in its 9-1 win over Lawrence Saturday. The Pointers scored four power-play goals, including two by Kyle Sharkey. Joe Kalisz and Lawrence Cornellier both scored as well and are tied for the team lead in goals through two games with three apiece. Kalisz also dished out an assist in the victory. The Pointers started freshman Jesse Gordichuk in goal and he thrived, making 28 saves … Wisconsin-Eau Claire was on point offensively in its first two games of the year, scoring 15 goals, with the majority coming in a 10-1 win over Aurora Saturday. Eight players scored, with Adam Knochenmus punching in two goals and tallying an assist. David Henry also scored a pair of goals for the Blugolds, who are averaging 40 shots per game and have yet to give up a power-play goal. Goaltender Tyler Green pushed his record to 2-0.