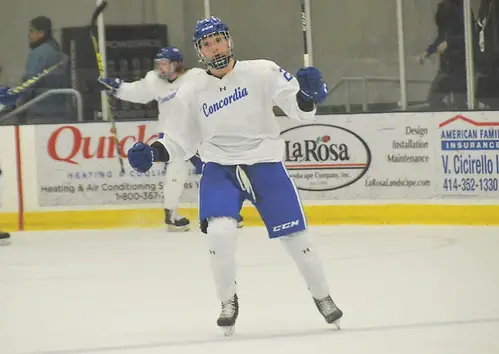 Trammell Lynes spent a lot of time in the offseason building up his strength so that the defenseman could be at his best for Concordia (Wis.) this year.
Looks like that gym time is paying off.
"I probably put on about 10 pounds through working out and got a lot faster, too," Lynes said. "I did a lot of hockey-specific training, especially with positioning on the ice. The big thing was to give an opponent as little space as possible to work with while defending him."
Lynes is in his fourth season with the Falcons and has scored two goals and dished out two assists, which matches his total from last season. His effort has helped the Falcons start 2-2, earning splits with NCHA contenders Lake Forest and the nationally-ranked Milwaukee School of Engineering.
"A 2-2 record isn't much to write home about, but we've played two good opponents, and that is a big deal," Lynes said. "I've just played my role as best as I can and have helped to make our penalty kill successful."
Lynes hails from Canada and played in the Alberta Junior Hockey League for three seasons before coming to Concordia. He said adjusting to the style of play in college was one of the biggest challenges when he arrived on campus.
"Fighting isn't something you can do at this level like you can in the AJHL," explained Lynes. "You have to learn how to defend your teammates between the whistle. Not being able to be as physical was a little challenging, but I've learned to adapt."
It is also a challenge to defend offenses in the NCHA, especially when it comes to squaring off against high-scoring teams such as national powers Adrian and St. Norbert.
"We have a lot of good teams in this league and you know guys are going to bring it offensively in every game," Lynes said. "You can't take a weekend off as a defenseman. Everyone is good. You have to be able to bring your best in every game."
The Falcons have proven they can hang with quality opponents and have the potential to be much better than a year ago when they lost their first six games and finished 8-19-0.
"You have to win the games you are expected to and steal a couple from the top teams in the conference," Lynes said. "We go into every game believing we can win and we want to be a team that always competes."
No matter how his final season plays out, Lynes is thankful for his experience as a college hockey player.
"It's been amazing," Lynes said. "Being a student-athlete requires you to manage your time, be a leader and be the best you can be every day. The experience has really set me up for success in the future."
Tommies competitive despite tough start
St. Thomas is off to a slow start this season, sitting at 1-1-2 after four games, but the Tommies have been competitive despite the lack of wins. This past weekend, they went on the road to Wisconsin and played a pair of overtime games, falling 3-2 to Wisconsin-River Falls in a battle of ranked teams before tying Wisconsin-Superior 1-1.
The Tommies have scored at least two goals in all but one game, tallying 11 in all, but they have given up 10 goals. Joe Morris is in his first year as a starter and the more experience he gains, the better he will be as the season rolls on. Offensively, Thomas Williams and Chris Benson have been the leaders, scoring three goals apiece.
It's worth noting that St. Thomas was in a similar position last year, also starting off 1-1-2. The Tommies recovered well and finished the season at 16-6-4. It won't be a surprise if the same thing happens again this year.
Adrian clicking on offense
Adrian is on top of its game offensively, having scored five goals in each of its last three games. The Bulldogs have been on a roll since dropping the season opener 5-1 to MSOE.
In its latest win, Adrian smashed Northland 11-2 to complete a weekend sweep of the Lumberjacks. The Bulldogs won the first game by a 5-1 score.
Sophomores Mathew Thompson and Kyle Brothers rank first and second in the NCHA with points (nine) and are first (five) and third (four), respectively, in the conference in goals. The talented duo has helped fuel a balanced offense where 10 different players have scored this season.
The Bulldogs are currently tied for first place in the conference with St. Norbert. Both teams own a 3-1 record.
Blue Devils continue to battle
Wisconsin-Stout had a solid weekend as it defeated Bethel 4-2 before playing Gustavus Adolphus to a 0-0 tie. The Blue Devils are 1-1-2 on the year. The scoreless tie with the Gusties was the sixth of the season in all of college hockey.
It was also the first time this season that a pair of Division III teams played to a 0-0 tie. Last season, there were 17 scoreless ties, including six in men's Division III action.
Spencer Viele helped preserve the tie as he recorded seven of his 30 saves in the overtime session. Viele has started once this season and is 1-0-1 with a 1.09 GAA. He played in 19 games last year and fashioned a 5-11-1 record.
Offensively, the Blue Devils have come up with eight goals, with Jake Useldinger paving the way with three. The senior is coming off a year where he scored seven goals and dished out nine assists and is well on his way to a similar season. He has a total of 12 goals in his career.