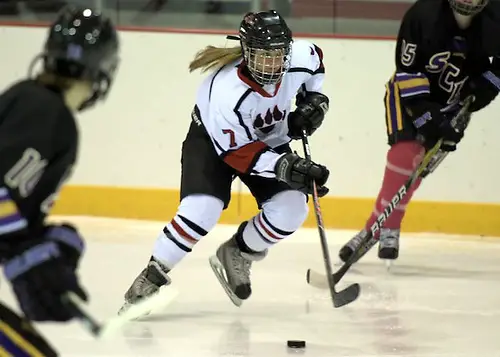 For most athletes, one sport is time-consuming enough.
But two? Only a select few can pull that off, especially in college.
Maybe that's what makes Lake Forest senior Michelle Greeneway the unique individual that she is.
Greeneway already has six goals in five games for the Foresters, and just wrapped up soccer season to boot (pun intended), where she led the team going away with 30 goals and 66 points. Her goal total was good for third in the country in all of Division III.
So how does she do it?
"It sounds generic, but it really does come down to managing my time and making sacrifices," said Greeneway. "In the month or so when hockey and soccer are overlapping, I've learned to accept that there are going to be days when I have a couple exams, two practices or games and things going on in my social life, and I can't always do them all. It gets really tiring at times, but knowing that this my last season, I want to try to take advantage of every minute I can be on the field or ice."
And yet, school is the top priority for the finance major from Sheboygan, Wis., who explained that her workload can be "quite diverse and challenging at times."
"Obviously, school and athletics come first, so usually I have to give up some time with my friends, but some of my best friends are my teammates, which makes it easy to go to practice," Greeneway said. "Some of the best times of my life have been when I've had three or four hockey or soccer games in a weekend and I'm bouncing around from the field to the rink. I get a ton of support from my teammates, coaches, and professors, which has helped a lot. My soccer coach, T.R. Bell, played hockey and soccer at LFC, so he understands what it's like and has learned to make me rest when I need it because I usually don't ever want to."
When asked what she'd do if she had to choose between hockey and soccer, Greeneway responded, "tough call."
"I love both of my sports so much and when each individual one is going on, I sometimes feel apprehension to switch over because they are two different mindsets and I'm enjoying it so much," said Greeneway. "However, I think hockey is and always will be my favorite. People say this a lot, but hockey players are truly a breed of their own. I also think that because hockey isn't as 'available' as soccer, it makes it more enticing to me. I could go outside and kick a soccer ball around at any time, but when you finally get the chance to find some ice, it feels much more rewarding to me. I like that it's a more unique sport, especially for a female."
In fact, it was the fact that she could play both sports and the academics at LFC that attracted Greeneway to the school in the first place four years ago. Recruited for hockey, she made the soccer team as a walk-on.
"I always stood by the idea that if I were to get hurt or be unable to play for some reason, I would still be at a school that I loved, surrounded by fun people, and in a solid position to begin working after I graduate," Greeneway said. "Sheboygan is also only a couple hours from here, so I get to see family often and my parents can make it to every game, which is another perk.
Does free time exist in Greeneway's world? Believe it or not, yes, it does.
"I usually try to hang out with some of my friends that I'm not able to see as much when I'm in season," explained Greeneway. "It's also nice to try to catch up or get ahead on some of my school work. There are always things happening on campus as well. The athletic teams are a close-knit family and whenever I have a chance, I catch some of my buddies' games."
Once Greeneway graduates next spring, she plans on getting into the work force as quickly as possible.
Last summer, she had an internship at the Royal Bank of Canada in institutional equity sales, and would love to stay in sales, if possible.
"The financial industry is very competitive and I think it suits me very well," said Greeneway. "I have thought a lot about where my career could go after school. My dad has often mentioned the idea of playing abroad, and that's something I am interested in. However, I realize my hockey career is definitely inching closer to its end and I know I can only go so far playing hockey, so I am continually preparing myself to work right after school if I find a promising opportunity."
That's several months away and now, Greeneway has her sights set on taking the Foresters program "farther than it's ever been." Two years in a row, LFC made it to the NCAA tournament, only to be bounced after the first round.
"It was very exciting and at the time we were proud of ourselves, but I think we, especially this senior class, have gotten a taste of how close we were to being a top program and know that we are only a few steps away," said Greeneway. "Coach (Carisa) Zaban has often talked about the legacy that each class leaves, and I think that I've been lucky enough to be a part of one of the strongest classes that the program has seen. There could be no better legacy to leave than to bring the program farther than it's been, which would mean making it to the Frozen Four and hopefully beyond."
In thinking about what expectations she has the rest of the season, Greeneway said improvement and sacrifice are key components to reach her individual goals.
"Individually, I always want to be the best," she said. "Sometimes, I feel the pressure of other people's expectations and past seasons, but I've also started to accept that stats aren't the only way to be a good player. I think my defensive game has gotten immensely better since freshman year and I've learned to use my size and strength more to my advantage. Sometimes you have to sacrifice offense for defense, and if you do that right, I've noticed that the goals will eventually catch up for you. I still continue to beat myself up over bad plays or games, so I'd like to get better at moving on from those and making my next shift my best one yet.
"More importantly, I'm going to enjoy every minute of it. After knowing what it feels like to have my soccer career finish, I want to know that I had one of my best years ever when such a big part of my life ends."
Off to a 4-0-1 start, with three shutouts in those four wins, LFC hosts Finlandia and Adrian this coming weekend before heading to Concordia (Wis.) next Tuesday.
"I think we are off to a great start and it's always promising when you have a strong freshman class come in and perform well right off the bat," Greeneway said. "There are always a lot of expectations following a championship season, and I think we have risen well to the occasion thus far. Inconsistency has been a theme that our coaches have touched on often, so we are trying to focus on putting three good periods together every game.
"There's a lot of talent in the locker room, and I think we are starting to realize it."
It all starts with the two-sport athlete from Sheboygan.
NOTEBOOK
Plattsburgh again garnered all 15 votes in this week's USCHO.com Division III Women's Poll. In fact, the only change in the Nov. 9 poll from the Nov. 2 poll was Lake Forest moving to No. 9, displacing Trinity, which fell to No. 10. … Canton freshman Tess Adams took over the national scoring lead with seven goals and seven assists for 14 points after 12 points in two games at Daniel Webster last weekend, including a pair of hat tricks and an eight-point game Friday night.