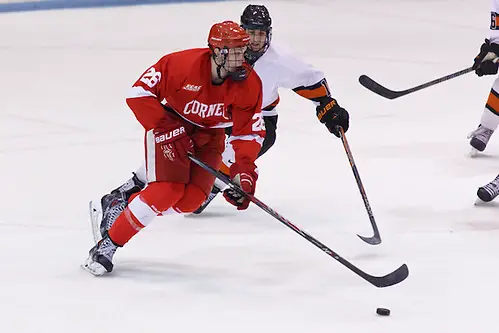 Last season, Cornell was ranked 54th in the country in offensive production. A year later, the Big Red's offensive numbers are tied for eighth in college hockey.
Just what head coach Mike Schafer had in mind.
Cornell has been one of the biggest early season surprises in college hockey. With huge question marks heading into this season, many expected the team to be involved in many close, one-goal games that would force junior goaltender Mitch Gillam to steal games with his strong presence in net.
The latter was almost a given. But the offense has appeared almost suddenly when the program has needed it most.
Jeff Kubiak and Anthony Angello have combined for seven goals and nine assists and a combined plus-15 so far this season. It's been a welcome surprise from a team that wasn't expected to compete against college hockey's toughest opponents.
Cornell is 5-1, its one loss coming to top-ranked Quinnipiac, a team quickly becoming the diamond of the conference.
"We're just sticking to the process," forward Christian Hilbrich said after the team's 5-1 win Colgate last Friday night. "Doing the same things. We're just following our game plan. … Everybody's producing, so it's great."
The Big Red will be tested in the next few weeks. They'll travel to Yale and Brown this weekend before facing Boston University. With a little momentum behind them, and the offense finding its groove at the right time, we're all waiting patiently for this team to continue to surprise us.
Making the case for the Bobcats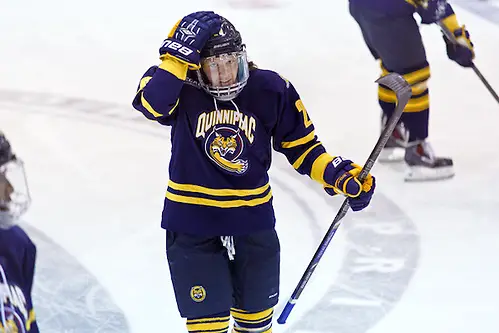 Can anyone stop Quinnipiac? So far, the answer is no. It's an emphatic no, like the kind that is paired with a smirk and a slight chuckle at even entertaining the thought of another answer. They've been that good.
With their two wins last weekend and a 6-2 victory over Connecticut on Tuesday, the Bobcats are 11-0 to begin the season. Their most impressive victory came last Friday, as Quinnipiac took down Jimmy Vesey and Harvard 4-1 with three goals in the second period.
In all, the Bobcats have outscored opponents 51-19, including 19 goals on the power play, while senior goalkeeper Michael Garteig has posted a 1.59 GAA and a .931 save percentage so far this season.
But this team is so much more than just numbers. Its victories haven't even been close, one of the main reasons it is ranked third in the USCHO.com Division I Men's Poll. The Bobcats are the only team in Division I men's college hockey that can boast a perfect record, and with No. 1 Providence posting two ties against No. 11 Boston University last weekend, it's time to consider whether the Bobcats are the best team in college hockey.
Harvard hits an offensive snag
So, sure, Harvard fell to Quinnipiac (who doesn't these days?). It was an ugly affair as the Crimson let up three goals in the second period to fall into a midgame hole, one from which they never recovered.
But Saturday got them right back on track with a 3-0 win over rebuilding Princeton, bringing the eighth-ranked Crimson to 4-1-1 through six games.
It's where most expected this high-powered offense to be to start the year. But is Harvard's defense good enough? The Crimson will have the rest of the season to figure it out.
Around ECAC Hockey
• Union (3-6-3) — As if you needed another reminder that things are bad in Dutchman-land, here's your weekly update: two overtime losses, first to Brown and then to Yale, last weekend. Union's offense has dried up and evaporated.
• No. 20 Clarkson (5-3-1) — Speaking of dried up and evaporated, that's where the Golden Knights' national ranking might be headed. Clarkson is 1-2-1 in its last four games, including a 3-0 shutout loss to St. Lawrence last Saturday. It also lost 4-1 to struggling Union on Nov. 7. Be prepared to see this team vanish from the top 20 sooner rather than later.
• No. 14 St. Lawrence (7-3-1) — Another weekend, another victory. The Saints have been quietly piling up victories after hitting a midseason snag against Merrimack and Miami. St. Lawrence will have a tune-up game against Princeton on Friday before taking on ECAC big boy Quinnipiac on Saturday. You want a shot at the title?
• Dartmouth (2-4) — Dartmouth has started three different goaltenders this season and has scored only 16 goals in six games, seven of which were in a 7-3 shellacking of Brown on Nov. 6. The pressure could be building on coach Bob Gaudet.
• No. 11 Yale (4-1-1) — The 3-2 overtime loss to Rensselaer last Friday was a little surprising, but Saturday's 2-1 win over Union wasn't. With Quinnipiac running away with the ECAC, we'll just wait patiently until teams like Harvard and Yale decide they've given the Bobcats enough of a head start for them to, slowly, close the gap.
• Rensselaer (5-4-2) — Can someone please fix the press box replay system?
• Brown (1-3-1) — Ditto above, times a million. Stick tap to Nick Lappin for a three-point weekend for the Bears, including his game-tying goal against Union. He has four goals and three assists so far this season.