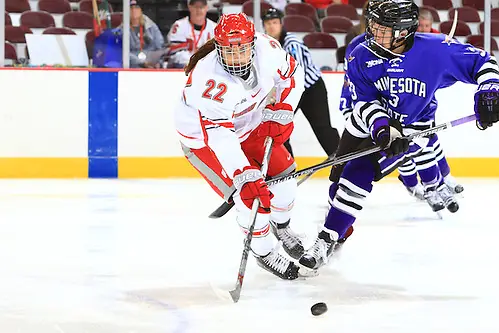 Arlan: Here are some things I took out of the past week. Clarkson was again in danger of being upset on Saturday, but this time the Golden Knights closed with a flourish and sit with a 13-1-2 mark. Northeastern had little difficulty with Merrimack and has now rattled off eight straight wins after its home loss to Lindenwood. Over the next couple weeks, we'll find out just how formidable the Huskies figure to be when they play both Boston College and Harvard. I see that duo as my second tier of teams.
Harvard might be at that level, or even slightly higher, but the Crimson are moving at their own pace, winning, but not always impressively. Bemidji State and North Dakota are very hard to slot, because North Dakota can look more impressive when it is at its best, but it dips farther below its best with too great a frequency. Quinnipiac is a one-loss team, but they are reminiscent of the Bobcats of two years ago who finished with nine ties. It seems they play just good enough to remain a contender, but never quite close the deal.
Then there are these other ECAC teams like Princeton, Dartmouth, and Colgate that have decent records but a number of results that give pause as to whether or not they really deserve to be a ranked team.
At the top of the list are the three heavyweights that spent much of last season in the top three as well. One gets the sense that trio is just prepping for March, and the two WCHA schools have the advantage of getting to prepare against each other.
Finally, we have a number of individual accomplishments to keep an eye upon. Despite having what looks to be a lesser supporting cast, Kendall Coyne is scoring at an even higher rate than Alex Carpenter. Given the number of teams that are having their struggles in Hockey East, who knows what kind of numbers they could put up. Hannah Brandt broke out with a big game versus Bemidji State, and despite not being at her best, she conceivably could match Meghan Agosta's career points mark of 303. She's still 56 points away, which is a lot for this stage of the season, but if her line truly catches fire, it would be more than possible.
What did you learn?
Candace: I think the real lessons are from the WCHA. First, I feel that Minnesota truly served notice. It's not just that the Gophers swept Bemidji State, but that they did so in such convincing fashion, outscoring the Beavers 12-3 on the weekend. This was a team that beat Minnesota twice last year, and they weren't really in it. The Gophers won the national championship last year, and I find myself wondering if they are even better this year, as scary as that it is. Minnesota has two series coming up in which it should roll, then faces Wisconsin in a weekend in December that should tell us a lot about the WCHA, considering Minnesota's steak against the Badgers.
Second, Ann-Renée Desbiens is not an impenetrable force. Duluth got two goals on her Saturday, ending an NCAA record streak. However, that's not to say that anybody will have an easy time scoring on Wisconsin, though if any team can rack up points, it will be the Gophers.
Third, every other team in the WCHA has liabilities. Nothing proved that more than Ohio State upsetting North Dakota Friday, a result that frankly puzzled me. The Buckeyes are now in fifth, though Minnesota-Duluth has two games in hand.
What did the weekend tell you about the WCHA?
Arlan: I think the lessons in the WCHA were mainly about consistency and secondary scoring, especially when we look at North Dakota. It has fallen into a dangerous pattern in recent weeks of playing one strong game in a series and mixing in a game where the performance is less consistent. Versus Ohio State, things started out great. Outshoot the opponent 20-4 and lead by a goal after a period —- no problem. Then the Buckeyes outshoot and outscore the hosts in each of the next two periods. Where did that team that dominated the first period go? I get that OSU is going to realize the game has started, find its legs, or solve whatever the issue was for 20 minutes, but UND doesn't have to cooperate. On Sunday, it was able to maintain its focus better and managed and controlled the game in a way it didn't the first day. Playing in a league with two teams the likes of Wisconsin and Minnesota, the other tournament hopefuls can't afford to be leaking points.
It is far easier to avoid doing so if a team can score enough that it isn't always playing tight games. North Dakota entered the Minnesota series with Amy Menke skating on a different line than Meghan Dufault and Becca Kohler. They were reunited in the second game of that series and carried UND to the upset. However, it can't be just that trio every game. Of the remaining forwards, Samantha Hanson is next in points with five, and she's the only one who hit the score sheet in the loss to the Buckeyes. Teams like Wisconsin and Bemidji State will find ways to shut down one line, so a team needs a second option. North Dakota does generate offense via its defensemen, but blue line offense tends to come and go in any given game; sometimes shots get through, and sometimes they don't.
That series is also an indication that Ohio State is likely to be more competitive in its second pass through the schedule, so the teams above the Buckeyes in the standings best be ready.
As for the Badgers, yes, they allowed a goal, but not until they were up by four. If you spot a Mark Johnson coached team four goals, you'll never catch it. Granted, Wisconsin has yet to play a team that ranks in the top half in scoring offense, but it is tough for an offense's statistics to look very good when it is getting shut out for 120 minutes at this stage of the season. When it hosts Dartmouth in another week, that will likely be the best offense it has seen, and even the Big Green score well below three goals a game.
My column this week is on Bemidji State, and in speaking with some members of the team, they were frustrated by the Friday night loss in Minneapolis. It really wasn't a 4-0 difference, but Amanda Leveille was on top of her game, and Brittni Mowat wasn't. Mowat was so strong against Minnesota last season, shutting the Gophers out twice. Friday, she had more shaky moments than she did against them all of last year, not necessarily on the goals, but misplaying the puck and just not looking in complete control as she usually does. Meanwhile, Leveille wasn't called on to make a ton of saves, but many of them were dangerous and a lot involved Stephanie Anderson. Fresh of her Four Nations appearance, Anderson had two clear breakaways and a number of other great chances, but couldn't get anything by Leveille.
I didn't speak with anyone from Bemidji after Saturday when Brandt had her five-goal game and her line created havoc all over the ice, but the Beavers' impression after Friday was that Wisconsin is playing the best of anyone in the WCHA right now. It's tough to argue when it has allowed four goals over 12 games.
After five-point games for Brandt and Dani Cameranesi, they are at least back in shouting distance in the scoring race. Carpenter is on top with 32 points, but Coyne is only two points back despite having played three fewer games. Those two clash for the first time this year on Friday. What kind of show are you expecting to see from them?
Candace: As good as Coyne is, and she's one of the best in the game, and as much as having Denisa Krížová gives the Huskies another weapon and takes some pressure off Coyne, I expect more from Carpenter. Coyne's problem against BC is that the Eagles are one of the few teams that have skaters that can match her speed stride for stride. I was curious, so I looked it up. BC has shut down Coyne completely six times in 12 games. Those include Northeastern teams that had Casey Pickett and Rachel Llanes and Kelly Wallace. Coyne hasn't been held without a point yet this season, though St. Lawrence came close in the first game of the season, but then again, I don't feel that Northeastern has played a team as defensively strong as Boston College is.
Even last year, coming off the Olympics, BC shut down Coyne in two of the three games they played. Coyne's best season against BC was her sophomore year, 2012-13, when she and the Huskies played BC five times. She had two assists in each of the first two games, was shut down in the third game, had an assist in the fourth game, and a goal and assist in the final game. That, coincidentally, was the last season Northeastern beat BC, which the Huskies did in both the Beanpot and the Hockey East tournament, and are the only two games in which Coyne has beaten BC in her career.
I think BC may be a little more seasoned, having played some stronger teams, and the Eagles have more ways to hurt Northeastern than Northeastern does to hurt BC. I'm curious to see how Huskies freshman netminder Brittany Bugalski does against the tandem of Carpenter and Haley Skarupa. If Northeastern somehow manages to contain them, BC still has Makenna Newkirk, Megan Keller, Kristyn Capizzano, Kali Flanagan, Andie Anastos, Dana Trivigno, and Lexi Bender. There are also players behind those that can score a lot too.
Carpenter and Coyne came in the same year. In those 12 games mentioned earlier, Northeastern has managed to shut down Carpenter twice, once in her freshman year and once in her sophomore year. I don't know that either will get shut down, because they are both playing at such a high level, but I do expect BC to come out on top both Friday and a week later when the two play again.
Do you see anything differently than me, and then let's move to the CHA, and try to figure out what Penn State's series win over Robert Morris means, aside from putting Mercyhurst in the driver's seat.
Arlan: I'm a little surprised that Kenzie Kent doesn't have bigger numbers than she does, given she's been playing with Carpenter and Newkirk all season. Maybe she's on a different power-play unit and not sharing in that wealth. It looks to be a big plus if the Eagles can continue to get scoring with Carpenter and Skarupa separated.
Early last season, everyone was seemingly scoring at will, and Emily Field was about the only one on the team who was not as productive as we might have thought. As the season went along, some of those other offensive sources dried up, and much of the heavy lifting was left to Carpenter's line. It was easier for teams to concentrate on shutting down one line, rather than having to worry about everyone. Boston University and Harvard both had success in that regard. Ironically, Field was the only one to score in BC's Frozen Four loss.
Northeastern has loaded its top line with Hayley Scamurra between Coyne and Krížová. The Huskies are an interesting squad in that I think they skate their fourth line as much as any top team. They got at least one goal from each line in both games versus Merrimack, just as they did in the win over BU. So while the Huskies aren't as star-laden up front as the Eagles are, I do think they can get contributions from a large number of people as well.
I'm not sure that BC has played that much tougher of a schedule than Northeastern to date. At the stage the Eagles saw Minnesota-Duluth and Cornell, both of those teams were feeling their way, so I don't think they provided any better seasoning than Northeastern got from Mercyhurst. Maybe BC's series against Connecticut presented a tougher defensive opponent, although Northeastern did survive Maine without Coyne. If anything, BC has played two more games overall, if that is still an advantage a dozen games in.
I'd say the key for Northeastern might be its blue line against Boston College. Last year, I thought that was a weak point. Dave Flint had a number of people in the rotation, and there were some glaring miscues along the way. This year it has looked better, although the Lakers did cause some headaches in that series. There will be errors, given the pressure BC can apply, but the Huskies need to avoid compounding their mistakes and letting the problems snowball, or BC will explode.
On the other side of the battle, I don't know that I'd use the term "stride for stride" in comparing the Eagles' team speed to that of Coyne. I agree that they match up as well as anyone, but I'd still take Coyne in a race. Add in her shiftiness, and it presents problems no matter how fast the defending players are. The best bet is to make sure you always have numbers back so it doesn't fall on one person to try to deal with her.
As for the CHA, old Mercyhurst couldn't win, and now that the conference season has started, it doesn't lose. It's got a busy stretch coming up with four games in six days against Cornell and Colgate, and if it wants to retain any at-large dreams, those games will have to go better than the Lakers' previous forays outside of the league. Goaltending was a big part of the problem, and while we may not be comparing Sarah McDonnell to Desbiens in the near future, at least she has her save percentage on the good side of .900. Colgate has had a productive scoring offense, so that will be an indicator of whether Mercyhurst is ready to shut down Robert Morris and the CHA's top offense the following week.
Penn State was able to keep the Colonials in check, holding them to three goals for the weekend, which matches what Colgate did six weeks ago. Those three goals was one more than the Lakers managed in their series at Penn State. The Nittany Lions are the CHA's best defensive team, so their success doesn't guarantee others can be just as stingy. I hate to award Mercyhurst the league title when they've yet to play the two teams closest to it in the standings, but it is starting to look like a movie that I've seen previously.
If you had to bet at this point, would you say Mercyhurst continues its run of season titles, or would you take the field and say one of the other five will break through?
Candace: If I had to bet, then yes, I would choose Mercyhurst. I thought Syracuse might make a move, but the Orange got pretty thoroughly dominated by Clarkson last Tuesday and Cornell on Saturday. Of course, you can't take too much away from out-of-conference games in the CHA, but it does show defensive vulnerabilities.
Robert Morris looked poised to me to really push forward, and was the only team in the CHA that had an overall winning record. They still are that, but getting only one point in two games against Penn State at home isn't promising, nor is giving up five goals to the Nittany Lions on Saturday. Yes, Penn State got a tie and held Mercyhurst to a goal a game, but aside from their win over Boston University back in October, goal-scoring has not been Penn State's forte. In fact, prior to the Robert Morris series, Penn State had scored more than one goal only twice in its previous six games.
You have to wonder if that game might hurt Jessica Dodds' confidence, just when it was coming back. Robert Morris was never in the game. It is also concerning that the Colonials gave up a goal within the first couple of minutes of each period Saturday. The Colonials are off this weekend, which might help them regroup before a tough series with Maine over Thanksgiving and then a series against Mercyhurst in the first weekend of December that might end the CHA race before it even gets going.
Of course, as RIT has proved in recent years, success in the regular season isn't everything. I'm not convinced that Mercyhurst winning the CHA, even if it does so going away, would be enough to position the Lakers for an at-large bid to the NCAA tournament, which means they'd have to win the CHA tournament and its auto-bid to get into the NCAAs. Mercyhurst hasn't won an out-of-conference game yet, and their one positive result was a tie with Quinnipiac in their first game of the year. Since then, they've lost to Quinnipiac, Northeastern twice, and Princeton twice.
This weekend, the Lakers get another shot at improving their out-of-conference record when they host Cornell for a pair. The Big Red have shown signs of waking up after their dismal start, having beaten Princeton two weeks ago and then convincingly beaten Syracuse on Saturday. Cornell still doesn't have the scoring prowess it used to, but Hanna Bunton and Taylor Woods are starting to produce. A plus is that Cornell has a seasoned goaltender in Paula Voorheis, who has a .924 save percentage. That could be bad news for a Mercyhurst team that has had trouble scoring.
Do you think Cornell is showing signs of life?
Arlan: The five goals against Syracuse would indicate that it is, but the 13 shots the Big Red put on goal in that game makes you wonder. Is Voorheis going to be their primary goaltender all season? That's likely, but she did get pulled against Union after allowing two goals on three shots. Having not seen these games, it is hard to say much definitively, because the box scores tell some confusing tales.
I'm having a tough time sorting out many of the teams in the ECAC. Harvard hasn't been that impressive as of yet, but it sits alone atop the league. Clarkson is 12-0-0 out of conference, but is just a .500 team in league play. Is Quinnipiac considerably better than Princeton, or just better by one goal over 120 minutes with an empty-net goal tacked on? Those are some of the teams that are less confusing. Is Dartmouth going to stick near the top all year? Same with Rensselaer —- is this just a better-than-expected start, or a sign that the Engineers have turned a corner? St. Lawrence is one of the few teams that has played pretty much to form in its ECAC games. It looks like one of those years where just taking care of business against the teams that you should beat will get you somewhere.
As for Cornell, the Big Red will certainly need more of what we saw in their game against Colgate last night, when the third line came through with a tying goal past the midway point of the third period, that being the first collegiate goal for Christian Higham. Even if Bunton and Woods are supplying some pop up front, it's a far cry from what Cornell is accustomed to getting from a first line in recent years, so they need everybody else to chip in from time to time. Though Megan Sullivan put Colgate back on top a couple minutes later, it was a positive step, albeit a small one, for a Cornell offense that has languished near the bottom. Then senior Jess Brown forced overtime with her first goal of the year, an extra-attacker tally with only 18 seconds to go, another step in the right direction. I guess it was fated to end in a tie all along; that's Colgate's fourth tie in five ECAC contests.
With the number of unforeseen results, I hate to put too much weight on any one game and conclude that a team is improving or slumping. I know that with the Ivies in particular, we don't have too much to go on, but overall, I'd say that Dartmouth, St. Lawrence, and Rensselaer are better than they were last season. I believe Cornell and Yale to not be as strong. Clarkson and Harvard should wind up as the two top ECAC teams in the national rankings, whether or not they finish one and two in the standings. Union will struggle to score, and it looks like Brown will just plain struggle.
Let's look at Dartmouth more closely. It's only two disappointing results were failing to close out the game versus Yale and having to settle for a tie after being up two goals with under eight minutes left, and the one-sided loss to Maine. Mark Hudak said before the season that he thinks he asked Robyn Chemago to play too many games last year, so he tried to get some minutes for backup goaltender Christie Honor, and the Black Bears got to her for four goals on 16 shots. If the Big Green come up just short of being an at-large team, then that is a problem, but otherwise, better versus Maine than an ECAC opponent. If they can squeeze a little more offense out of seniors like Laura Stacey and Ailish Forfar, then perhaps Dartmouth can be a top-four team and host a quarterfinal.
If I had to guess now, I'd say the four host teams will wind up being Harvard, Clarkson, Quinnipiac, and St. Lawrence. Do you see a different quartet emerging?
Candace: I'm not even sure of any teams that will get into the playoffs, let alone get home ice, except Harvard and Clarkson. I think your guess is probably as good as any. I think Harvard and Clarkson should definitely get home ice. Then I look to Dartmouth, Quinnipiac, Princeton, and St. Lawrence as the four teams that fight it out for the remaining two spots. Cornell's offense is too iffy right now, but I think they'll be in a battle with Colgate and Yale for a playoff spot.
Regarding Harvard not being impressive yet, I'm not really sure what else you could expect out of them. The only real blip was the loss in their first game, a road loss to Dartmouth, a team that always gives Harvard fits. Aside from that, there was the scoreless tie with Clarkson, a top team, and they've beaten everyone else. They racked up five goals against both Brown and Union. Are you counting the RPI game against them? Rensselaer did beat Clarkson, which indicates the Engineers are probably better than expected.
You've already covered Dartmouth, so let's look at Quinnipiac. We'll have a better handle on the Bobcats after this weekend, when they make a North Country trip to play Clarkson and St. Lawrence. So far, their results have been solid. They've only lost once, a puzzling 4-3 decision to Yale in which they gave up two goals in the last five minutes. The scoreless tie against Colgate is a blip as well.
Taylar Cianfarano continues to impress, and leads the team in scoring, while freshman Melissa Samoskevich has added an extra offensive dimension. Nicole Kosta's scoring output is on pace with last season's, though a little down from her sophomore year, but Cydney Roesler is playing much better.
In net, Sydney Rossman seems to be adjusting to being the starter, as opposed to the backup for a brilliant goaltender like Chelsea Laden, as she was her first two years. Her save percentage is a respectable .912, and her goals-against is 1.51. Aside from the first game against Mercyhurst, and the two Yale games, the defense in front of her has been good, and she's only given up a goal per game in most of her outings.
It's hard for me to see Quinnipiac losing enough that the Bobcats don't get home ice come playoff time.
By the way, a few weeks ago you asked me which winless team would stay winless the longest, and as I thought, it's Union, the only team in D-I without a win so far, though Brown's did come against Sacred Heart. However, given how RIT has played so far this year, it wouldn't surprise me if Brown at least got one win this weekend against the Tigers.
Of course, the ECAC isn't the only league very up in the air. We touch on the CHA every week and how hard it is to predict what's going to happen, but Hockey East is looking more and more like that as well. It feels so stratified, with Boston College and Northeastern currently ruling the roost, Boston University being very talented but with not enough of the pieces pulling together to be quite at the BC/Northeastern level, and then everyone else.
Do you have any opinions on the remaining Hockey East teams and where they might finish?
Arlan: Regarding Harvard not being impressive, what is the Crimson's best win to date? Probably St. Lawrence, a team Harvard has historically done very well against, but it needed a late goal to win by one on home ice. Melissa Black didn't play in the win over Union, and Brown has struggled. Maybe the Yale game was better, but Harvard was outshot in that one. Despite the losses to graduation, Harvard still looks to be on the short list of most talented teams in the country. Maybe it will take just take more time before it looks more like a top team.
As for the rest of Hockey East, Maine and Connecticut look destined for another battle for fourth place. Connecticut doesn't have much offense, but somehow manages to come up with big goals when it absolutely has to have them, and it has goaltending. Maine has a bit more firepower, and if it's goaltending is below Connecticut's, then it is not by much. I expect that these two will separate from the teams below them at some point. Vermont looks good in the standings right now, but I think that is a product of Hockey East's unbalanced schedule. The Catamounts are done with Providence already, but have eight games left versus BC, Northeastern, and BU —- they've played the latter once. Both Providence and New Hampshire have posted some improved results, but I can't tell if that is a trend or just a blip. Despite only having the one league win, Merrimack has given a good account of itself more often than not, and I expect more wins to follow. I don't know how spots six through nine will shake out. I guessed in my preseason prediction, and that would still be about it. For some of these teams, it may be about how they come through games against teams like BC psychologically and avoiding the big hit to the team's confidence, on top of the ever-present concern of staying healthy.
I'd like to get your opinion on overtime formats. Until BC defeated BU in OT last week, I wasn't even aware that Hockey East had gone to a four-on-four overtime. While I understand that such a format is less of a gimmick than a shootout, I like it even less. At least with a five-on-five overtime for five minutes, the game officially ends as a tie for NCAA purposes. When a goal is scored in Hockey East's OT, one team gets a win and the other a loss.
I know that you cover the NCHC men's league, and that league has gone to a three-on-three overtime format. Like the leagues that use a shootout, the three-on-three only comes after the official five-minute, five-on-five overtime, and any goals scored at that point are not official NCAA goals. If the game is still tied, then it moves to a shootout. One team gets a league win, but it is still a tie in the eyes of the NCAA once the first five minutes of overtime are completed.
I don't mind a little entertainment, but my preference is that an NCAA win is achieved in the same format, no matter the league. For that reason, I'm not a big fan of Hockey East's new four-on-four overtime. I'd rather they played a straight five-on-five OT like all other NCAA regular-season games before getting creative. What are your thoughts?
Candace: I didn't get to see the NCHC's first use of the three-on-three format in the game between Minnesota-Duluth and Denver Saturday. Duluth got a goal from Tony Cameranesi to win the three-on-three and get the extra point in the NCHC standings. The three-on-three OT is a five-minute period, and if the game is still scoreless at that point, it goes to the shootout.
From a fan perspective, I think it's great. I've seen a couple of the shootouts in the NCHC over the league's first two seasons. In year one, the shootout came into play in a game between arch-rivals Denver and Colorado College, and the coaches then had to talk afterward to decide whether the shootout would affect how the Gold Pan is awarded, a trophy that goes to the winner of the annual season series between the two. The coaches decided it didn't; shootouts were still ties for the Gold Pan.
The shootout in the NCHC hasn't been used much. Last season 10 of the 96 conference games were decided by shootout, while the previous year, it was nine, so about 10 percent. The shootout is also used in the WCHA by the women, and it seems to work fine.
I agree though that having the four-on-four as the only OT does change things as far as PairWise, but I think we'll have to reserve judgment to see how many games are affected by it. Perhaps Hockey East coaches don't want to play two OTs. Going to the four-on-four was approved by the NCAA in June 2012, and I would imagine the Hockey East coaches or SIDs had to approve the format.
You could make the argument that even having an OT in the regular season is changing things, so why bother?