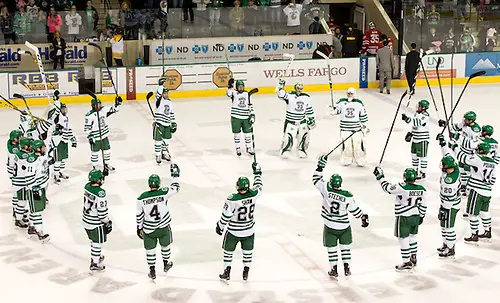 No matter how North Dakota student-athletes, employees and fans look at it, all could agree that Wednesday provided an important moment in their university's history.
UND president Robert Kelley announced Wednesday morning that, going forward, UND's athletic programs will use a new nickname. A recent second runoff election saw eligible voters choose Fighting Hawks by a 57.24 percent margin over the only other remaining option, Roughriders.
UND announced Wednesday that it will immediately begin referring to its sports teams as the Fighting Hawks in all official releases.
The university's method of replacing the former Fighting Sioux nickname with a new moniker has long been the talk of sports enthusiasts throughout the Peace Garden State. Ask UND head men's hockey coach Brad Berry about it, however, and he'll tell you he's had more pressing concerns lately.
"Getting a definitive direction as far as a nickname just came across here recently," Berry told USCHO Wednesday afternoon, "so to tell you the truth, I've been trying to prepare for St. Cloud here for the last couple of days and haven't given [the nickname] much thought.
"All I know right now is it doesn't change the way we prepare and our work ethic or our goals as a team going forward. Our job is to win games, and I think that's the very basic thing, that this is part of the process that's going through, and my job is to try and make our guys focus into the next weekend going forward, so that's where I am right now."
Berry, the fourth-ranked Fighting Hawks' first-year head coach after serving as an assistant under Dave Hakstol, is a 2002 graduate of North Dakota. Whatever the new nickname turned out to be, he suggested, it wouldn't change his hockey team's makeup.
"I have a history here with being a player and a coach, and I've been here in the past with the culture we have, and this is part of a process that happens through a lot of different schools," Berry said, alluding to other schools throughout the country that have moved away from using potentially offensive Native American-based nicknames.
"The biggest thing for me is making sure that we stay strong with our culture and our beliefs in what we are, and that's something that was built up over a 60-year period going forward here, and this is just part of the process."
Berry said he hopes his players stay on course while the nickname-related dust settles.
"It can be a little bit distracting," he said, "but I think the maturity side will prevail over it as far as different things going forward. We're a close group here and we talk about different things going forward and we're very communicative, and it's been a long time in the process in terms of this day coming forward, so it's not a surprise to us.
"It's just a matter of how we're going to move forward and make sure we stay a focused group."
Going into this weekend, the Fighting Hawks are focused on how to potentially get a couple of wins on the road at seventh-ranked St. Cloud State. That would take some doing, however, as there hasn't been a swept North Dakota-St. Cloud State series in the past 14 years.
"We're very similar teams with very similar structures," Berry said. "Both teams play very fast, both teams have a lot of depth at all positions, and it's a true testament of not only our two teams but the teams within our league, and there's a reason we keep having splits."
RedHawks look to bounce back again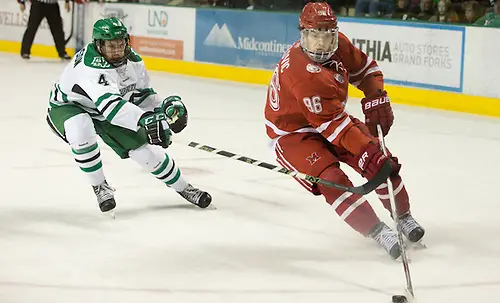 Last weekend, North Dakota picked up two wins at home over then-No. 17 Miami. The RedHawks' losses in Grand Forks put Miami into something of a yo-yo pattern.
After suffering three consecutive losses between Oct. 24 and Halloween, the RedHawks swept Western Michigan at home two weeks ago before last weekend's losses in Grand Forks.
The now-unranked RedHawks (5-6-1, 2-4 NCHC) are back at home this weekend against No. 6 Omaha. After running into trouble at North Dakota, Miami would love to bump its home record on the season to 5-1-1 with two wins over the Mavericks.
Not that RedHawks coach Enrico Blasi believes that would be at all easy.
"This is a really good hockey team," Blasi said of UNO at the coach's weekly news conference on Tuesday. "Dean Blais is a great coach, [UNO forwards Jake] Guentzel and [Austin] Ortega [are] great players in our league and leading our league in scoring.
"They've got weapons, they've been to [last season's] Frozen Four, they know how to win, their 'D' corps is solid, very good 'D' corps in terms of making the first pass and defending and jumping into the rush. Their power play is lights-out, and they've got a lot of good things on their team. We've got to play our best hockey, and that's what we're trying to focus on."
Consistency has been an issue for Miami this season. The RedHawks have been excellent when falling a man down — they have killed all but two of opponents' power plays — but the 51st-best offense in the country (2.08 goals per game) and a defense giving up 2.92 goals per outing need to pick up the pace.
Blasi said he has answers for those issues. The challenge going forward will revolve around how best to implement those solutions.
"I think our puck management hasn't been very good," he said. "In terms of playing offense, you need the puck, and when we do have the puck, we're making some decisions with the puck [for things] that are either not there or [Miami is] forcing the issue.
"Our play away from the puck at times, when you don't have it, you have to go get it, and for some reason we've been kind of in between a little bit, so it's just a matter of making sure that we know our responsibilities and everybody knows their role and we get after it."
Part of that will involve the RedHawks keeping their heads up, something that hasn't gone away.
"Every day is an opportunity for us to continue to get better and stay focused on the present," Blasi said. "Our guys are not happy, but they're working hard and everybody's still focused on what we need to do."
Players of the week
Offensive player of the week — Joey Benik, St. Cloud State: A senior forward that the Huskies came into the season knowing they would need to rely upon is fresh off a monster weekend and two wins over Western Michigan. Benik terrorized the Broncos by picking up six points in the two games, and he became the first Huskies player to have a four-goal game since 2002 when he reached those heights during an 11-1 win on Saturday.
Defensive player of the week — Ethan Prow, St. Cloud State: The senior Huskies defenseman missed the last two weeks before last weekend with an injury, but he came back with a vengeance against the Broncos. Prow assisted on three consecutive goals in a 5-2 win before notching a goal and five assists in a blowout win on Saturday.
Rookie of the week — Brock Boeser, North Dakota: The forward continued his solid start to life in college hockey with five points in two home wins over Miami. Four of those points — three of them assists — came on Friday for the Vancouver Canucks prospect.
Goaltender of the week — Evan Cowley, Denver: The junior appeared in only one of Denver's two games last weekend against Minnesota-Duluth, but he stopped all 27 shots he faced in a 3-0 victory on the road against the then-No. 13 Bulldogs.