The list of opponents that Vermont has played at home this season looks like a Murderers' Row. Omaha. North Dakota. UMass-Lowell.
Through seven home games, the Catamounts posted six losses, all to opponents that, at the time, were ranked in the top five nationally. A lone tie to Northeastern was the only bright light.
Last Friday, Vermont finally entered the win column at Gutterson Fieldhouse, a building that when packed with the faithful clad in green and gold is among the loudest in the nation, with a 2-1 win over Connecticut. Two days later, when the Cats jumped out to a 3-0 lead through two periods against Massachusetts, it felt like the normalcy of the Gut was back.
But a third-period rally by a UMass team that has become known for its late-game surges this season left Vermont with a 3-3 tie.
A three-point weekend in Hockey East might feel good to most coaches. But Vermont coach Kevin Sneddon seemed less than satisfied.
"There's certainly some disappointment in our front, especially with a three-goal lead," said Sneddon. "I think you'd have to go back pretty far to see the last time that happened to us.
"We pride ourselves in being a third-period hockey team and defending leads very well. We played 55 good minutes of hockey. But we kept [UMass] within reach and as they have proven on a number of occasions this year, they have the belief they can come back."
So where does that leave this Catamounts' confidence? That's difficult to discern. Despite six losses at home, in all six Vermont was within a goal in the third period against high-caliber competition.
In none of those games, however, could the Catamounts complete the comeback as UMass did on Sunday. That possibly magnifies the frustration of not walking away from last weekend with four points.
"We obviously want to win all the hockey games we play but the losses at home were all against top-five teams," said Sneddon. "I felt like we played pretty well in a lot of those games and didn't have anything to show for it.
"Getting points in Hockey East is hard, so I guess getting three out of four in a weekend is still a success."
But. There's always a but.
The "but" from last weekend is something Vermont needs to quickly put behind it as it heads to Maine to face a Black Bears team that continues to have its own struggles. Maine enters the weekend winless at 0-8-3. The Black Bears just played their first game of the year at Alfond Arena last Sunday but dropped a 6-0 decision to UMass-Lowell.
There are no "must wins" this time of year for Vermont, but the Catamounts will be able to get away from campus and onto the road (UVM is, ironically, 2-0 in road games this season). That's something Sneddon hopes can help focus his team.
"I think our team has always thrived for being a good road team. We've only had a few so far but we've played pretty well in those games," said Sneddon. "It gets us off campus and into a hotel and around each other more, which can only pull your team together. So these trips are fun."
Black Bears struggles continue, in many ways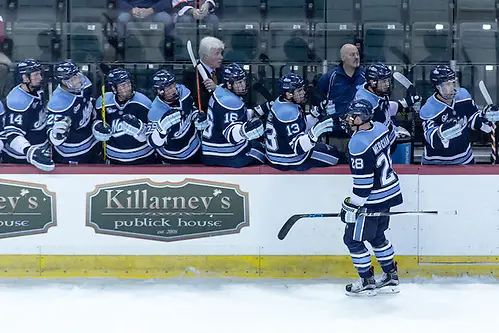 There haven't been a lot of glimmers of hope for Maine this season. As mentioned, the Black Bears sport an 0-8-3 record and last weekend were swept in a home-and-home series against Lowell.
The two losses couldn't have been more opposite. On Friday, Maine fought tooth-and-nail and both teams were scoreless late in the game before Lowell scored on a screen shot. After the River Hawks tacked on an empty-net goal, Maine finally struck on the power play in the closing minute but it was too little, too late.
Two days later in Orono, things were disastrous from the start. A loose puck ended up in the Maine net just 1:47 into the game and it started a rout that ended up as a 6-0 loss.
Easily lost looking at the box score, however, was the microcosm of Maine's season — its struggles to score. Maine has scored just 11 goals in 11 games.
On Sunday, down 2-0 and killing a penalty, Maine turned a turnover into a two-man breakaway. A pass across the goalmouth from the right side didn't connect with the other Maine attacker. No goal and still a 2-0 deficit.
For some teams, that missed opportunity isn't a big deal. When you struggle to score like Maine right now, that isn't true.
To make matters worse, Lowell immediately transitioned and scored less than 10 seconds later to take a 3-0 lead.
Maine coach Red Gendron was asked after the game if that play was a defining moment in the game. His answer was honest and showed how difficult the early going in this season has been.
"If every time in my life I stopped to think about the defining moment and thought, 'Oh, jeez, a defining moment happened and I can't win now,' I wouldn't be here right now. I'd be dead.
"Would that have changed the game if we had scored at that point and they didn't score the rest of the power play? Yeah. But that's not an excuse for losing 6-0."
It was a game where Maine didn't get many bounces. But Gendron refused to let bad puck luck excuse his players.
"The truth is, some things conspired against us, but that doesn't excuse us not finishing plays where we have some great chances," said Gendron. "The players get that, too. They know it."
The one silver lining on the season has been the play of rookie goaltender Rob McGovern, who was stellar in keeping his team in the game on Friday night. But even he proved to have a weak spot on Sunday and he was pulled in the first period after surrendering four goals on eight shots.
Asked after the game if that performance may lead to more opportunities for senior Matt Morris, who stopped 23 of 25 shots in relief, Gendron wasn't ready to start a goaltending controversy.
"I don't know what's going to happen this week at practice," said Gendron. "And I'm not going to speculate on goaltending at this time."
Back to the offense, Gendron admitted that his skaters are playing tight, not surprising given that Maine has scored just one goal in its last four games combined. That might be the biggest challenge Gendron and his staff face in the days ahead.
"We created tons of offense [on Sunday]," said Gendron. "We didn't finish. That's been the problem, not finishing.
"The kids are tight. That's how it is. We as coaches are trying to alleviate that pressure. We're telling them, 'Stick with it. Stick with it. Believe in yourself.'
"But the way you have confidence, there are two ways and two ways only. No. 1, you've done it before so that you know you can do it again. No. 2, you build confidence through practice and successful executions in practice and then ultimately in the game.
"But every kid in that locker room is expected to perform offensively and has performed offensively in his past. So they have to believe in themselves and they are responsible for their own confidence."
Sin-bin time?
If you've gone to a game featuring a Hockey East team of late and felt like there has been an increase in penalties, you're correct. Compared to the final penalty-per-game totals from a year ago, Hockey East clubs as a whole have been called for more penalties.
Four of the 12 Hockey East teams — Boston College (23.2 penalty minutes per game), Maine (18.1), Massachusetts (13.9) and Boston University (13.7) — rank in the top 10 nationally in penalty minutes per game. A year ago, only one Hockey East team (Merrimack, 14.7) finished the season in the top 10.
At the bottom half of these rankings, only UMass-Lowell (tied for 50th, 8.5) ranks among the bottom 10 teams. Last year, Connecticut (9.7), Vermont (9.0) and UMass-Lowell (8.4) all finished the year in the bottom 10 nationally.
The increased penalty numbers highlight the importance of good special teams, although only UMass and New Hampshire rank in the top 10 nationally on the power play and only Boston College and Lowell are top-10 penalty killers.
Make of all these numbers what you will, but all are something to keep an eye on as this season goes along.
Contributing: John Forsyth