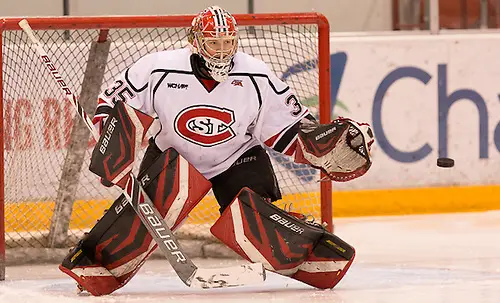 Candace: We saw some very interesting games this weekend Arlan, with some competitive results. I think what we saw that was most interesting though, was in the ECAC. The Quinnipiac/Princeton travel pair headed up to Northern New York, and Quinnipiac blanked No. 4 Clarkson 3-0 and followed that up with a convincing 5-0 win over St. Lawrence Saturday. No 10 Princeton, meanwhile, lost both games, 3-2 to St. Lawrence and 3-0 to Clarkson. To me, it seems that Princeton is moving back into the middle, where most people probably would have thought the Tigers would be, even with their strong start.
Quinnipiac, meanwhile, made a statement and took over first in the ECAC. Bobcats goalie Sydney Rossman made 29 stops in the win over Clarkson and then another 17 against St. Lawrence. The Bobcats big forwards were also productive. Taylar Cianfarano had a hat trick against Clarkson and then scored twice more against St. Lawrence. Nicole Connery had two assists in each game, and Melissa Samoskevich had a goal and assist against St. Lawrence.
What's more, all the goals were even strength, and when that happens, it bodes well for a team's ability to gut out tough games as the season goes on. Quinnipiac has a one-point lead on Harvard, but the Crimson have a game in hand.
I think what's also really puzzling is Clarkson. The Golden Knights are a perfect 12-0 outside the conference, but only 2-2-2 inside the conference. I'm beginning to wonder if the Golden Knights were perhaps a little overrated. Looking at their out-of-conference schedule, they cleaned up against Hockey East lower-tier teams like Vermont, Connecticut, and New Hampshire, and also took two from a Syracuse team that isn't quite as good as was thought. The sweep of Boston University looked good at the time, but given the Terriers' struggles this season, is perhaps not the case.
What do you make of those results for the four teams?
Arlan: While the clear loser in the weekend's results was Princeton, the Tigers weren't that far away. Both games were essentially one-goal losses, as Clarkson put in a pair of empty-net goals late. The loss to Quinnipiac the week before was of the same variety, a one-goal game with an empty netter added on. The Tigers' other loss, to Cornell, was by a 2-1 score, so four losses, all in cases where Princeton trailed by a goal and had to pull its goalie. On the other hand, its only win by more than a goal was over Brown. If you want a tight game, it looks like Princeton is your team. As you said, somewhere in the middle, with the potential to edge a team above it or falter to one below.
Meanwhile, St. Lawrence arrives at the same middle a little differently. The Saints are more of an "on any given day" type of team. They aren't as consistent defensively as Princeton, so even though they can score three or four goals with some regularity, the goals-against can also balloon. SLU had been on the mend defensively, having not allowed more than three goals since Boston College in early October, and only once yielding more than two since that time. Getting hit for five by Quinnipiac was a bit of a setback.
Like several of the top teams, Clarkson's forward production drops off after its first line of Cayley Mercer, Olivia Howe, and Geneviève Bannon. Its next three highest-scoring forwards are freshmen Loren Gabel, Kelly Mariani, and Rhyen McGill. It would help if Shannon MacAulay could get back to her pace of last year, when she was more of a point-a-game player. Her first couple seasons, she averaged half that, but so far as a senior, she hasn't even averaged a point a weekend. My perception was that Shea Tiley wasn't quite at the same level that she played as a freshman, but her save percentage is actually the same, and her goals-against average has actually improved, falling by more than 10 percent to 1.24. For all the perception of Clarkson being off, only Boston College has more wins, although admittedly, only Bemidji State has played as many times as Clarkson.
In many respects, Quinnipiac and Clarkson are nearly equivalent statistically. The Golden Knights have the better power play, but they also commit more penalties, almost an extra minor per game. That would suggest that the two would be close in winning percentage as well, and they are; Clarkson is only marginally better. Quinnipiac is for the most part a veteran team, but its top two scorers are a sophomore and a freshman, its goaltender, while a junior, had only made six starts her first two years, and it has a first-year head coach in Cassandra Turner. It's really difficult to say if either has a higher ceiling than the other. It may just be that Quinnipiace matches up well for some reason against Clarkson, having taken all three games played last season as well. I'm not sure what to make of the fact that the Bobcats' one loss came versus Yale, a team that has only that one win.
While the ranking of Quinnipiac and Clarkson relative to each other is tough to nail down, it is safe to say that they belong in the ECAC's upper crust, presumably with Harvard.
Cornell is a team that is even harder to grade. If we throw out its opening-weekend sweep at the hands of BC, the Big Red have played at a .500 pace, but the results within a weekend sometimes bounce around, such as losing the first game to Mercyhurst by four and then taking the rematch by five. Cornell rested veteran goaltender Paula Voorheis in the loss, so maybe it is as simple as that. You asked me last week if the Big Red were waking up. Could it be that they'll be a little drowsy all season?
Candace: Yes, I think that's fair to say. Considering that Cornell lost three all-world offensive talents from last year's team, Brianne Jenner, Emily Fulton, and Jillian Saulnier, three players who accounted for more than 50 percent of the goals the Big Red scored last year, it makes sense that Cornell would struggle. Junior Hanna Bunton has 12 points so far, a 1.2 points per game average, but only two other players are even averaging half of that production. It seems like offense is one area where Cornell has issues. The power play is clicking at an absolutely dismal 7.9 percent, having scored only three times in 38 tries.
On top of that, Cornell has often struggled defensively. The penalty kill has been bad so far, giving up nine power-play goals in 40 tries, meaning it successfully kills penalties at only 77.5 percent. Paula Voorheis has a better goals-against this year than last year, but it's still 2.23 goals per game. Her save percentage is .921, compared to .917 last year. However, I think Voorheis might be getting hung out to dry a little. I was curious and looked up Lauren Slebodnick, Voorheis' predecessor, and her GAA was 2.31 as a senior. Even Amanda Mazzotta had a 1.71 GAA her senior year. I think Cornell doesn't have the strength at defense that it used to when players like Laura Fortino, Lauriane Rougeau, and Alyssa Gagliardi anchored the blue line.
Combine a defense that has difficulty at times with an offense that is inconsistent at best, and I think Cornell will be hanging around the bottom eight of the ECAC, and will be fighting to make the ECAC tournament in February. The Big Red have enough talent that they should be able to pull it off, but I don't see them getting home ice this year, and I think they will likely go out in the first round of the ECAC tournament to one of the top teams.
One team Cornell might battle for a playoff spot is Colgate, which seems to be showing improvement this year. The Raiders are 7-2-5. Their out-of-conference record is solid, although they are only 0-1-4 in the ECAC, but that's bound to change. The Raiders are a very young team, composed primarily of freshmen and sophomores. A trio of first years, Bailey Larson, Jessie Eldridge, and Shae Labbe, lead the team in scoring, and are followed by sophomore defenseman Lauren Wildfang and freshman defensemen Olivia Zafuto. The Raiders have experience in net, with senior Ashlynne Rando anchoring things. Colgate did battle Quinnipiac to a scoreless draw, and swept Robert Morris earlier in the year. This weekend, they host a very up-and-down Mercyhurst team, and the following weekend make the trip to the North Country to play Clarkson and St. Lawrence.
What is your impression of the Raiders this season?
Arlan: Colgate is a talented team with a lot of upside, but it is also a young squad that needs to learn how to win as a unit and close out games. The pessimistic view is that the Raiders have only won seven of their 15 games, while a more favorable slant says they've only lost three. Third-period leads slipped away against Connecticut, Rensselaer, and Cornell, and the Raiders had to settle for ties. Most damaging was the game versus Mercyhurst where a two-goal lead slipped away in the second period, and the Lakers won the game in the third. Another frustrating loss was the second game at Merrimack where they surrendered a couple of third-period goals and suffered their first loss in a game where they held a 49-15 advantage in shots. The Raiders spent that whole series dominating the shot chart, yet having to battle from behind.
Goaltending has been a bit of a paradox so far. Both Rando and freshman Julie Vandyk had poor save percentages against the Warriors. That wasn't the only concerning game, as Colgate outshot Union to a tune of 60-18 and could only manage a 2-2 tie. In other games, the goaltending has been a strength. Rando stopped all 44 shots to gain her team a point in the scoreless tie with Quinnipiac, and she also had a 31-save shutout of Robert Morris. Vandyk stopped 32 of 33 shots in the 3-1 win over RIT and 35 of 36 shots to beat Syracuse, 2-1. Statistically, she has better numbers than Rando, although the senior has started versus the tougher opponents. Colgate can't afford to take anyone lightly, but whether it is the goaltender or the players in front of her, the Raiders need to be just as focused defensively for supposedly weaker opponents as they are for the power teams of the ECAC.
Another interesting segment of Colgate's team is its sophomore forwards. In their rookie season, Breanne Wilson-Bennett led the team in scoring, Megan Sullivan was only a couple of points behind, and Shelby Perry and Annika Zalewski were solid contributors. All are above their pace from last season, but nobody has taken her game to another level and really started to open people's eyes. Some of these kids have that potential, so if players start to adjust to their roles and combinations really click, Colgate could be a more daunting team in the second half than it is today.
It's interesting to compare Colgate with one of the teams that figures to be competing for the same turf, Dartmouth. The Big Green are much more reliant on veteran players, with seniors Lindsey Allen and Laura Stacey and junior Kennedy Ottenbreit as its top scorers. While all three are around the point-a-game mark, Dartmouth likely needs a couple of them to have truly special seasons for it to make a major push up the standings. Junior goalie Robyn Chemago is off to a great start with a .952 save percentage and a goals-against average barely over one, so it looks like she could be sitting on a breakout year.
If Cornell is going to drop this season, who moves into the vacuum left behind? For a time, it looked like it might be Princeton, but the Tigers receded a bit over the last two weeks. Dartmouth and St. Lawrence are currently both on pace to be home-ice teams in the ECAC quarters, but I assume that Clarkson is destined to host a quarter once the schedule plays out. Even more critical than the fight for home ice is the race to make the top eight. With revivals at Rensselaer and Colgate, it looks like we'll have at least 10 teams in the hunt for the playoff spots right down to the wire. I got to watch Yale in person for the first time this weekend. It will be the subject of my column this week, and I get the impression we haven't heard the last of the Bulldogs this year.
What are some of the keys you'll be looking at as the ECAC season unfolds?
Candace: I think I'll be looking to see whether Dartmouth can keep up its pace, whether Rensselaer can build any momentum, and what happens with St. Lawrence. You've already talked about Dartmouth. RPI has that impressive win against Clarkson, and also a 2-1 loss to Harvard, but also lost to Cornell and got swept by Robert Morris. The Engineers host New Hampshire this weekend, and then close their first half in early December with home games against Brown and Yale. RPI needs to win both to remain in the playoff hunt.
St. Lawrence, on the other hand, is currently sitting in fourth, and would have home ice, but to hold on to it I think the Saints will be battling Dartmouth, a team they did beat a few weeks ago. The Saints also beat Princeton, but the 5-0 loss to Quinnipiac definitely hurts. St. Lawrence also has two losses to Clarkson already, though those are nonconference games. They face Clarkson again at the end of January in a home-and-home, and really need to win those two games.
Goaltending is still a concern with St. Lawrence; Sonjia Shelly has a 2.68 goals-against and a .909 save percentage. She really needs to prove that she can actually steal a game if St. Lawrence is going to make a successful push. Some better offense would help too. St. Lawrence doesn't have a single player averaging a point a game. Kennedy Marchment is closest, with a .933 points per game average.
Let's shift over to Hockey East right now. Northeastern won the battle of containment, as the Huskies shut down Boston College stars Alex Carpenter and Haley Skarupa, while Kendall Coyne got a goal and Denisa Krížová had two assists. However, as I thought it might, BC's depth was too much to overcome, and the Eagles won a very tight contest. BC is definitely in control in Hockey East, though Northeastern is right there, and both teams have an edge on Boston University, with games in hand and, in BC's case, two more points already. Those three teams are the only ones in the conference with winning records in conference, and only Connecticut has a .500 record overall. It looks like a bunch of Hockey East teams will battle for playoff positioning, but lose to the big three Boston teams.
What did you take away from BC's win over Northeastern?
Arlan: BC remains the best team in the East, and perhaps the country, but I think that Northeastern can be encouraged that it was right there until the end. Last year, the Eagles always blew teams away in these types of games, particularly early in the season. Ironically, it might work to their benefit to face some more adversity along the way and have to discover other ways to win games. I realize that they did so last year in terms of surviving, or maybe a better word is thriving, despite having large numbers of players miss games for national team commitments, but that didn't appear to have any long-term payback. It was almost as though once the stars were all back, the rest of the roster looked to them to carry the load the rest of the way. I'm sure it is a comfort to Katie Crowley to know she can count on unexpected sources like Kaliya Johnson, Tori Sullivan, and Meghan Grieves to come through in the event someone can shut down Carpenter, Skarupa, and the other top threats. There may be a few more challenges this year, but I expect the Eagles to still be unbeaten when they meet Harvard on January 19.
Hockey games, for all the speed and skill that is on display, often wind up being decided by the mistakes players make. In a film session for fans a number of years ago, a coach made the point that even star players and Olympians will make mistakes in coverage. We saw that in the Northeastern and BC game, where each team scored its first goal thanks in part to a coverage breakdown. The Huskies' first goal came on the power play, so the defense obviously can't cover everyone. The two defensemen were tying up Huskies on either edge of the crease. One forward is on the puck carrier, in this case Krížová. That leaves two players for the other forward. Northeastern has a player out at the point above Krížová, and she wasn't a threat at that point. Should the puck go to her, there would be time to rotate back. The fifth Husky was Coyne, standing alone in the slot. BC's weak-side forward chose to maintain the box and essentially cover nobody, while Coyne was left uncovered a few feet behind her and deflected the shot for the game's first goal.
A minute later, the shoe was on the other foot. Dana Trivigno got the puck behind the Northeastern net and centered it to Tori Sullivan at the edge of the crease. Northeastern had players on either side of her, but they made no attempt to tie up her stick or move her out of danger, so Northeastern's only lead of the game lasted just 68 seconds.
Players on every team get caught puck watching now and then, and you just hope it doesn't prove costly. At other times, the problem isn't that people aren't doing anything, but that they try to do too much.
North Dakota had a such a breakdown on Saturday that resulted in the game's only goal. Minnesota-Duluth's Katherine McGovern chased a puck into her offensive zone with three Fighting Hawks in pursuit. McGovern picked up the puck behind the net and skated it to the right corner, with all three UND players defending her. That didn't leave enough coverage in the danger areas, and when Michelle Löwenhielm entered the zone as a trailer, there wasn't anyone available to pick her up before she'd fired the puck inside the post.
Connecticut benefited from a more obvious mistake by Maine on Sunday. Scoreless in the first period, the Black Bears got caught with too many players on the ice while on the power play, and they added a cross-checking penalty 19 seconds later with the teams skating four on four. Just like that, a Maine advantage turned into a five-on-three opportunity for Connecticut, and Brittany Berisoff set up Leah Buress for a tap-in goal. Although technically a five-on-four power play because one of the penalized Bears was out of the box, the puck was in her net before she could enter the defensive zone. With the way that Elaine Chuli has been playing, you don't want to give the Huskies a lead, and they went on to win, 2-0.
Dating back to last year, that's now five straight wins for Connecticut over Maine, with all five occurring in Orono. Although there is a knot of five teams tied with six points, Connecticut has to be the early favorite to be the fourth team to get home ice, owning games in hand, and more importantly, Chuli. Would you agree?
Candace: Yes, more than likely, but who knows. It's amazing in a way that teams 4-8, five squads in all, in Hockey East all currently have six points. Each has three wins, and all that sets them apart is the number of losses, with Connecticut having the fewest. New Hampshire has played the most conference games, which isn't great for them for positioning. I keep wondering if Vermont might make a push. The Catamounts do have three games against Merrimack in the second half, two against New Hampshire, two against Maine, and two against UConn, so there is that possibility. The loss to Connecticut Friday doesn't help though.
Connecticut has played perhaps the toughest schedule so far, with one game against Boston University and two against Boston College, plus a road series at Clarkson. This weekend, the Huskies face Quinnipiac in the first game of the Nutmeg Classic, then get either Merrimack or Yale in the second game. They then face a resurgent Boston University to close the first half. The Terriers have won seven of nine since their three-game losing streak, and the only two losses were to Boston College, one of which was in OT. BU rebounded from their shellacking against the Eagles by taking them to OT the next night, so I wonder what will happen when they face Northeastern in the Beanpot.
Anyway, Hockey East looks rather chaotic, but Connecticut is as good a guess as any for the final home ice spot. As you pointed out, they have Chuli in net, and she'll have to be on her game to give Connecticut its best shot, because the offense is horrible. Leah Lum leads the team in scoring, and she's only averaging .642 points a game. The power play only succeeds at 17.8 percent, and the penalty kill is only succeeding at 78 percent, so there isn't much room for error in Hartford. The offense is in the bottom third nationally, and of the Hockey East squads, only Vermont scores less.
Stats can sometimes tell a lot. Take Wisconsin. The team is third in scoring offense, averaging 5.07 goals a game. If you look at individuals though, of the top 12 scorers nationally, only one is a Badger, sophomore Annie Pankowski. Contrast that with Minnesota, which has five of the top 12, or BC, Clarkson, and Northeastern, which each have two. It certainly seems to point to a lot of depth offensively for the Badgers, who have seven players scoring at a point a game or better.
Wisconsin hosts Dartmouth this weekend, and while the temptation might be to look ahead to two weeks from now and the series in Madison against Minnesota, I'd imagine Mark Johnson would have his charges completely focused on the Big Green.
That Wisconsin/Minnesota series can't come fast enough for me, because Minnesota has owned Wisconsin for the last 3.5 years, and until the Badgers beat the Gophers, I can't vote them for the top spot in the poll.
Of course, Minnesota was challenged a little more by Yale this weekend than Wisconsin by Lindenwood. I was surprised to see Yale hang three goals on Amanda Leveille Friday. Was that a Minnesota defense getting sloppy with a big lead?
Arlan: I'm trying to think of how to answer that without taking 10,000 words, because there are about 100 ways I could go. First, I do think that Yale is more dangerous offensively than a team like Lindenwood. The Bulldogs have some nice forwards that can create problems, as evidenced by scoring at least three goals in all four of their games versus Quinnipiac, Princeton, and Dartmouth, all teams that rank in or near the top 10, and scoring twice and generating 28 shots against Harvard.
There is also a factor of a team letting down once it gets up by several goals and starts to skate four lines instead of the normal three. I've seen that play out for years.
However, I do think it's fair to say that Minnesota isn't a great defensive team right now. It looks to have the pieces needed to be one, and I don't know that there are problems that can't be fixed, but it isn't a one-game phenomenon with the Gophers. After opening the season with four straight shutouts, there has been a recurring theme of somewhat ineffective defending. The overall numbers aren't that bad, but when you consider that Minnesota has possession of the puck as much of the time as it does, there have been a few leaks.
The penalty kill in particular has been far from deadly. It does fine as long as it keeps the opponent from getting set up in the zone, and it does well in that regard, but it has been vulnerable once the opposing power play takes shape. There have been years where I thought that the Minnesota PK was stronger than the stats suggested, because it had been asked to kill a lot of five-on-three time or a number of consecutive penalties. That's not the case now. With the talent it can put on the ice, ranking 29th out of 35 teams is somewhat mystifying, and nights like Friday, where Yale converted on both of its power-play opportunities, don't help the stats.
What has saved Minnesota is that it doesn't go to the penalty box much. At full strength, the overall numbers are okay, but those defensive numbers are buoyed by the games where Leveille has been great and has kept the opponent off the scoreboard. When she's been less than great, the blips have quickly appeared. There have been a number of flaws that have contributed, and I don't think that it is something that can be fixed just by flipping a switch and starting to suddenly focus on defense. Saturday's second period was an example of the kind of dominant period the Gophers can play, but again, much of that success is born of possessing the puck and not having to defend a whole lot. I don't think that they can do that for 120 minutes against the nation's top-ranked team. If that proves to be true, then they will likely get their lunch handed to them by Wisconsin, you can vote for whomever you like at the top of your poll ballot, and Minnesota will have two months to figure out how to become a great defensive team once more.
As for the squad that already is a great defensive team, you are correct that Johnson tries to keep attention focused squarely on the next game. In his Monday media conference, he was asked about the importance of beating Minnesota, and his response was, "I thought we were playing Dartmouth Friday?" You and I can look ahead to anything we choose, but Johnson, his coaching brethren, and most importantly, their players, don't have that luxury.
The Badgers finish 2015 with three critical weekends: Dartmouth, Minnesota, and North Dakota. It may be a bit much to expect that they can come through that stretch with a perfect record intact, but I like their chances to still be in first place when the break arrives.
Elsewhere in the WCHA, UMD finally got its first win over a ranked opponent after coming up short in its first nine tries. The Bulldogs and Maddie Rooney shut out North Dakota to get a split. In another series that may prove important for trying to avoid Wisconsin and Minnesota in the quarterfinal if nothing else, St. Cloud State showed it may be stronger than we thought by sweeping Ohio State. Any thoughts on either of those?
Candace: Yes. I think actually, in many ways, the WCHA is a lot like the other conferences: a couple of strong teams, one or two weak teams, and then a whole lot of parity. North Dakota is a great example of that. The newly christened Fighting Hawks are the only team to hang an "L" on Minnesota this year. However, except for the second weekend of the year against an overmatched Minnesota State squad, North Dakota has yet to emerge with six points on the weekend. They tied and lost to Bemidji (though they won the shootout in the tie game), beat and tied St. Cloud (losing the shootout), and then have split with Minnesota, Ohio State, and Minnesota-Duluth.
In its losses, and even its ties, the offense has sputtered. They got one goal in two games against Bemidji, three and four goals against St. Cloud, one and four goals against Minnesota, two and four against Ohio State, and four and none against Minnesota-Duluth. It is feast or famine for North Dakota, and the Fighting Hawks aren't good enough defensively to be able to rely solely on Shelby Amsley-Benzie to steal the game if the offense isn't producing.
That's the theme for the entire WCHA. Ohio State could only score a goal in each game against Bemidji, managed three in its win against North Dakota, and since then has scored one, two, and one goals in its last three games. Again, there isn't a single player on the Ohio State roster averaging over a point a game, and the penalty kill has given up 11 goals in 62 tries, a 79 percent success rate, not good for a team ranked 19th offensively and barely averaging more than two goals a game, and that is also the fourth most-penalized team in the country. Three of St. Cloud's four goals Saturday, including the game-winner, came on the power play.
St. Cloud does have some offensive power in the form of Molly Illikainen, who is 23rd in the country in scoring and factored in all three goals in Friday's 3-2 win over the Buckeyes. St. Cloud has now won four in a row, although those games were against Minnesota State and Ohio State. I think St. Cloud will be battling for fifth in the WCHA against Minnesota-Duluth. I'm not sure the Huskies are quite strong enough to move up to home ice and displace either Bemidji State or North Dakota.
As for Duluth, I don't think we will have a real handle on the Bulldogs until the end of the first half. Until Saturday against North Dakota, their sole wins in conference were against Minnesota State, the only team in the WCHA without a win or tie in league play. Before that 1-0 win, they had lost seven in a row in WCHA play. Minnesota-Duluth closes its first half with series against St. Cloud and Ohio State, so those two weekends might go a long way to getting a better handle on the WCHA playoff race.
Let's talk CHA for now. Penn State lost to St. Lawrence in a close defensive battle. Until its win against Cornell, Mercyhurst hadn't beaten anybody outside the CHA. In fact, all the CHA teams have pretty dismal out-of-conference records, with Mercyhurst sitting at 2-6-1, Syracuse at 2-7, Robert Morris at 4-3-1, Penn State at 3-7, Lindenwood at 2-6, and RIT at 4-6. Robert Morris' record is bolstered by the series where it swept Merrimack, D-I's latest addition and hardly a powerhouse.
Is this just an off year for the CHA, or do you think CHA programs are going to have a harder time attracting top players?
Arlan: Historically, the CHA hasn't attracted the cream of the crop of recruits, and it hasn't stopped the league from competing. Mercyhurst was able to land Meghan Agosta, and perhaps that helped entice some other higher-end recruits like Jesse Scanzano, Bailey Bram, and Christine Bestland, but Michael Sisti was able to bring in players like Valerie Chouinard before Agosta, and get to the NCAA tournament with the likes of Teresa Marchese, Desirae Clark, Samantha Shirley, and Stefanie Bourbeau. I don't know that players on the current roster like Emily Janiga, Jenna Dingeldein, or Sara Robello are that different from forwards that have been the Lakers' bread and butter over the years. It's a bit of a down year in Erie, but I'm not going to write Mercyhurst off and say this is what it is likely to be going forward.
As for Robert Morris, I like the Colonials' freshmen class. It has provided a lot of contributions and shows potential for future growth. With only three seniors, Paul Colontino won't be graduating much after this season, especially in terms of offensive production, where only Ashley Vesci is a regular on the score sheet.
If Syracuse could find a big-time goaltender like Paul Flanagan had back when Rachel Barrie played for him at St. Lawrence, then I think that we might view the Orange differently. He's brought in some impact forwards that didn't work out, with Isabel Menard transferring to Boston University and Laurie Kingsbury getting injured and having to quit hockey.
The other three teams are so new to Division I that I think it is hard to say that what they are today is what we can expect going forward. Penn State in particular still has its first recruiting class on the roster, and a big key for that program will be what type of talent Josh Brandwene is able to bring in to replace them in the fall. With many of these programs, I'm at a disadvantage in that I don't know much about their facilities, having never been to any of them, but at least from a player perspective, Penn State's Pegula Ice Arena is supposed to be very nice.
Recruiting is so difficult to predict down the road. I remember 10 years ago there were those who thought that teams like New Hampshire were going to take over and lead Hockey East to a position of superiority to the ECAC. For a bit, it did seem that traditional powers like Harvard and Dartmouth receded and the biggest advances were in Hockey East. Enter Cornell, Clarkson, and Quinnipiac. I doubt we've heard the last of the Wildcats as far as being a contender, but Harvard and company are far from being dead and buried. BC may be the best program in the East right now, but it is hard to question the overall health of ECAC Hockey. These days in recruiting, outside of a handful of teams that bring in the top classes year after year, there tend to be some highs and lows for everyone else.
Programs are added and subtracted, coaches come and go, and who knows if and when we'll be hit with conference realignment like we saw on the men's side. What we think we know about the balance of power will likely be different in four years. I think it is safe to say that the CHA didn't have a true power team last season, it doesn't seem to have one this year either, but it doesn't mean that potential recruits won't be attracted to play in a circuit where the games look to be very competitive more often than not.