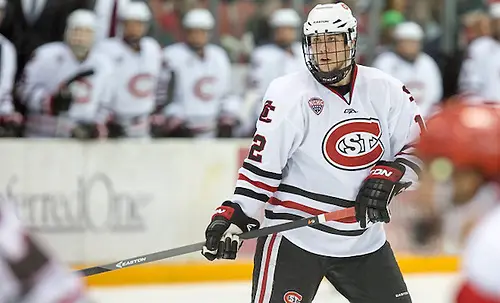 On Oct. 23 and 24, St. Cloud State had its worst offensive showing of the year in a series at then-No. 14 Quinnipiac, losing 5-2 and 4-1.
Since that weekend, the Huskies have won five of six, and the fewest number of goals they have scored in a game has been three.
For coach Bob Motzko, one of the keys to the Huskies' offensive success over the last three series has been the return of senior captain Ethan Prow from a reported head injury suffered Oct. 17.
"[He] has made a huge impact, especially to our power play, and to have a senior leader back, our captain back, he's very offensive," said Motzko. "Also, we're maturing. Our D corps is adding to the offense, guys are settling in on some lines. Nobody is having a super year, but we're balanced and we're getting some offense from different players in our lineup and they come on different nights."
Last weekend, the Huskies faced one of their toughest tests when they hosted No. 4 North Dakota, a key series in the NCHC race. St. Cloud lost the first game 4-3 in part due to the play of North Dakota's Drake Caggiula, who had a hat trick, including the game-winner scored at just 28 seconds of the third period.
The next night, St. Cloud regrouped defensively and held Caggiula, North Dakota's second-leading scorer and top scorer in points per game, without a point in a 6-1 win.
"The mistakes we made Friday, you can't make against a team as powerful as North Dakota, a team as well-coached as they are," said Motzko. "The big thing is the mistakes we made were correctable. They are things that we worked on that you make against players like Caggiula, they're going to make you pay.
"I thought Saturday, we had better sticks, deflected pucks, blocked some shots, and we had much better depth and presence than we did Friday. A lot of times, it's doing little things better that is going to turn the tide for you."
One of the other keys to St. Cloud's early success has been the continuing strong play of goaltender Charlie Lindgren, who is second in the country with four shutouts and ranks eighth in GAA.
"I think that it started after Christmas last year," Motzko said of Lindgren. "If you go back and look at where our team was last year at Christmas, our second half, a lot of that goes to how Charlie matured last year as a goaltender and as a leader for our team.
"What he did this year is pick up right where he left off. We were an under-.500 team at Christmas last year, and our climb to get back into the NCAA tournament kind of fell on his shoulders last year, so I think it was a little bit of a hidden secret."
This weekend, St. Cloud faces another tough test when it travels to Minneapolis to face Minnesota, a rivalry series that always brings out the best in both teams. Last year, St. Cloud split with the Gophers, losing the second game of a two-game set in overtime.
"I think you take out a couple of minutes of play, especially the Mankato game, and then maybe the first game of the year, they're awfully close to having an elite record," Motzko said of the Gophers. "They're much closer to having an elite record than they are the other way. They have a ton of talent, they've been getting better each week, getting stronger, and they're going to be a heck of a hockey team."
Minnesota-Duluth puts together complete weekend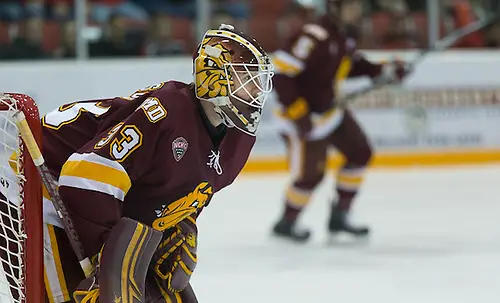 Entering a series against Colorado College last weekend, Minnesota-Duluth hadn't outright won a game since Oct. 30 against UMass-Lowell.
In that stretch of four losses and a tie/three-on-three OT win, the Bulldogs had been firing a ton of shots with little to show for it. They had 28 against Lowell on Halloween, 47 and 37 against Omaha, and 27 and 46 against Denver.
For the Bulldogs, then, seeing the shots finally go in came as a relief, and they rolled to 5-0 and 6-0 wins and a series sweep of CC.
"It's been a little bit of a struggle for our team to score," said Bulldogs coach Scott Sandelin. "We've generated chances in those games, so it was nice to get some goals and get the lead and you build off that both nights. Hopefully last weekend gave our guys a boost, and the most important thing is not just the scoring, but that we won two games and got six important points."
Although the scoring drought might have had the players pressing a little bit, Sandelin said that those games were important for the team's development.
"It might have been a little bit of gripping sticks tightly, but we just try to keep generating those opportunities and eventually things will start going in," said Sandelin. "I think we were doing a lot of good things. Shots are shots, and everyone can look at the numbers, but you also look at quality chances. Some games we've had more than others, but it tells you we've had the puck a lot and are generating those shot opportunities and chances.
"It's hard to be upset when your guys are doing all the right things but it's just not going in. We ran into a good goalie in Omaha, and both Denver goalies played well."
Through that tough stretch without an outright win, Duluth was competitive in each game thanks to the play of goaltender Kasimir Kaskisuo, who has continued to develop in his sophomore year.
"I think we've done a decent job in front of him defensively," said Sandelin. "I think the one area we need to clean up is some decisions with the puck. We've made some mistakes and turnovers in critical areas of the rink that other teams have capitalized on. I think those are some things we need to clean up. Overall defensively, we've been pretty good, and it starts with him, and it's an area we need to keep being good at and hopefully it helps us win some games."
Duluth is off this week, then closes its first half with series against Western Michigan and North Dakota. Sandelin said that with the break, the wins against CC were even more important.
"I think anytime you go into these off weeks, it was really important that we got a couple of wins and did some of the things we did last weekend. I could even tell after we won the three-on-three game with Denver that the next week of practice guys were feeling better.
"I told them at the beginning of the year, you're going to go through some tough times. You don't want to, but hopefully we learn from that stretch, and we just have to keep improving. When you score some goals when you haven't, it builds confidence in your team, and hopefully we continue that forward into the Western Michigan series."
NCHC players of the week
Offensive player of the week — Austin Farley, Minnesota-Duluth: Farley scored seven points in the Bulldogs' road sweep of Colorado College and was named the No. 1 star in both games. On Friday, he scored the game-winner, the first goal, just 1:12 into the game, assisted on Duluth's second goal and added a power-play goal in the third, finishing the game with a plus-2 rating. On Saturday, he tied a career high in points with two goals and two assists, again scoring the opening goal, this time on a power play, and finishing the night plus-4.
Defensive player of the week — Niklas Nevalainen, St. Cloud State: Nevalainen helped the Huskies earn a split with No. 4 North Dakota, posting a plus-5 rating on the weekend while contributing three points. On Friday, he had an assist on St. Cloud's final goal in a 4-3 loss, while Saturday, he assisted on St. Cloud's first goal and scored a power-play goal in the second period to put his team up 4-1 while posting a plus-3 rating and helping his team kill all three North Dakota power-play chances.
Rookie of the week — Jon Lizotte, St. Cloud State: Lizotte, a defenseman, had three assists in St. Cloud's split with No. 4 North Dakota while posting a plus-5 rating and blocking five shots. On Friday, he assisted on St. Cloud's first goal and finished plus-1, while on Saturday, he assisted on St. Cloud's third goal and sixth goal of the game and helped the team kill all three North Dakota power plays.
Goaltender of the week — Kasimir Kaskisuo, Minnesota-Duluth: Kaskisuo became the first Minnesota-Duluth goalie to record two shutouts in a weekend series. On Friday, he stopped 19 shots in a 5-0 win and helped kill two Colorado College power plays. Saturday, he stopped 26 shots and helped kill four CC power plays. He has an active shutout streak of 170:20, a Minnesota-Duluth record, and three shutouts on the season.