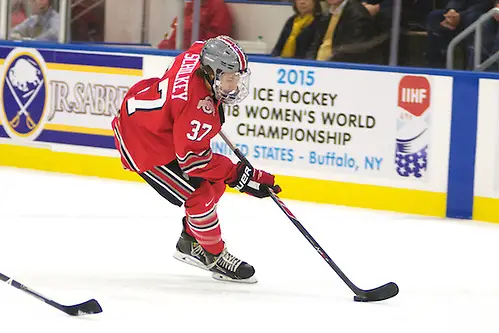 Ohio State's nonconference schedule to start this season was similar to last year's — playing Providence, Miami, Omaha and Bowling Green. Unfortunately for the Buckeyes, the results were also similar.
They started this season with a seven-game losing streak, but the Buckeyes have won their last three going into this weekend's series at Omaha's new barn, Baxter Arena.
"Every team is different and certainly everybody wants to get off to a good start," Ohio State coach Steve Rohlik said. "The way college hockey is these days and the parity of the teams out there, with 17 freshmen and sophomores, we knew we had to be ready to play our best hockey to start the year. We played some games there that were probably a toss-up; we just didn't get it done. It's unfortunate, but you have to learn to win those tight games."
Some of the seven losses were close ones: Ohio State was outscored by an average of 1.71 goals during those contests, with three of the defeats were by one goal. The Buckeyes' offense woke up after a 2-1 loss to Mercyhurst on Oct. 30, and they have outscored their opponents 15-6 over the last three games, a win over Mercyhurst and two wins over Canisius.
"It's nice to see some results," Rohlik said. "The guys are putting the time in and they're working extremely hard, so it was nice to finally get some results on the other end."
That's not to say that a three-game winning streak erases the memory of losing the first seven, but Rohlik said that he likes how his team came out on the other side of those losses, considering its youthfulness.
"We played some good hockey teams and we played some good games. We were right there," he said. "Each weekend we played, you can sit back and say, 'Jeez, if we got that bounce or that bounce, we could have won that game. But, you know what, at the end of the day they had more goals than we did.' So, that's just the way it went, but I know that our team knows that if we play our best hockey we can go out and play and compete.
"The frustration was there," Rohlik added. "But the belief was still there and the belief is still there for this team and that's the attitude we have to take moving forward."
Ohio State entered the season with 10 freshmen on its roster and most of them have been asked to step into significant roles right away. Rohlik pointed to defenseman Sasha Larocque and forward Mason Jobst as two youngsters that have particularly impressed him so far.
"[Larocque] has played a lot of minutes for us and has been solid," Rohlik said. "Because of our injuries back there he's been thrown into the power play and penalty kill and playing tons of minutes. He's already playing key roles for us.
"[Jobst] is a kid that didn't even play last year in the USHL due to injury and he's come out and is another guy that's been in every situation. I've been impressed with what he's done for a guy that didn't play a lot of hockey games last year."
Like some other coaches, Rohlik said that he believed you could spot a difference between the fall and spring portions of a player's first season and that he expected players to step into bigger roles after the holiday break.
"They get used to the structure, they get used to the schedule of college," he said. "People forget that these guys go to school full time and have a lot on their plate.
"Once they get back after Christmas — they get home and see the family again, which is important, but then they come back and they know what to expect. I think that's a game-changer at that point."
The Buckeyes' top three scorers so far this season are upperclassmen. Junior Nick Schilkey has 12 points, fellow junior David Gust has 11 and senior Anthony Greco has eight. Rohlik said that he has consistently sent those players out in important spots and that Ohio State needs them to perform to get the results that it wants.
"For us, we've got to depend on those guys for putting points on the board," he said. "When they get the minutes that they do and they're playing on special teams, they've got to come through for you. They have for the most part, even though each of them would say that there's a lot left on the table out there.
"They're kids that we're leaning on," Rohlik added. "They have to lead by example and they've done that for the most part."
After gaining some momentum at home, Ohio State heads back out on the road against another tough opponent, No. 6 Omaha. The Mavericks have a 4-0 record at home this season.
"They're very talented and very good team; they've proved that last year and they're proving that this year," Rohlik said. "Everybody's beatable, we know how good they are and our team's going to go in there and we're going to lay it on the line. We don't want to get into a run-and-gun game with them. Certainly, we want to go down there and play a solid hockey game and it would be nice to keep that score down and try to win a 3-2 hockey game."
Three stars of the week
First star — Michigan junior forward Alex Kile: Kile had three points — two goals and an assist — during the Wolverines' split with Boston University last weekend. He notched the game-winning goal on Saturday.
Second star — Penn State freshman forward Andrew Sturtz: Sturtz had two goals during Penn State's 5-2 victory at Alaska-Anchorage last Friday. It was his second multi-goal game of the season. The Nittany Lions tied the Seawolves 1-1 on Saturday.
Third star — Michigan State junior forward Mackenzie MacEachern: MacEachern had two goals and one assist as the Spartans lost to and tied Michigan Tech last weekend. He has a four-game goal-scoring streak.
B1G in the poll
No. 20 Penn State joined No. 12 Michigan in this week's USCHO.com Division I Men's Poll. Michigan State also received a vote.
My ballot
1. Providence
2. Quinnipiac
3. Boston College
4. Massachusetts-Lowell
5. North Dakota
6. Omaha
7. St. Cloud State
8. Harvard
9. Denver
10. Boston University
11. Yale
12. Michigan
13. St. Lawrence
14. Bowling Green
15. Merrimack
16. Minnesota-Duluth
17. Cornell
18. Michigan Tech
19. Notre Dame
20. Penn State
This week's matchups
Michigan State vs. No. 5 North Dakota (Friday and Sunday, Munn Ice Arena)
No. 12 Michigan vs. Dartmouth (Friday and Saturday, Yost Ice Arena)
Minnesota vs. No. 7 St. Cloud State (Friday and Sunday, Mariucci Arena)
Ohio State at No. 6 Omaha (Friday and Saturday, Baxter Arena)
No. 20 Penn State vs. Vermont (Sunday, Pegula Ice Arena)
Happy Thanksgiving to everyone!