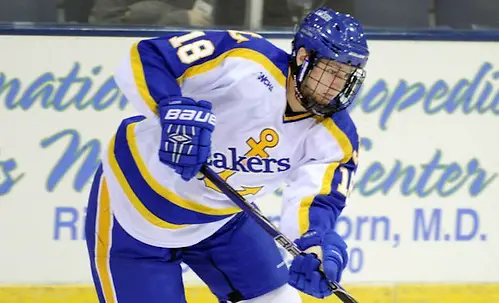 For a young team still learning to win close games, overtime can be a valuable learning tool.
Take Lake Superior State. The Lakers had a pair of close games at home against Division I newcomers Arizona State two weekends ago. Saturday, Gus Correale scored to tie the game at 2-2 with just less than a minute to play.
But the Lakers' hopes of earning the tie were dashed when the Sun Devils' Jordan Masters netted the winner with 30 seconds to go in overtime.
So the next weekend, when the Lakers headed to Bemidji State, they figured out how to guard their valuable lead. Lake Superior State gutted through a scoreless third period to win Friday night's game 3-2 before settling for a solid 1-1 tie in Saturday's contest — one in which Lakers' goaltender sophomore goaltender Gordon Defiel saw 48 shots.
And although the Lakers, who are 3-8-3 overall, have been somewhat inconsistent this season, that's to be expected for a young team.
"With a young team and a team in a rebuild, you've got to learn how to win hockey games and be in close games, to get that experience," second-year coach Damon Whitten said. "That's all showing a little bit. We're still learning how to close out games and either hold onto leads or get that goal to tie it up."
Seven of the Lakers' last eight games have been decided by one goal (or ended in ties). The only outlier was a 5-0 Saturday night loss against Alabama-Huntsville that may have been carryover shock from losing a two-goal lead in the third period of Friday's game.
The Lakers have had their share of issues — scoring has been a problem, for one, with just 28 goals in 14 games — but overall it seems like they've improved as the calendar turned to November.
This is especially true for Defiel and the Lakers defense, which gave up 29 goals in their first eight games. They've allowed just 11 in six games since.
"It's a little too inconsistent for our liking, probably, but we had huge growth after Christmas last year, where we finished extremely well defensively," Whitten said. "We thought that's where we'd be starting from, but that wasn't the case. I thought we were way too loose early on, but we tightened that up in a lot of areas."
Defiel's numbers haven't been eye-popping, but he, too, has improved since the start of the season. Against the Beavers last weekend, he made 80 saves to steal three points.
The Lakers are also getting more contributions from their older players than they were to start the season. Junior Alex Globke, who was the top WCHA newcomer in 2013-14, scored the game-tying goal Saturday against BSU while junior Gus Correale scored Friday's game-winner in Bemidji and also helped send the game against Arizona State to overtime.
"In college hockey, your success is dependent on your upperclassmen," Whitten said. "Globke had a tremendous freshman year before we got here, but he's playing the best hockey since we've been here. And that's huge to get him going. Give him a lot of credit for sticking with it. His work ethic away from the puck has been tremendous and he's getting rewarded for it.
"And Correale has been good since day one. He works extremely hard, he skates, he plays in all situations. To get offense from him, we'd like that to continue."
Otherwise, all of Lake State's scoring leaders are newcomers. Sophomore J.T. Henke, a Maine transfer, leads the way with eight points (5 goals, 3 assists). Freshmen Mitch Hults, Gage Torrel and Anthony Nellis are also ahead of Globke and Correale in the scorebooks.
The Lakers, who have just two conference losses in six games, have games in hand over just about everybody in the conference. They return home this week, where they've struggled to win games — just one victory in Sault Ste. Marie so far. A high-scoring Ferris State team that has scored more than anyone in the league awaits them.
"It's not a terrible league start but we'd like to be better overall," Whitten said. "It's been too up and down and too inconsistent in the nonconference portion. But now that we're getting in the league play we've tightened up. So we're an improved team and we see that but we can't have passengers in this program right now. We need everybody playing and we're starting to get that."
Rookie goalies shine
Northern Michigan goaltender Atte Tolvanen has made an immediate impact as a freshman, winning WCHA rookie of the week honors three times (including this week), getting a defensive player of the week award once and capturing the league's first rookie of the month honor in October.
He is 3-3-5 and ranks second in the WCHA with a .934 save percentage and is third with a 2.13 GAA.
But suddenly, he's not alone when it comes to rookie goalies in the league. Three others are starting to make names for themselves, too.
Minnesota State freshman Jason Pawloski has started three games in a row and has yet to lose this season. Competing with junior Cole Huggins, Pawloski is 3-0-2 with a 1.99 GAA (second-best in the WCHA) and just battled Tolvanen to a pair of ties in Marquette. His save percentage, however, is just .883.
In Big Rapids last weekend, rookie goalies stole the show in a pair of ties between Ferris State and visiting Alaska. The Bulldogs' Darren Smith, who has played in nine games and has a record of 4-1-3, stopped 70 of 75 shots last weekend. The Nanooks' Jesse Jenks, who has played in four games (2-0-2), stopped 75 of 80 shots.
Jenks and Smith rank third and fourth, respectively, in conference save percentage at .928 and .925. They have 2.41 and 2.39 GAAs, respectively.
They have had competition for their jobs. Junior Davis Jones has played in eight games for Alaska, and senior Charles Williams has seen action in seven games for Ferris State.
The only other freshman to play between the pipes this season in the WCHA is Nick Kossoff, who has gotten action in four games for Lake Superior State, winning once.
WCHA rejects proposed legislation
The recent kerfuffle over the Big Ten's proposed legislation to lower the maximum age of incoming recruits from 21 to 20, as reported by College Hockey News, has been far and wide in the college hockey world.
And, unsurprisingly, the list of dissenters officially includes the WCHA.
WCHA commissioner Bill Robertson said in a phone interview Wednesday that although he understands and respects the Big Ten's proposal, overall the WCHA is against it.
"I believe it will have a negative impact on college hockey," he said. "And all of our head coaches agree.
"I would say the current system is not broken by any means."
Robertson said that with the limited number of scholarships in college hockey, and the fact that redshirting is so rare, forcing players to attend school a year before they might be ready would be a detriment to the athletes, both athletically and academically.
Minnesota State coach Mike Hastings echoed these sentiments in an interview with the Mankato Free Press.
"I've always been a proponent that we provide the student-athlete and the student, in general, the greatest opportunity to become contributing people to society — academically, socially, athletically," Hastings said.
"If you're looking at trying to take a year away from someone who's trying to better himself, someone needs to explain to me the motivation for that. I thought the goal was to provide opportunities for young men and young women to better themselves."
Ice chips
• Bemidji State and Alabama-Huntsville got a head start on the rest of the league for a rare Wednesday night pre-Thanksgiving battle. The Beavers scored four straight goals, including three in the third period, to beat the Chargers 4-1. Reid Mimmack, who has been the Beavers' backup goaltender in the past two seasons, started his second consecutive game and won for the second time in three tries this season. Before this season he had started just one game, in November 2013. So far this year he has allowed five goals for a 1.62 GAA and made 74 saves for a .932 save percentage.
• Brandon Carlson scored the only goal for Alabama-Huntsville, which is 29-44-4 all-time against their former Division II and College Hockey America rivals from the north. The game was also the fifth all-time for UAH on a Wednesday. The Chargers are 1-4 in the middle of the week.
• Alaska-Anchorage takes its surprisingly unbeaten road record to Minnesota State this weekend. The Seawolves are 3-0-1 away from home but are beginning a tough stretch with back-to-back series against a couple of the league's best, the Mavericks and Michigan Tech.
• Alaska secured four points during its recent two-week trip to the Midwest, where it split at Bemidji State and got two ties at Ferris State. The Nanooks will spend the next three weeks in Alaska before their winter break, hosting Michigan Tech and Lake Superior State and going down state to Alaska-Anchorage.
• Bowling Green began a six-game home stand last weekend and got off to a good start with a sweep of Alabama-Huntsville. Including a 3-0-2 record there this year, the No. 15 Falcons are unbeaten in their last nine games at home, the second-longest active streak in the country. They will host Northern Michigan this week.
• Northern Michigan skated to six ties last season, which was fourth in the nation. This year, the Wildcats have already tied five times in 12 games — most in the country.
• With a pair of assists in Saturday's home tie against Alaska, Ferris State junior forward Gerald Mayhew leads the WCHA in scoring with 15 points, including a league-best 12 assists. Bulldogs freshman Corey Mackin is tied for second in scoring with 13 points, including five goals. The Bulldogs go to Lake Superior State this weekend.
• After starting the season 1-2, Michigan Tech is 6-2-1 over its last nine games. This weekend, Tech will make its fourth and fifth all-time appearances against Alaska in Fairbanks. The Huskies are 2-1 all time in Fairbanks, including a sweep the last time they made the trip in 2013. The only other time the Huskies visited Fairbanks was for the Great Alaska Faceoff Tournament in 1993, when the Nanooks won 4-3.
• Minnesota State defends well, ranking first the nation in shots on goal allowed, averaging 23.21 shots against per game. Including last weekend's 66-28 advantage in two ties against Northern Michigan, the Mavericks have outshot opponents 444-325. The Mavericks host Alaska-Anchorage this weekend.
• This week's WCHA players of the week were Michigan Tech junior forward Tyler Heinonen (offensive); Lake Superior State sophomore goaltender Defiel (defensive) and Northern Michigan freshman goaltender Tolvanen (rookie).