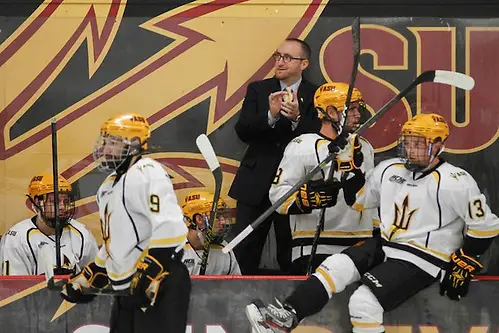 Coaching hockey has never been easier for Arizona State's Greg Powers.
Don't misunderstand that. Arizona State's transition from a club program to a Division I program hasn't been easy this season. The Sun Devils have gone through their share of ups and downs the last few months, and Powers has shared that ride.
But from a standpoint of actual coaching, recruiting and all that goes into guiding a Division I team on a daily basis, Powers feels like he's got it made compared to the past. Prior to Arizona State joining the Division I ranks, he juggled all of those coaching responsibilities on top of owning his own consulting business.
Now, he's just a coach.
"I just look at it as running one business," Powers said in a recent phone interview. "It's a hockey program. I'm the CEO and I have a great staff around me that I delegate different things to and we're getting things done. A lot of people ask me how I like it. It beats working."
Powers was given the opportunity to concentrate solely on hockey when Arizona State received enough money through donations to elevate its club hockey program to Division I status this season. The Sun Devils are playing as an independent Division I team this season and have a partial Division I schedule. They'll expand their Division I schedule next season and plan to join a conference in the 2017-18 season.
Arizona State is now two months into its Division I experience, and it's been a lot like Powers expected it to be. The Sun Devils have been at times outmatched — Connecticut, Quinnipiac and Wisconsin beat them by four or more goals — but they've also been competitive and improved as the season has gone along. They have a 5-8 record and are 3-8 against Division I opponents.
"I don't think a lot of people expected us to win five games all year," Powers said. "We're happy where we are. We're not content. We believe we've put steps in place and continue to focus on the process to be a successful program. We still believe the sky's the limit for our program."
The Sun Devils began to taste some of that success recently, and it came just after they faced some adversity. Wisconsin took it to them in a 5-1 road loss on Oct. 30. A day later, Arizona State hung with the Badgers for three periods and lost 2-1. The Sun Devils followed that narrow defeat with back-to-back one-goal wins against Lake Superior State for their first Division I weekend sweep.
"I think that [second] Wisconsin game we turned a corner," Powers said. "I think that second Wisconsin game pointed us in the right direction. The guys understand you don't sit around and learn the pace of that level. You always have to skate with teams and compete with teams from the drop of the puck. Wisconsin was very good that first night. We went toe to toe with them in the second game. That was a big learning experience.
"We went into Lake Superior State and tried to bottle up how we played. They understand we can actually dictate the pace of play ourselves. It was a big turning point."
Learning and adjusting to the pace of play was Arizona State's first major hurdle this season. The Sun Devils were caught off guard just how fast the game was when the season began. Powers fine-tuned his practices after their first few Division I games, and they now practice at a different rate.
The difference in talent at the Division I level has also been noticeable. Powers spoke highly of his current players, but he also understands his program needs more high-end players if it's going to compete for NCAA tournament berths and eventually national titles as he hopes it will.
"Can we compete? Yeah," Powers said. "Can we compete for a championship? No, we have to get better. You're not going to recruit everyone in one class in Division I hockey. You're not going to recruit a team good enough to win championships. It's going to take time. You have to build a sustainable program over years."
Arizona State's 33-man roster includes 15 freshmen this season, and the freshmen are among the top contributors. Jordan Masters, a freshman forward from Rochester, N.Y., leads the team with five goals and 14 points. Joey Raats, a freshman defenseman from Las Vegas, has a team-high 10 assists. Freshman Ryland Pashovitz, who is from Saskatoon, Saskatchewan, is the No. 1 goalie. Arizona State also recently signed five players, all from the USHL, in its 2016 recruiting class.
Powers has dipped into a variety of places already to recruit. His current roster includes players from 13 states and Canada. He's gone into Illinois, which doesn't have a Division I men's hockey program, for five current roster players. His 2016 recruiting class includes players from California, Massachusetts, Missouri, Wisconsin and Russia.
"We have a uniqueness to us that nobody has," Powers said. "We're new. We're the only team out West. That's part of the recruiting process. If a kid wants to come here because we have palm trees and it's nice weather, that's not our type of kids. We want kids to come for the right reason. It's really refreshing to find out how elite kids want to be a part of what we're building."
Powers has to constantly remind himself and his players that building a successful program is a process and it is going to take time. That's not always easy for him to say.
"I've lost as many games this season already as I have in the last two," Powers said. "I'm not very patient, no. But I understand what this is going to take. I think we have higher expectation for ourselves than anybody does. I don't think we're going to make the NCAA tournament this year. I don't think we're going to win a national championship in the next couple years. But I expect we're going to be competitive. You have to be committed to being competitive every night. If you do, you give yourself a chance."