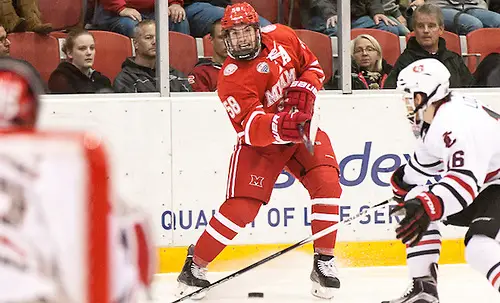 Willie Knierim wouldn't have needed much of a recruiting pitch if Northwestern had a Division I men's hockey program.
Knierim grew up in Skokie, Ill., just 10 minutes from Northwestern. He knows plenty about Evanston and what Northwestern has to offer.
"It's one of the most beautiful campuses," Knierim said. "It's right around the water."
Alas, Northwestern doesn't have a program, and Knierim, who ISS Hockey ranks No. 22 among 2016 NHL draft-eligible players, recently signed his letter of intent to play at Miami next year.
While Illinois is among the nation's top five states in registered hockey players and is producing more and more NHL prospects, what the state lacks is a Division I program.
"It's always been kind of weird that Illinois doesn't have a D-I hockey program," Knierim said. "And for Arizona to have one right now, I think Illinois needs to get at least one, if not two. With the Blackhawks being such a big part of Chicago and the state, too, hockey is growing even more."
With Arizona State moving up this season, that makes 60 Division I programs across 20 states. Massachusetts and New York each have 10 D-I programs. The closest programs to Illinois, geographically, are Notre Dame and Wisconsin.
Knierim and other teenage players are too young to remember it, but Illinois actually had an D-I program not that long ago.
The University of Illinois-Chicago, which is located on Chicago's west side, possessed a Division I men's hockey team from 1982 to 1996. What brought that program down is the same thing that's keeping other programs from being started: money.
"We had two rinks — the Pavilion and a practice rink on campus — and those rinks were losing about $800,000 a year," said UIC athletic director Jim Schmidt. "We were renting the rink 24/7 and still losing money. … The campus administration at the time made a decision to discontinue the program and reinvest in other programs to make us more competitive. It did work.
"It's like anything else: If anyone funded the program, all the scholarships and all the finances, I would never say never. I would never say never, but it's a big investment. It would have to be really a sound business plan with financial backing."
There's little hope of UIC adding a hockey program again. The logical schools would be Illinois and Northwestern, both of which are in the Big Ten. Both schools have club programs, but neither seems interested in expanding.
"The resources we have will be dedicated to the 503 student-athletes and 19 programs that currently represent Northwestern," Northwestern spokesperson Paul Kennedy said.
Illinois spokesperson Kent Brown had a similar answer.
"Illinois had a very successful men's ice hockey program back in the '30s and early '40s, but it was suspended at the outset of World War II," Brown said. "Ray Eliot was the first hockey coach. After the war, the interest and finances to restart the program weren't there, and it never was a varsity sport again.
"We have a couple of major issues to hurdle before hockey would become a varsity sport again. Our ice rink was built in the late '20s and seats about 1,500. To start a varsity hockey program, we would need a new facility, with at least two additional sheets of ice for both a men's and women's team to use for practices."
Division I programs have been added elsewhere in recent years, but donations were key to those. Penn State received $102 million in total donations from Terry and Kim Pegula, who own the NFL's Buffalo Bills and the NHL's Buffalo Sabres. Arizona State received a $32 million donation.
"Penn State recently began a program with a nearly $100 million gift from an alum who owns the Buffalo Sabres," Brown said. "We would probably need something in the same neighborhood to get started here. We know the sport is extremely popular, and the Chicago area has a ton of players, but we just don't have a facility to support men's and women's varsity programs. I guess we would never say never, but there are several projects already on the board before even seriously thinking about adding men's and women's hockey, and we would have to add both for Title IX reasons."
No one doubts the state's current passion for hockey. With the Blackhawks winning three Stanley Cups in six years, hockey has taken off in Illinois.
The state has added nearly 10,000 registered players in the last six years and recorded a total of 30,553 during the 2014-15 USA Hockey registration period. Illinois trails only Minnesota (55,450), Michigan (50,602), Massachusetts (49,591) and New York (48,580).
As Illinois has accumulated more players, it's also developed more high-end talent. Christian Fischer (second-round pick by the Arizona Coyotes in 2015), Miami's Louie Belpedio (third round by the Minnesota Wild in 2014), Ryan Hartman (first round by the Blackhawks in 2013) and Michigan's JT Compher (second round by the Sabres in 2013) are all recent draft picks from Illinois.
Knierim and Boston University recruit Clayton Keller, who is from Swansea, Ill., are projected to be selected early in the 2016 draft.
The Blackhawks have especially dipped into Illinois' talent pool as of late. They drafted Illinois natives Hartman, Alex Broadhurst, Vince Hinostroza (a former Notre Dame player), Miami's Anthony Louis and Roy Radke since 2011. They also signed former Maine goaltender Scott Darling, who is from Lemont, Ill.
With all those players in Illinois and no Division I program in the state to recruit them, other schools have benefited. Wisconsin has seven Illinois players on its roster. Miami and Notre Dame both have four players. Michigan, Michigan State, Ohio State and Penn State each have at least one Illinois player.
Blackhawks television analyst and former NHL player Eddie Olczyk has had two of his sons play Division I hockey and a third will begin playing next season. Eddie, his oldest, played at Massachusetts. Tommy is a senior at Penn State. Nick is committed to play at Colorado College.
Olczyk would have loved to keep his children in state for college.
"To me, that would be incredible to have a Division I program in our state and kids growing up in our state," Olczyk said. "You have that kid in Massachusetts, and they want to go to Boston College, BU, Harvard. The same thing with Michigan or Michigan State or Minnesota.
"To get that one would be an incredible boost to hockey. I'm hoping at some point somebody is going to say it's about time my alma mater has a Division I program. If you look at that template by Penn State, it can happen and it can happen really quick. It'd be great for the state of Illinois and kids of Illinois."