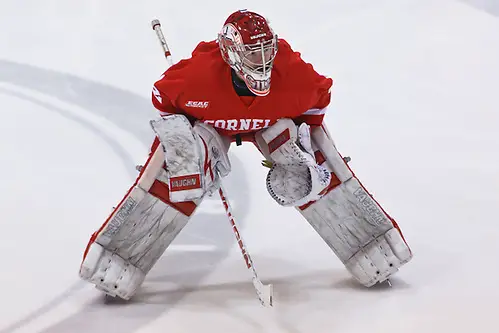 There was a lot of extra time played not only in ECAC Hockey last weekend, but in college hockey as a whole. Twenty-two games went to overtime, including four in ECAC Hockey.
Despite the extra time, there wasn't a lot of closure. All four of those ECAC games ended in ties — two of them scoreless.
Saturday's 0-0 tie between St. Lawrence and Quinnipiac was the first scoreless game in the history of the Saints' program — a span of 2,083 games dating to the 1925-26 season.
Despite the abundance of ties, don't expect the ECAC to explore adding a shootout during the offseason. Most coaches interviewed about the matter two seasons ago seemed opposed to the system.
While the shootout might be an option in the 82-game NHL season, the 22-game conference schedule often puts points at a premium. Some see it as a shame that crucial points come down to a skills contest.
Colgate coach Don Vaughan recalled the words of former St. Lawrence coach Joe Marsh, who compared the shootout to settling the Masters with a putt-off.
"It's a skills competition to decide a team game," Vaughan said.
Where's the offense?
With two scoreless ties last weekend — and only one team scoring more than three goals — it might seem that the league's offense has dipped a bit from last season.
Each team, with the exception of Dartmouth and Rensselaer, has played six conference games (the Engineers and Big Green have played five). The average ECAC team is scoring 2.47 goals per game, the exact same mark as a year ago. However, that's down slightly from the 2013-14 season (2.75) and 2012-13 season (2.59).
While there are plenty of good goalies in the league, this year's talented freshman forwards — Harvard's Ryan Donato, Yale's Joe Snively, Cornell's Anthony Angello, Quinnipiac's Thomas Aldworth and Rensselaer's Evan Tironese, among others — suggests that scoring could rise in the coming seasons.
Brown and Colgate going Green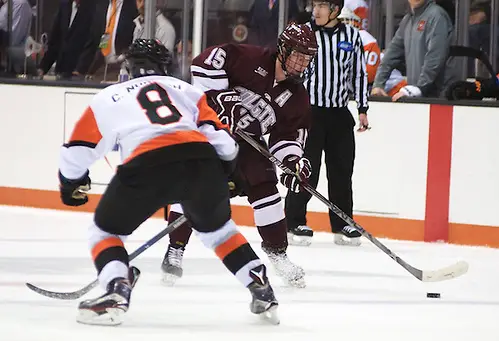 It's near the end of November and ECAC Hockey has the best out-of-conference winning percentage of any league in the nation at .674 (29-13-4).
There will be several chances to add to that mark this weekend, two of them across the Atlantic Ocean.
Colgate and Brown will meet in Belfast, Northern Ireland, on Friday as a part of the Friendship Four. It will be the first regular season U.S. college hockey game to be played in Europe.
The Raiders and Bears will play at 11 a.m. Eastern time on Friday. That game counts toward the league standings and will be televised by NESN. Northeastern and Massachusetts-Lowell will play in the second game, with the championship and consolation games offering nonleague competition for the ECAC schools on Saturday.
All four games will take place at the SSE Arena Belfast, the home of the Belfast Giants of the Elite Hockey League. The current Giants roster features several former NCAA players, including ex-Clarkson defenseman Matt Nickerson.
Both the Raiders and Bears were in Belfast on Tuesday. It's the second European trip of the year for Colgate; the Raiders spent 10 days in August touring Switzerland and Italy while playing against several local teams.
Bears coach Brendon Whittet told UTV Ireland it took "about two seconds" to say yes to playing the games, and he sees more NCAA teams making the trip in the future.
"The best ambassadors will be us when we go back and say how we were treated and what it was like and what the experience was like," he told UTV.
Information on the games can be found on the tournament's official website.
Colgate and Brown aren't the only ECAC teams taking part in notable games this weekend. No. 16 Cornell will travel to Madison Square Garden on Saturday to face No. 11 Boston University as part of the Red Hot Hockey matchup. No. 10 Yale travels to Providence to face the defending national champion Friars, who are No. 1 in the USCHO.com Division I Men's Poll and haven't lost this season. It's the first meeting between the teams since 1997.
Finally, No. 8 Harvard travels to No. 18 Notre Dame to take part in the Shillelagh Tournament, while Dartmouth travels to No. 12 Michigan for a pair of games against the Wolverines.
Around the league
• Rensselaer extended its unbeaten streak to eight games (6-0-2) with a win over New Hampshire on Tuesday night. Engineers forward Milos Bubela played for the first time since Oct. 31, while goalie Jason Kasdorf remained out. Kasdorf was injured on Nov. 6 against Clarkson and hasn't played since.
• Cornell's improved offense has been a big reason for the team's 6-1-1 start, but the Big Red have been getting outstanding goaltending from junior Mitch Gillam, who was named ECAC player of the week and NCAA first star of the week after posting back-to-back shutouts last weekend. It's the first time a Cornell goalie has had back-to-back shutouts since Andy Iles did on Dec. 2-3, 2011, and the first time it's happened on the road since Nov. 7-8, 2008, when Ben Scrivens blanked Princeton and Quinnipiac. Entering the season, Cornell coach Mike Schafer said neither Gillam nor sophomore Hayden Stewart claimed the No. 1 job down the stretch last year, but Gillam has done exactly that so far this season.
• Joining Gillam on the league's weekly awards list were Quinnipiac's Luke Shiplo (rookie), who scored Tuesday against Connecticut and Friday against Clarkson, and St. Lawrence sophomore Kyle Hayton (goalie), who stopped 71 of 72 shots in a three-point weekend for the Saints.
• And finally, here's proof that the Union and Rensselaer rivalry extends beyond the collegiate ranks. Former Dutchmen defenseman Mat Bodie and former Engineers forward Mike Zalewski mixed it up during Sunday's AHL game between Hartford and Utica. Each player was given two minutes for roughing.
Mat Bodie mixes it up with Mike Zalewski in today's Hartford-Utica AHL game. #UnionHockey #RPIHockey #ECACHockey pic.twitter.com/KPsYgdCa2e

— Garnet Hockey Report (@GarnetHockey) November 23, 2015