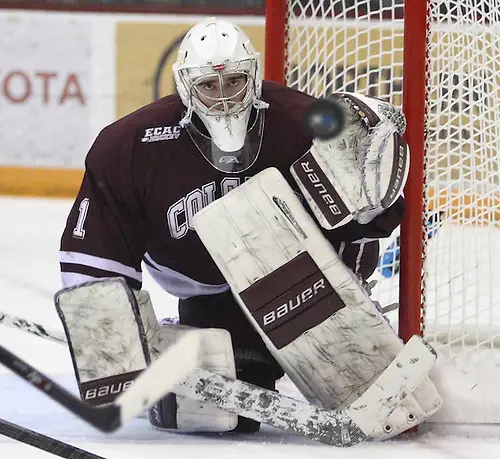 With the success several ECAC Hockey teams have had in shootouts the last few weeks, you'd think the league's teams have been preparing, but that hasn't necessarily been the case.
"I honestly kind of forgot about it, I was so involved in the moment of the coaching the game," Brown coach Brendan Whittet said of the Bears' shootout win against Denver last Friday after a game that officially counted as a 3-3 tie. "I didn't really have a plan of who was going to go in the shootout; I just asked the guys and they picked who I would have anyway."
In Minnesota, eventual tournament champion Colgate advanced to the title game of the Mariucci Classic thanks to a shootout win over the Golden Gophers.
Raiders coach Don Vaughan decided to have some fun making the shootout lineup. Vaughan said Colgate does shootouts in practice the night before a home game or at the end of the month.
Before leaving for the tournament, Vaughan, who usually doesn't get involved when the Raiders are practicing shootouts, pulled the team aside and said whoever won the competition would be guaranteed a spot in the three-man lineup if a shootout was needed.
Lo and behold, it was defenseman Ryan Johnston, he of the one goal in 54 career games, who won the practice competition and secured a spot in the lineup. The sophomore made Vaughan look like a genius, scoring the shootout winner against the Golden Gophers.
Still, despite the success, most of the coaches involved in the shootouts weren't eager to see them used in regular season games. The NCHC and Big Ten are the only Division I men's conferences to utilize shootouts, while many in-season tournaments use them to determine which team advances.
"Joe Marsh, one of the league's great coaches, said the shootout would be like deciding the Masters with a putt-off. It's a skills competition to decide a team game," Vaughan said.
Union coach Rick Bennett said the Dutchmen enjoyed the shootout at St. Cloud State last month, but he was on the fence about using them in a non-tournament setting.
"I'm a little old fashioned in that department," Bennett said. "I like the current format that we have. … For 22 league games, I just think guys absolutely battle for 65 minutes and those are hard-earned points."
Bennett said he wasn't opposed to four-on-four in overtime, while Vaughan would be in favor of extending five-on-five overtime or switching to four-on-four before trying a shootout.
Whittet suggested some kind of points system if teams used fewer skaters.
"If you play a regulation tie and then went four-on-four and lost and didn't get any points, that would be a struggle," he said.
Quinnipiac coach Rand Pecknold, whose Bobcats beat Massachusetts in a shootout last Sunday to advance to the UConn Hockey Classic title game, is in favor of the shootout.
"I really think we're missing the boat, that we don't play four-on-four in overtime and we don't do the shootout all the time," he said in his news conference last Sunday.
"I think it's accepted in the NHL, it's been applauded by fans, people love it. We as college hockey coaches, we voted on it in each league — there's [two leagues] doing it … we should do it across the board. We're producing players for the NHL by the boatload now, and I think we're missing the boat on that. It was nice to do the shootout."
Still, ending a game without a winner doesn't bother everyone.
"I'm a believer that some nights a game should end in a tie," Vaughan said. "There are some exciting ties in college hockey year to year."
Call them giant slayers
Going into the holiday break after getting swept at home wasn't an ideal way for Colgate to end the first half. Still, the Raiders started January in a big way by winning the Mariucci Classic, blanking then-No. 2 Ferris State 3-0 in the title game after getting past No. 1 Minnesota via a shootout.
"I thought we skated pretty well," Vaughan said when asked what impressed him most about the weekend. "We think we skate pretty well, but until you go toe-to-toe with a team like Minnesota, you never really know. We stayed with them."
Freshman goalie Charlie Finn was outstanding on the weekend, stopping 36 shots against the Golden Gophers and then making 19 saves against the Bulldogs in the title game.
"We knew we were probably going to have to weather a storm early on [against Minnesota] and be prepared to lose the territorial battle early, and take care of second and third opportunities," Vaughan said. "Charlie made seven or eight big stops early in that game."
The weekend continued a solid stretch for the freshman, who hasn't given up more than two goals over his last five starts.
Finn got off to a rough start, giving up a combined 13 goals in his first two games, but has seen the majority of playing time over senior Eric Mihalik since late November.
"He had a couple of crazy outings early in the year," Vaughan said. "Some of the goals that went in weren't his fault; we were porous defensively. Those games set him back from a confidence standpoint but we knew that it was just a matter of time and building some confidence."
Defensive-zone coverage has been an emphasis throughout the season for Colgate. "We knew coming in that we were going to be able to score some goals, but we were worried a little bit about our own zone," Vaughan said.
Johnston, along with Jake Kulevich, Kevin Lough and Brett Corkey, all had good weekends, according to Vaughan. It also helps that junior captain Spiro Goulakos is back to full strength nearly a year after being diagnosed with Hodgkin's lymphoma.
"When he walked into the locker room after the break, his face seemed fuller, his color was better," Vaughan said of Goulakos. "He'll be the first to tell you that he wasn't quite there during the first half of the season."
A rejuvenated Goulakos would be a big boast for the Raiders, who host No. 18 Vermont on Saturday before getting back into league play.
"Like you do with a loss, you've got to have a short memory," Vaughan said. "We know we've got tough competition coming up this weekend."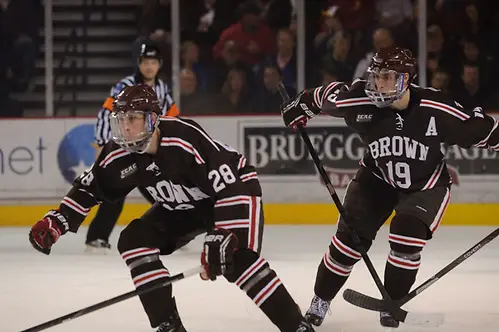 Long trip pays off for the Bears
Brown's first trip out of the Eastern time zone in nearly four years proved to be worthwhile for the Bears, who beat Denver in a shootout last Friday before winning at Colorado College on Saturday.
The game against the Pioneers counts as a tie in the record books, but don't tell that to Matt Lorito, who scored a "ridiculous" goal in the shootout, according to Whittet.
The Bears, who hadn't been out of the northeast since getting swept at St. Cloud State Jan. 2-3, 2010, left last Wednesday and returned to campus early Monday.
"The peak thing was to be together for those five days with no distractions," Whittet said. "To get on the road and play in challenging environments at both Denver and Colorado College was a really good thing. Our guys were able to spend a lot of time together with each other and the staff."
Of course, it was even better that Brown came back with a 1-0-1 record on the trip, evening its overall record 6-6-2.
The trio of Lorito, Nick Lappin and Mark Naclerio factored in five of Brown's eight goals in the weekend. Those three had spent much of the season together, but were spread out for the Denver game.
Lorito and Naclerio are natural centers, so Whittet said he split them up for more depth down the middle.
"When they're together as a line, they're dominant offensively," Whittet said of the trio. "What we've done in the past is started them on different lines and they ended up coming together when we needed to either get back in the game or try to get a little more offense."
However, Whittet said he decided to put the three back together for Saturday's game against the Tigers, and not wait until Brown was trailing. It worked, as Naclerio and Lappin each had second-period goals that proved to be the difference in the Bears' 4-2 win.
Around the league
• Union freshman center Eli Lichtenwald was named the Hockey Commissioners' Association National Division I rookie of the month for December last week. Lichtenwald was also named ECAC rookie of the month, while teammates Dan Carr (player of the month) and Colin Stevens (goalie) helped the Dutchmen sweep the league's monthly awards.
• Brown defenseman Dennis Robertson was drafted by Toronto in 2010 but likely won't be suiting up for the Maple Leafs organization any time soon. The senior had his rights traded to Carolina on New Year's Day along with John-Michael Liles for defenseman Tim Gleason. Robertson is the third ECAC player in less than a year to have his rights traded; Yale forward Kenny Agostino went from Pittsburgh to Calgary as part of the Jarome Iginla deal last spring, while Cornell defender Kirill Gotovets had his rights traded from Chicago to Tampa in April.
• Former Princeton forward Kevin Kaiser (2006-10) was named to Forbes' 30 under 30 list. Kaiser is managing director at Hedgeye Risk Management and according to Forbes "recently managed to spark the ire of two billionaires with high-profile, negative calls on two major stocks."
• Finn was named ECAC goalie and rookie of the week after stopping 55 of 57 shots against Minnesota and Ferris State. Naclerio was player of the week after posting a four-point weekend at Denver and Colorado College.