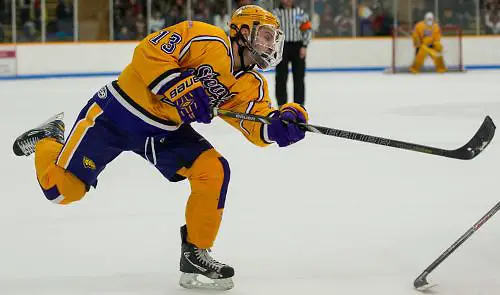 Garrett Ladd didn't see much time on the ice in his first two seasons as a college hockey player.
He played in only five games at Division I Bemidji State, putting him in a position where it was going to take time for him to adjust in his first year with Wisconsin-Stevens Point.
"It took me time to get back into a groove and get back into the game mentally," Ladd said. "That has been the big difference for me this season. I'm more focused and have played with that drive to be successful. It's been a good year so far."
While Ladd will tell you it took time to get on track, his stats from a year ago will tell you something different.
Ladd scored seven goals and tallied 15 assists last season, leading the team in points en route to being named an honorable mention All-NCHA selection.
He is the leader in points again this year. Through 12 games for the second-ranked Pointers, Ladd has scored 12 goals and dished out 11 assists.
His stats are no doubt impressive, but Ladd doesn't pay much attention to them.
"I try not to look at the numbers and just focus on playing my best," Ladd said. "I've worked hard to be successful and that hard work is paying off. I pay a lot of attention to details and my coaches and teammates have done a good job of putting me in a position to succeed."
Ladd has had plenty of help, though, as the Pointers have skated their way to an 11-1 record.
Joe Kalisz has come through with eight goals and six assists while Scott Henegar has tallied seven goals and seven assists.
Kyle Sharkey (three goals, 10 assists), Kyle Politz (two goals, 10 assists), Kyle Brodie (four goals, seven assists) and Alex Brooks (one goal, 10 assists) have also played well.
Lawrence Cornellier, Evan Dixon, Kyle Heck and Nick D'Avolio have scored five goals apiece.
"It seems like we have a lot more depth this year," Ladd said. "It's a huge plus for our team. I am pushed every day in practice and I push my teammates. We have great team chemistry and are very competitive."
Ladd is looking forward to what the second half has in store for the Pointers, who play Lawrence and St. Norbert this week before jumping back into WIAC play next weekend.
Stevens Point is 1-1 in league play at the moment, having beaten Wisconsin-Eau Claire and losing to Wisconsin-Stout.
Not only is Ladd determined to help lead the Pointers to a conference title, but he wants to help fuel a run to a national championship.
"I have no doubt in my mind that we can contend for a national title," Ladd said. "When we play at our best, we are a tough team to beat and as long as we stay focused and play up to our potential, we will have a chance to win a championship."
Seventh Heaven: Wisconsin-River Falls stretched its win streak to seven games on Saturday with a 4-2 win over St. Olaf. The Falcons are 9-1-1 as they won for the sixth time on the road.
River Falls, ranked 13th in the nation, scored three goals in the second period to take control. The run started with Alex Hagaman's third goal of the season as he tied the game at 1-1. Jeff Burke put the Falcons ahead 2-1 and Mitch Kontny extended the lead to 3-1.
Scott Lewan made 26 saves and improved to 6-1 on the year. He helped the Falcons keep the Oles scoreless on four power-play opportunities. River Falls finished with a 31-28 edge in shots and are now 28-10-2 all-time against St. Olaf.
Power Hour: Wisconsin-Stout capitalized on three power-play chances as it knocked off Curry College 3-2 on Saturday at the Pathfinder Bank/Oswego Classic.
Jake Useldinger, Matt Millis and Logan Maly all scored goals for the Blue Devils, who improved to 4-8 on the year. While Stout was effective on the power play, Curry came up short on all four of its opportunities.
Goaltender Corey Koop came through with 19 saves as Stout bounced back from a 4-2 loss on Friday to Utica in the opening game of the tourney.