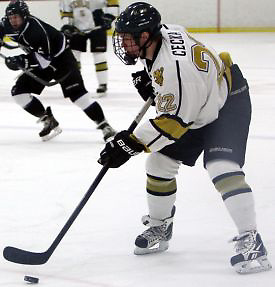 St. Olaf was a playoff team a year ago.
The Oles advanced to the MIAC tournament before falling to Gustavus Adolphus in the opening round.
While at the moment, it doesn't look like the Oles are poised to make another run at the conference tournament – St. Olaf is 3-8-2 overall and 1-3-2 in the MIAC – it's far too early to count them out.
After all, with the schedule they have played up to this point, that experience could go a long way for a team in its bid for a playoff berth.
"We knew going in that our first 12 games or so were going to be very tough," St. Olaf coach Sean Goldsworthy said. "Our strength of schedule is very good and we believe we have a chance to reap the benefits of it in the second half. Our younger guys have gained experience and we should be ready to go when we start league play again."
In those first 13 games, the Oles have faced defending national champion Wisconsin-Eau Claire, along with nationally-ranked opponents Wisconsin-Stevens Point, St. Thomas and Wisconsin-River Falls.
St. Olaf, which plays No. 1 Adrian on Friday at home, did not win any of those games, although it did forge a 2-2 tie with St. Thomas in the opener of a two-game series with the Tommies in November.
"When you play those kind of teams, you give yourself a chance to be successful in the long run," Goldsworthy said. "We've gained a lot from playing the schedule we have and hopefully it will give us a chance to be in a position to make the playoffs at the end."
One player who will help give the Oles that opportunity is Dan Cecka. The senior forward has scored eight goals and tallied four assists already to pace the team with 12 points.
But several younger players have also risen to the occasion, including sophomore forwards David Rath (four goals, four assists), Peter Lindblad (five goals, one assist) and Mark Rath (one goal, five assists).
Sophomore defenseman Marc Richards has also stepped up, tallying two goals and two assists.
"Every team is looking for that secondary scoring and we've had some guys step up in our sophomore class," Goldsworthy said. "Dan has obviously played very well as expected, but the more balance we can get, the better off we are going to be as a team."
St. Olaf will start off MIAC play again on Jan. 17 when it starts a two-game series against Hamline. The Oles will also play Bethel, St. Mary's, Augsburg and Concordia (Minn.) in its final 10 league games of the season. Six of those games will be played at home.
Goldsworthy is confident his team can make a climb up the standings and take aim at securing a playoff berth.
It's just a matter of playing at a high level in each series.
"There is so much parity in our league and I don't think the playoff picture will be set until the last weekend of the season," Goldsworthy said. "The key is getting the right matchups in order to be in a position to win each series. We are ready for the challenges."
Tough Start: St. Thomas didn't get off to the start it had hoped for in 2014 as it fell 5-3 to St. Norbert in a battle of nationally-ranked teams on Saturday.
The sixth-ranked Tommies had their five-game unbeaten streak snapped after watching the Green Knights score four consecutive goals to take control. St. Thomas led 2-1 before the offensive outburst by St. Norbert.
The Tommies were outshot 35-16 as they fell to 8-2-2 on the season. Michael Krieg scored twice to push his goal total to three, while Alex Niestrom scored his third goal of the year. Drew Fielding made 30 saves.
Standings Update: St. Thomas heads into the second half with possession of first place in the MIAC. The Tommies are 4-0-2. Gustavus is second at 4-1-1 and Concordia is third at 3-2-1. The top three teams are separated by a total of six points.