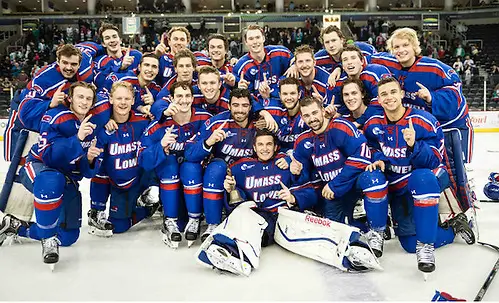 Each week during the season we look at the big events and big games around Division I men's college hockey in Tuesday Morning Quarterback.
Paula: Jim, count me among the people jealous that you traveled to Belfast, Northern Ireland, for the Friendship Four. Can you talk about your experience there? I'm really curious about the interest in hockey in Ireland. I'm also shaking my head at the results, with two games going into overtime and Colgate taking a pounding twice. What did you take away from the trip?
Jim: First off, let me say that it was a great privilege to be able to travel with UMass-Lowell to call the games. It was easily one of the best experiences of my 24 years in college hockey.
Hockey is a cultural centerpiece to the city of Belfast. When hockey arrived 15 years ago, this was a city torn by a terrible religious conflict and sports were all too often the catalyst to violence. The traditional sports like soccer and rugby had fans whose rooting interests were aligned with their religion. Team colors were used like gang colors in the U.S. And the hooliganism associated with sports was destructive to the entire region.
When the Belfast Giants were born, they made specific efforts to make sure there were none of the colors that were religiously tied to other sports. They chose teal as their main color and banned any other sports jerseys from the arena. Because the Giants play in a league based in Great Britain, there wasn't another club to battle in Ireland or Northern Ireland. Thus, the popularity of the team was also a unifying factor. Catholics and protestants cheered alongside one another for the first time.
Thus hockey didn't just become popular but also became a focal point of the peace process in Northern Ireland. The Friendship Four tournament was an extension of this. Bringing four college teams from the U.S. to play meaningful games meant a lot to this city and the fans embraced it. The attendance for the four games exceeded 20,000, many of whom were grade school children bussed in from all over the region, their tickets paid for by sponsors.
The product on the ice didn't disappoint. Though the favorite, UMass-Lowell, emerged with the victory, it did so dramatically. Both games for the River Hawks required an extra-attacker goal to tie the score. The semifinal against Northeastern was decided in overtime and the title game against Brown was decided in a shootout. The fans seemed to love every minute of it, soaking it up with great enthusiasm.
It was announced that the tournament will happen again next year, which means there will be many programs in Hockey East and ECAC Hockey angling to participate.
Paula: I am blown away by the school children bussed in from all over, with their tickets paid by sponsors. I'm reminded of the last lines that Annie Savoy speaks in "Bull Durham," when she claims that Walt Whitman said that baseball "will repair our losses and be a great blessing to us." In all seriousness, this is the best part of sport at every level — from pond hockey and pickup basketball to college sports to professional sport of all kind. That it's the game that we love, hockey, that helped the peace process in Northern Ireland is moving and gratifying.
What an experience, Jim. I'm so glad that you had this experience and that each of the four participant programs did as well.
It almost makes me wary of segueing into what I want to know next: Is Colgate really that bad? And why did it take Colorado College until the last weekend in November to get a win? Maybe you can answer the first one, at least.
Jim: Although I never spoke with Don Vaughan directly in Belfast, I was told by a number of people that Colgate is suffering through a number of injuries and thus is seriously lacking the depth you would expect from this team. Both nights, the Raiders fell behind swiftly in the second period — giving up quick goals to fall into multi-goal deficits. And I think that was simply destructive. I thought at times in the opening period of each game they looked decent but they may be too banged up to put forth a 60-minute effort necessary to win.
As for Colorado College, first let me say that I am happy to see the Tigers win. I got to see this team earlier this season and it looked pretty good. It surprises me that it took this long to get a win, but I also think that the Tigers are a step behind the rest of the NCHC. Mike Haviland has a proven track record as a successful coach and, in year two, sometimes you don't have all the pieces in place to play your system. It's going to be another long season for the Tigers, no doubt. But it's good to see them get off the schneid.
Lowell wasn't the only team to take home hardware last weekend — Harvard captured the Shillelagh Tournament at Notre Dame and Boston University rallied to tie Cornell and win a shootout to win yet another addition of Red Hot Hockey at Madison Square Garden.
The latter is what I want to talk about. This was the fifth edition of Red Hot Hockey played at MSG. It is always a smashing success, this year packing in 17,154 fans. This is an old rivalry with two schools that have large fan bases in New York City. Are there any other rivalries you might like to see played on a special stage on a repeating basis? I know Michigan and Michigan State already take a game each year to Joe Louis Arena. But that is in the same geographic region. Could you imagine other schools imitating Red Hot Hockey?
Paula: I love the Michigan-Michigan State games in Joe Louis Arena. Interestingly, they draw really well while the 2015 Big Ten tournament did not; last year's regular-season game (Jan. 30, 2015) between Michigan and Michigan State drew over 20,000 people, while the Big Ten tournament had a few thousand at any given moment, at most. The consensus in the JLA press box was that the game between the Wolverines and the Spartans is an annual event and is well promoted throughout the region, yet the Big Ten tourney was the first of its kind in JLA after a year's absence of a college hockey championship tournament, since the last CCHA championship was in 2013.
But I digress.
Sunday marked the fourth annual Philadelphia College Hockey Faceoff at the Wells Fargo Center, and the attendance for the Penn State-Vermont game was 9,213. Last season's game — played Jan. 31, 2015 — drew 11,674. The teams played in front of 17,632 on Oct. 26, 2013, and the inaugural game (Jan. 19, 2013) drew 19,529. I just wanted to throw that dwindling attendance out there before I got to your question, Jim.
I would love to see Wisconsin play Minnesota in Chicago annually. That's a game that would draw because of the regional appeal, because people enjoy traveling to Chicago, because there are many alumni from each school in Chicago, and because Chicago is a pretty good hockey town. Weirdly enough, I think a Michigan-Ohio State game may draw annually somewhere outside of the Midwest, where the alumni bases were big enough. Here, though, it's mostly about the football; in someplace like Washington, D.C. — just as an example — there may be enough of a nostalgia for the schools to draw fans to a hockey game.
Then there are destination venues — like Las Vegas — that may turn into something that would be well attended annually. It's tough to predict, however, because college hockey really is a regional and niche sport, still. I will be interested in seeing how the Michigan-Penn State game does in MSG in January. I will be there, covering that one.
I do like college hockey in big venues in cities where college hockey is not otherwise played, but I will say that I dislike the outdoor games. I think they're overdone.
Jim: I actually noticed that the attendance in Philly has been dropping year after year. It's hard to tell if maybe that game has run its course, though I also wonder if it would be better to take the BU-Cornell approach and play every other year. It seems to work well for Red Hot Hockey.
I also agree that outdoor games have run their course and believe we won't see many going forward, at least for a little while. But I do believe there will be some nontraditional venues that get games in the years coming forward. I think Chicago makes a lot of sense for almost any two schools. It is a great destination for fans that is easily reachable and many schools have large alumni bases.
I would also like to see two teams take a college game north of the border — whether it be Montreal, Toronto, Ottawa. Heck, maybe it's hockey-starved Quebec City. I feel like any two teams can draw both their own fans as well as locals to some of these cities while it would also stand to promote the game in major junior's backyard.
Thumbs up
This one is easy. It's a thumbs up to the people of Belfast, Northern Ireland, who turned out in force to support college hockey. Tournament organizers took a big chance by holding four separate admission games over the two days. But that translated to 20,414 fans walking through the turnstiles. People wondered if Belfast could support college hockey and the answer was resoundingly yes.
Thumbs down
There was a lot of talk last week about proposed legislation brought forth by the Big Ten that would restrict players from entering college hockey more than two years after their expected date of high school graduation. It would basically cut off 21-year-olds from entering as freshmen, something unique to college hockey but also something that has increased the parity in the game in recent years. Recently, the battle to attract players to college and away from major junior has been a difficult one. We don't understand why the heck anyone would want to place further regulations on recruiting players that steer players away from college hockey.
Coming up
While the Big Ten gets its conference season started this weekend, the NCHC features a pair of series matching two teams ranked in the top 10 of the USCHO.com Division I Men's Poll. No. 7 St. Cloud State hosts No. 6 Omaha, while No. 9 Denver plays at No. 4 North Dakota.
No. 1 Providence takes its unbeaten record into a home-and-home series with No. 16 Merrimack, while No. 3 Quinnipiac puts its unbeaten record on the line at No. 10 Yale on Friday. No. 13 St. Lawrence plays at No. 15 Cornell on Friday.