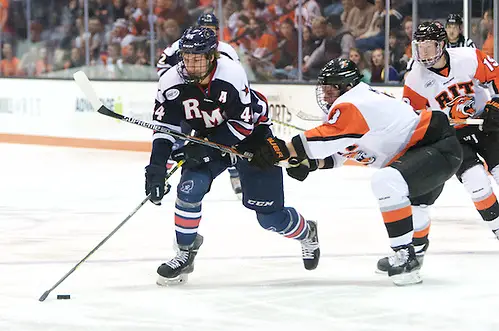 The holiday break, while not coming at exactly the midpoint of the season, is a time to give pause and look at where things stand in Atlantic Hockey.
So let's start with the obvious in assessing where things stand so far: the standings.
They show the league poised for yet another entertaining second half, with the usual logjam. The pattern has remained consistent with last year and with most years: a team or two comfortably at the top, ditto on the bottom and a hot mess in between.
I like to look at the standings in terms of four-point blocks, as in what can change over a single weekend series. Right now, four points separate 10th place from third place. Just two points, one measly conference win, is the difference between third and eighth.
When you take into account as many as four games in hand held by a couple of teams in the bottom half of the standings versus some near the top, it gets even more unpredictable.
For three years running, a team has gone on a roll in the second half of the season and rode the momentum all the way to the NCAA tournament: Canisius in 2013, Robert Morris in 2014 and Rochester Institute of Technology last year.
Who will it be in 2016? We'll have to wait and see but for now, here are five things we've learned so far:
Expected
Robert Morris has been at or near the top of the standings since the beginning of last season. The Colonials sport the league's top offense (4.28 goals per game), which is also tied for second nationally. Their power play is tops in Division I, clicking at a ridiculous 35.4 percent (23-for-65).
The key to Robert Morris' success with the man advantage is depth — it has two units that would be the top line at most other schools. Three forwards have four power-play goals (Brandon Denham, Zac Lynch and Brady Ferguson) and another trio has three power-play tallies (Matt Cope, Greg Gibson and Daniel Leavens). That's spreading the wealth.
Unlike most of the other teams in the league, the Colonials still have a slate of nonconference games left to play. So far, Robert Morris has split with Michigan in its only nonleague action, but that changes after Christmas when the Colonials will participate in two tournaments.
They'll again co-host the Three Rivers Classic in downtown Pittsburgh with Penn State and guests Clarkson and Massachusetts-Lowell. Five days later, Robert Morris will travel to Dartmouth for the Ledyard Bank Classic, where it will take on the host Big Green and then either Union or Merrimack.
A strong showing in those tournaments could bolster Robert Morris' spot in the PairWise Rankings, in which the Colonials are at No. 29. Every potential team on the Colonials' nonconference schedule save Dartmouth is ahead of them in the PWR, so there's a chance to move up.
Unexpected
The only Atlantic Hockey team with a better place in the PWR than Robert Morris is also the team tied with the Colonials for first place (with a game in hand): Holy Cross.
The Crusaders, picked to finish sixth in the league's preseason coaches' poll, opened the season 0-4 but are 10-2-1 since, including a pair of overtime victories.
Holy Cross hasn't put up gaudy numbers like Robert Morris — its offense is a respectable 13th nationally; its defense is 29th. The Crusaders' special teams haven't been all that special: 33rd in power play and 35th in penalty kill.
But the offense is scoring more than a goal a game better than last season. While David Berard's team has just one player with double-digit goals — junior Mike Barrett has 10 so far — the Crusaders have balanced scoring, with five more players with five goals or more.
Defense has always been the Crusaders' bread and butter, and that hasn't changed. Goaltender Paul Berrafato spent last season as the heir apparent to four-year starter Matt Ginn, and the wait has been worth it for the sophomore, who sports a 2.15 GAA and a .920 save percentage.
Circle Jan. 15 and 16 on your calendars — the only meetings between Holy Cross and Robert Morris in the regular season.
Net results
Berrafato leads the conference in GAA (2.15), followed by a pair of Bentley netminders: Jayson Argue (2.38) and Gabe Antoni (2.39). The Falcons have been forced into splitting their goaltending duties after Argue was injured on Nov. 13 and has yet to return. Antoni has stepped in and delivered comparable numbers.
At Holy Cross, Berrafato has started all but two games so far. Besides Holy Cross and Bentley, seven of the other nine schools in the league have used a primary goalie, which I'll define as starting two-thirds of the time.
The other two, Robert Morris and Niagara, have split time between a pair of goalies, albeit for different reasons.
Robert Morris is using the same scheme as last season, splitting weekend duties evenly between senior Terry Shafer and junior Dalton Izyk.
But after Shafer posted shutouts on consecutive starts a week apart, coach Derek Schooley broke the pattern and started Shafer the next night, last Sunday at Canisius.
After allowing three goals on his first seven shots, Shafer was pulled in favor of Izyk.
Stay tuned.
At Niagara, neither freshman goaltender was expected to see significant time thanks to returning incumbent Jackson Teichroeb. But Teichroeb was injured before the season started, so coach Dave Burkholder has split time in net between rookies Guillaume Therien and Joe O'Brien.
Friday at RIT, Teichroeb made his first start of the season in style, posting a 24-save shutout.
Again, stay tuned.
We've been here before
Thanks to an increase in the number of home nonleague games, Atlantic Hockey was looking to improve on last season's abysmal nonconference record of 13-52-4 (.217).
At this point in the season, the league's winning percentage in nonconference games? Exactly the same: .217.
Conference teams are a combined 10-40-3 out of league with 13 nonconference games left. At this same point last season, Atlantic Hockey actually had a better nonconference record (12-39-2, or .264) but went 1-13-2 in its remaining nonleague games.
At the turn
And finally, here's my first-half all conference team:
Forward Shane Conacher, Canisius. Second in the league in points (22) and first in game-winning goals (4).
Forward Max French, Bentley. Second in the league in points per game (1.46, including 10 goals in 13 games).
Forward Zac Lynch, Robert Morris. First in the league in goals (12) and points (25). Leads the nation in short-handed goals (4, which he scored in four consecutive games).
Defenseman Jake Bolton, Holy Cross. Tied for first in the league for points by a defenseman (14) and tied for 15th nationally in plus/minus (plus-15).
Defenseman Tyson Wilson, Robert Morris. Has near-identical numbers as Bolton: 14 points and a plus-15 rating.
Goalie Paul Berrafato, Holy Cross. Leads the league in GAA (2.14), fourth in save percentage (.920), second in minutes played (836:42).
We'll revisit this list end of the season. In the meantime, check out some holiday hockey if you can and we'll see you after the break.