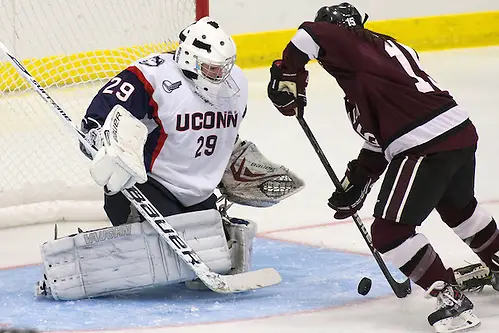 Arlan: The final horn has sounded on the 2015 portion of this season's schedule, and the teams left us with plenty to consider over the break. Boston College is still perfect, and it doesn't look like that will change anytime soon once play resumes. Wisconsin fell a weekend short of matching the Eagles' perfect start, but North Dakota proved once again that although it remains susceptible to the upset from below, there isn't a team above that it can't topple. Quinnipiac, while not quite under the radar, hasn't generated the buzz of the top three teams, even though the Bobcats go into the break with just one loss for the second straight year. Under Rick Seeley, their problems traditionally arose after the new year, so it will be interesting to see if Cassandra Turner's leadership style translates into a team that peaks when it matters most.
There are a number of candidates for biggest surprise team in a positive sense, but at the top of my list would be Princeton and Colgate, in some order. Those two had 39 losses combined a year ago, but they are off to much better starts and thus far have only lost four and three games, respectively.
At the other end of the spectrum is Union. The Dutchwomen lost and tied at Maine this weekend, setting a new NCAA record with 35 consecutive games without a win.
Let's start at the top and look at the new No. 1 team, Boston College. Once it became apparent that Boston University had slid considerably, I thought that the Eagles would likely enter the break undefeated and as the top-ranked team. Wisconsin's historic start nearly proved me wrong, but now that the Badgers have fallen, I'd expect BC to retain that ranking through to the NCAA tournament. There just aren't many obstacles in its path. January doesn't look threatening. Five of the games on BC's slate include three against Merrimack, which hasn't won since October, and two with Vermont, which had dropped six straight before defeating a slumping Dartmouth. Merrimack ranks second lowest in scoring defense, and Vermont isn't a lot better at 29th. Neither is likely to be able to slow down, let alone stop, the Eagles, and even if one did for a day, each has an offense that scores an average of well below two goals per game. Those are games that BC is simply not going to lose this season.
Another game in January is at BU right out of the break. Normally, we'd say that could present a problem. The Terriers did extend BC to overtime back on Nov. 10, and Sarah Lefort has found her offensive touch since then. That game was at BC, so it would seem logical that the Terriers could hope for a little better result in the next meeting on their home ice. However, they were pasted, 8-1, at home by BC just three days before that overtime game, so maybe not. I don't see any indication that BU can stop the Eagles' offense when it matters, because BU ranks just 24th in scoring defense at over three goals per game. After BC played its most lackluster offensive game of the season, a 3-0 win over New Hampshire, Katie Crowley reunited Haley Skarupa on the line with Alex Carpenter and Kenzie Kent; that was BC's big line last season. Northeastern shut them out in their first game as a unit, but in the five games since, Kent has 10 points, Skarupa has 13, and Carpenter has 17. Even if BC makes some mistakes and somehow falls behind, as long as there is still time left on the clock, that opponent is just a target for the cheetah to chase.
While BU has won seven of eight games since last facing BC, it certainly isn't doing it with defense. The Terriers shutout of Providence in their most recent game was their first of the year. In those other seven games after taking the Eagles to OT, the opponent scored more than its average in all but one of them, a 5-1 win over Merrimack.
BC also plays Harvard on January 19. While we remember how the Crimson caught fire in the second half last season, if they are planning a repeat of that ignition, they've hidden it well. BC is going to be very motivated for that game, and if that causes a letdown before or after, none of the other opponents are dangerous enough to take advantage.
Do you see any way that BC arrives at the NCAA tournament as anything other than the top-ranked team?
Candace: Oh sure, just like last week when I said I could see Wisconsin staying unbeaten and possibly matching Minnesota's mark a couple of years ago and you pointed out how unlikely it was. All it would take is one loss and as long as either Wisconsin or Minnesota is still winning, one of those teams would leapfrog the Eagles.
Assuming you are right and BC escapes January, not something I'm willing to guarantee given the games against BU and Harvard, two rivals who have hurt BC in the past, then the place most likely for it to happen is the Beanpot or the Hockey East tournament.
Last season, BC lost to Harvard in the Beanpot and BU in the Hockey East tournament. The year before that, the Eagles won the Beanpot, but lost to BU in the Hockey East tournament. I looked it up, and in the current decade, BC has only won the Beanpot twice, in 2011 and 2014. In 2010, the Eagles lost to Harvard, in 2012, the Eagles tied Northeastern and lost a shootout, in 2013, they lost to Northeastern, and last year they lost to Harvard.
BC's record in the Hockey East tournament is even worse: they've only won once, in 2011. They've lost to BU in the last two finals, and also lost in the finals in 2006 and 2009 to New Hampshire. In fact, Boston University has won five of the last six Hockey East tournaments. In addition to the last two finals it lost, BC lost in the semis in 2010 and 2012 to BU, and 2013 in the semis to Northeastern.
The point is, BC, for all its success during the regular season, has often fallen short in the tournaments. Reuniting Skarupa, Carpenter, and Kent is good in the short term, but I wonder if it might behoove Crowley to keep them apart more often than not in the second half to try to balance the scoring, and then keep that line in reserve if they really need points.
BC plays Harvard twice in a two-week span, once on Jan. 19, and then in the first round of the Beanpot on Feb. 2. Yes, Harvard looks more vulnerable, but rivalry games can sometimes do strange things, as we saw this past weekend in Grand Forks.
Getting back to the Wisconsin-North Dakota series, what did you take away from that? The Badgers were averaging close to five goals a game. I certainly didn't see them getting shut out twice in a row. In Friday's game at least, it doesn't look to me like it was a case of Shelby Amsley-Benzie outright stealing it; Wisconsin only fired 26 shots. It was a different matter Saturday, where the Badgers outshot the Fighting Hawks 41-17. Was this just a hangover from finally beating Minnesota, or is this a chink that other teams might exploit?
Arlan: It was probably a combination of factors. Anything that breaks the routine can cause a degradation in a team's play, so we'll sometimes see a drop off heading into the break just as we do coming out of it. Wisconsin tends to be as good as anyone at rolling along on an even keel, but I think that was just about impossible with the anticipation leading up to the Minnesota series. As the season progressed, the question kept coming, "How important is it that you beat Minnesota?" I heard that well before December arrived in Mark Johnson's media conferences, and I'd bet the players were being asked similar questions. Finally the Minnesota bus pulls up to LaBahn Arena, and the Badgers are flying all weekend. Now they go on the road and tell themselves that they'll bring the same intensity, but when the puck drops in Grand Forks, it's UND that is ready to go right away and gets off to the 2-0 start. That likely set the tone for the weekend, and it probably explains why UW gave up three goals in a game for the first time this year.
Wisconsin had stretches where it controlled play territorially, but we saw that over the previous seasons, where the Badgers would have the best of play, but it wouldn't show up on the scoreboard. It hasn't been much of an issue so far, but I wonder if at some point some line juggling will be in order. Baylee Wellhausen is on the top line with leading scorers Annie Pankowski and Emily Clark, but I'm not convinced that at this point of her career Wellhausen is a top-line player. She has six points so far after 13 in her rookie season; those aren't really top-line numbers. In years past, Johnson would have someone like Hilary Knight start the game on his second line, and then switch and create a loaded top line once the game got underway. I wonder if he'll be tempted to do so this year with Sarah Nurse. Nurse has skated with Sydney McKibbon through most of their careers, but she would definitely bring the most punch off the left wing and would create a trio that would be a load for an opponent to deal with. I can see that Johnson was reluctant to change when everything was going great, but now? The Badgers start 2016 against a Minnesota-Duluth team that has more scoring pop in its top line. Something to think about.
The other thing the Grand Forks series underscored is just how hard it is to score in most of the games matching the top teams in the WCHA. We saw that in all four games of Bemidji State versus North Dakota. Even in the Wisconsin and Minnesota series, with the high-ranking offenses they possess, neither scored more than twice in 60 minutes. The Badgers got to three both days, but once it took overtime and the second required an empty net. North Dakota and Minnesota tend to play more uptempo games head to head, but they've also locked down and focused on defending in the past.
Now if we add Minnesota-Duluth to that mix, it gets more complicated. The Bulldogs have too many losses to be an at-large contender for the NCAA field, but they can certainly ruin other teams' plans. North Dakota opens with an exhibition series, but in mid January it travels to Duluth. Those teams combined to score one goal in their second game in Grand Forks, so that presents an unnerving trip for the Fighting Hawks, especially with Madison and a rematch with the Badgers looming the following weekend. UND has to play itself back into the PairWise picture, and with only 12 regular season games left, it can't afford many stumbles. Bemidji State is currently in the NCAA picture, but the Beavers also have to go to Duluth. The Bulldogs' top line racked up 19 points in sweeping Ohio State, and that adds another element to the defensive wars we've been used to seeing from these teams in or near the top 10.
Do you have any thoughts on how the WCHA will play out beyond the top two, or if the changes could be so sweeping that it even results in a different top two? Bemidji State and North Dakota are within a series of second place, but they've played two more games than the rest of the league.
Candace: I could see some shuffling in the 3-6 spots, but the top two are the top two, and barring an epic collapse by either Wisconsin or Minnesota, neither North Dakota nor Bemidji will displace them. Bemidji is in third, two points back of Minnesota, but went 0-4 against those two in the first half, and none of the games were that close. North Dakota owns wins over both Wisconsin and Minnesota, but went 1-3 against Bemidji, lost a shootout to St. Cloud State, has a loss to Minnesota-Duluth, and a loss to Ohio State. Those latter two in particular kill the Fighting Hawks as far as being in the top two. As for beating Wisconsin and Minnesota, yes, it's impressive, very impressive actually, but those wins were all on home ice. The Fighting Hawks have road series against each in the second half, and the wins will be a lot harder to come by in Madison and Minneapolis.
Bemidji is in the exact opposite scenario, hosting the big two in the second half. However, given that the Beavers were shut out in three of the games against Wisconsin and Minnesota, and lost the fourth 8-3, I'm not sure a change in venue will be enough to overcome the difficulties in shutting down the high-powered offenses while finding enough goals to win.
Moving down the line, Duluth is in fifth right now with 19 points, trailing North Dakota for the final home-ice spot by nine points, but that stat is in the Bulldogs' favor, as they have two games in hand. The Bulldogs open their second half in Madison against the Badgers, then host North Dakota, Bemidji State, and Ohio State. I could see the Bulldogs splitting with the first two and sweeping OSU, just like they did last weekend in Columbus against the Buckeyes, but I'm not sure whether that's enough to catch Bemidji or North Dakota without some help.
Interestingly enough, the standings order may come down to the final weekend. Now that Wisconsin's advantage over Minnesota is back in play, Minnesota could still win the WCHA if it runs the table in the second half. The last weekend of the regular series pits Wisconsin against Minnesota in Minneapolis. If the Gophers sweep, they could pull out the conference.
Also on the last weekend of the year, Duluth travels to St. Cloud to face the Huskies. The Bulldogs currently have a three-point lead over St. Cloud, so if the two teams keep pace, who goes where may come down to that series.
Ohio State is currently in seventh, while Minnesota State is last. The latter hasn't won in the conference yet, and is no danger of leaving the WCHA cellar. The Buckeyes trail St. Cloud by seven points, so even if they sweep the series between the two in Columbus on Jan. 15-16, it may not be enough to move up to sixth.
If the WCHA is interesting to ponder, so too are the ECAC and Hockey East. Let's look at the former first. Quinnipiac closed its first half with an impressive win over New Hampshire. After the Bobcats though, it's anything goes. There are some other interesting things. Dartmouth, for instance, is in fourth with a 4-3-2 conference record, but the Big Green have been in free fall of late, and are 4-8-2 overall. Clarkson and Colgate meanwhile, both have good overall records, but middling conference records.
What do you think the second half brings? Can the Bobcats keep up their pace, or will they be average in the second half, as they have in the past? And what happens to the rest of the conference?
Arlan: In past years, it seems like two things have happened to Quinnipiac in the second half. One is that its schedule has gotten tougher. For example, last year it was cruising along through mid January with one loss. Then it played consecutive games against BU, BC, and Harvard, losing all of them. The Bobcats played pretty well, losing by 2-1 scores to both the Eagles and Crimson, the latter in OT, but from there on, they closed the regular season in win one and then lose one fashion. I'd think at that point that the confidence of any team is going to be shakier than it was when it went undefeated over its first 16 games. There were also reports that Seeley was verbally abusive to his players and that cost him his job. True or not, I don't know, but it did seem like former goalie Chelsea Laden's numbers eroded later in the year, and it would be hard to stay confident if you're yielding costly goals and then hearing about it off the ice.
Junior Sydney Rossman's statistics aren't quite as gaudy as Laden's were at this time last year, but a .941 save percentage and a 1.04 goals-against average are going to get the job done most of the time. If she can keep it up, the offense looks stronger than it was a year ago. Taylar Cianfarano had a very nice 30-point freshman season, but she's already matched that at the break as a sophomore. Her 17 goals are fifth in the country, and the four players ranking ahead of her were all in the top 10 of the Patty Kazmaier Award voting last year, and half of them were in the top three. The secondary scoring is solid with six others in double figures in points, including freshman Melissa Samoskevich with 19 and junior Emma Woods with 18.
On top of that, Quinnipiac's schedule doesn't look as imposing. It again plays BU and Harvard back to back at the end of January, but there isn't a BC game. Perhaps the Bobcats will be slight underdogs on the road at Harvard, but at this point, I would have them as favorites in their other games. If they were going to falter under Turner's leadership, I think we'd have seen signs of that by now, and we haven't. The ECAC looks like it is Quinnipiac's to win or lose.
As for the rest of the league, the conference winning percentages of Dartmouth and Yale suggest that they'll be in contention for home ice, but recent results are far less encouraging on that front. The Big Green have lost all five of their nonconference games, while Yale is 1-6. Rather than having a good shot at the top four, I think that ultimately, any drama surrounding Dartmouth and Yale down the stretch will involve the cutoff for the top eight.
Normally, I'd say that having 10 conference points already makes Dartmouth almost assured of finishing in the top eight, but the team in 10th place is only four points back with two games in hand, so it isn't much of a lead. The Big Green have some very winnable games left against teams like Brown, Union, and Rensselaer, but then earlier in the season I'd have considered games versus New Hampshire and Vermont to be Dartmouth wins as well.
Yale's final placement will depend in large part on goaltending. There had been improvement, but there were painful moments Sunday at UNH.
Speaking of painful, I earlier mentioned that Union has set an NCAA record by being winless over 35 straight games. Union held the previous mark at 33 games, and those were all losses. Plus, that losing streak running from Nov. 10, 2006 until being broken by a win at Sacred Heart on Nov. 27, 2007 was part of an overall dismal stretch. After defeating first-year Robert Morris in overtime on Jan. 15, 2006, Union went 11-107-6 over the next three plus years before a win over Maine on Dec. 11, 2009. All 11 of those wins were over Sacred Heart, which means the Dutchwomen were 0-107-6 against everyone else. So if anyone tries to tell you that Union is worse now than it was in the previous decade, don't believe it. The Dutchwomen just quit scheduling Sacred Heart.
In their current streak, with their last win on Dec. 12, 2014, against Maine, the Dutchwomen have 11 ties, including five this season, so they've come close. The problem has been the same throughout much of their history: they can't score. Friday was the eighth time they've been shut out, and they have yet to score more than twice in a game.
Back to loftier goals. I think Quinnipiac, Harvard, and Clarkson will get home ice. I think that the fourth host will either be Princeton or Colgate. I'd say the Tigers are a better team right now, but the Raiders could be superior in two months. Do you anticipate a different foursome atop the ECAC?
Candace: That's likely, though I suppose there's an outside chance that St. Lawrence could push into the home ice picture. St. Lawrence does have the same amount of points as Clarkson and Colgate; the Raiders have a game in hand on both Clarkson and St. Lawrence though. The Saints already beat Princeton once, and they also beat Dartmouth. Their problem is that they face Clarkson twice in the second half, and the Golden Knights have owned that rivalry of late. St. Lawrence also has Harvard and Quinnipiac on the docket, and while they played the former very close in a 3-2 loss in October, they got blown out by the latter. On the plus side for St. Lawrence, the Satins have two each against Brown and Yale in the second half, very winnable games, and also have Union and Rensselaer.
The battle for the playoffs in the ECAC also looks to be fierce. Cornell seems to have overcome its slow start and has played its way into contention. The Big Red currently sit outside the last playoff spot, trailing Yale and Rensselaer by one point. Yale is in a good position by having only played six conference games so far, so the Bulldogs have two games in hand on Clarkson, St. Lawrence, and Rensselaer, and a game in hand on Colgate and Cornell. However, given that the Elis were just convincingly beaten by New Hampshire, I'm not sure whether having those games in hand will matter in the long run. Yale has a pretty tough start to its second half, facing Quinnipiac, Princeton, Clarkson, St. Lawrence, Cornell, and Colgate.
Princeton might be even better positioned than Clarkson, The Tigers start their second half with Brown, Yale, Union, Rensselaer, and a nonconference tilt versus Connecticut, and then Dartmouth. Should the Tigers come out of that stretch unscathed, I think home ice is a virtual lock. Princeton has played one more game than Clarkson and St. Lawrence, and two more than Colgate, but if the Tigers can keep up the play they've shown on their current six-game winning streak, I think things look good. Freshman Karlie Lund leads the team in scoring with 18 points, while juniors Kelsey Koelzer, Hilary Lloyd, and Morgan Sly have all contributed as well. Koelzer also provides a stabilizing presence on the blue line. In net, Kimberly Newell has a 1.49 goals-against and a .947 save percentage, so I think that's another advantage the Tigers have over teams like Dartmouth, Colgate, St. Lawrence, and Yale.
I mentioned Hockey East being interesting. True, no one is going to catch Boston College. Boston University is in second right now, three points up on Northeastern, but the Huskies have three games in hand. I'd expect Northeastern to pass BU sometime in January. After the top three, things get interesting. New Hampshire is in fourth with 10 points, followed by the surging Providence Friars with eight points and then Connecticut with seven. Providence has two games in hand on New Hampshire, while Connecticut has two in hand on Providence and four in hand on New Hampshire. It makes for a very interesting race for the final home ice slot.
Are you still leaning toward Connecticut for home ice, or do you think Providence or New Hampshire might move into position?
Arlan: For now, let's assume that the three Boston teams will wind up as the top three in the league and just look at the other six. There are a couple of things that I like statistically about Connecticut in such a comparison. Obviously, it isn't its offense; UConn only scores twice a game on average. That isn't as detrimental in a comparison with this set of teams as the league overall, because Maine, Merrimack, and Vermont have been even less prolific, and Providence and New Hampshire are only slightly better.
The first positive that stands out to me for Connecticut is its scoring margin. The Huskies only get outscored by an average of 0.28 goals a game. The other five teams in this group have scoring deficits that range from one goal (Maine) to 2.32 goals (Merrimack). That seems to show up in individual games as well. The Huskies, for whatever reason, tend to get off to slow starts, but despite an inability to score, find ways to scratch and claw their way back into games. Teams that are close at the end consistently are more likely to find ways to get points.
Connecticut also fares well when we consider the remaining league schedules. As you discussed, the Huskies have the most Hockey East games remaining, 15. Three of those are with Northeastern and one is versus Boston College. For the purpose of this discussion, let's assume that all of these teams are going to lose all of their games against the Boston teams. That isn't necessarily true other than games with BC, but it helps to simplify the analysis. That still gives Connecticut 11 games left versus teams outside of Boston, games it has a good chance to win. Plus, it has two left with Merrimack, and although the Warriors have done well overall in their first year, they've still been the league's weakest team to date.
New Hampshire only has 11 total games remaining in Hockey East, and three are with Northeastern and two with BU. That leaves only six games against the non-Boston teams, and none of those are versus Merrimack. Providence has 13 conference games to play, including two each with each of the Boston teams, leaving only seven games versus our so-called bottom six teams. Vermont has 14 games left in the league, including all three against BC and two with BU, leaving nine games against the rest. The Catamounts also have all three games with Merrimack remaining, so like Connecticut, the Catamounts could be in position to improve on their current lot. Maine has 12 games to play, and the good news for the Black Bears is that other than hosting a two-game series with Northeastern, it is done with the top three. That leaves 10 games versus the rest, two of which are versus Merrimack. Finally, the Warriors have 13 conference games left, but three are with BC and another is at BU, leaving nine versus the other lower-ranked teams.
Overall, I think the remaining schedule favors Connecticut the most, followed by Vermont and Maine, and the Huskies are already ahead of the other two. Also, I think that Connecticut goalie Elaine Chuli has the greatest ability to single-handedly impact a game of anyone on the bottom six rosters. So yes, I do like the Huskies to get home ice with how the race currently sets up. They are also going to have the chance to directly control their standing, because they still have multiple games left with each of the other teams in the bottom six. While New Hampshire has definitely been playing better of late and currently holds fourth place, its small number of remaining games indicates that UNH is going to have to be very efficient to hold onto that spot.
The other subplots in Hockey East will be the battle to stay out of the basement and miss out on the playoffs altogether, and trying to avoid finishing in eighth place and winding up as potential cannon fodder for Boston College. I'll say that Merrimack remains in ninth and doesn't advance, while the other teams leapfrog Providence and leave the Friars as the eighth seed headed to Chestnut Hill.
Do you expect anything else in the final standings in Hockey East?
Candace: That's a good guess, but I'm not sure about Maine leapfrogging Providence. Since starting the season with a 4-0 win over New Hampshire, Maine has struggled in Hockey East. Its one other win was a 2-1 OT decision over a Providence team that was really still finding its skates. Providence was still winless when it lost to Maine, and seemed to turn its season around the following week with a 5-4 win over New Hampshire. The Friars start the second half with series against Robert Morris and RIT, ones that it should at least split, if not win, and gain momentum ahead of a resumption in Hockey East play, when they face Northeastern, and home-and-home series with Connecticut and Boston University. For Providence, the key series is at the end of January, when the Friars host Maine for a pair.
Part of Maine's problem is an inconsistent offense. The Black Bears got only one goal in two games against Robert Morris, were shutout by Connecticut, and got one goal and two goals this weekend against Union in a win and a tie. For comparison, and I know this doesn't always work, but Providence defeated Union 4-1 a couple of weeks ago. Maine has a tough go of it in January, with Vermont twice, Northeastern twice, and New Hampshire twice before the aforementioned series against Providence.
I am wondering if Maine can fend off Vermont and hold onto the seven spot. The Catamounts have been pretty terrible of late, though they did beat Maine back at the beginning of November and closed the first half with a 3-2 win over the freefalling Dartmouth. Vermont starts its second half with a game against Union, one I consider a must-win to get the Catamounts off on the right foot. Even a tie could be a blow to that young squad's confidence.
Let's turn to the CHA now. I've talked about Mercyhurst being the same old boss, and wondered whether Robert Morris' generally decent out-of-conference record could translate to CHA success. The Colonials ended their first half last weekend with a tie and win against Lindenwood. The bad news is Robert Morris still trails Mercyhurst and Syracuse in points, and both teams have two games in hand on the Colonials.
Or course, given the struggles of all CHA teams right now, the goal has to be winning the CHA tournament, and anything can happen. I almost think the regular season doesn't even matter much, except for home ice. However, home ice hasn't always helped in the past. What's your take on the CHA right now? Mercyhurst is highest in the PairWise, at 15, but there is no way for the Lakers to play themselves into the at-large picture, so NCAA tournament hopes rest on winning the CHA auto-bid.
Arlan: Even more than home ice, I think the CHA teams are playing for a first-round bye. That's the only sure path to the semifinals. Otherwise, even if a team is hosting a quarterfinal against an opponent that hasn't won much during the season, there has to be an uneasy feeling. RIT's Cinderella exploits are well-documented, Lindenwood has key seniors like Nicole Hensley and Shara Jasper, and Penn State's inaugural recruiting class is going to be graduating and would undoubtedly like to do something memorable on its way out. So Mercyhurst, Syracuse, and Robert Morris will be trying to get one of those two byes so that they can view the carnage from a distance.
Even though the season title doesn't bring any NCAA reward, it still has meaning within the league. The Lakers have won that CHA season crown in all 13 seasons, so I'd guess that it is a huge objective to try to keep that string going. Syracuse has never won a championship of any sort, so the trophy would look pretty sweet to the Orange. RMU did win the playoff title four years ago, but all those players are gone, so they'll want to do anything possible to claim a championship. So I'd say that the teams farther down the standings might be more inclined to focus more on preparing for the postseason than trying to gain a spot in the standings, but finishing first or second will remain a top priority for the others.
While the top CHA teams have all lost a number of games overall, there haven't been many bad losses. The worst is likely Robert Morris losing to Penn State on home ice. Four of Mercyhurst's seven losses have come against ranked teams: No. 4 Quinnipiac, No. 8 Northeastern twice, and No. 10 Colgate. It also lost twice to a Princeton squad that sits just outside the top 10, so its worst loss came in the split with Cornell. Syracuse has 10 losses, six to ranked teams: No. 6 Clarkson twice, Northeastern, Colgate, No. 7 North Dakota, and No. 1 Boston College. Its losses to unranked team came versus Connecticut, St. Lawrence, Robert Morris, and Cornell. I'd expect that both of those teams will win most of their games against the bottom half of the league, although they'll have to be mindful of not leaking points via ties.
The first meeting of the Lakers and Orange doesn't occur until Jan. 15, but then they play all four games before January is complete. Mercyhurst comes out of the break to host Rensselaer the first weekend of January, and then it has a bye week to prepare for the Orange. Syracuse starts 2016 with single games versus Colgate and Union. If the Lakers can sweep that first series in Syracuse, then I'd say the CHA race is just about over. If the Orange can find a way to get a series win, then it gets interesting.
I think what is most surprising to me is that when you look at the CHA leaders in points per game, the highest ranking player for Mercyhurst is freshman Rachael Smith in eighth place. Syracuse has four players who rank higher: Melissa Piacentini, Stephanie Grossi, Jessica Sibley, and Nicole Ferrara. We're accustomed to the Lakers having more firepower in these big showdowns, but that's not really the case this year. Their goaltending has mostly been a work in progress, so the Lakers don't have the advantage in individual matchups and will need to play a good team game to continue their run of championships.
Interestingly, Brittany Howard has rebounded after her redshirt season to lead the CHA in scoring with 26 points and 1.30 points per game, which ranks 14th nationally. The Colonials are likely better in goal than the other contenders, as Jessica Dodds' .927 save percentage equals that of Celine Whitlinger of Penn State and Hensley, while Sarah McDonnell of Mercyhurst and Jenn Gilligan for Syracuse are both below 90 percent. If that continues, it may bode well for Robert Morris' hopes come tourney time.
Does anything stand out to you either individually or as to how the teams match up?
Candace: Several things stand out from Mercyhurst. Sarah McDonnell, a freshman, seems to be the starting goaltender, having played in 14 games. Her goals-against has gotten better, but it's still 2.03 goals per game, and her save percentage is .894. Sophomore Jessica Convery, who has played five games, is even worse, at 2.79 goals per game and a .880 save percentage. Considering the goaltending stats of Dodds, and the fact that Mercyhurst doesn't have a single player averaging over a point a game, I'm still not sure how the Lakers racked up four goals in each game against Robert Morris en route to a win and tie.
The other thing about the Lakers is the down years that seniors Jenna Dingledein and Emila Janiga are having. Dingeldein averages .722 points a game, and Janiga .600 points a game. In her previous three years, Janiga was always over a point a game, including last season, when she was at 1.29 points per game. Dingeldein has always hovered at a point a game, so her production isn't as drastically down as Janiga's, but it's still down, and the Lakers could sure use offensive output from both of them.
Another thing about the CHA is that Lindenwood is currently in fourth. The Lions have played two more games than Penn State, but they also won the earlier series between the two. The Lions have racked up at least a point against every team in the CHA. Considering that Lindenwood had no previous D-I experience until they upgraded their program four years ago, that shows progress, and I'm wondering if the Lions can best their 10 overall wins last year. The Lions have finished in fifth in the CHA every year, so perhaps they can move into fourth and get a home playoff game.