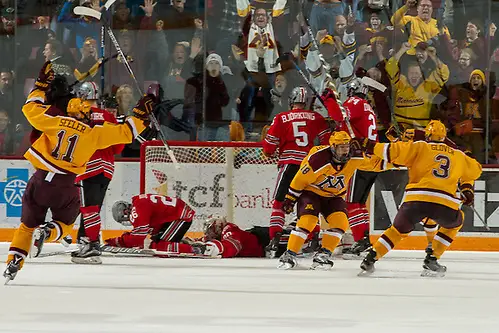 It seems so odd to be wrapping up the first half of the season with just two weekends of Big Ten play behind us and so much at stake beginning three weeks from Friday, when conference play resumes Jan. 8, 2016.
And who would have thought that Minnesota would be sitting at the top of the league standings — such as they are — at the midway point, given how the Golden Gophers have played in the first half?
It's so early in the conference season and every game is worth three points. Predicting how the season will end seems harder this year than it has in the Big Ten's previous two full seasons. The first half of 2015-16, however, gave us a lot to think about. Here are five things to think about as we head into the light schedule of the next few weeks.
1. B1G hockey did itself few favors in the first half
I know that I'm not the only one who was hoping that Big Ten teams would fare better in nonconference play at the start of the 2015-16 season than they did in 2014-15. Had the Wolverines captured a few more wins in the fall of 2014, Michigan may have been the league's second representative in NCAA tournament play. As we all know, only the conference playoff winner, Minnesota, went to the tournament and only by means of the league's autobid. Then the Gophers bowed out immediately in their first game.
After the first half of the season, the Big Ten has a record of 30-32-11 (.486) in nonconference play. Across the board, it's a fairly even record of mediocrity in nonleague play except for the dominance over Atlantic Hockey (12-2-1) and the abysmal record against the NCHC (1-14-1). Losing records against Hockey East (8-9-1) and the WCHA (4-6-5) are telling enough, but that dominance at the hands of the NCHC portends little good for the Big Ten in postseason play.
The league is doing slightly better than it did in nonconference play at the end of 2014-15 (37-43-7, .466), but it may be too little to matter. Only Penn State and Michigan are currently in the top 16 of the PairWise Rankings. That means that two-thirds of the Big Ten is comprised of teams outside of the NCAA tournament as we head into nearly all of the league's conference play. That gives few teams any room to improve in the PWR — unless they beat Penn State and Michigan repeatedly.
2. Which brings us to Penn State
The Nittany Lions are a very pleasant surprise following the first half of the season. I've thought from the start that Guy Gadowsky was the man to build this program, and it's not difficult to see the progress his team has made. With an 11-2-3 record, Penn State made the most of its nonconference schedule in several different ways. Not only did the Nittany Lions beat the teams they should have, but they also split with Notre Dame and registered a tie against St. Lawrence, outcomes that may help them in the PWR, where they sit at No. 9.
Approaching the midseason holiday tournaments, the Nittany Lions are seven wins short of where they were for the entire 2014-15 season, and they've registered three more wins than they did in all of 2013-14.
Entering the second half, the Nittany Lions are tied for second in the country offensively, scoring on average 4.38 goals per game. The astonishing thing about that statistic to me is that there is only one player on the team with 10 or more goals, freshman Chase Berger (10-5–15). Every skater on the team that's played in all 16 games this season has at least one goal.
If the Nittany Lions take this scoring confidence into the second half and turn it into scoring consistency, they'll make themselves contenders for the league title and they'll play themselves into an at-large bid for the NCAA tournament should they not capture the conference championship.
3. Which brings us to Michigan
The Nittany Lions are tied for second in the nation offensively but are 16th (2.31) defensively.
The Wolverines are the top scoring team in the country (4.47) but are tied for 36th (3.00) defensively. This is unreal to me, given how good Michigan's defenders are individually and how talented this team is overall.
I am not exaggerating when I say that Michigan's offense is one of the most talented and explosive I've seen in years and years — from any team. Kyle Connor (11-11–22) leads all freshmen nationally in points per game and goals per game, and is sixth nationally and tied for seventh in those categories, respectively. Two other freshmen, Cooper Marody (7-6–13) and Brendan Warren (4-6–10), have 11 goals between them. Junior Tyler Motte (11-5–16) is having a career season.
The Wolverines can score and can do so from almost any spot on the ice. They cannot, however, score consistently. After destroying Minnesota 8-3 Friday night, Michigan lost 3-2 on Saturday. Two of their three losses have been 3-2 games, but the third was a 4-0 home loss to Robert Morris on Oct. 31 — and the Colonials led the Wolverines for two periods of Michigan's 5-3 win the night before.
It's almost as though this team is so good offensively that it doesn't think it needs to do anything else. Sometimes, watching Michigan play is like watching five separate guys on the ice who've never met each other before, as was the case in for the first 26 minutes of Michigan's 6-4 win over Wisconsin on Dec. 4, when the Badgers led 3-0 before the Wolverines woke up and played hockey.
Like the Nittany Lions, the Wolverines have some PWR hopes. At 9-3-3 heading into the second half, Michigan's fate is in its own hands.
4. Which brings us to goaltending
This is a real mixed bag for the Big Ten, and the numbers don't appear to tell the whole story.
Let's start with Michigan's goaltenders. Senior Steve Racine (2.66 GAA, .911 save percentage) had a consistent and promising first half but is out with a lower-body injury. Junior Zach Nagelvoort (3.14, .888) lacks that consistency and doesn't seem to be playing up to the level he did last year. As the Wolverines' team defense is suspect, goaltending is a position that Michigan needs to solidify.
Another veteran is struggling as well. Michigan State's Jake Hildebrand (3.16, .900) looked untouchable early in the season, but his numbers are quite down from his first three years and he had a two-week stretch in which he really fought the puck, contributing to four straight losses to two ranked teams, North Dakota and Penn State. Hildebrand isn't the only problem with Michigan State's defense. He had a very good game last Saturday against Wisconsin but was abandoned again and again to odd-man rushes in the 3-0 loss.
At Ohio State, however, there's the team of juniors Matt Tomkins (3.20, .900) and Christian Frey (3.01, .906) who are playing up to their potential but who have little support in front of them.
Two freshmen are developing well for their teams through what look to be rebuilding seasons. Minnesota's Eric Schierhorn (2.73, .910) is still building consistency, and Wisconsin's Matt Jurusik (3.11, .900) is another goalie that would benefit from a more unified team in front of him. Both look good enough, however, to keep the Gophers and the Badgers in games.
Penn State's duo of junior Eamon McAdam (2.01, .933) and senior Matthew Skoff (2.63, .904) are poised to be the biggest goaltending assets in the Big Ten — if they can remain poised, that is, down the stretch. Skoff's numbers are on par for his career, while McAdam is having his best season yet.
McAdam also has the top GAA and save percentage in the Big Ten and yet is 16th and 15th nationally in each of those categories, respectively. This fact alone says a lot about the parity of the league within the league and may tell the tale of the B1G team's chances in NCAA postseason play.
5. And then there's the rest of the story
Those are the big pictures that I see so far this season, but there are other, smaller stories that are interesting.
I particularly like what's happening at Wisconsin. After their disastrous 2014-15 season, the Badgers have taken "redemption" to heart and are determined to prove something in addition to just improving. From what I've seen, Wisconsin works hard and the Badgers play to the level of their ability at this point.
With a record of 4-7-5, Wisconsin has already equaled the number of wins it registered in 2014-15, and while I don't usually put a lot of stake in moral victories, the Badgers have played several good teams very hard. They beat North Dakota 3-1. They tied Denver and Michigan and were leading in each of those contests.
"What's most surprising, what I like right now, is the direction that we're going," Badgers coach Mike Eaves said after Wisconsin beat Michigan State 3-0 on Saturday. "I like that direction. I like that people are getting it. We just have to firm up some of our habits."
Another smaller story that is interesting to follow is the young Minnesota team. With an overall record of 7-8 at midseason, the Golden Gophers are 3-1 in the Big Ten — which means they're 3-1 in their last four games. They needed overtime to beat Ohio State twice, and after looking like amateurs for stretches against Michigan in last Friday's 8-3 loss, the Gophers learned from their mistakes quickly.
After that lopsided loss, Minnesota coach Don Lucia dished out some sage advice, for hockey and life: "Rule No. 1 is don't beat yourself." While the Wolverines took advantage of every Minnesota mistake in the 8-3 game, the Golden Gophers contained the Wolverines in the following day's 3-2 contest.
An interesting, small story is the awareness that Michigan may have regarding why the Wolverines are giving up so many goals and how they still struggle with consistency.
"Some nights, it goes in too easy," Michigan coach Red Berenson said after that 8-3 game. "We have to go home now and put this game behind us, which is hard to do 'cause everybody's going to be talking to our players about how good they were and how this and how that. Tomorrow's going to be a different game. We have to be ready for tomorrow."
Perhaps the Wolverines are doing too much extracurricular reading.
And then there's that proposal that the Big Ten brought to the NCAA to lower the age at which a player can qualify for four years of eligibility. Jimmy Connelly and I have talked about this a little already, but it's sure to be a story that gets a lot of attention as the season progresses.
Three stars of the week
It's a trio of forwards this week.
First star — Michigan freshman forward Kyle Connor: Connor recorded his first collegiate hat trick in Michigan's 8-3 win over Minnesota last Friday and the only two goals for Michigan in its 3-2 loss to the Gophers on Saturday. His hat trick is the first for a Michigan freshman since 2001. This is his second career weekly Big Ten honor.
Second star — Penn State senior forward Tommy Olczyk: Olczyk also registered his first career hat trick in Penn State's 6-3 win over Princeton last Friday. It's the third hat trick in Penn State history. Olczyk (6-3–9) is two goals shy of his career-high eight-goal junior season. This is his first career weekly Big Ten honor.
Third star — Minnesota junior forward Hudson Fasching: Fasching had three goals in Minnesota's road split with Michigan, two in Friday's game and one Saturday. Fasching (8-6–14) is four goals short of his total of a season ago. This is his fifth career weekly Big Ten honor.
My ballot
1. Providence
2. Quinnipiac
3. Boston College
4. North Dakota
5. Minnesota-Duluth
6. Boston University
7. Omaha
8. St. Cloud State
9. Bowling Green
10. UMass-Lowell
11. Harvard
12. Denver
13. Notre Dame
14. Cornell
15. Penn State
16. Michigan
17. St. Lawrence
18. Yale
19. Minnesota State
20. Michigan Tech