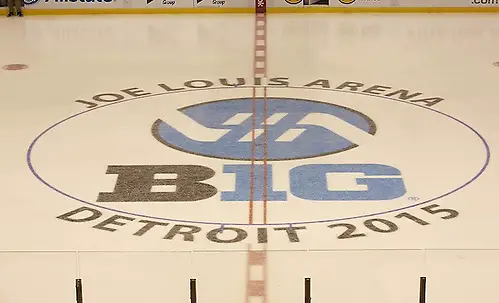 Each week during the season we look at the big events and big games around Division I men's college hockey in Tuesday Morning Quarterback.
Jim: There was plenty of league action last weekend, but before we tackle the hockey on the ice, let's start with the hot topic off the ice.
We mentioned it briefly last week in our thumbs down, but the conversation about the Big Ten's proposal to limit the age of college hockey freshmen, essentially cutting out the 21-year-old rookie, seems to be gaining a lot of steam. Despite a straw poll of coaches in which 50 of the 60 coaches reportedly said they were against this proposal, the Big Ten isn't backing down.
Personally, I'm not sure I understand what the need is for this legislation. If we are looking for more ways to send players away from the college hockey recruiting path, this seems like the perfect route.
Legislation: Read the Big Ten's proposal
Paula, you cover the Big Ten on a week-in, week-out basis. What are you hearing around the league? Is there something to this that I'm missing that makes it extremely necessary? Or is this the Big Ten trying to flex its legislative muscle in the NCAA?
Paula: I haven't heard anything officially from anyone affiliated with either the Big Ten or individual teams yet — but I haven't asked directly yet, either, because I wanted to wait until I heard what was bubbling to the surface first. There is no chatter other than Big Ten coaches, whose official stance in stories is in support of the proposal.
Penn State coach Guy Gadowsky told the Penn State student newspaper, The Daily Collegian, that a complaint that Division I coaches have had "for a number of years" is that players have "gotten too old." Frankly, I've never heard the complaint that Division I hockey is too old, and having covered the sport for two decades, I find this point moot.
I did cover Friday night's game between Wisconsin and Michigan at Yost Ice Arena, and there was plenty of chatter about the proposal in the press box. The consensus seems to be that this is a pretty bad idea — and a selfish one, too. It's no coincidence that the Big Ten members have some of the youngest teams in Division I hockey, so this would affect them the least.
What bothers me about this, specifically, is that each of these teams, with the exception of Penn State, was recently affiliated with conferences in which the majority of teams didn't have the resources that Big Ten affiliate teams have. WCHA member teams that weren't Minnesota and Wisconsin had a serious recruiting disadvantage when the Gophers and Badgers were affiliated with that league, and the same thing happened in the old CCHA when non-Big Ten schools were competing against Michigan, Michigan State and Ohio State for recruits. Not only, then, does this feel selfish to me, but it feels downright mean-spirited, as every one of these coaches knows how challenging recruiting can be for many Division I programs.
I don't think you're missing anything, Jim. I don't think this is a necessary thing. I also don't think that the Big Ten is trying to flex any muscle; I think the Big Ten is looking for yet another recruiting advantage.
Given how the Big Ten performed last year and this year out of conference, I find the very act of looking for yet another recruiting advantage interesting. This seems to suggest some sort of perceived correlation between B1G hockey's performance and its age relative to nonconference teams.
And if the league's argument is that it wants to protect youngsters against older players, I present former Michigan player Dylan Larkin, the 19-year-old Detroit Red Wings rookie who leads the NHL in even-strength goals (11).
Jim: I also heard Gadowsky speak this week on "The Pipeline Show" out of Edmonton. Something he said there struck me as well. He said that this shouldn't change the ways teams recruit, basically that teams would recruit the same players earlier. I don't agree entirely with this.
There are some certain talents that simply blossom a bit later. Maybe in their 20-year-old year they are finally mature enough to handle college. There are a lot of students graduating high school at age 18 and going to college at age 19. But not everyone is ready.
If after two years, a player finally stands out to a coach, that coach would have to tell that player he can only come for three seasons. This is just me, but I'd be turned off.
Let's change subject a bit, although there is some relation to this topic. USA Hockey announced the preliminary roster for this year's World Junior Championship team. Eleven players on the 29-man roster are playing major junior, meaning they chose not to take the college route. There are still 13 college players on the roster, but this balance has swung significantly toward major junior compared to years past.
To me, it proves that the recruiting battle of U.S. colleges against major junior — at least for the top American prospect — is still a difficult one to win.
Paula: It is, Jim, without question.
Before responding, I did a little informal web research for recruiting, major juniors, NCAA hockey and a few other search terms. The debate between which path is better for young prospects — major junior or the NCAA — is clearly one that has been raging for quite a while. An article by John Matisz in The Toronto Sun during the 2015 NHL draft talked about the difficult decision prospects face. In that article, Matisz speculated that Michigan defenseman Zach Werenski might defect to the OHL — which we know hasn't happened — but also made the point that Kyle Connor would make good on his commitment to the Wolverines, where he's enjoying a productive freshman season so far.
Then there were articles from a decade ago debating whether 16 was too young for players in the OHL, and there were articles from a few years ago in which promises made to OHL players regarding college tuition were questioned.
I think that College Hockey Inc. is doing everything it can to make NCAA hockey as attractive an option as it can. What I don't understand, though, is how the tide is turning toward major junior when the NCAA proves nightly in the NHL that it is a great path for young and talented players.
Thumbs up
To Colorado College for its home sweep of Miami last weekend. The sweep is the first of the season for the Tigers and extended CC's win streak to three games after Colorado College began the season with 13 consecutive losses.
Thumbs down
To the walnut that was in the oatmeal raisin cookie that Omaha's Austin Ortega ate last Saturday. Per SB Nation College Hockey, Ortega has a nut allergy and swelled up immediately. He was scratched for Saturday night's game at St. Cloud State.
Coming up
The weekend starts early with No. 3 Boston College hosting No. 18 Notre Dame on Thursday.
No. 12 Boston University goes out of Hockey East to play two ECAC Hockey foes this weekend, No. 15 Yale on Friday and No. 2 Quinnipiac on Saturday.
And there are two series between ranked teams in the NCHC: No. 6 St. Cloud State at No. 11 Denver and No. 4 North Dakota at No. 17 Minnesota-Duluth.