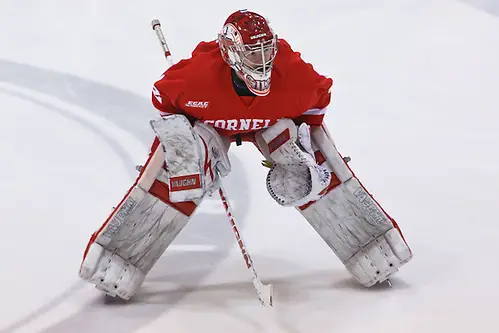 Quinnipiac's unbeaten season was snapped in the second period last Saturday with a goal by Boston University's Robbie Baillargeon that put the Terriers ahead 2-1. BU scored twice in the third period, including an empty netter with 20 seconds left, to seal the deal. Just like that, the Bobcats had a mark in the loss column. In front of their home fans, no less.
But that won't take away from what the Bobcats have done so far this season. At the holiday break, Quinnipiac (15-1-2) has the second-best record in Division I men's college hockey behind undefeated, defending champion Providence.
ECAC Hockey has five teams in the USCHO.com Division I Men's Poll at the break, including No. 7 Harvard, No. 9 Cornell, No. 15 St. Lawrence and No. 13 Yale, which defeated Boston University 3-2 before Quinnipiac fell on Saturday. Teams like Union, Clarkson and Colgate have quickly dissipated after slow starts, while Princeton and Dartmouth continue to rebuild.
There's parity in the ECAC this season, that's for sure. Here's a closer look at the ECAC from an exciting first half:
Quinnipiac riding high
One can't begin to explain how important goaltender Michael Garteig has been to this season's Quinnipiac team. Through 18 games, he's posted a 1.24 GAA and a .948 save percentage. The Bobcats senior has been exactly as advertised, and his stock has risen among college hockey goaltenders, taking his team along for the ride.
Pair an elite goaltender with Quinnipiac's offensive prowess, and you've got yourself quite the hockey team. Nine different Bobcats players are in double digits for points, including four defensemen. The group is led by junior Sam Anas, whose 10 goals and nine assists lead the team.
With the amount of success Quinnipiac has been able to muster, it's hard to imagine the Bobcats sliding in the second half. Mark them down as your Cleary Cup favorite.
Big Red on the rise
The ECAC's biggest surprise has been Cornell, which enters the break 8-1-2 overall and ranked ninth. Mitch Gillam has been spectacular in goal, posting a 1.69 GAA and a .937 save percentage through 11 games. Junior Jeff Kubiak leads the team in points, but Cornell's offensive production has been spread throughout the lineup, with 12 players having five or more points.
The Big Red's lone loss this season, suffered on Nov. 7, came at the hands of then-undefeated Quinnipiac, the ECAC's team to beat. They've tied Boston University, tied Yale and beaten St. Lawrence. Cornell has certainly held its own among college hockey's toughest opponents. For a team that many predicted to be one of the ECAC's bottom-feeders, Cornell's rise has certainly come as a surprise.
Next up: No. 1 Providence on Dec. 28. Let the magic continue.
Ties, ties, ties
One in every five ECAC Hockey game this season has ended in a tie. Overall, there are 25 ties on ECAC team records combined. Last year the ECAC amassed 44 ties on its records, making this season's first half scarily close to beating that a year later.
It says something that games don't seem to be finishing with a victor. Never mind the unbearable no-winner situation that ties create, ties also detract from the game by putting anything other than a clear-cut winner or loser on the table for those in attendance. For reference, Hockey East team records have combined for 38 in the tie column this season. It'd be nice if someone fixed this. But please, no shootouts.
RPI's two-goalie system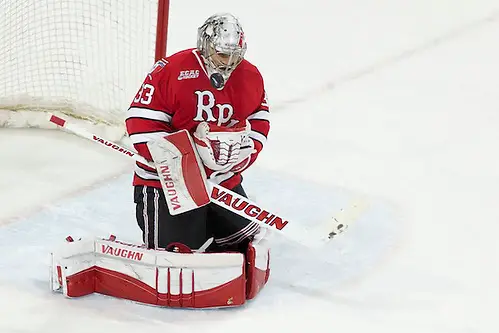 As my ECAC partner Nate Owen noted earlier this week, Rensselaer is in quite a different place than it was a year ago. After senior goaltender Jason Kasdorf went down injured, freshman Cam Hackett stepped up and kept the ball rolling. RPI is 10-6-3 and features a one-two punch with Kasdorf and Hackett in net that can take them far in the second half.
Junior Riley Bourbonnais is tied for the ECAC lead in goals scored with 10 in the first half, and RPI heads into the break with a two-game sweep of Arizona State last weekend. Not a bad start for a team that won 12 games last year.
Princeton making strides
The Tigers are a work in progress, but they've certainly made their mark in a few early games in the first half.
Princeton is 4-9, most notably beating Brown and then-No. 10 Yale 4-2 on Dec. 4-5. Was it a fluke? Maybe not. Goaltender Colton Phinney leads the league in saves, one of the consistent bright spots for this Tigers team.
They might not make noise for too much longer, but it's hard to ignore the fact that Princeton, under second-year coach Ron Fogarty, is making progress.