'Tis the season to celebrate goodwill and good tidings to all and, of course, make a few requests of the jolly old elf for some presents since I am sure all of the teams and coaches have been "good boys" this year.
Well, even if some might be getting the list checked over twice by Santa, here is a top 12 list (starting with number 12, like the song) of presents that would be great to open before the second half of the season in the New Year.
So Santa, hope you're listening, willing and able to deliver on all the goodies to ensure a great finish to an already great 2015-16 season.
Twelve
Rumors abound about NCAA tournament expansion from the current 11 teams to adding a 12th team at the D-III level (more to follow in upcoming features from USCHO.com), so Santa, make sure this happens as there are worthy teams every year that go home too early and deserve a chance to play for the national title.
Eleven
Eleven players for the new varsity program at Daniel Webster have accounted for all 22 goals scored by the team this season. Here's hoping some magic tape from Santa helps to create more balance and production starting with their home series against Rhode Island to open the New Year.
Ten
Seeing five 10-goal scorers in the first half suggests there are some real skill guys that could have special seasons if they can match production in the second half. Norwich's Kevin Salvucci, Potsdam's Dylan Vander Esch, Geneseo's Trevor Hills, Neumann's Mike Davis and Assumption's Brandon Bete all have surpassed the 10-goal mark in the first half and look for Santa to add that special goal scoring stick under the tree for the second half.
Nine
Nine teams in the SUNYAC all have aspirations of being champs and some familiar teams are positioned at the top of the ultra-competitive conference. Here's hoping that top to bottom, Santa leaves that home-ice edge that teams seem to thrive on in the SUNYAC conference.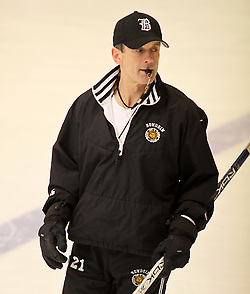 Eight
Count them up, oh you Bowdoin fans in Brunswick. There are just eight more regular-season home games on the docket before the legendary coaching career of Terry Meagher comes to a close and he takes his place among the best at any level of college hockey. Here's hoping Santa brings a second-half run that takes the Polar Bears far in the always-tough NESCAC conference tournament.
Seven
Game No. 7 is where all of the ECAC West teams find themselves in conference play and only six points separate the top from the bottom in a league that has no auto-bid and face as many challenges in conference as seen in their aggressive nonconference schedules. Four-point weekends have been few and far between, so Santa, bring a couple to keep the drama level high in the second half.
Six
Six teams could use some Christmas cheer, so Santa, how about a few more goals and offense for the teams still looking for their first conference win? The boys from Castleton, Connecticut College, Franklin Pierce, Wesleyan, Western New England and Worcester State have worked hard and deserve more for the effort.
Five
Five teams are unbeaten in conference play including Babson, Massachusetts-Boston, Middlebury, Nichols and Plymouth State. May the coaches find a rear-view mirror in their stockings as a reminder that teams behind them are closer than they may appear.
Four
Just four teams (Babson, Massachusetts-Boston, Plymouth State and Plattsburgh) have a single loss on their record this season and all but Plymouth State are nationally ranked. May Santa find some recognition for the hard-working Panthers who don't quit until the final whistle.
Three
Three periods in a game, three goalies in the East and three shutouts apiece for Wentworth's Joel Miller, Babson's Jamie Murray and Johnson and Wales' Joey Ballmer that lead the nation in the category. I could throw in three first names beginning with "J," but Santa doesn't need to alphabetize his list where goaltending is concerned. Here's hoping for more magic saves across the East in the second half.
Two
Two in a row has become a rare feat in repeating as national champions as evidenced by St. Norbert being last to accomplish the double a few seasons ago. Trinity has aspirations of returning to the title picture, but will need some Christmas magic to win their first conference title under coach Matt Greason and obtain the all important auto-bid.
One
There is just one puck to play as the ultimate toy and focal point for players, coaches and fans alike. Here's hoping that each team receives a few more favorable bounces from the one puck in the second half. No elves required, so … drop the puck!