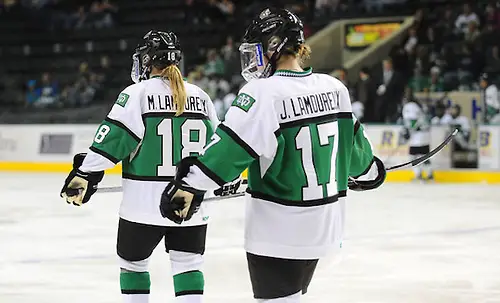 This weekend, I watched women's professional hockey in Minnesota for the first time, viewing Saturday's game on television and attending my first women's pro game on Sunday.
The games were billed as being the first professional women's games played in Minnesota, as the Boston Pride of the National Women's Hockey League (NWHL) visited the independent Minnesota Whitecaps.
The NWHL, a first-year league that also includes teams in New York, Buffalo, and Connecticut, is the brainchild of 28-year-old Dani Rylan, a former Northeastern Husky. Rylan serves as the commissioner of the NWHL.
"They want to sustain this permanently, so I think their business plan was pretty smart in doing it," said Boston coach Bobby Jay. "It's basically a bus league, and most of the games are day trips. The only one we stay overnight is in Buffalo, so we go up there three times. Financially, I think it keeps the cost down, builds these geographical rivalries."
The money saved on travel can go elsewhere, and unlike other attempts at after-college leagues for women, the players receive financial compensation.
"It's been an amazing opportunity for us, and for us to be able to have impact on women's hockey in general," said Boston forward Zoe Hickel, who wrapped up her career at Minnesota-Duluth in the spring. "I think we've been learning a lot through the process, but it's been a great experience and we've been treated well and it's been a lot of fun."
Currently, the Pride are second to league-leading Connecticut.
"We're just past a third done," Jay said. "We're five and three in league play. We play 18 games, so almost halfway."
The NWHL has delivered competitively.
"We've definitely been challenged," said Boston defenseman Gigi Marvin. "It's not been any easy games, that's for sure. Each day we've had to learn how to play hard and play consistent and play 60 minutes."
Marvin and Pride forward Hilary Knight are veterans of two Olympics, while teammate Brianna Decker was a 2014 Olympian.
"We practice two days a week, Tuesdays and Thursdays, and then we play one game on the weekend on Sundays," Jay said. "Some of the women are training full time, the national-team players. Some are also going to grad school and some we've had to work the schedule around."
During NCAA careers, players have to juggle athletics with their studies, and it hasn't gotten easier.
"Obviously, there are a lot of girls on our team who have full-time jobs, because we aren't able to get paid as a full-time position," Hickel said. "It's still finding that balance and being able to put as much as you can into hockey and still living, now that we're all out of college."
For the most part, they've been able to achieve that balance.
"We've been fortunate," Jay said. "I think it's a little more difficult for the Whitecaps to get everyone here, but we've been fortunate. All our players are living in Boston. We've been pretty lucky; we have most of them at practice."
That's definitely not the case for their opponents over the weekend.
"We haven't had one full practice this year, and we took six weeks off," Minnesota coach Robb Stauber said. "So it's not easy, but when they're there, they try hard. And they come to practice, but it's just so sporadic."
The Whitecaps have to deal with a number of challenges. The Midwest doesn't have the population density found in the Northeast, so players tend to be more sprawled out.
"Some of the players that are trying to make a national team, they're really not local right now," Stauber said. "It's hard to integrate anything that we really want to try to be good at. The local players, half of them can be here half the time, and then the other half, the other half can be here. So we really have a real mix."
The mix is evident in a number of ways. The Whitecaps have been in existence since 2004, and often throughout their history, the roster for any game can be dependent on the opponent and location of the game. When playing in St. Cloud or Grand Forks, the game's roster tends to have more of a St. Cloud State or North Dakota flavor. When the Whitecaps played the Gophers back in September, their goaltender was Finnish Olympian and former Gopher Noora Räty.
"They just asked me and I'm still here, so I thought, 'Why not?'" Räty said after that game.
While many of Minnesota's players played for the Gophers, even those players can come from different eras.
"I didn't even know half the girls, so I introduced myself [the night before the game," Räty said.
That was her final game of the season with the Whitecaps, as she returned to Finland to play in a men's professional league. Had she chosen to remain in the United States, it would have likely been to play in the NWHL.
"I was looking at that, the New York team," Räty said. "Actually, I thought about it a long time, but the difference is they only play about 20 games a season and now I'm playing about 40 games, so that was the factor why I chose to go back to Finland."
It's a sign of progress for women's hockey that the deciding factor wasn't financial.
"The salary they offered me was really good, so I could have moved to New York and be fine and end up even, but now that I've started men's hockey, I want to play it while I can," Räty said.
Without her, Minnesota still has another two-time Olympian in goaltender Jessie Vetter, but she wasn't available versus Boston either. Instead, it was a different former Badger with national team experience, Alex Rigsby.
That has always been one of the biggest problems for the Whitecaps. It isn't a shortage of talent on the roster, but it may be a shortage of players on the bench that particular day. However for any given game or series, they could put together a formidable roster, as evidenced in 2010 by their winning the Clarkson Cup, awarded to the champion of the Canadian Women's Hockey League.
This year, the Boston Blades are the only CWHL member in the United States. Without a league, Minnesota played exhibitions versus NCAA and NWHL teams, and once those squads became busy with their schedules, the Whitecaps were left to look for other options, like prep school Shattuck-St. Mary's.
Two games versus the Sabres served as the Whitecaps tune-up for the series with Boston. The rust showed early as the Pride scored the first four goals of the weekend and won the opener, 5-1.
"I think this weekend kind of showed the difficulties that we've had," said Whitecaps forward Allie Thunstrom, who played at Boston College from 2006-2010. "Obviously, we know how to play hockey and whatnot, but just not having the opportunities to play as a group, as a unit, day in and day out really can make a difference in a game like this. I think it really opened our eyes to needing to focus a little bit more on our team game and playing together more, more practices, and getting a more-solidified schedule that we can play every weekend. Or at least two or three weekends a month as opposed to playing in October and then not again until mid-December. It was definitely difficult, but it opened our eyes to things we can improve on logistically as well."
Since finishing her NCAA career, Thunstrom has not only had to juggle life and athletics, but multiple sports as well. She played both hockey and softball for the Eagles, and in 2012, she turned her attention to the sport of speed skating.
"To be perfectly honest, I thought it would be a much smoother transition," Thunstrom said. "You know, skating is skating. But it is actually very, very different. The stride is completely different in speed skating; it's very big on technique. Obviously, coming from hockey, I didn't have that. It was really hard, and it was a lot of different workouts that I'd never done before. I think it has definitely helped hockey wise, but the vice versa is a little bit sketchy."
Although her bid to qualify for the 2014 Olympics as a speed skater fell short, it wasn't a failed attempt. Not surprisingly, training as a speed skater made her faster when she got back on a hockey rink, and Thunstrom said it takes fewer strides to reach her top speed than it once did.
"I think it's actually given me a lot more confidence," Thunstrom said. "Yeah, I had always been fast and whatnot, but I never really had that confidence behind it. It might be age, maybe it's speed skating, it might be a combination of both, but I definitely think I have a lot more confidence in my speed, and I'm willing to use it in different areas, where I maybe wouldn't have before."
She was named to the Four Nations Cup roster this fall, winning gold with the U.S. team.
"I never anticipated getting another call to join the national team, so that was a huge accomplishment, and something I never thought would have happened," Thunstrom said. "I kind of thought that those days were behind me, and at this point, it was just playing for fun, and keeping in shape, and playing with friends. At this point, hockey is still very much my passion and I'm willing to do whatever I can to continue playing, but I also love speed skating, too."
The Whitecaps have other national-team players, like two-time Olympians Monique Lamoureux and Jocelyne Lamoureux-Davidson, their 2014 teammate on the U.S. roster Anne Schleper, and Finnish Olympian Mira Jalosuo.
"I think some of their older players or players who aren't national-team candidates played at a really high level," Jay said. "They played Division-I college hockey and had played on different national teams or U.S. camps, so everyone on that ice is really a legitimate player."
That was in greater evidence on Sunday, as it was the Whitecaps who jumped out to the 4-0 lead and went on to defeat Boston, 5-4.
"They're very fast," Marvin said. "They play hockey hard. It was a different style of play; it's a little different from the East Coast style of play, so we enjoyed it."
Not that Stauber can tinker too much with his team's style.
"We just try to do the best we can and in certain situations, just try to run things that they understand," he said. "Not over-complicated, and then ultimately, let them play, too. If you're going to try to do too much, it's not going to work. We just try to let them play. A few things we look for and want them to try, but just kind of stay out of the way."
Earlier in the season, Minnesota traveled east to play a couple of NWHL preseason games, losing to Connecticut before defeating New York. Might the Whitecaps be a good fit for an expanded NWHL?
"We'd love to see it expand as it grows," Jay said. "Obviously, Minnesota is such a great hockey state, but financially, I think they have to kind of keep it close to the vest right now."
Obviously, the NWHL would no longer be a bus league if it expanded to Minnesota. Once air travel is part of the equation, both cost and complications rise. Because my wife was on the same flight, I know that the Pride's flight back to Boston on Sunday that was supposed to leave Minneapolis at 7:30 p.m. didn't depart until nearly 11:00.
Still, such an addition could benefit the competition in the NWHL.
"Even coming out here and playing the Whitecaps and being able to have an expansion of teams so we could play more games, I think that would be awesome," Hickel said.
For now, the Pride and the Whitecaps will play out their separate schedules.
After Boston completes its 18-game league slate, there will be a postseason that includes all four teams, with the regular-season champion taking on the fourth-place team, while the second and third teams meet in the other semifinal. Specifics of the NWHL playoff format beyond that have yet to be made official, but Rylan stated during an interview during Saturday's telecast that the plan is for each round to be a best-of-three series.
Whatever the format, my prediction is that when Rylan steps on the ice as commissioner to award the championship trophy, she'll get a warmer reception than NHL commissioner Gary Bettman does when he awards Lord Stanley's Cup.
"I think it's been probably better than expected," Jay said. "We had high expectations, because we knew the people involved, Dani, and then obviously the players, and the way the whole league was put together. We had high expectations, but it being a first year, you figure that there are going to be some hiccups along the road. We had some minor travel issues early on, but as far as the hockey itself goes, the hockey has been excellent and very competitive. The games are battles. It's definitely been good hockey and exciting."
Rylan has succeeded in gaining corporate sponsorship from Dunkin' Donuts. NESN is broadcasting eight of Boston's games. The league has also made its debut on ESPN3. The hope is that these moves will bring added exposure and stability to the NWHL.
"I'd like to see it continue to grow," Jay said. "I think the more people actually come and see it, then they return. Because I think you saw, it's a good product. It's great hockey. It's competitive, it's highly skilled. The natural growth, people will come out and see it, and hopefully, the word will get out because the product I believe to be very entertaining."
In the meantime, the Whitecaps will finish out their season as an independent.
"Honestly, if we can get more players to practice and get some rhythm, we'll be a lot better off," Stauber said. "Just a little more coordination and a little better practice habits, which means just showing up and then we can work on a few things, which means we should be better."
And maybe the next time I watch a professional women's game in Minnesota, both teams will be getting paid.
"I know a lot of players that I played with would love to come back to Minnesota if they could play and train for the Olympics," said former Gophers captain and current Whitecaps forward Bethany Brausen. "I think it's most important for the Whitecaps program to decide where we settle in and what the best fit is for us as well."
Once they do, there likely won't be any problem finding players to fill out a roster in Minneapolis.
"It's a commitment that's worth it for just about anyone that's got that hockey blood in them," Brausen said.