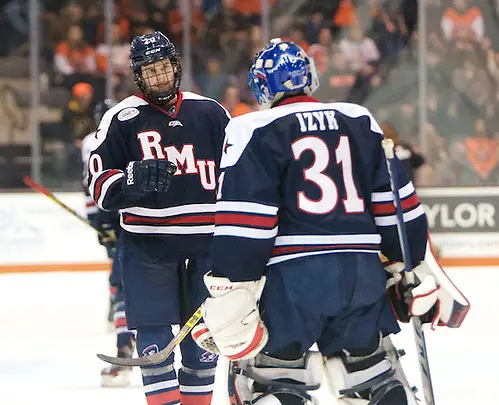 Here's some info on the fourth Three Rivers Classic:
The details
Where: Consol Energy Center, Pittsburgh.
Monday's schedule: Clarkson (7-6-2) vs. No. 8 UMass-Lowell (10-3-4), 4:30 p.m. EST; No. 14 Penn State (11-2-3) vs. Robert Morris (9-4-3), 7:30 p.m.
Tuesday's schedule: Third-place game, 4:30 p.m. EST; championship game, 7:30 p.m.
Notes to know
It was an up-and-down first half for Clarkson, and the Golden Knights' .895 team save percentage won't cut it the rest of the way.
UMass-Lowell was rolling along until the final games of the first half, dropping a pair to Connecticut before the break. The team has been solid during in-season tournaments under Norm Bazin, posting a 9-0-1 mark, including winning the inaugural Friendship Four this season in Belfast.
Penn State built upon a surprisingly strong start to the season and is riding a nine-game-unbeaten streak. The Nittany Lions have a potent offense that is averaging 4.38 goals per game and have gotten solid goaltending from Eamon McAdam and Matthew Skoff.
These games are huge for Robert Morris, which is 1-1 out of conference so far and needs a strong showing to keep any hope of an at-large NCAA berth alive. Goaltender Terry Shafer has allowed only three goals total in his last three starts, but they all came in the first period of the Colonials' last game before Christmas, a 6-2 loss at Canisius.
Social snippet
These two face-off Monday night at 7:30! RMU holds a 2-1 series lead at the Three Rivers Classic #3RC #PSUvsRMU https://t.co/Qy8BwCc1S0

— Three Rivers Classic (@3RiversClassic) December 26, 2015
Contributing: Drew Claussen, Jim Connelly, Chris Lerch, Nate Owen