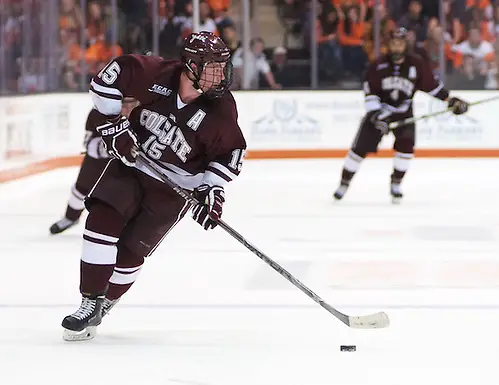 Here's some info on the 20th Catamount Cup:
The details
Where: Gutterson Fieldhouse, Burlington, Vt.
Tuesday's schedule: Brown (2-7-3) vs. Colgate (5-11-1), 4 p.m. EST; Lake Superior State (6-10-4) at Vermont (5-12-2), 7 p.m.
Wednesday's schedule: Lake Superior State vs. Brown, 4 p.m. EST; Colgate at Vermont, 7 p.m.
Notes to know
Brown forward Tommy Marchin might get lost among some of the league's bigger name freshmen, but he's averaging more than a point per game for a team that needs more secondary scoring in the second half. The Bears earned a win and a tie in their ECAC Hockey games against Colgate this season.
Colgate has some quality lines at the top of the chart, but depth and poor defense have hurt the Raiders so far. They ended the first half with just one win in their last eight games, a stretch during which they were outscored 31-11.
Lake Superior State has already traveled to the East Coast once this season, going 0-2 in the IceBreaker in Portland, Maine. The Lakers are a much-improved team since those early-season woes. Since being swept at home by Arizona State on Jan. 13-14, Lake State went 4-2-2 in conference play.
Vermont needs a solid second half to return to relevance beginning with its annual Catamount Cup. Catamounts starting goalie Mike Santaguida was injured on Dec. 5 and was expected to miss eight to 12 weeks. Vermont is the only Hockey East team to host an annual tournament after Christmas.
Social snippet
PREVIEW: @UVMmhockey Hosts Brown, Colgate, Lake Superior State in 20th Catamount Cup #VCats https://t.co/T8RSg16Zh1 pic.twitter.com/Mriyl3kFq2

— Vermont Men's Hockey (@UVMmhockey) December 28, 2015
Contributing: Jim Connelly, Jack Hittinger, Nate Owen