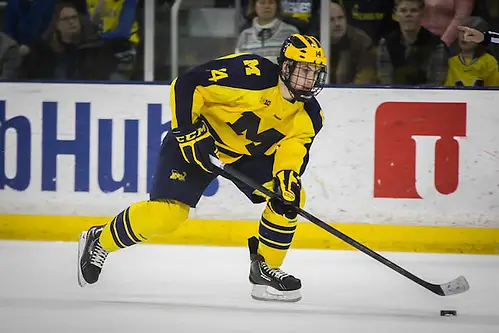 Here's some info on the 51st Great Lakes Invitational:
The details
Where: Joe Louis Arena, Detroit
Tuesday's schedule: Michigan State (5-11-2) vs. Michigan Tech (10-6-2), 3:30 p.m. EST; Northern Michigan (6-6-6) vs. No. 10 Michigan (9-3-3), 7 p.m.
Wednesday's schedule: Third-place game, 3:30 p.m. EST; championship game, 7 p.m.
TV: Fox Sports Detroit
Notes to know
After a solid start to the season, Michigan State was 1-8-1 in its last 10 games before the holiday break, having been outscored 40-22 in that span. The Spartans scored a single goal in four of their last seven games and were shut out once in the last seven. Heading into the second half of the season, the Spartans need to shore up every aspect of their game except for their penalty kill, which is 12th in the nation (87.7 percent). The Spartans have 12 GLI titles.
Compared to last season, Michigan Tech's start in this one was somewhat pedestrian. However, the Huskies went 6-1-1 in the month of November to position themselves nicely at the holiday break. An early-December sweep at the hands of Alaska-Anchorage set them back somewhat, but they're third in the WCHA standings with 19 points — just a point behind second-place Bowling Green. The GLI hosts last won the tournament in 2012, when they beat Western Michigan in the finals.
Perhaps no stat exemplifies Northern Michigan's season so far more than this one: The Wildcats have played in eight overtime games so far, and six of them have resulted in ties. Both those numbers — the ties, as well as the overtime games — are tops in the country. The ties have helped the Wildcats stay in the middle of the WCHA table. Northern Michigan, which comes into the GLI with a perfectly average 6-6-6 record, hasn't played in this tournament since the 1998-99 season. The Wildcats have never won it, but their best finish came in 1992 when they finished second to their first-round opponent, Michigan.
Michigan ended its first half with a home split against Minnesota, the loss coming in the final game of the series — one night after the Wolverines drubbed the Gophers 8-3. That's the story of Michigan's season: spectacular offense and a defense that sometimes leaves the team vulnerable. The Wolverines average 4.47 goals per game to top the nation, but allow 3.00 per game (tied for 36th). Sophomore defenseman Zach Werenski is busy captaining Team USA in the World Junior Championship. The Wolverines are the defending GLI champs, having defeated the Spartans 2-1 in the 2014 title game for their 16th GLI title.
Social snippet
We've got college hockey on tomorrow. #GLI pic.twitter.com/NpsxDc0f3G

— FOX Sports Detroit (@FOXSportsDet) December 29, 2015

Contributing: Jack Hittinger, Paula C. Weston