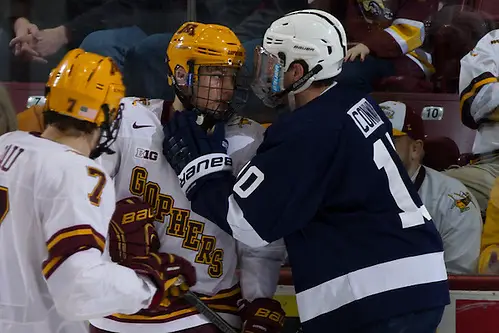 Big Ten teams playing other Big Ten teams won't be such a rarity during the second half of the season. The schedule, starting on Jan. 8, 2016, is chalk full of conference games. That also means that the chance for each team to better its nonconference record is greatly diminished after the holiday tournaments conclude.
With a limited amount of conference games being played so far, Minnesota leads the Big Ten at the break. Penn State has won both of its conference games and Ohio State has dropped both.
Here's how the standings look with Minnesota, Michigan, Wisconsin and Michigan State each having played four conference games and Penn State and Ohio State having played two:
1. Minnesota (9 points)
2. Michigan (8)
3. Penn State (6)
4. Wisconsin (4)
5. Michigan State (3)
6. Ohio State (0)
Again, we're working with a very small sample size, but at the break the two teams that were predicted to be at the top of the standings are there. However, the most impressive team in the conference might be the team sitting in third with two games in hand on the leaders.
Here are five things to keep in mind as the Big Ten rolls into the second half.
1. Conference play resumes with a bang
On Jan. 8-9, conference-leader Minnesota travels to Penn State, the two Michigan schools play a home-and-home series and cellar-dweller Ohio State will travel to Wisconsin. All three series that open the second half of the season have an interesting aspect.
Being an in-state matchup, the games between Michigan and Michigan State have a history of being tough ones to predict. Hosting Ohio State gives the Badgers an opportunity to build upon what they accomplished during the season's first half.
The Minnesota-Penn State series will provide a tough test for each team, but it's also an opportunity for each to send a message to the rest of the league. The Nittany Lions are great on home ice and were rolling before Robert Morris shut them down in the opening game of the Three Rivers Classic. The Gophers, who are the surprise leader of the conference, had an up-and-down first half of the season, but have won three of their last four games. A sweep for either team would be a strong statement.
2. Speaking of Penn State
The Nittany Lions' schedule is set up for them to have a strong start to 2016, but can the Nittany Lions seize that opportunity? Penn State has home series against Minnesota and Wisconsin before heading to Ohio State for two games. Then they return home to face Michigan before traveling to New York City to play the Wolverines the next day. Penn State has an 8-2-1 record at Pegula Ice Arena this season.
Curtis Loik (18 points) and Kenny Brooks (18) are among the top 50 in the nation in scoring, averaging one point per game, and Penn State has gotten solid goaltending so far out of the duo made up of Eamon McAdam and Matthew Skoff. The Nittany Lions are averaging 4.39 goals per game and have the second-best power play in the nation. Penn State also has seven short-handed goals this season, so scoring on special teams isn't just limited to the power play.
If the loss to Robert Morris is just a bump in the road and not something larger, Penn State could use that schedule to get some momentum going and possibly build a lead over Minnesota and Michigan.
That being said …
3. Michigan also has a fairly favorable schedule to open 2016
The Wolverines open the second half with home-and-home series against Michigan State and Ohio State before an exhibition game against the U.S. Under-18 Team. Michigan will then play its series against Penn State and then play the Spartans again (with Friday's game being played in Detroit in that series) and Wisconsin.
Michigan State, Ohio State and Wisconsin occupy the bottom half of the Big Ten standings, so there's the potential for Michigan to rack up some conference points.
For that to happen, however, the team's 34th-ranked defense and goaltending will have to perform better. Remember, the Badgers scored 10 goals over two games when they played Michigan in early December. So far this season, Michigan has struggled to win games where its offense doesn't find a way to light the lamp five or more times.
4. Speaking of Wisconsin
Will the Badgers' improved play continue? It's rare that a 4-7-5 record is defined as improved, but the fact of the matter is that Wisconsin has been a lot better than many (myself included) thought it would be.
The Badgers are averaging a respectable 2.75 goals per game, although their 3.31 goals allowed per game is too many for the team to be considered a true threat. Wisconsin's four wins, which includes a road win at North Dakota, and five ties may be an indicator that this team is close to being relevant again.
Goaltender Matt Jurusik looks like he has to potential to be a steady netminder for the Badgers, and Wisconsin has five players with 10 or more points so far. It had six players hit that mark last season.
If the Badgers can get eight to 10 wins this season, I think they should consider it a successful campaign.
5. Can teams take advantage of the remaining nonconference games?
Minnesota has four more nonconference games (Mariucci Classic and North Star College Cup), Michigan and Michigan State have one (Great Lakes Invitational), Wisconsin has two (Alaska) and Ohio State and Penn State have zero.
With nonconference records being so important when it comes to the NCAA tournament, the Big Ten will almost definitely need to improve its 34-35-11 if it wants to get an at-large team into the tournament. Even if the conference goes undefeated the rest of the way, it may not be enough.
Minnesota will have the best opportunity to better its PairWise standing with No. 7 Harvard coming to Minneapolis for the Mariucci Classic and No. 5 St. Cloud State or No. 18 Minnesota State being potential opponents at the North Star Cup. The Huskies and Mavericks have a combined 3-1 record against the Gophers so far this season.