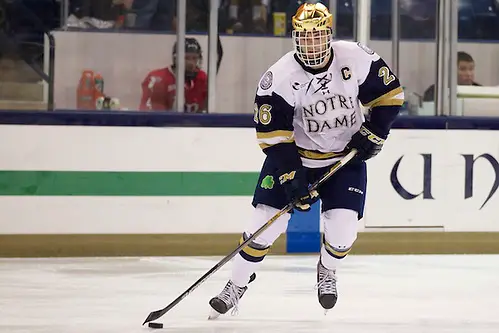 It has been a bit of an inauspicious start to the second half for Hockey East teams, with four clubs losing key nonleague games to begin the slate.
Providence losing to Cornell had the lowest impact, but Boston College's defeat at the hands of Ohio State, UMass-Lowell's loss to Robert Morris and, most of all, Merrimack's loss to Army West Point all have negative impact on the overall RPI of Hockey East.
All of which leads into my five things to watch in the second half for Hockey East:
1. This could be a very good or a very bad year for Hockey East teams qualifying for the NCAA tournament.
As of this writing, Hockey East has five teams in the top 15 of the PairWise Rankings, which is hardly anything to sneeze at. But of those five teams, only Providence at No. 4 is on solid footing. Boston University (11th), Notre Dame (13th), UMass-Lowell (14th) and Boston College (15th) all sit firmly on the NCAA bubble with half a season remaining.
Worst off, there are no Hockey East teams right below the bubble. Merrimack, at 24th, is the next closest club.
That makes it seem improbable that Hockey East can get five teams into the tournament and much more likely that, for the second straight year, the league will qualify just three teams (or worse yet, possibly two, if the stars align all wrong).
There aren't a ton of nonleague games that will influence the PairWise, but this upcoming weekend will have a few that Hockey East fans should continue to watch.
2. What should we make of UMass-Lowell?
The River Hawks arrived at the break sitting in first place in Hockey East. But Lowell has also played 11 of its 22 league games, matching Boston University, Connecticut and Northeastern for the most in the league.
Compare those 11 league games to Providence, which played just six thus far (posting a 4-0-2 record) and it is easy to say the River Hawks' grip on first is hardly secure.
That said, I have always been one to say that regardless of games played, it's good to put up points and force your opponents to chase you. Right now, it seems that three teams have a legitimate shot to chase (and possibly pass) the River Hawks. Besides Providence, Notre Dame has two games in hand on Lowell and sits at 6-1-2. Boston College has three games in hand and sits 6-1-1.
The River Hawks did have an impressive start to the season — one that, in fact, was the best in program history. But Lowell is just 1-3-1 in its last five with a tie against 3-8-3 Brown, a sweep at the hands of 5-10-1 Connecticut and a loss to Atlantic Hockey's Robert Morris (this one hardly a bad loss given the Colonials' 11-4-3 record).
Lowell's league schedule sits directly ahead, meaning the need to turn things around is quite paramount if it hopes to compete for a first-round bye.
3. Which middle-of-the-pack team has the best chance to grab a first-round bye?
If you order the league by winning percentage, the four teams sitting between fifth and eighth place are (in order) New Hampshire, Boston University, Merrimack and Massachusetts.
So which of those teams has the best chance to jump into a top-four position?
My guess is New Hampshire. The Wildcats began play after break with a two-game, nonconference sweep of Maine. And UNH still has 15 of its 22 league games to play.
One might expect Boston University to be able to make a run to the top four, and that might be the case. But as mentioned in the last section, BU has only 11 of 22 league games left to play, meaning it has a significant amount of ground to make up and far fewer games than others to do it.
4. Which underperforming team will get back on track?
A number of Hockey East teams failed to meet expectations in the first half, led by Northeastern, which is winless (0-8-3) in league play and posted just a 3-12-3 overall record. Vermont, which reached break at 5-12-2, wasn't exactly blazing trails in the first half, either.
Maine's 0-9-3 start was tempered with a 4-1-1 finish to the first half but was damaged a bit with this week's losses to UNH.
If Northeastern begins to get production from preseason player of the year favorite Kevin Roy, it may emerge a middle-of-the-pack club. But slow production (no goals, five assists in 11 games) and an injury to end the half is hardly what this team needs.
So I see Vermont, which this week captured the Catamount Cup with wins over Lake Superior State and Colgate, as the one team that has the most potential to recover its season by the time March rolls around.
5. Can Hockey East repeat as national champion?
That is a question that might better be answered once we answer the first question in this column about number of teams in the tournament. Let's face it: We've seen in recent years that your club doesn't have to be playing lights-out hockey entering the tournament. More, it simply needs to qualify to have a chance at a title.
When you look at rosters and how players are performing, Providence and Boston College each appears to be best built for a national title run. The Friars have experience as defending champs and, if they can get Jake Walman back healthy soon, may possess the best offensive defenseman in the country. BC has one of the top goaltenders in Thatcher Demko and, when Colin White returns from World Juniors, will have one of the nation's top rookie and two-way forwards.
If Boston University and UMass-Lowell find consistency in the second half, they are dangerous and could be considered contenders.
And then there is Notre Dame. This star-studded lineup could be the most capable top-to-bottom team in the league of winning a national title. With a host of NHL draft picks, the Irish have reached six tournaments and two Frozen Fours under coach Jeff Jackson.
Thus, keep an eye on the Irish from now until April. This is the team that we're talking about the least but could have the most impact this season.