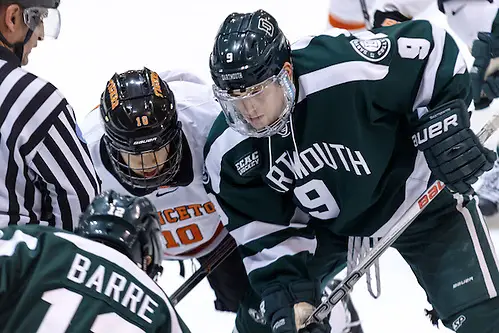 Here's some info on the 27th Ledyard Classic:
The details
Where: Thompson Arena, Hanover, N.H.
Saturday's schedule: No. 20 Merrimack (7-5-5) vs. Union (7-6-4), 4 p.m. EST; Robert Morris (11-4-3) at Dartmouth (3-7-1), 7 p.m.
Sunday's schedule: Robert Morris vs. Union, 4 p.m. EST; Merrimack at Dartmouth, 7 p.m.
Notes to know
Merrimack, one of the best stories of the first half, looks to avenge a 4-0 home loss against Union in the opening round at Dartmouth. The Warriors hope to increase their scoring attack in the second half but have a proven commodity in Collin Delia in net.
Union is a young team, but seems ready for a better second half. The Dutchmen have several dangerous forwards, led by junior Mike Vecchione and sophomores Spencer Foo and Ryan Scarfo.
Robert Morris improved to 6-4 in tournaments overall with their win in the Three Rivers Classic. But this is only the Colonials' second tournament outside of Pittsburgh since joining Atlantic Hockey; they played in the season-opening Mutual of Omaha Stampede in 2011.
It wasn't a great first half for Dartmouth, which has a number of players filling different roles this year. Senior goalie James Kruger also hasn't been the same after having one of the best seasons in program history last year.
Social snippet
Waiting for the Ledyard Classic… pic.twitter.com/ViNHGeByCz

— Dartmouth Hockey (@Dartmouth_MIH) December 21, 2015
Contributing: Jim Connelly, Nate Owen, Dan Rubin