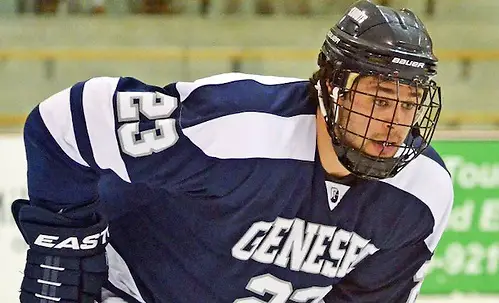 Matthew Hutchinson, a Geneseo senior defenseman, was one of three people found dead at an off-campus residence Sunday morning, local police said.
The others were Geneseo women's basketball player Kelsey Annese, 21, and Colin Kingston, 24, according to a Geneseo Police Department spokesperson.
Hutchinson, 24, who played in Geneseo home games Friday and Saturday night, also was a volunteer firefighter. (More on Hutchinson's firefighting here.)
Geneseo Police Officer Jeffery Szczesniak said at a Sunday news conference that a knife was recovered from the scene and no firearm was used. He said it was too early in the investigators to label any of the three people a suspect, but they believe one may be the perpetrator.
The residence at 18 Wadsworth Street was where Annese lived, Szczesniak said.
Officers were called there around 6 a.m. Sunday and found the three bodies, Szczesniak said. The investigation is ongoing and no cause of death has been released, he said.
"Our thoughts and prayers are with the families of all involved," the school said in a news release. "It is our hope that we can rally together to support each other during this time of mourning."
Hutchinson, a 6-foot-1, 195-pound defenseman from North Vancouver, British Columbia, was a member of Geneseo's student-athlete advisory committee, according to his team bio. He joined the Knights after playing for Chilliwack, Quesnel, Surrey and Coquitlam in the BCHL.
He was a Geography major and Business Studies minor, according to the school.
UPDATE (Jan. 18): According to the Democrat and Chronicle, Kingston was "a distraught ex-boyfriend [who] stabbed two SUNY Geneseo students to death before calling his father and taking his own life," police said Monday afternoon.
According to the report, Kingston, who recently broke up with Annese after a three-year relationship, brought a "large knife" to the home and confronted Annese and Hutchinson and an altercation ensued.