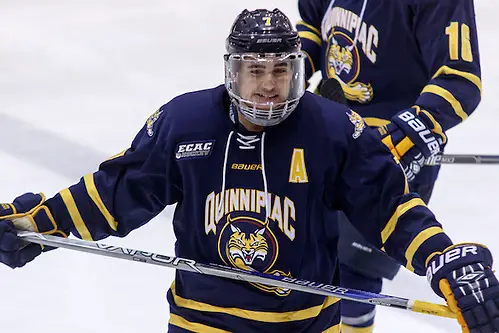 Quinnipiac coach Rand Pecknold knew his group was due for a good year. He could see it coming. But just how good the Bobcats would be, he wasn't entirely sure.
They received national recognition on Monday, earning the No. 1 ranking in the USCHO.com Division I Men's Poll. The team earned 41 first-place votes in jumping past North Dakota.
But for Pecknold, midseason rankings are just numbers on a chalkboard — more a distraction that anything for a team that exceeded his own expectations but still has a whole lot of hockey still left to play.
"Honestly, we don't worry about the polls," Pecknold said. "The fans want to talk about it, it's all part of the buzz. … We have a short-term focus. We want to get better today."
But for Sam Anas, who leads the Bobcats with 14 points this season, the journey has been surreal.
"I think it's been pretty amazing what we've done so far," Anas said. "We have so many wins already and it's only mid-January. Right now, I don't think we fully appreciate it. Maybe at the end of the season or a couple of years from now, we can look back and say, 'Wow.'"
Although the past few weeks have produced a much different Quinnipiac team, Pecknold said his team hasn't been the same since Christmas. Although the Bobcats still possess only one loss and have gone 2-0-2 since the beginning of January, Pecknold said his team hasn't had the same passion that he saw in its first half.
It culminated in Tuesday's 3-3 tie at Maine, where Quinnipiac trailed 3-1 heading into the third period and was able to score two late goals to force overtime.
"It's about passion. You can't fake passion, and we've been faking it since Christmas," Pecknold said. "We have too many guys who are only bringing it for one period. That isn't like our first half, where our guys were fired up every night. We're turning it on and off."
It hasn't hurt them so far, though the hype has certainly given Quinnipiac a stigma.
"We're No. 1," Pecknold said. "Teams get so fired up to play us. Maine was great [Tuesday] night."
One of the biggest reasons for the turnaround has been the work of the upperclassmen. Forwards Sam Anas and Travis St. Denis have taken big strides in their development since last year, and the pair are tied for the team lead in points with 28 each.
But Pecknold is still impressed with how far goaltender Michael Garteig, who has grown into what many consider the strongest goaltender in college hockey this season, has come over the last four years.
"His battle mode is his biggest strength," Pecknold said of Garteig, who has posted a 1.41 GAA and a 19-1-3 record through 23 games. "But he's extremely accountable. He's tracking the puck so much better than before. … We've put a plan in place, and he goes out and attacks that plan."
For now, Quinnipiac will turn its attention to Rensselaer on Thursday and a stretch of ECAC Hockey opponents that litter its schedule over the next few months. So far at least, it's been one heck of a ride.
"It surprised me," Pecknold said. "I knew we'd be good, but I didn't know we'd be this good. There are a lot of variables that helped us make the jump from a top-15 team to a top-five team. I think part of it is that so many players, so many returners have put in the extra effort to be better. It's not just one guy."
Quinnipiac will take on RPI at home on Thursday and will have eight days off before traveling to Dartmouth on Jan. 29.
Princeton's young guns illustrate progress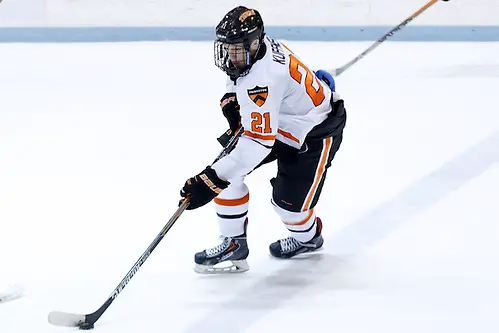 The progress within the last year for Princeton is palpable.
A year ago, Princeton finished the season with four wins and not a single player with more than four goals. It was Ron Fogarty's first season behind the bench, tasked with the beginning of process of rebuilding the program virtually from scratch.
This season, with 11 regular season games remaining, Princeton already has its four wins. And four players have four goals or more, including freshmen Max Veronneau and Ryan Kuffner. For Fogarty, the numbers speak for themselves.
"It's a group that's a year older under our structure and our system," Fogarty said. "We're not spending as much time in practice going over things. … Our games have looked a lot better, we're playing better hockey. Each game, at least, we feel like we have a chance to win."
It's a slow process, Fogarty admitted, to change the culture of a hockey program. But the biggest difference in the last year has been the attitude of his players — the sense of direction and purpose in what they're doing. For Fogarty, it's given him something to build on.
"We can go into each game now with an opportunity to win. I don't think we had that last season," he said. "Last year we'd try to stay close and look for breaks. Now we're creating those breaks. There are games where we're down by three or four goals and we've come back. That wouldn't have happened last year. It takes time, and as a staff we believe in being patient.
"Once you get a taste of it, once you believe in the system, things start to fall into place," he added. "That's where we're at. … We need to remain the course and we can't cut corners. It's so fragile, it could easily crumble. Our foundation has to be strong before we move forward."
Princeton has played well against some of the ECAC's top opponents, including a 4-2 victory over Yale on Dec. 5 and recent ties against RPI and Union. But Fogarty said he is encouraged by his young group of underclassmen and how quickly they've been acclimated, something he said is due to his upperclassmen and their commitment to the program.
"It's a product of the upperclassmen helping them right away," he said. "Ryan and Max have had a lot of opportunities to succeed. … You don't expect anything from a freshman. But Max is cool and collected. … The expectations were zero coming in, and his success stems from what he's been able to do each day."
For Veronneau, it's his relationship with Kuffner that has helped him transition into a much more comfortable offensive role.
"A lot more of our games have been one-goal games where we've given up a goal in the last five minutes or so," he said. "But it's encouraging because we are going in a positive direction. We want to continue this.
"We're a young team," Veronneau added. "The more games us young guys play in in the coming years, hopefully we can close out these close games."
Princeton will host American International on Jan. 26.
Around the ECAC
• Dartmouth senior forward Jack Barre earned ECAC player of the week honors after scoring a goal and four assists last weekend in his team's sweep of Clarkson and St. Lawrence. The Big Green look like they've stabilized themselves, at least for the moment, winning five of their last six since the beginning of January. Barre leads the team with seven goals and eight assists, and looks eager to push the Big Green into ECAC relevancy, but the jury is out on whether that's even possible with a team that has screamed inconsistency since October.
• Clarkson looked dominant in Saturday's 5-1 win over No. 9 Harvard, jumping to a 3-0 lead heading into the third period and answering a Crimson goal with two of its own for the victory. The Golden Knights have not exactly been a model of consistency this season, but recent wins against Harvard and St. Lawrence have — perhaps — changed their fortunes. Next up for Clarkson is No. 12 Yale and Brown.
• Rensselaer goaltender Jason Kasdorf earned ECAC goaltender of the week honors with a 1-0-1 split with Cornell and Colgate last weekend. Kasdorf is 2-0-3 in ECAC play, and his RPI team is second behind all-powerful Quinnipiac in the ECAC standings. The Engineers seem ripe for a late-season run, particularly given their list of opponents down the stretch, starting with a Thursday meeting with the Bobcats on the road. Game of the week, for sure.