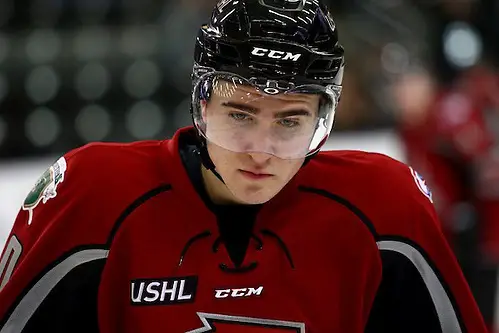 Two players from Arizona could be selected in the 2016 NHL Draft.
Everyone knows the first one, Auston Matthews, who is expected to be taken No. 1 overall. He's been on people's radars for a long time.
The second one, Michael Boyle, isn't nearly as known.
Boyle, 18 and a Denver recruit, wasn't even considering a future in hockey as of a year and a half ago. He was then playing AA youth hockey in Phoenix and assumed his hockey days were about to be numbered.
"I was just playing for fun," said Boyle, a 6-foot-2, 210-pound defenseman. "I actually thought I was going to stop playing just because it was a hobby. Maybe get into like a trade or start working or something."
Boyle sat down with his father before the hockey season in 2014 and discussed his future. They decided Boyle should try playing at a higher level and see where it takes him.
Now, it may just take him to the NHL.
Boyle's size, athleticism and potential have caught the attention of the NHL over the last year. He played for the Phoenix Jr. Coyotes, a AAA team, last season and is playing for the Sioux City Musketeers of the USHL this season.
Boyle appeared on the NHL Central Scouting list's November report as a B-rated prospect. Not that he knew exactly what that meant at that time.
"I had heard of Central Scouting, but I didn't know what it was," Boyle said. "I was sitting in class in Sioux City and CJ Dodero is like, 'We're on the list for Central Scouting.' I was like, 'What is that?' He was going over the letters and stuff. I didn't know what was going on. But that was pretty cool to see."
Boyle's draft stock has dropped since then as he's still adapting to playing at a higher level of hockey. A lot of the interest in Boyle at this point is based on his upside. He recently took part in the USHL Top Prospects Game and had a lot of NHL eyes on him.
"He's playing a tough position for a first-year player coming in," NHL Central Scouting director Dan Marr said. "I think his game is growing and growing in the right direction as well. I don't know if he's playing with the confidence yet where his skill set is showing. You can see he has size and strength and understanding of his positioning. I think his game with the puck and offensive part of his game is going to start more in the second half here and certainly next year."
Boyle gets that it'll take him some time to catch up with his peers. A lot of the players in the USHL knew hockey was their path for quite some time and have been playing competitively for much of their lives. Boyle is just now learning a lot about the game on and off the ice.
"Everyone has their struggles," Boyle said. "I may have had a little more than most just because it's a lot different watching video, systems. Before, you played to have fun. Now, you have a purpose in what you do. It hit me pretty hard, but I'm figuring it out. … They say my learning curve is probably a lot different than others just because I never played at a high level like other kids did. I had great coaching, but it was never that high level. It's definitely different."
Boyle is fighting to stay positive.
"Hockey is a huge mental game," he said. "I got down on myself for a while there just because I was making the lineup but I wasn't playing as much. And I felt like I wasn't performing as I need to. I felt like I was letting people down and the people that put all their effort into me. So, I just felt like I was letting them down. You just have to figure it out. You've got to build that confidence and get back into it."
Musketeers teammate Jackson Keane, a North Dakota recruit who also participated in the USHL Top Prospects Game, was surprised when he discovered Boyle was relatively new to competitive hockey.
"I couldn't believe it when I first heard it," said Keane, whose father Mike Keane played in the NHL. "We were lucky enough to go to Switzerland for Sioux City at the beginning of the season and he was there. He was a great player. I didn't even think twice. I thought he probably grew up playing the game in Arizona. A couple guys said he started playing last year or the year before, and I was blown away. He's got so much potential. He's obviously a huge guy, can skate, can move the puck. Seeing him play and develop is pretty cool."
College recruiting was something else that Boyle was introduced to in the last year.
"It was all overwhelming because I never talked to a college," Boyle said. "I didn't even know what juniors was by the time I switched over to playing AAA. I had no idea. It all kind of hit me at once. First a junior team talks to you, you don't know what's going on. There was that. Then, I never talked to a college in my life until I went to main camp in Sioux City. It all pretty hit me pretty quick."
Boyle said he was impressed by the coaches, players and the campus at Denver and committed there in August. He thought he could remain in the USHL for another year before enrolling into school.
As for the upcoming draft, Boyle has met Matthews before and described him as "disgustingly good." Boyle knows Matthews' name will be called come June. He isn't sure about his own.
"It's crossed my mind just the possibility, especially being on Central Scouting," Boyle said. "I don't know. I don't know if I realize the reality of it. If it ever actually happened this coming year, I don't know what I'd do."