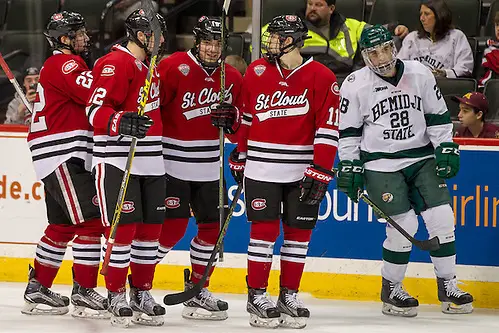 Each week during the season we look at the big events and big games around Division I men's college hockey in Tuesday Morning Quarterback.
Jim: First off, a welcome to our NCHC columnist Candace Horgan, who's filling in for an under-the-weather Paula C. Weston this week.
Jumping right in, it was an excellent week for the top teams in the USCHO.com Division I Men's Poll as among the top nine teams, only Providence lost a game, splitting the weekend with New Hampshire.
Otherwise, it was somewhat smooth sailing for the nation's best, although I couldn't help but notice No. 1 Quinnipiac needed another Cardiac Kids effort, rallying from 5-2 down in the third period against Dartmouth, scoring the final five goals in a 7-5 win.
I know as a coach you take wins however they come. But having to pull off late comebacks has become a bit of a necessity of late for the Bobcats. If you're coach Rand Pecknold, does falling behind worry you or are you thrilled that your team believes in its ability to come back?
Candace: Thanks for the welcome, Jim, and I'll answer by saying it has to be a little bit of both. Yes, he's probably happy that his kids have proven resilient and able to rally, but it's part of a troubling trend for the Bobcats in January. They blew a four-goal lead against Harvard and had to rally to tie Northeastern, Maine and Rensselaer, and then rally to beat Dartmouth. You can't help but look at the Bobcats' results in January and not think that sooner or later, this trend is going to come back to bite them at a crucial time. You can play with fire for only so long before getting burned. If that type of play continues in the playoffs or NCAA tournament, I can't help but think a game will come where the rally falls short and the Bobcats lose.
That ongoing issue with Quinnipiac is one reason I didn't vote them in the top spot in my poll this week, instead going with St. Cloud State, which I felt won the North Star College Cup in impressive fashion over the weekend. The Huskies' offense is surpassed only by Michigan's, and unlike the Wolverines, St. Cloud has a defense that is as impressive as its offense. When you are scoring more than four goals a game and limiting your opponent to two, it points toward long-term success.
I know you mostly have the Hockey East squads and ECAC Hockey teams on your radar, but what are you thinking about the way St. Cloud keeps putting up goals in bunches while shutting down its opponents?
Jim: I think that St. Cloud State is the team that interests me the most in the country right now. I have seen little of them on tape but the Huskies' numbers speak for themselves.
I always feel like Bob Motzko gets a lot out of his players, and this season with a talented roster he gets the most he can. The team lost twice to Quinnipiac early in the year, which will make it probably impossible to pass the Bobcats in the PairWise Rankings unless Quinnipiac hits a major rut. But I also like the way this team has responded to every single loss (most notably a 6-1 win over against North Dakota a night after falling 4-3).
This week should be an interesting test for both the Huskies and their opponent, Miami. The fact the series is in Oxford makes me realize a sweep could be hard but could also cement St. Cloud in the minds of fans across the country (at least those who pay attention).
You see more NCHC hockey than I do. Is St. Cloud the true class of the league or is North Dakota this club's equal?
Candace: A month ago, I would have given the nod to North Dakota. However, just as January brought troubling signs to Quinnipiac, the month wasn't exactly a banner one for the Fighting Hawks. I don't think the signs of trouble are quite as strong in Grand Forks, though, as North Dakota only had one OT loss and one tie/shootout win as blemishes. However, in the Omaha game, North Dakota had a 1-0 lead but then gave up three of the next four goals and had to rally just to reach OT. In the Colorado College game, North Dakota built up a commanding 4-0 lead in the first period and then gave up the next five goals, and had to again rally to get a tie with an extra-attacker goal in the last 30 seconds.
Last weekend, North Dakota must have been very committed to defense, as it won 2-0 and 2-1 against Western Michigan. Down the stretch, North Dakota arguably has the harder schedule than St. Cloud, as it plays both Denver and Omaha as ranked teams, while the Huskies only have Omaha. They both have series against Duluth, too. I think the Penrose Cup for league champion will come down to the final weekend, when North Dakota plays Western Michigan again and St. Cloud plays CC. Right now, I'd probably still give the edge to North Dakota, but it will be a battle.
As long as we are talking about teams with troubling signs, Providence split with New Hampshire over the weekend, a fitting end to a stretch where the Friars have basically been a .500 hockey club. What do you think is going on in Providence, and is there time for it to rectify things before the postseason?
Jim: I got to see Providence play last weekend and like a lot about the team. But I also feel like they look like every other top team in Hockey East. They have incredible components, including a four-line offense comfortable on the ice and a defense that does its job in both ends.
I am not totally sold on goaltender Nick Ellis, but I will say my sample size is small. His stats still put him among the nation's leaders, so I know this team is confident in front of him.
That said, Providence has to be in a sweep mentality every weekend if it hopes to win the Hockey East regular season title. Right now, it feels like Providence is more in a battle for the final bye in Hockey East with Boston University than it is in a pennant race. Games in hand can change that but the key to having games in hand is winning them.
One conference that shouldn't be ignored is Atlantic Hockey. Yet again that league looks like a race for first place carries into one for a first-round bye and home ice in the opening round with four weeks left. I don't have a PG word available to describe what these standings look like. Have some thoughts?
Candace: The Atlantic Hockey standings certainly seem to be more jumbled than any other conference at a casual glance. It's pretty neigh impossible to guess how it's going to play out. It's not outside the realm of possibility that a team like Bentley, or even Sacred Heart, could play its way into home ice if a few teams above them stumble. The current home-ice teams are separated by only one or two points, and they still need to fend off Mercyhurst, which is five points behind league-leading Robert Morris and three behind a home-ice spot.
The competitiveness among AHA teams should make for a great league playoff tournament. Robert Morris is 21st in the PairWise, the highest-ranking AHC team, but barring major stumbles, I don't see the Colonials playing their way into an at-large position in the NCAA tournament, so the league will again send only one representative to the NCAA tournament. But the gauntlet that the league representative will have had to run to get there could become a big boon come the NCAA tournament, as that team will be tested and ready for the grind of the NCAAs.
Thumbs up
To Michigan Tech alum John Scott. A man who was sent to the minors so the NHL fan vote could keep him from the NHL All-Star Game, Scott scored twice, one being a sniped shot on a breakaway to lead his Pacific Division team to victory. Scott earned MVP honors and came away a humble, great guy after building a reputation as an enforcer. Love the story of the little guy.
Thumbs down
To the Minnesota Golden Gophers, who lost both games in the North Star College Cup, a tournament in their own backyard in St. Paul. The Gophers could score only twice in each game. Coach Don Lucia then blamed an own goal for the 3-2 loss to Minnesota State in Sunday's consolation game. Considering that the Gophers couldn't get an even-strength goal in Sunday's game, perhaps the Gophers need to refocus on five-on-five hockey.
Coming up
No. 18 Minnesota State hosts No. 19 Bowling Green in a key WCHA series this weekend.
In ECAC Hockey, No. 1 Quinnipiac hosts slumping No. 17 Cornell and No. 11 Yale hosts No. 20 Dartmouth on Friday. On Saturday, No. 7 Harvard plays at Yale.
And the Beanpot wraps up on Monday at Boston's TD Garden, with Boston College playing Boston University for the title.