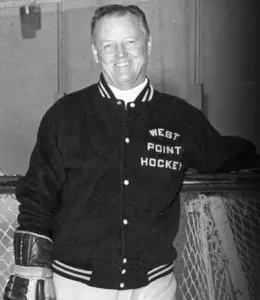 U.S. Hockey Hall of Famer and former Army head coach Jack Riley passed away on Wednesday afternoon on Cape Cod, surrounded by his family and friends.
He was 95.
"Our family is saddened by the passing of our father," said current Army head coach Brian Riley in a statement. "He lived a great life and although he is known as a hockey coach to many people, he was a great husband, father, grandfather and friend to all. My brothers, sister and I were especially grateful to have been able to call him dad and have had a wonderful and caring father for all these years."
Army's all-time winningest coach, Riley compiled a 542-343-20 record during his 36-year career at the Black Knights' helm. He retired in 1986 as the second-winningest college hockey head coach in NCAA history and currently ranks 18th on the list. Riley was a member of the Army Sports Hall of Fame inaugural class of 2004.
Riley was named the NCAA Coach of the Year in 1957 and 1960, guided Army to 29 winning seasons and led the Black Knights to a school-record 28 victories during the 1983-84 campaign. His Army teams reached postseason play nine times.
"The three most important things to our father was family, serving his country as a Navy pilot and coaching at West Point," Brian Riley added. "Interacting with and coaching the cadets over the years is what made West Point his dream job."
Riley served as head coach of the United States Olympic team in 1960 and directed the squad to its first gold medal. A two-time winner of the Lester Patrick Award (1986, 2002), presented for outstanding service to U.S. hockey, Riley was elected to the United States Hockey Hall of Fame in 1979. He was also inducted into International Hockey Hall of Fame in 1998.
Services will be announced by the family at a later time.