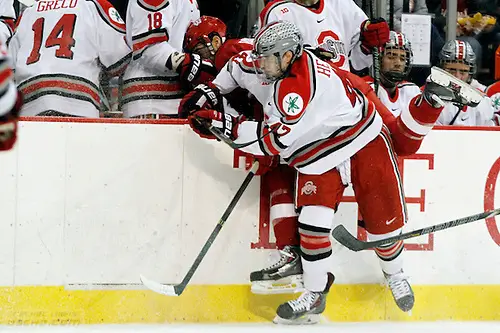 There's something new this season in Big Ten hockey, and it's a disturbing trend. In a word, it's violence.
Since the start of the 2015-16 season, the Big Ten has handed out 12 supplementary disciplines, nine of them in incidents that have occurred in conference games. Here's the list:
• Penn State freshman forward Andrew Sturtz, an additional one-game suspension following Penn State's 6-3 loss to Michigan last Saturday.
• Wisconsin junior forward Jedd Soleway, an additional game following Wisconsin's 4-3 win over Alaska last Friday.
• Wisconsin junior forward Aidan Cavallini, an additional game following Wisconsin's 9-2 loss to Minnesota on Jan. 23.
• Wisconsin senior defenseman Eddie Wittchow, an additional game for the same contest against Minnesota.
• Ohio State junior defenseman Josh Healey, an additional two games following Ohio State's 5-1 win over Penn State on Jan. 23.
• Michigan sophomore forward Dexter Dancs, an additional game following Michigan's 8-6 win over Ohio State on Jan. 17.
• Michigan sophomore defenseman Cutler Martin, an additional two games for the same contest against OSU.
• Michigan junior defenseman Michael Downing, an additional two games following Michigan's 3-2 loss to Minnesota on Dec. 12.
• Michigan sophomore defenseman Niko Porikos, an additional game for a play in the same game against Minnesota.
• Penn State senior forward Eric Scheid, an additional game following Penn State's 6-1 win over Michigan State on Dec. 5.
• Minnesota junior defenseman Nick Seeler, an additional one-game game following Minnesota's 7-4 loss to St. Cloud State on Nov. 29.
• OSU's Healey, an additional game following Ohio State's 6-4 win over Canisius on Nov. 14.
I knew the moment I saw Sturtz hit Tyler Motte in the third period of Saturday's game that it warranted additional discipline, but unlike the enormous fight that erupted at the end of the Ohio State-Michigan game — the one in which Martin punched OSU's Brendon Kearney several times in the head while Kearney was already laid out on the ice with an official on top of him — I'm still not certain that Sturtz's hit was malicious in its intent.
When I saw Sturtz's hit live, I knew that Motte would be injured and the collision certainly looked awful enough. Upon reviewing the play repeatedly, though, I'm not sure that Sturtz went into Motte with intent to harm. It looked to me as though he was trying to turn his body away to brace for the impact, and his elbow was down when he made contact. Also, while one foot was off the ice, I don't think he launched himself into Motte, and it also looked as though he was trying to keep his skate away from Motte when they collided.
In his weekly news conference, Penn State coach Guy Gadowsky said that he understood that the additional penalty was assessed correctly but that he didn't believe that Sturtz was trying to injure Motte.
"You see what the result was," said Gadowsky, "and you can't argue the suspension, but I hope everybody knows that Andrew was trying to get out of the way. He wasn't trying to go and hit him."
I know the argument can be made that Sturtz intended to injure Motte, from evidence both visual and circumstantial. The video shows a violent collision and Sturtz did skate toward Motte for sure. Motte is also Michigan's leading goal scorer (22-13–35) and part of a line that is stymieing every team in the league. In fact, Motte scored the final two goals of Saturday's game after returning to the ice.
Here's the thing, though: Even if Sturtz's hit had no malice behind it, it was still violent. In fact, the ferocity of that collision is even more disturbing if Sturtz wasn't targeting Motte, because it means that we may be seeing a generation of players who do not quite understand how easy the damage can be done in the sport they play.
I'm not alone in thinking this. Earlier this year, Michael McCarthy wrote a column for the Vancouver Sun in which he addressed what he perceives as the growing problem of violence in Canadian hockey. McCarthy's focus was on the play of Team Canada in the IIHF World Junior Championship tournament. This year's Canadian team bowed out before the medal round, and McCarthy pointed to undisciplined play as part of the problem.
"We may not be the best anymore," McCarthy wrote, "but we sure are tough. Also stupid."
McCarthy argued that the tough style of hockey that he's seeing in Canada stems directly from how kids are coached. "There is a reason for this violent play. It is coached and encouraged at the junior levels all across Canada, just as it has been for decades."
Ironically, McCarthy also writes, "You don't see that in American college hockey."
It's true that American college hockey doesn't encourage violence, and it's also true that the coaches of suspended players understand the need for the supplemental discipline.
Last week, Ohio State's Steve Rohlik told OSU's The Lantern that he has a lot of respect for Steve Piotrowski, the head of officiating for the Big Ten. "I've got a lot of respect for the Big Ten and doing what's best for the game of hockey," said Rohlik. "We respect that and their decision."
After Dancs and Martin were suspended, Michigan's coach Red Berenson told The Michigan Daily that the two needed to take responsibility for their actions. "Our team doesn't condone that," said Berenson. "We don't teach that. We expect players to play with emotion, but to play with discipline."
The suspensions of Dancs and Martin followed the brawl that erupted when the game between the Buckeyes and Wolverines ended Jan. 17. It was crazy. One push at the sound of the buzzer led to mayhem and a total of 112 penalty minutes assessed for the entire game. "When the whistle goes or the horn goes, the game is over," Berenson told The Michigan Daily. "I can't speak for the other team, but that's not how we play. I'm disappointed, but if we got suspended, then we deserve it."
What's happening in Big Ten hockey? It's not a matter of a penalty-happy league, as the Big Ten is responding absolutely properly to the incidents in question. Most of these incidents involve hits to the head. Many are intentional. Some stem from the heat of the moment and impassioned play, but that can hardly account for the degree of violence in these incidents.
Can it be that the number of violent penalties has risen during Big Ten league play because of the frustration level associated with the current season? As McCarthy argues about the Canadians in his columns, are Big Ten players making up for less success with more violence? In some individual cases, this seems to make no sense — players taking such penalties in games that they're winning handily or have already won, for example — but could it be an overall reaction to a league that isn't performing as it should as a whole?
For the most part, players who find themselves on college teams are not coached to violence throughout their lives. Are they being taught, however, to respect how violent the game can be, how dangerous merely playing the sport can be, dangerous to themselves and others around them? That's what really disturbs me about Sturtz's hit on Motte. I don't think Sturtz intended to hurt Motte. I'm not sure, though, that Sturtz fully understood what such a collision could do — and I do not believe that this is Sturtz's fault. If players are being brought up without a sense of respect for how hard this game can be in the physical sense, that may be one factor contributing to the increasing number of genuinely violent hits — even unintentionally violent hits — that we're seeing in Big Ten hockey and across college hockey this year.
And all of this comes on the heels of John Scott's experience. As you probably know, Scott is this year's NHL All-Star Game MVP after being voted to the team initially as a joke. The drive by fans to have Scott, a known enforcer, named to the All-Star team was so distasteful to the NHL itself that the league tried to prevent Scott from playing in the game. When he was named to the All-Star team, Scott was traded from the Arizona Coyotes to the Montreal Canadiens, who immediately sent him down to the St. John's IceCaps of the AHL in an attempt to prevent him from playing in the All-Star game. The NHL relented, though, and Scott played.
Scott, who played four seasons with Michigan Tech (2003-06), wrote eloquently about this recent experience in a piece called A Guy Like Me. In his account, he said he never set out to be an enforcer. While Scott had a lot of penalty minutes at Michigan Tech, after reading his story, you realize that his appearance in the All-Star Game wasn't a reward for a career filled with physical altercations but the reward for him being the kind of coachable role player upon which the NHL is built.
Also when you read Scott's story, you know that he understands what and who he is and that he has an awareness of the role he plays and a respect for the game and his colleagues all throughout the NHL.
It may be a lack of that kind of self-awareness that is contributing to the increasing number of violent penalties in college hockey and the Big Ten in particular. I really don't know the answer. I just don't want to see anyone's career end before it begins.
A B1G day in the Big Apple
The first Big Ten Super Saturday in New York's Madison Square Garden was a successful event, with over 13,000 fans in the stands for Michigan's 6-3 win over Penn State.
Gadowsky had especially good things to say about the experience, which isn't surprising given Penn State fans in the crowd easily outnumbered Michigan fans four or five to one.
"One of the takeaways from this is, I just thought it was a tremendous event," said Gadowsky. "I think the Penn Staters had a tremendous time. I'm sorry we lost because there was … a great atmosphere, at the basketball game, out on the street between games, and certainly this one."
The Penn State fans were loud and fun, and it's good to see that they'll travel. That was one thing that I took away from the game.
Another takeaway of mine was that the Wolverines relied on their third period to win — again. After the second period, when Penn State was leading 3-2, someone who covers the Nittany Lions remarked that PSU hadn't lost a game after taking a lead into the third period. I just looked at him and said, "This is far from over." I texted my boyfriend in the stands and said, "It'll be a 7-5 game." Frankly, I didn't know whether the game would go for the Nittany Lions or the Wolverines, but I knew there would be a lot of scoring in the third period.
That came in the form of four unanswered Michigan goals in the third. Coming into the contest, the Wolverines had outscored opponents 42-15 in third-period play. It's now 46-15.
I wouldn't bet against Michigan in the third this season, but I am still concerned about how the Wolverines' defense will factor into how 2015-16 ends for them.
As for the event, the Big Ten has announced that Wisconsin will play Ohio State in Madison Square Garden on Jan. 28, 2017, and Minnesota will play Michigan State in MSG on Jan. 20, 2018.
Wisconsin sweeps!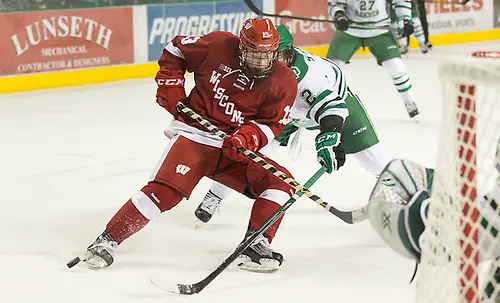 With 4-3 and 5-2 wins over Alaska, the Badgers completed their second sweep of the season. The first came against Arizona State on Oct. 30-31, so it's been a while.
Eight different Badgers players scored in the two games, with Ryan Wagner netting two goals, including the game-winner, in Friday's 4-3 contest.
After Saturday's win, coach Mike Eaves said that there was "joy in the passes and on the goals," referring to a level of fun that the Badgers were experiencing in the game that may have been missing from previous contests. "We got the timely goals tonight that we haven't had earlier in the season, to get the lead, to get scored on, and to get that goal right back."
With the game tied 1-1 at the end of the first Saturday, Wisconsin's Luke Kunin put the Badgers ahead 2-1 just 50 seconds into the third period, but Alaska's Austin Vieth negated the lead at 2:42. One minute and seven seconds later, however, Jake Linhart scored the first of three unanswered Wisconsin goals.
"The timely goal was there tonight," said Eaves, "and the timely save. I thought Matt [Jurusik] probably wasn't as tested as much as he has been in some games, but when he needed to be there, he was there for us, so kudos to him as well.
"The guys are into it and they're doing what it takes to win."
The Spartans win for real!
Michigan State snapped an eight-game losing streak with a 4-2 road win over Ohio State on Friday night. It came a week after the Spartans bested the U.S. Under-18 team in exhibition play, something that helped.
"I thought we played some good hockey last weekend, so that was a small step," said coach Tom Anastos. "I thought we had two really good weeks of practice, so I thought we came here in a pretty good state of mind. I really like how we played for the most part. I think it's something to build off."
The Spartans were unable to parlay that into two wins, as the Buckeyes took Saturday's contest 2-1. Friday's victory was Michigan State's second Big Ten win of the season, their sixth overall.
Self-awareness, in spades
"You look at the way our year has gone, and it's a pretty common theme: when we don't get over two, we haven't won."
That is what Minnesota coach Don Lucia said after the Gophers dropped two games in the North Star College Cup, 4-2 to Bemidji State on Saturday and 3-2 to Minnesota State on Sunday.
"It just shows you with this team that we have to have everybody in sync and everybody going," said Lucia. "We have a fine line between winning and losing with this group."
Three stars of the week
Tyler Motte is a repeat offender.
First star — Michigan junior forward Tyler Motte: Motte registered his second consecutive four-goal weekend with four goals and three assists as Michigan swept Penn State, winning 7-4 Thursday night in Pegula Ice Arena before winning 6-3 Saturday in Madison Square Garden. Motte scored two goals in each game and is riding a seven-game goal-scoring streak. Motte's 22 goals in 23 games this season are four more than he scored in 69 total games in his two previous seasons. This is his fifth weekly Big Ten award and his second this season.
Second star — Michigan freshman forward Kyle Connor: Connor had a goal in each game against Penn State, including Thursday's game-winning goal, plus four assists in the series. Connor (20-22–42) leads the nation in points. With points in each contest, the rookie extended his point-scoring streak to 12 games. This is his fourth weekly Big Ten award, all this season.
Third star — Ohio State junior goaltender Christian Frey: Frey led all Big Ten goaltenders with a .930 save percentage and 2.03 GAA in OSU's split with Michigan State last weekend. Frey stopped 28 pucks in the Buckeyes' 2-1 win over the Spartans on Saturday. This is his sixth weekly Big Ten award and his second of the season.
My ballot
1. St. Cloud State
2. Quinnipiac
3. North Dakota
4. Boston College
5. Providence
6. Michigan
7. Boston University
8. Notre Dame
9. UMass-Lowell
10. Harvard
11. Yale
12. Omaha
13. Cornell
14. Denver
15. Minnesota State
16. Minnesota
17. Michigan Tech
18. Penn State
19. Robert Morris
20. Dartmouth