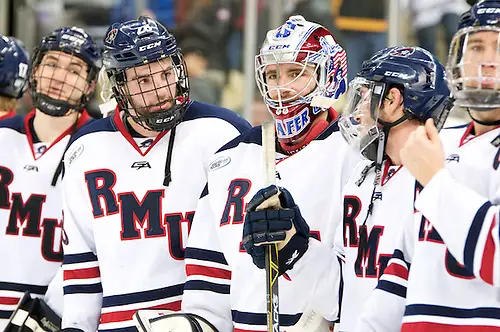 For the first time this season, and despite a small difference in the number of games played by some teams, the Atlantic Hockey standings are in order by winning percentage as well as points.
Still standing in first place is Robert Morris, which was idle last weekend while the other 10 schools used up their games in hand on the Colonials.
It's close, with Rochester Institute of Technology trailing the Colonials by a point, and Holy Cross and Air Force just two points back.
"We gave [the players] the weekend off," said Robert Morris coach Derek Schooley. "We practiced as usual."
Schooley said his team's bye was far enough away from the end of the regular season that it came as a welcome respite.
"We've had a few injuries here and there," he said. "It was a good time to renew and refresh."
With nine seniors on the roster, the Colonials are a team aware that time is winding down.
"Any time you have an older team, things are going to be a little different," said Schooley. "Any time you're at the top of your recruiting cycle, you expect to do well.
"This senior class has had tremendous success. Their freshman year they won 20 games. The next year, 19. Last year, 24. This season we have 15 wins with eight more [plus playoffs] and we're in the mix for home ice."
Air Force coach Frank Serratore is fond of saying seniors are going to be either your best players or your worst players. In Robert Morris' case, it's clearly the former. Its top four and five of the top six scorers are seniors, including Zac Lynch (38 points), Greg Gibson (36), Brandon Denham (30), David Friedmann (27) and Matt Cope (23).
Senior Terry Shafer has been the go-to guy in net down the stretch, recording a 2.54 GAA and a .930 save percentage.
"[Junior goaltender] Dalton [Izyk] has been battling some injuries," said Schooley. "And late in the year we've counted on Terry Shafer to finish in the top spot and [gain] home ice. He's done a very good job."
Robert Morris gets back into action this weekend with a pair of games at Sacred Heart.
"They're a very good team that's improved over the last four years," said Schooley. "C.J. Marottolo is a good coach and has his team playing well. They'll be excited to play one of the top teams in the league and show what they can do. It should be a great series."
No agony of defeat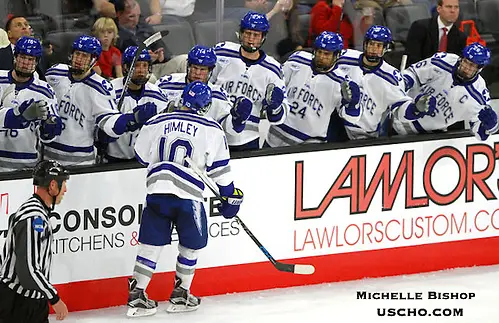 A few teams entered last weekend riding unbeaten streaks, and in part thanks to four ties in 10 games played (including three of five contests on Saturday), four came out with streaks intact and extended:
• Air Force: eight games (six wins, two ties)
• Rochester Institute of Technology: seven games (five wins, two ties)
• Army West Point: four games (three wins, one tie)
• Bentley: four games (two wins, two ties)
RIT and Air Force will put those streaks on the line this weekend when they tangle in Colorado Springs.
At the other end of the spectrum, some other streaks were extended:
• American International has gone nine games without a win (0-7-2).
• Niagara's winless stretch stands at 11 games (0-10-1).
A few other factoids from last weekend:
• Holy Cross has gone to overtime four games in a row (0-1-3), which tied a school record.
• Canisius needed overtime in four of its past five games (1-0-3).
• Army West Point's sweep at Niagara was the first road sweep for the Black Knights since 2006.
• Robert Morris, Holy Cross, Canisius and Air Force have yet to be swept in league play. Canisius does not have a sweep.
May the odds be ever in your favor
With four weekends left in the regular season, here's a look at the strength of each team's remaining schedule. Only league records and remaining league games are included:
| | |
| --- | --- |
| Sacred Heart | .604 |
| Army West Point | .588 |
| Air Force | .556 |
| Niagara | .543 |
| Canisius | .532 |
| Robert Morris | .513 |
| American International | .504 |
| Bentley | .455 |
| Holy Cross | .439 |
| Mercyhurst | .438 |
| RIT | .425 |
It's an honor just to be nominated
One of the signs that the season is winding down is the announcement of nominees and/or finalists for the various awards handed out at the end of the year.
The one and only Hobey Baker
The biggest award, the Hobey Baker Award, is in its preliminary phase, where fans can vote for their favorite player. Players are nominated by their schools, so ignore the mentions of "Hobey Baker finalists." Eventually the Internet field will be culled to 10 and a re-vote taken. The player who finishes with the most votes at the end of that phase will earn a very small percentage of an actual vote cast by the Hobey Baker committee.
It's the Division I coaches who select the 10 official finalists, and then a 27-member committee votes for the winner as well as the two runners-up. The finalists will be announced on March 17, and the winner will be crowned on April 8 in Tampa, during the Frozen Four.
Atlantic Hockey has had a total of nine Hobey finalists in the 11-year history of the league, including two last season (RIT's Matt Garbowsky and Robert Morris' Cody Wydo), the first time a pair of players from the AHC had made the top 10 in a single season.
Even though it's mostly for fun, the fan vote generates interest in a diverse group of players that deserve national attention.
This year, the ballots are available on Facebook. Fans can vote now for the following Atlantic Hockey players:
Shane Conacher, Canisius
Brandon Denham, Robert Morris
Max French, Bentley
Greg Gibson, Robert Morris
TJ Moore, Holy Cross
Zac Lynch, Robert Morris
There are 66 players overall on the fan ballot.
Showing some CLASS
Next up is the Senior CLASS Award, a multi-sport award that recognizes "Community, Classroom, Character and Competition."
Army's Cheyne Rocha (2013) and Air Force's Jacques Lamoureux (2011) are past winners.
Nominees this year from the AHC are:
Ralph Cuddemi, Canisius
Andrew Gladiuk, Bentley
Alexander Kuqali, RIT
Zac Lynch, Robert Morris
Tyson Wilson, Robert Morris
There are a total of 20 finalists in Division I. This award will also be given out in Tampa.
The Hockey Humanitarian Award
This prestigious award recognizes "college hockey's finest citizen." All NCAA hockey players are eligible: men and women from Divisions I, II and III.
Nominees for the 2016 award were recently announced and Air Force goalie Chris Dylewski and Robert Morris forward David Friedmann were among the field of 18.
Five finalists will be announced in the coming weeks, with the award presented just before the Hobey Baker in Tampa on April 8.
New England's best
And finally, this week the Gridiron Club of Greater Boston announced 23 semifinalists for the Walter Brown Award, presented annually to the top American-born player in New England.
Among the semifinalists is Bentley sophomore Kyle Schmidt, the lone Atlantic Hockey player to make the cut.
In 2012, Brett Gensler of Bentley won the Walter Brown, becoming the first player from a non-Hockey East or ECAC Hockey school to capture the honor since 1959.
Weekly awards
Player of the week — Justin Danforth, Sacred Heart: The junior won the award for the second time in three weeks. This time he had a career-high four points in a 7-4 win at Connecticut and chipped in a goal and an assist against Bentley. He had 18 points in the month of January, including 10 goals.
Goalie of the week — Shane Starrett, Air Force: Like Danforth, this is the second time in three weeks that Starrett has won the award, and the sixth time this season that he's been honored with a weekly distinction. Last weekend, he made 48 saves on 51 shots in a win and a tie against Canisius. Starrett has allowed eight goals total in his last eight games.
Rookie of the week — Derek Barach, Mercyhurst: The freshman tallied three goals and added an assist in a sweep of American International.
Defensive player of the week — Mitch Mueller: The rookie blueliner had a pair of goals and an assist last weekend. Friday's goal in a 3-1 loss to Mercyhurst was the first of Mueller's collegiate career.