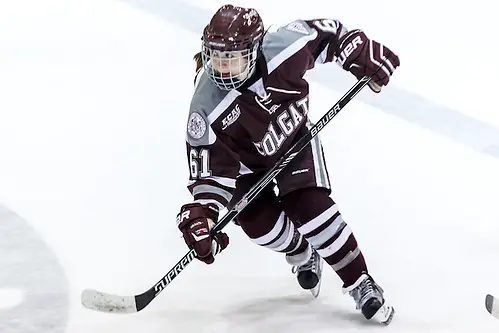 Candace: This weekend certainly brought its share of interesting results Arlan. I'm not sure what the most surprising were, but I'd probably lean toward the WCHA, where we saw Ohio State beat Minnesota-Duluth and Minnesota State tie North Dakota. I'd say the latter has more shock value. North Dakota had to rally four times, trailing 1-0, 3-1, 4-3, and 5-4, before finally getting a shootout win. North Dakota fired 42 shots on net, though since I didn't see the game, I don't know how many were high-quality chances. At the other end, Shelby Amsley-Benzie only faced 18 shots, and made 13 saves, a performance we're not used to seeing from the senior netminder. Becca Kohler came through with the tying goal with 17:18 left in the third, and North Dakota picked up an extra point via the shootout.
Thanks to Minnesota's sweep of Bemidji, including a come-from-behind OT win on Saturday, the Fighting Hawks leapfrogged the Beavers into third place. This weekend, North Dakota faces Minnesota, and Bemidji plays St. Cloud, so Bemidji could possibly leapfrog North Dakota after this weekend, which will be interesting to see.
With OSU and Minnesota-Duluth, the Bulldogs did come back to win Saturday's game, 4-3. You had seemed to think Duluth would be showing improvement in the second half, but I'm just not seeing it right now. The defense is too inconsistent. Given the way Minnesota State played North Dakota, I'm wondering whether the Mavericks could get their first WCHA win this weekend when they host the Bulldogs. I also think St. Cloud might be able to stay in fifth for the rest of the season.
What is your take on what happened in the WCHA this weekend and what it means for the final month of the season?
Arlan: I watched Minnesota-Duluth play two times in the first half, and in those games versus Minnesota and Harvard, freshman goaltender Maddie Rooney was playing great. Her 2016 started against Wisconsin, she only lasted for one period and four goals, and it seems that she's been up and down since. Against the Buckeyes, she had another 20-minute game. All three UMD goaltenders played in multiple games in January, and from the statistics and starting decisions that followed, it looks like all have had good stretches as well as weaker ones. From what I saw of the rest of the Bulldogs' roster, they are going to need excellent goaltending to demonstrate the improvement that I expected. There is some high-level talent, but not enough of it to offset too many soft goals.
Managing goaltenders may be a facet of the game to which Maura Crowell is still adjusting. During her interim season at Harvard, she had Emerance Maschmeyer in net. That was her sophomore season, and she was likely less consistent than she is now, but there wasn't much question as to who was the primary goaltender for the Crimson. Anyway, it wasn't a good sign for UMD that it allowed more goals on the weekend to Ohio State than it did in any of its previous series versus ranked teams Wisconsin, North Dakota, or Bemidji State, and if we look back to the first half, you could add Boston College to that list. Only Minnesota scored more against the Bulldogs than the Buckeyes just did.
As for those Buckeyes, their results tend to swing quite a bit from game to game. I watched them play what was essentially a one-goal game against the Gophers, and then they got blown out by nine the next day. Even though they took five of six points in Mankato a week ago, the Mavericks scored six goals on the weekend, the most they've tallied in any series. I thought that didn't bode well for OSU, but then the Mavericks scored the same number of goals in Grand Forks, so who knows. The Buckeyes' goaltending has been all over the place as well this season as they try to make do without Kassidy Sauve. All of these teams are moving targets, and that's even more true in the first season under a new coach, and that's where UMD, Ohio State, and Minnesota State are. One day things click, and it looks like the squad has turned a corner, but that doesn't meant there won't be a future game where players revert to old tendencies and abandon their systems.
In the WCHA, nobody is making bigger adjustments than the Mavericks with a roster than includes 10 freshmen plus 10 sophomores. I doubt that anyone other than Merrimack is younger. Coach John Harrington said that in the second half his message to his new players is that they are veterans now. Young veterans, to be sure, but at least they've seen all the teams that there is to see. They will skate into some unfamiliar buildings, but that didn't seem to bother them much at Ralph Engelstad Arena this weekend.
That brings us to North Dakota. That was a potential trap series for the Fighting Hawks, wedged between trips to Madison and Minneapolis, but to be a national power, you can't just pick and choose certain times when you're going to bring the effort. Playing against the backup goaltender for a team that's winless in the league, going to a shootout isn't a positive result. I've seen the Mavericks lately, so I can see how that is possible, but it seems like UND winds up in these conversations all too often. I'm sure they will bring their best effort against the Gophers just like they did against the Badgers on the previous road trip, but it's a 28-game WCHA schedule, and each is worth the same three points. UND swept its first two series of the season, and since then, they've had only one more sweep, and we're into February now. Teams are going to have off games; it's human nature. You just can't have them every weekend.
Despite some of the inconsistency we've viewed in the WCHA over the course of the season, there has also been a lot of separation. That's not the case in the ECAC. Every weekend, sometimes every game, the picture changes. What did the latest fluctuations in that circuit reveal to you?
Candace: Well, we wondered last week what Princeton's status was, and a 4-1 loss to Harvard tells me either the Tigers weren't quite as good as their win streak might have indicated, Harvard isn't quite as bad as its struggles might have indicated, or some sort of combination of the two. The Tigers' 4-1 loss came on the heels of a 4-1 defeat of reeling Dartmouth, which then had a much better showing Saturday, but still lost, 2-1, to league-leading Quinnipiac. Then there was the 2-1 OT win by Rensselaer over Cornell, which better positioned the Engineers in the ECAC playoff race.
I honestly don't see too many surprises from the ECAC this past weekend. The big one was the 2-2 tie between Clarkson and St. Lawrence. That came on Clarkson's home ice, just two days after Clarkson blew the Saints out in St. Lawrence, 6-1. Perhaps the Saints used that embarrassment as extra motivation, not that should be any sort of criteria when we have playoff positioning on the line. Clarkson twice had a lead, but couldn't hold it, and a penalty proved costly late in the third when Lydia Grauer got a power-play goal at 15:08 to net the tie. Grace Harrison made 29 saves, which indicates that while Clarkson had chances, it wasn't the type of game where the Golden Knights were spending most of the time in the St. Lawrence end.
Getting back to Harvard, for the first time, Quinnipiac swept a season series from the Crimson after netting a 1-0 win on Friday. The stats indicate that Quinnipiac might have been in even more control, as the Bobcats fired 38 shots on Emerance Maschmeyer. Meanwhile, the Crimson could only muster 20 on Sydney Rossman. Against Princeton, Harvard again gave up a lot of shots, as the Tigers put 35 on Maschmeyer, but the Crimson at least got more shots, totaling 29 on Kimberly Newell. Harvard took a 2-0 lead in the first 10 minutes of the game and never looked back.
The story for me in the ECAC is still Colgate. After this weekend, the Raiders look better than ever poised to get home ice for the first round of the playoffs. You yourself indicated that when you interviewed the players last fall and they told you that was their goal, you thought, "Good luck with that." After getting wins over Rensselaer and Union this weekend, the Raiders are in third place, tied in points with Princeton. That makes this weekend's clash between Colgate and Princeton even more important, as it could allow the Raiders to take sole control of third; they currently lose the tiebreaker to the Tigers because of a 3-2 loss to them back in November.
I still think Harvard is positioned for home ice. The Crimson's remaining ECAC games include five against the bottom third of the ECAC, plus one against the Raiders, while Princeton has Colgate, Clarkson, and St. Lawrence on the docket and the Raiders have Princeton, Quinnipiac, and Harvard. The Crimson are in fifth, two points behind Colgate and Princeton and three behind second-place Clarkson, so I expect that Harvard will finish in the top four.
I also think Quinnipiac pretty much sealed its first ECAC regular season crown this weekend after beating Harvard and Dartmouth. The Bobcats should at least go 4-2 down the stretch, and that will win them the division.
Yale's sweep of Brown put the Bulldogs into seventh and in the ECAC playoffs, with Cornell now out. Do you think the Bulldogs can hold onto that?
Arlan: I could argue either side of that. My first thought was that they won't, because the schedule isn't their friend. The Bulldogs surged into the playoff field on the strength of a four-game winning streak: home wins over Union, Rensselaer, and Brown, and a road win at Brown. Now things get tougher with a trip to take on the Dartmouth and Harvard duo, then hosting Colgate and Cornell, and finally finishing in the North Country. Compounding the schedule issue is that Yale has one of the weakest travel partners in Brown, so teams heading into the weekend will be more focused on the Bulldogs.
However, if I take a more positive view of it for Yale, the Big Green and Crimson aren't as intimidating a trip as they once were. Dartmouth's best results all came early. Over the last two and a half months it has a tie with St. Lawrence to go with a baker's dozen in the loss column. For every three streps forward, Harvard takes two back, and Yale catches the Crimson on the weekend between the two rounds of the Beanpot. As well as things have gone for Colgate this season, its defeat of Yale came on a goal with 93 seconds left, and the rematch will be in New Haven. Yale lost by two in Ithaca, but both of those goals were scored in the last five minutes. Clarkson is playing better of late, so that's likely a loss, but Yale won the first game from the Saints, so it should have a shot against SLU. Given the number of contests that figure to be close, Yale could easily earn about four more points.
To miss out on the playoffs, it would have to be passed by two teams. RPI is only a point back, but its schedule is even tougher than Yale's, as it has Princeton and Quinnipiac replacing Colgate and Cornell. Dartmouth is six points back, and although its upcoming schedule is conducive to winning, I'm not sure that it remembers how to win. Cornell is three points back, with games remaining against Brown and Dartmouth, but it will need to take the head-to-head match versus Yale in order to catch the Bulldogs. So if Yale can get those four points, then I think it will make the postseason. I don't see enough momentum and schedule opportunities for RPI, Cornell, and Dartmouth for two of them to get to 21 points or above. Also, Yale is currently tied for sixth with St. Lawrence, so there's a chance that the Bulldogs will finish above the seventh spot, rather than out of the playoffs entirely. That could be important, because once into the playoff field, Quinnipiac and Clarkson, the teams currently in first and second, will be tough in a best-of-three series on their home ice. The other two home-ice teams, whether Harvard supplants Colgate or Princeton or not, are looking a bit more vulnerable.
Speaking of vulnerable, everybody in the CHA looks pretty shaky from week to week. After another split with Syracuse, Mercyhurst is in control of the race, but the Lakers have had only two sweeps all season and none since the second week of November. Nonetheless, they figure to nail down first if they can get a series win over Robert Morris, because closest pursuer Syracuse looks to have some problems of its own. However, Mike Sisti can't feel too confident once the postseason starts knowing that Syracuse has outshot the Lakers in three of their meetings, and in two of the games the Orange shot advantage was roughly three to one. What do you think is going on in Erie such that Syracuse has such an edge territorially over the league's leader and traditional power?
Candace: It is sort of unusual, given that on the season Mercyhurst has outshot its opponents 699 to 580. Then again, Syracuse has even more of a disparity there, outshooting its opponents 841 to 572. Maybe the Orange are one of those teams that just shoots as soon as it gets over the blue line and hopes good things will happen. Even though Syracuse went 2-2 against the Lakers this season, it's fair to say the road to the NCAA tournament still goes through Mercyhurst, so Sisti has to at least feel confident in that, and know that even with a young team, his players are in the hunt. I'm going to be interested to see how the move to a neutral site for the CHA tournament affects things, though given that the last few years Mercyhurst has been at home and hasn't won it, perhaps that doesn't matter. Maybe it will take pressure off the players and allow them to relax and play to their best, which is really all the coach can ask for.
There are some other potential concerns in Erie though. The defense is solid, ranked 11th nationally and giving up only 2.15 goals per game. Syracuse is next at 2.29, followed by Robert Morris at 2.32. The offense is third in the league, averaging 2.42 goals per game, with Syracuse at 2.43 and Robert Morris at 3.04. Special teams are good on the defensive side, with the penalty kill succeeding 87.8 percent of the time, but the power play struggles, scoring only 14.04 percent of the time. Contrast that with Robert Morris, which scores on the power play at a 24.79 percent clip. Special teams seem to become more and more important as the postseason progresses, so a lack of power play production could hurt the Lakers.
The big issue though facing Mercyhurst is a lack of scoring punch. The goaltending has finally settled down, and freshman Sarah McDonnel has responded, improving her stats to a 1.64 GAA and a .923 save percentage. That type of netminding can be a momentum builder for a team in the postseason, but the offense has to respond. Jenna Dingeldein leads the team in scoring, but she is only averaging .769 points per game, down from her usual pace of a point a game, and Emily Janiga is even worse. She was at 1.29 points a game as a junior, and has always been above a point a game, but in her senior year, she's only scoring .48 points a game. Without consistent offense, Mercyhurst will always be vulnerable in a one-and-done, no matter how stellar the goaltending and defense is.
Of course, that statement applies to all the CHA teams, all of which can succeed or fail on any given night. It's not outside the realm of possibility that RIT could run the table again in the CHA tournament and advance to the NCAA tournament, even with its poor record, which currently sits at 6-21-1. All the CHA teams have to at least be excited that they could advance to the NCAA tournament.
Another shaky conference, at least after the top three, is Hockey East. Connecticut swept Vermont over the weekend, putting the Huskies in control of the final home ice spot, and Maine finally won a game, beating Providence 3-1 on Saturday, but then lost to the Friars the next night, 1-0. The Black Bears at least look more certain of making the Hockey East playoffs. What do you see happening in Hockey East in the 4-8 spots down the stretch?
Arlan: First, I admit that I'd missed the announcement that the CHA will be holding its final two rounds at the HARBORCENTER in Buffalo. That's a drivable trip for five of the fan bases, particularly those of RIT, Mercyhurst, and Syracuse. Obviously, Lindenwood wouldn't have a convenient trip to any of the other conference members either, but the Lions are still waiting on their first trip to the semifinals anyway. Not that it couldn't come as early as this year, as unpredictable as the CHA has been. In any case, the new format should work better in the case of a season like last where the top seed loses out in the semifinal and isn't playing on championship day. The location is more likely to be friendly to fans of the two teams that made the final, plus the hope would be that some neutral fans from the host city will attend to check out the product.
Back in Hockey East, although New Hampshire has been better than first expected, I still think that Connecticut is the best of the rest. Those two finish the season in New Hampshire for a pair, and it's possible that after the next two weeks play out, even a sweep for the Wildcats in that series won't be enough. The Huskies are three points up, and they have BC plus three winnable games on home ice versus Providence and Maine twice. If they win all three, then UNH is going to need to take points from BU to stay alive for home ice. I expect that the team that comes up short in the race for fourth will hold onto fifth, so that those two teams will reprise their final series in the quarterfinal a week later.
In the fight for sixth place, Providence has nosed ahead of Vermont, but I prefer the Catamounts' schedule. Yes, the Friars have a game in hand, but it's essentially against BC, so I don't see it producing points. Beyond that, each team has a series versus Merrimack and one more game against the Eagles. The other two games for Providence are Northeastern and Connecticut, while Vermont has two at UNH. To move up the standings, Vermont likely has to take more points home from Durham than the Friars earn against the two teams of Huskies. Those games occur this weekend, so we'll know at that point who has the inside track on avoiding the ranked teams in the first round.
As for the final playoff spot, I think that Maine should hold on, given it has a four-point lead over a Merrimack team that wins even less often than the Black Bears. Maine could even move up out of eighth and not have to serve as BC's sacrificial lamb, but that likely means getting production against Connecticut, a team that has had its number of late. As for the Warriors, it was a nice first season, but I don't see it extending beyond the next three weeks.
As I write this, the first game of the Beanpot just went final. I only saw the third period, and missed most of the carnage. Did you catch any of it? I see that the Eagles got to Maschmeyer for five goals in the first period on 19 shots. After the first 20 minutes, Brianna Laing took over in the Crimson net, and the bleeding at least slowed in the Eagles' 8-0 win. Given that BC had a four-to-one bulge in shots for the game, I'm guessing it was more the skaters that were the problem for Harvard?
Candace: I didn't get a chance to see it actually. Seven BC skaters had multi-point games. Megan Keller had two goals and an assist and Makenna Newkirk had three assists, while Alex Carpenter scored twice. I can't believe BC got 48 shots on a Harvard, a team that normally plays very tight defense, though BC did also get 38 on net when they played three weeks ago. Maybe Harvard tried to open it up a little and got burned? The Eagles have now shut out the Crimson twice this year, a fairly impressive stat, and Katie Burt has 11 shutouts on the year, third in the country and only three behind Ann-Renée Desbiens of Wisconsin.
BC is the type of team that can sometimes get on a roll and just seem to score at will. We've seen it several times in the last couple of years, and it seems like that sort of happened last night. Tori Sullivan scored at 4:17 of the first, and less than two minutes later, Kaliya Johnson made it 2-0, and BC was off to the races.
Motivation sometimes comes into these discussions, and I'm sure BC might have had a little extra motivation, since the Crimson ended BC's undefeated season a year ago in the Beanpot, but I still think BC's focus is on the NCAA tournament. However, they can't afford any letdowns. Next week will be tough, with the Beanpot championship game on Tuesday and Northeastern again on Friday.
It's hard to believe that there are only three weeks left in the season, and while we talk about D-I most of the time, I'd like to turn to D-III. Boston College isn't the only team with a perfect record. Plattsburgh is currently 20-0-0, and the Cardinals just swept the No. 2 team in the country, Elmira, on the road by scores of 4-2 and 7-1. Have you been following the Cardinals at all, and their chase for perfection?
Arlan: Sorry, but I haven't. I don't have time to follow D-III, or to follow men's NCAA hockey either. The time that I do have available I put into keeping up with women's D-I. I do realize that Plattsburgh has been the dominant team in Division III, particularly since RIT moved to D-I. I remember three years ago when both women's Frozen Fours had teams vying to complete undefeated seasons. Ironically, it was Elmira that ruined Plattsburgh's bid that time, but nobody has had an answer for the Cardinals the last couple of seasons. Between the conference tournament and the NCAAs, the Soaring Eagles could potentially have two more cracks at Plattsburgh. But in all honesty, I have zero idea as to whether or not an Elmira win would be a colossal shocker or just your garden-variety upset. Feel free to chime in and educate me.
Getting back to subjects that I at least know a little bit about, one thing working against Harvard in the first Beanpot semifinal was that it had to play two tough ECAC games this weekend versus ranked teams in Quinnipiac and Princeton, while BC had the entire weekend off. I'd give the Crimson a bit more slack with that in mind, except that it doesn't excuse them seemingly not being ready to compete from the outset.
In that regard, BU, the other underdog, came out in the second semifinal and really took the game to Northeastern early, and went into the first intermission up, 1-0. Although Rebecca Russo scored the goal, I was really impressed with Victoria Bach in particular. She was repeatedly carving through the NU defense. Then the second period started, and the Huskies were the hungrier team. They scored twice in the middle frame, and reversed the advantage. When Kendall Coyne scored her second goal of the night in the third period to make the score, 3-1, it looked over. The Terriers did get a late five-on-three goal to make it interesting, but Northeastern was able to close out a 3-2 win, meaning they'll get two shots at ruining BC's perfection next week. I thought BU looked better than when I'd watched them earlier in the year, but once Northeastern's speed came into play, the Terriers were stout enough defensively to hold the Huskies off.
Did you see any of the second semifinal, or have thoughts as to what the second week of the Beanpot will bring?
Candace: To answer your question about whether Elmira defeating Plattsburgh would be a colossal upset, probably not, but it would be an upset. The only other team to beat Elmira is Adrian, which with Elmira's losses to Plattsburgh moved up to the second spot in the USCHO.com poll. Right after Adrian beat Elmira at the start of the season, Plattsburgh beat Adrian, 3-0. It's not like Plattsburgh has played a light schedule. They've beaten teams that were ranked fourth, seventh, ninth, and 10th, in addition to beating No. 2 Elmira. Most of those games have been shutouts. The only team to really push the Cardinals all year has been Norwich, which lost to Plattsburgh 2-1 in the first game of the year between the two. When they played again three weeks ago, Plattsburgh won 6-1. Things can happen, but it's going to take a monumental effort, and some luck, for someone to beat Plattsburgh.
As for the BU-Northeastern game, I watched some of the third period. The Terriers have been hard to figure out. They gave BC all they could handle last month, falling 4-3, and also took BC to overtime back in November before Carpenter kept BC's streak alive. There are signs they are getting better, such as the BC game and last night's game against Northeastern, but there are also puzzling results, such as getting blown out by Quinnipiac, 6-1, and only tying Vermont. BU is off till next Tuesday's game against Harvard in the Beanpot consolation, and that might be a game the Terriers can win, if they can generate sustained pressure on Maschmeyer.
As for BC against Northeastern, I'm expecting a high-flying game. The two have played twice already. BC won the first game, 4-2, and I think the key was that when Coyne put the Huskies up 1-0 at 3:21 of the first, Tori Sullivan answered for BC a minute later, so the Huskies were unable to generate momentum. The shots in that game were close, 31-24 for BC. When they played again a week layer, BC won 6-1, a strange game because Northeastern outshot the Eagles 37-23. Of course, Northeastern's starting netminder, Brittany Bugalski, was out for that game, so I'm expecting a game more like the first one between the two than the second.
What do you think the Beanpot will bring next week?
Arlan: I'd hope that Harvard will bring a better effort against BU, although it will again face a fresher opponent with the Terriers being off until then. At least the Crimson should have a slightly easier week this week with games versus Brown and Yale, although that is still a lot of games in a short period. I don't know that either the Terriers or Crimson have time to climb back into the PairWise picture, so if not, there won't be much other than pride riding on a third-place game. Of the Boston rivalries, BU and Harvard probably has the least vinegar, given they haven't played that many times since the Terriers became a varsity program. This will be the first game between the two since Harvard demolished BU in last year's Beanpot, so that and home ice should give the Terriers the edge in motivation, and their forwards have been more productive. I'll say BU takes a tight game.
I think that Northeastern will bring a game effort, but they won't have much in the way of advantages in a game versus the Eagles. IMO, Coyne is playing better than anyone else in the country, but BC should be able to neutralize her enough that she doesn't get more than a point, or perhaps two. That's the only place where I'd give an edge to Northeastern, so beyond that, I see the Eagles' depth taking over. They have plenty of people who can show up on the score sheet in a game like that, even if the Huskies somehow manage to slow Carpenter and Skarupa. Bugalski is light on experience against the truly elite teams, so while I don't think it will come down to whose goaltender plays better, one would have to like Burt if it does. Things may set up for Northeastern to make a closer game of it three days later at BC. I'd expect the Eagles to be motivated to win a Beanpot on Tuesday, something that Carpenter has yet to do. If Northeastern could only defeat Boston College once, then the Huskies would probably opt for it to happen in a potential fifth meeting in the Hockey East final, thus ensuring beyond a doubt that they'd have that elusive first NCAA trip. On Tuesday, I'll predict that BC takes the Beanpot by a 5-2 score.