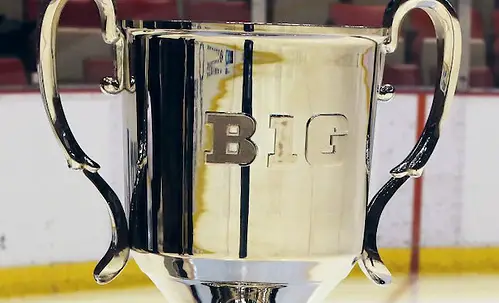 The Big Ten is in the midst of its third season sponsoring men's hockey, and it has been an eventful couple of years.
Even before the conference officially came into existence during the 2013-14 season, it made waves in the college hockey community. Some of those waves haven't crested and died off, either, and that's not concerning to Brad Traviolia, the conference's deputy commissioner, chief financial officer and chief operating officer.
"I don't think anyone within the conference or on campus felt like we'd just open shop, turn on the lights and all of a sudden magic would happen where national championships would just roll in and attendance records would be broken," Traviolia said after saying that everyone involved with hockey at the Big Ten offices is still learning about college hockey.
The main point is that the Big Ten doesn't plan on going anywhere.
"We're in this for the long haul," said Traviolia, who oversees hockey for the conference. "I think we've learned a lot in the first two years about what made our schools successful in their previous leagues."
Traviolia said that the conference has a "two-fold goal." One is to help and assist its six schools — Minnesota, Wisconsin, Michigan State, Michigan, Ohio State and Penn State — toward being successful. The other is to help college hockey as a whole grow.
When Penn State announced that it was elevating its hockey program to the Division I level and the Big Ten hockey conference was announced, there was grumbling around college hockey from fans of schools that were entering the new conference and those from the conferences that said teams were leaving.
Since the conference's inception, some of its teams have gone through horrible stretches of bad play, and attendance — or lack thereof — has been a hot topic.
"In a perfect world, we'd have great national success in the early years of Big Ten hockey and it'd be perceived by the vast majority as the greatest move ever," Traviolia said. "Those things didn't coincide. I understand that there is some frustration from the various fan bases that see the alignment of Big Ten hockey with the lack of national success that some of our programs are used to having and equate the two.
"I don't equate the two at all. I think it's a little bit of a timing coincidence and I'm very confident that our programs that are used to having success, it'll come back and it will be there. They won't be down on this end of the cycle much longer."
One theory for the lack of attendance is that fans simply aren't intrigued enough with the new conference foes to make the effort to actually go to games. Traviolia, who recently took over the position that involves men's ice hockey at the conference but has been with the Big Ten for more than 19 years, doesn't necessarily buy that notion.
"Coming from a non-hockey background, it's kind of hard for me to imagine a fan in the state of Minnesota who wouldn't be excited to see a Michigan or a Michigan State come in to play," he said. "I recognize and acknowledge that significant rivalries developed over the years in the previous leagues, and that's fine.
"Many of our schools have scheduling opportunities to honor those rivalries and to continue them the best they can. So it's a matter of getting familiar with your new league opponents and as those meaningful series come down the stretch and the winners are advancing and the losers are going home, I think the new rivalries within the conference will develop over time."
The challenge for the schools, according to Traviolia, is to balance keeping the old rivalries alive while building new ones within the Big Ten.
Attendance has also been an issue at the Big Ten's postseason tournament. The Big Ten had a five-session total of 42,610 fans (8,522 per session) show up to the 2014 tournament at St. Paul's Xcel Energy Center and had a total attendance of just 16,144 over three sessions (5,381 per session) last year at Detroit's Joe Louis Arena. By comparison, the 2013 WCHA Final Five had an announced five-session attendance of 87,295 (17,459 per session).
This year's postseason tournament will head back to St. Paul. Next year it will return to Detroit and the years after that are up in the air. Traviolia said that it was "as much of a political decision as any" to hold the first four tournaments at the former sites of the WCHA and CCHA tournaments due to the fact that five of the conference's six teams came from those leagues.
"It made a lot of sense and we wanted to give both sites an opportunity and we wanted to tap into the historic fan bases from each of those," Traviolia said, adding that the low attendance numbers could be due to the fact that the Big Ten is not a bus league, like the WCHA and CCHA were, to some extent.
"While Minnesota is the home team in St. Paul and Michigan and Michigan State are in Detroit, for the other teams and for their fan bases the driving distance is not what it was in the old leagues where again you were able to park the event at one venue over a number of years consistently and it became the place to go to celebrate that conference's hockey on an annual basis."
Traviolia said he is careful not make too much of a judgment after two years, but added that nothing is off the table concerning the future of the tournament.
After the deal with St. Paul and Detroit runs out after the conclusion of the 2017 tournament, the Big Ten could go multiple ways, including continuing the rotation with those two cities, permanently placing it somewhere, having a preliminary round to the playoffs or holding the entire tournament at campus sites over multiple weekends.
There is also the option of partnering with another conference or multiple conferences to hold a super tournament, so to speak.
"I wouldn't say that one option is favored over another at this time; we have a lot of ideas up on the board," Traviolia said. "We'll talk with our coaches this spring after the season and get their input and then we'll try to figure out starting in 2018 what the best path is going forward."
Traviolia said that one of the first things he did when he moved into his new position last summer was travel to all six schools and talk to the head coaches to pick their brains. Multiple coaches said that the conference having only six teams wasn't ideal, but they also realized that there wasn't another Big Ten team, like Penn State was, waiting in the wings.
With Arizona State elevating its club hockey team to the Division I level this season, there has been a lot of speculation surrounding which conference the Sun Devils will join. Historically, the Big Ten didn't enter into affiliate membership agreements with other schools on a single-sport basis until Johns Hopkins recently joined its men's lacrosse conference.
"We did somewhat break the seal a couple years ago with men's lacrosse and Johns Hopkins, that was the first time ever that we had entered into an affiliate membership agreement with a single sport," Traviolia said. "Affiliate membership for hockey is an option. I wouldn't say it's the only option or it's the inevitable option, but it's something that the conference is willing to consider since we've somewhat opened that door with lacrosse."
Other notes from Traviolia
• On the increased suspensions this season: "I don't know that there's a point of emphasis specifically for this year. The way that the NCAA rule regarding supplemental discipline plays out is that the conference, in this case it would be Steve Piotrowski, our coordinator of officials, along with myself, we have the ability to review any plays made during the game and issue supplemental discipline if warranted. I think the same mindset and the same goal this year have applied in year one and two of the Big Ten, there's just been more of them. I don't have a reason for why there are more of them, but I think that we've consistently applied the rule and have issued supplemental discipline no differently than we have the previous two years. It just seems to be more frequently this year."
• On hockey's exposure on the Big Ten Network: "I think that the fact that there's only six playing schools versus 14, I don't know that that's a huge impact in terms of time that's dedicated to hockey on the network. In fact, it may benefit our schools because BTN is able to commit X number of hours to hockey and it's just being divided by the six schools instead of 14, so I think on a per-school basis our schools might be better off.
"I would say that going into year one of Big Ten ice hockey, the network had high expectations, in terms of ratings. We had high expectations in terms of the tournament, in terms of television ratings and in terms of what BTN felt was successful programing. We fell a little short in year one and again we didn't hit the attendance that we hoped at the tournament. We were really trying to figure out what we could do differently, whether it's the schedule, whether it's the format of the tournament, whether it's a different way of packaging or presenting the game. We're going to sit down with our partners at BTN and see what we can do to enhance the package of Big Ten hockey."
• On the age proposal submitted by the Big Ten: "We submitted a proposal in September. I think around November is when it became more public in the hockey community that the proposal was submitted. We have plenty of opportunity, the NCAA provides plenty of opportunity for comments. The vote isn't until April. We went through our internal process last spring and summer and per the timeline outlined by the NCAA we submitted it and so, while it's gotten a lot of media play, we still believe that it's a good piece of legislation. We believe that once people are willing to dive into the details and look at what the actual impact is of such a change, it's relatively modest.
"I think that a lot of the angst regarding the proposal is regarding how it came to be, the fact that the Big Ten entered it into the NCAA system directly instead of going through the traditional coaches' convention system that has historically taken place. I think there's a lot of adverse reaction to that, but I do think that just looking at the legislation, that's kind of the focus of what our comments are and what we are encouraging people to do is to really look and see how it will impact various programs.
"We're not trying to do away with delayed enrolment. We're recognizing that junior hockey is still and should still play a role in the development of players. All we're saying is that instead of delaying enrolment by three years and then coming back to play four years of college hockey, just delay it by two years and then have four years to play college hockey."
Three stars of the week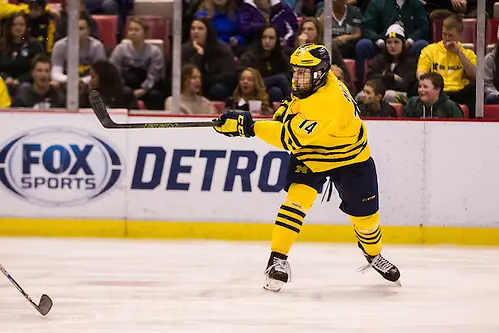 First star — Michigan junior forward Tyler Motte: Motte had three goals and one assist in Michigan's split with Michigan State. The junior has netted a goal in nine consecutive games and leads the nation with 25 goals this season.
Second star — Michigan junior goaltender Steve Racine: Racine stopped 38 shots in a 3-2 overtime loss on Friday in Detroit and helped the Wolverines rebound by making 33 more saves during Saturday's victory over the Spartans.
Third star — Michigan State junior forward Joe Cox: Cox scored two goals in the Spartans' 3-2 overtime victory on Friday. He also scored the first goal of Saturday's game on a penalty shot in the second period, which was the first penalty-shot goal for Michigan State since 2006.
B1G in the poll
No. 6 Michigan and No. 16 Penn State are still the two representatives for the Big Ten in this week's USCHO.com Division I Men's Poll. Minnesota is still clinging to a few votes.
My ballot
1. North Dakota
2. Quinnipiac
3. Boston College
4. St. Cloud State
5. Providence
6. Michigan
7. Harvard
8. Boston University
9. Notre Dame
10. Yale
11. Massachusetts-Lowell
12. Omaha
13. Denver
14. Michigan Tech
15. Penn State
16. Minnesota State
17. Bowling Green
18. Cornell
19. Robert Morris
20. Rensselaer
This week's matchups
Penn State at Michigan State (Friday and Saturday, Munn Ice Arena)
Minnesota at Ohio State (Friday and Saturday, Value City Arena)
Michigan at Wisconsin (Friday and Saturday, Kohl Center)