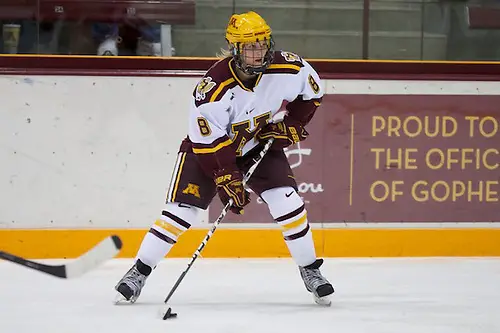 Candace: As usual, there were all kinds of interesting results over the weekend. Connecticut threw a scare into Boston College and its perfect season, and Providence gave Northeastern a scare as well. The CHA was its always chaotic self. I have to think that Mercyhurst's sweep of Robert Morris probably sealed the CHA regular season crown for the Lakers, as I don't think the last two series against RIT and Penn State will give Syracuse enough of an opportunity to catch and pass Mercyhurst.
Over in the ECAC, Colgate proved the truism about the game being about matchups, as the Raiders lost to Princeton, 4-2, then turned around and beat Quinnipiac, 3-2, on Saturday, one of the biggest wins the program has had. Harvard continued its run of mediocrity, tying Brown, 3-3, while Dartmouth finally won a game after over two months without one.
However, the story of the weekend, and perhaps the entire season, is the return of 2013 Patty Kazmaier Award winner Amanda Kessel to the Minnesota Golden Gophers. Kessel hadn't played since sustaining a concussion while playing for the U.S. Women's National Team at the 2014 Winter Olympics at Sochi, and last summer, she announced her retirement from hockey. However, in the interim, she started skating again, found herself playing well and without the symptoms that knocked her out of the game, and was cleared to play. She played her first college hockey games in almost three years this past weekend, playing on the top line with Hannah Brandt and Dani Camerenesi against North Dakota, and in her first game back Friday, she notched two assists. The next night, the Fighting Hawks clamped down, holding the potent Minnesota offense scoreless in a 0-0 tie.
Kessel's return was front page news in the Minnesota newspapers, resulted in TV coverage on Fox9, and was even covered by the New York Times, with a photograph of Kessel. Her return could result in a some chemistry issues for a few weeks, as her teammates look to her to lead them again, but having Kessel back makes an already excellent team even better. You saw her play this weekend; what was your take on her skating and play, and what it means for the Gophers?
Arlan: I remember the first time I ever saw Kessel. I went down to Faribault to watch Shattuck-St. Mary's because they had a bunch of future D-I players, like defenseman Sasha Sherry, who was going to Princeton, and Jen Schoullis and the Lamoureux sisters, who were committed to Minnesota, plus Kessel and Brianna Decker, who I believe were still uncommitted. Kessel, who I think was a freshman, was injured and in street clothes, and that was an omen of what was to come, because she was injured a lot through her first three years at Minnesota. Not missing games, but playing hurt a lot of the time. Ironically, this is likely the healthiest she's ever been in February as a Gopher. She looked better than I would have expected last weekend. She certainly has experience coming back from injury, albeit measured in weeks, not years as it is now. It's a short list of players who are better than her today in the college game, and by season's end, there may not be any names left on that list.
Over the years, we've seen many star players added to professional rosters late in the season in sports like hockey and baseball where it doesn't really work. The personalities don't mesh, or the player's style doesn't fit with the new team — who knows. This is different, in that Kessel isn't coming to a new team, although she only has a handful of teammates left from the 2013 championship squad. This would be more like a dozen years ago where Natalie Darwitz came back from injury at this point of the season and was put on a line with Krissy Wendell for the first time that season. Skating with Kelly Stephens, they were quiet in their first game, and then caught fire and dominated the game for the next 13 months. We won't see anything of that magnitude over the next few weeks, because teams are much more balanced now. The positive for Minnesota was that its forward lines were a lot more sound defensively. The Gophers didn't yield a goal to UND all weekend, although much of that was thanks to Amanda Leveille, who saved all 57 shots.
The Fighting Hawks were able to shut the Gophers out as well on Saturday. It wasn't your typical 0-0 tie, as both teams were getting up and down the ice and had scoring opportunities. When I watch UND play like that, I always wonder, "Why don't you play like this all the time?" I'll explore that further in my column this week, although I doubt I'll come up with any answers. If it was that easy, I imagine Brian Idalski would have solved the problem by now. Suffice it to say that they're a better team than their record. This season, they probably have plenty of company in that regard around the country.  .
The scoreless tie brought us to a shootout on Saturday. Over the last two and a half seasons, for a team with a powerful offense, Minnesota's shooters in shootouts have been rather anemic. It has been mostly Brandt and a collection of people who either looked like they didn't have a go-to move or weren't relishing the spotlight. They won just half of their four shootouts last year, despite Brandt going four-for-four. Amy Menke put UND up 1-0 on the first attempt, and when Brandt was stopped rather easily by Shelby Amsley-Benzie, one got the sense that the Gophers weren't like to find two people who were going to score to tie, and eventually, win it. Kessel tied it in the next round, and  Leveille held the Gophers in it until the 11th round, but when the onus to tie it back up falls on someone who hadn't skated a shift in the game, you have to like Amsley-Benzie in that matchup.
That final result on Saturday kind of feels like a loss for both the Fighting Hawks and the Gophers. Wisconsin is likely to clinch the WCHA title versus Minnesota State next weekend, making its final series in Minneapolis much less important. UND is a point behind Bemidji State for third place, so it needs help. The Beavers finish with Ohio State and Minnesota State, two teams they swept in the fall. While third or fourth look like they will likely be six of one and a half dozen of the other, UND was saddled with another loss and tie in the national picture, and now sits a ways down on Princeton, the seventh team in the PairWise Rankings. There's a good chance that the Fighting Hawks will find themselves in the all-too-familiar position of having to win the WCHA Final Face-Off to continue their season.
Meanwhile, Wisconsin just plugs along, not scoring as much as it did earlier in the season, but always enough to win. It's a pretty easy game for a team that never gives up more than a goal in a game. The Badgers have allowed more than one goal only three times this season, and not at all in 2016. Over the last 10 games, Wisconsin has given up only five goals total. Ann-Renée Desbiens now has 15 shutouts, only one off of Noora Räty's NCAA mark, and her overall numbers are rather historic. When we discussed Patty Kazmaier Award contenders a few weeks back, you seemed to think that Desbiens would be off the pace in the voting. Do you still feel that way, or have you warmed up to her season?
Candace: At this point, I think Desbiens has to be a top three finalist, along with Northeastern's Kendall Coyne and BC's Alex Carpenter. I initially though Desbiens would make the top 10, but wasn't sure about her moving into the top three. Part of it is that Wisconsin is always so committed to team defense, so I've wondered sometimes whether Desbiens isn't partly the beneficiary of having an outstanding team in front of her. Nevertheless, those statistics speak legions, and I don't think you can ignore it. What's really incredible is that on the season, Desbiens has given up more than two goals only once, against North Dakota back in December. That is just an outstanding record of consistency, of not having an off game once. It's going to make the Badgers incredibly difficult to beat come the playoffs. Frankly, I'm wondering if even the presence of Kessel will be enough to get Minnesota a win when the Badgers travel to Minneapolis for a pair on the final weekend of the season.
I also think that between Minnesota and Wisconsin, it's going to be hard for any team except maybe Boston College to win the NCAA tournament, and the caveat there is the Eagles really should want the top seed so they don't have to go through both of those teams to win. I think BC matches up more favorably with Minnesota than Wisconsin, but any of those games will be interesting.
Earlier, I talked about matchups, specifically Colgate. Were you surprised that it was Quinnipiac, rather than Princeton, that the Raiders beat this weekend, and what do you it means for the ECAC? Despite the tie with Brown, Harvard is still only one point behind the Raiders for home ice in the playoffs. The results also set up something interesting this weekend, with Clarkson facing Princeton and the second seed on the line.
Arlan: In so many of Colgate's games, it gets an early lead, gives the lead up, and then has to try to get it back. Meanwhile, Quinnipiac hasn't had a lot of experience at coming from behind, because it allows so few goals. This weekend was out of character in that the opponent scored on the Bobcats first in both.
Colgate has only been shut out once all season, and that was in its game at Quinnipiac. It has the ninth-best scoring offense, so it has the capability of breaking through against anyone. Because the Raiders are so young, including the top nine scorers being freshmen or sophomores, I think they are likely to show more growth over the course of a season than many teams. I'm still not convinced that they have learned how to put a game away all the time. That figures to be a struggle over the rest of the season, but they definitely are capable of knocking off anyone in the ECAC playoffs. The win over Quinnipiac was huge in terms of Colgate's chances of hanging on to home ice for the quarters. If the Raiders get to the final weekend of the tournament and are playing to keep their season alive, that might make them a more desperate team than ECAC squads like Quinnipiac and Clarkson, who likely will already be in the field. It does get tricky, though, with only the top seven at most in the PairWise getting into the field, and then if there should be an upset winner in the ECAC and something really unforeseen in one of the other leagues, things could get wild in a hurry.
The ECAC tournament is shaping up to be one of the best top-to-bottom tournaments ever, but then I thought that last year and it pretty much went to form in the first round without a lot of drama. Cornell knocking off Clarkson in the semifinals was the only upset. I guess in any set of games that are unpredictable, one possible outcome is that the favorites come through, and we saw that last year. Slim favorites still have a good shot. This year, however, I kind of think we may wind up with a home team or two that could be an underdog. I'm not sure if that is really true, or it just seems that way because we start to judge teams more by past history rather than current rosters. For example, it seems like the Big Red or Big Green are destined to pass Rensselaer at some point, but it still hasn't happened and the hour is getting late.
The Dartmouth game in Troy on Saturday figures to be huge. Clarkson got to RPI and Lovisa Selander with three goals in the first nine minutes on Friday. You always wonder how a young goalie will react to getting the hook in a big game like that, but she came back the next night with a great showing, holding St. Lawrence to one goal on 49 shots.
It feels like Clarkson might be the safest bet in the ECAC right now, but at the same time, if the Golden Knights were to mix in an off game, I wouldn't be shocked by that either. Do you see anything in the ECAC right now that looks like a certainty?
Candace: Short answer: No. Clarkson had a good weekend, and hasn't lost since Dec. 4 against Colgate, but I also think they've settled for ties in games they should win, such as Cornell and St. Lawrence. We'll know more about how the Golden Knights are looking after this weekend, when they travel to the Princeton/Quinnipiac travel pair. The Golden Knights have a good goaltender in Shea Tiley, who can steal games, and good offense from seniors Cayley Mercer and Olivia Howe and junior Geneviève Bannon
I suppose Harvard could get hot, but more and more it looks like the Crimson are suffering the hangover of losing to Minnesota in the national championship game last year and then having some of their best players graduate. Then again, I still don't understand how the Crimson can then go out and beat Princeton 4-1.
Speaking of the Tigers, a lot of the ingredients are there, including a solid senior goaltender in Kimberly Newell and some balanced scoring from the likes of Karlie Lund and Kelsey Koelzer, but I'm still not fully sold on them, in part due to the 4-1 loss to Harvard that ended their winning streak, a streak I do think was mainly built against teams Princeton should beat. Let's see how the Tigers do against Clarkson this weekend.
Then there are the league-leading Bobcats, who have so far managed to avoid their usual second-half swan dive. Saturday's 3-2 loss to Colgate was their first blemish since losing to Yale back in October. However, I think Quinnipiac could always be vulnerable, because with rare exceptions, the Bobcats depend on stellar goaltending and defense from Sydney Rossman and then a couple of timely goals from Taylar Cianfarano or Melissa Samoskevich, who between them account for 40 percent of the Bobcats' scoring. When you are always walking such a fine line, it can make you vulnerable to the upset in the defensive-oriented postseason.
To me, the ECAC looks almost as wide-open as the CHA, though not quite, because in the latter, I do think that any team in the conference could win the league tournament. In the ECAC, I think any team that makes the playoffs has a possibility, but some have a better chance than others. Yale beat Quinnipiac, but that is really its one big highlight. Eighth-place Rensselaer beat Clarkson and tied Quinnipiac, but has also lost twice to Yale. Sixth-place St. Lawrence beat Princeton and Harvard, but aside from that hasn't fared too well against the teams above it in the standings.
I think the road teams in the first-round best-of-three will have their work cut out for them, but one or two might throw a wrench into things.
As long as we are discussing playoff possibilities, do you see any of the 5-8 teams in the WCHA ruining the top four's first round, and how do you think things shake out in the standings with Minnesota-Duluth and St. Cloud State, who are currently tied for fifth with 28 points each? They end the regular season against each other in St. Cloud, a very interesting turn.
Arlan: The first time that St. Cloud State and UMD played, the Bulldogs held SCSU to two goals for the series, matching their best defensive weekend of the season. The other two-goals-allowed weekend came when they hosted Minnesota State back in October. Although the Mavericks doubled that production against UMD this past weekend, the Bulldogs did sweep. While UMD has had its defensive issues of late, that might be more a case of the improvement in the Mavericks offensively over what they accomplished in the first half. I guess the good news for UMD is that the Huskies are a team that they did well against in December.
I'll have more to say about Minnesota-Duluth next week after I watch its games hosting Minnesota this weekend. Senior Kayla Black played both games in Mankato, so it looks like she's emerged from the traffic jam in the crease to be the primary goaltender. Other than that, it looks like offensively the Bulldogs still live or die on what they get from the first-line trio of senior Michela Cava and juniors Ashleigh Brykaliuk and Lara Stalder. All have point totals in the 30s, so they're doing their part. It helps UMD's cause if someone else emerges or the goaltending and defense clamp down.
The Huskies are in the midst of a rough stretch where they played the other three ranked teams in the WCHA, and now they head to Grand Forks. Minnesota State seemed to catch the Fighting Hawks in a bit of a letdown after playing in Madison, so St. Cloud State will hope for some of the same with UND having just played an emotional series in Minneapolis. If the Huskies can't gain ground on UMD this weekend and they head into the final weekend needing a series win, I'd say that is unlikely unless Katie Fitzgerald can steal some points in their net. The Bulldogs have more offensive potential in their top line, and neither supporting cast gets on the board that frequently.
When it comes down to fifth versus sixth, I'm not sure it matters all that much. We aren't likely to know who is third and fourth or fifth and sixth until the season is over and the matchups are locked in. North Dakota and Bemidji State are roughly equivalent in terms of the likelihood that a second-divison team is going to be able to skate into their barn and pull an upset in the playoffs. A best-of-three series makes it rather unlikely. Bemidji State has been very upset-proof, and once the Fighting Hawks are focused and in postseason mode, they should be as well.
I expect we'll see some tight contests in those series, and maybe a road team can force a rubber game. It looks almost certain that Minnesota State's trip to Madison this weekend is a trial run for a WCHA quarterfinal in two weeks. That leaves Ohio State heading to Minnesota. I expect both road teams to produce closer contests than we saw in the first half of the season, but inevitably, the hosts should sweep.
One place where we got some answers this week was the second tier of Hockey East. I think we favored Connecticut to eventually pull away and take fourth, but the Huskies got some help in that regard when Vermont went to New Hampshire and swept a couple of close games. Meanwhile, Connecticut lost the close game with BC, but took care of business with a win over Providence. Now the Huskies are up five points on both UNH and Vermont with two weeks left, and if they have a good weekend hosting Maine, they can clinch home ice.
I tried to sort through the bottom half of Hockey East last week. Do you have any new insight on that group?
Candace: So not. I did not see Vermont sweeping New Hampshire. It looks like the Wildcats reverted to October form at a most inopportune time. Now those two are tied for fifth. I also didn't see Maine leapfrogging Providence, though the Bears benefited by getting to sweep Merrimack this past weekend. Now the Bears close by facing Connecticut twice, games that will be tough to win. Providence has Merrimack this weekend, so a Connecticut sweep and a Providence sweep could move the Friars back into seventh.
As for fifth versus sixth, New Hampshire has it tough from here on out, with a home-and-home against Boston University this weekend and then two against Connecticut to close, while Vermont ends with two against Merrimack, so I think the Catamounts will end up in fifth and the Wildcats in sixth. It's interesting that New Hampshire's two possible first-round opponents are the ones it faces in the remaining two weekends.
Once the playoffs start, I expect the top four to advance. In a best-of-three, I don't see the road teams winning two games from any of the top four teams. Connecticut is the only one that might be vulnerable, but the Huskies just swept Vermont two weeks ago in Burlington, so I doubt a change of venue to Hartford is going to make any difference. Then the question becomes can Northeastern or Boston University beat Boston College, as I expect the Eagles to defeat Connecticut in the semifinals of the Hockey East tournament. While Connecticut threw a scare into the Eagles this past weekend, I do think some of that might have been anticipating the two Northeastern games this week.
If that's the case, the Eagles showed no sign of nerves last night, defeating Northeastern 7-0 to claim their sixth Beanpot, and their first with Alex Carpenter skating for the team. The Eagles last won the Beanpot in 2014, when Carpenter was with the U.S. Olympic Team, and they lost to Northeastern in Carpenter's first two Beanpots, so this tournament was like the Carpenter revenge tour, even if she factored into only one goal of BC's touchdown last night. Carpenter did have a goal disallowed by a quick whistle at the end of the first too. BC had better be prepared for Friday's rematch, because Northeastern is going to bring it.
The third-place game was a microcosm of Boston University's struggles, as the Terriers had a two-goal lead twice and couldn't hold it, losing to Harvard 5-3. I saw some of that game, and while BU looked to have good offense, the defense showed a lot of vulnerability, giving up too many good chances in close.
We haven't touched on the CHA yet, except that I think Mercyhurst will likely take the division crown. Do you have any more insight on that league after this weekend?
Arlan: The Saturday Syracuse at Penn State game was televised on BTN, so I got to watch Syracuse for the first time all season. I think it was last week that you speculated whether the Orange just put shots on net from anywhere and thus got their high shot totals. From that game, I'd say yes and no. They do focus on generating shots, but they are shots with a purpose. They'll take some shots from distance, but they always seem to have traffic in front looking for screens and tips. Some of the shots were low on the ice, and with most teams I think the expectation is that the skaters will be able to block and clear those before they ever cause a problem for their goaltender. Penn State failed to do so on a couple of occasions and paid the price.
The other thing I saw from Syracuse was that at least against the Nittany Lions, it had an advantage in zone time as it built its lead. If the puck is mostly in your offensive zone, you tend to get a bounce eventually. The blue liners for the Orange are an efficient bunch that play the body effectively and are able to move the puck out of their own end. If it gets good goaltending, I think that Syracuse can be a dangerous team, and against Penn State on Saturday, the only goal Jenn Gilligan allowed was one where she had no chance.
Speaking of goaltending, Mercyhurst has primarily been starting Sarah McDonnell in recent weeks. On Friday, Jessica Convery got the start and responded with a 31-save shutout to get her first win. A day later, Convery earned her second victory in a less-spectacular, 6-3 fashion. Whether that's a sign that McDonnell wasn't 100 percent or it was just a veteran coach playing a hunch I don't know. It wasn't like McDonnell played poorly in her last start, when the Lakers lost 2-1 in overtime to Syracuse. We'll have to see who gets the call on Friday when Mercyhurst heads to RIT.
I agree that the Lakers look destined to close out their season title. Their 10 goals at Robert Morris were the most they've scored in a series this year, so they look to be getting hot at the right time. Once the postseason gets underway, they'll be the favorites with Syracuse a close second, but after the last couple of years, I don't want to turn my back on RIT. They look nothing like a team that is on the verge of a run, but they weren't inspiring a lot of confidence last year at this time. The Tigers seemed to steady a bit once Jetta Rackleff returned from injury. She only has a couple of wins, but in conference, she's stopping almost 95 percent of the shots.