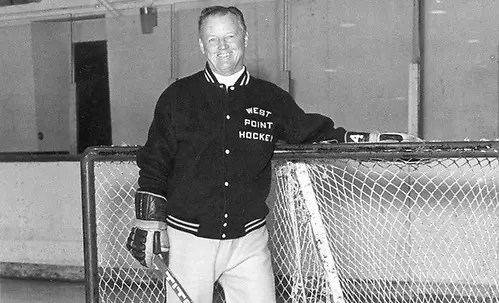 I first met Jack Riley before a Cape Cod Bluefins game in the independent Federal Hockey League back in the spring of 2011. He was the invited, honored guest tasked with dropping a ceremonial first puck, while I was there to handle music played during the game. I distinctly remember trying to get out of handling the music to go have a day to myself, but my brother, the public address announcer, kept telling me that he wanted me to go because he wanted me to keep him company in the booth.
Ordinarily, I like to think I would've jumped at the chance to see a gold-medal hockey coach, especially one who was from the old Greater Boston neighborhoods my family grew up in, but the truth is, I didn't know much about the 1960 U.S. Olympic men's hockey team. The only thing I knew was that it was the last gold medal before 1980.
Getting the chance to meet Riley, though, changed everything. After that one game, my mind began attempting to quench a thirst for knowledge about the 1960 team. As it turns out, I'm not the only one who didn't know much about something referred to as the "Forgotten Miracle."
In 1960, it wasn't just that the United States won the gold medal; it stood just as dominant as any Olympic team ever, including the mighty Soviet Union. During the group phase, the U.S. defeated Czechoslovakia 7-5 and creamed Australia, leading 9-0 after two periods and ultimately rolling to a 12-1 final. The Americans went 5-0 during the medal round, which was a round robin, including a 2-1 win over Canada and a 3-2 win over the rival Soviets in which they came back from a 2-1 deficit.
Since 1960, there have been 14 Winter Olympic Games, and USA has medaled in only four. It was the only American gold until 1980, and even then, the '60 team was perfect, while the more-famous Miracle on Ice team, undefeated in its own right, tied Sweden 2-2 in its first game.
Riley's impact went well beyond coaching that 1960 team. In 35 seasons at Army West Point, he coached the Cadets to 542 wins, second-most all-time when he retired. Nearly 20 years later, that number is still 18th-best among any coach in any division. He had only seven seasons under .500, including one in his last 13 years behind the bench, coaching at a place he loved, respected and admired.
Whenever I speak with Jack's son, current Army coach Brian Riley, I'm often told about what makes coaching at Army West Point so special. He always talks about the kinship among cadets, how that's something that's impossible to weave out of your personal fabric. He pointed specifically to Jack and said: "I used to wonder why my dad stayed at West Point. He was a successful coach … so I used to wonder why he didn't go up to a place like Boston for a larger college job. But now that I sit in his chair, I know why he stayed."
To really drive the point home, consider this: The current season marks the 65th consecutive year that a member of the Riley family stands behind the bench. What started in 1950 with Jack went to Brian's brother Rob before coming to their current coach.
So it was incredibly fitting last weekend that Army took three points from Holy Cross, including a win before a sold-out crowd honoring three former players who played during the Jack Riley era. And it's even more special that his grandson, also named Jack, scored an empty-net goal to seal a Mercyhurst victory over Bentley that same night.
When Jack Riley passed away last week, I thought back to that first meeting in Hyannis and how I didn't really know, at the time, about his impact on the game. Then I thought about how fortunate I really was for having had multiple interactions with him. Jack Riley is, was, and will forever be a patriarch of United States hockey, a true legend, and one that should never be forgotten, no matter how people refer to his miracle.
Top line powers Bentley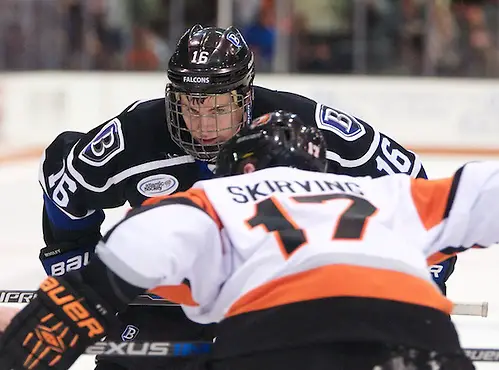 On Friday night, the Bentley Falcons opened up a 2-0 lead on Mercyhurst, then used a two-goal third period to finish off a 4-1 victory. It was their fifth straight game without a defeat, and although the Lakers snapped that streak with a 5-2 win on Saturday, it helped Atlantic Hockey's easternmost school step one foot ahead of Canisius for sixth place just three weeks after it sat in eighth.
"I thought we played really well," said Falcons coach Ryan Soderquist. "We picked up a big win on Friday, and I thought we played well on Saturday [despite the loss]. We were right there, but we had a couple of penalties at a couple of bad times."
Bentley's breakout is due in no small part to an increase in play at both ends of the ice. Since the American International weekend kicking off their recent 3-1-2 stretch, the Falcons scored 24 goals, nearly 75 percent of which came from either Andrew Gladiuk, Max French or Kyle Schmidt.
Even so, with their top scorers finding their groove, it's been more important to get depth goals out of players like Michael Reardon, Cody DePourcq, Jake Ahlgren and Will Suter.
"There isn't a top line or power-play unit that will be able to go wire to wire, so I'm really happy to see our top line overcome their challenges and lead by example," said Soderquist. "As they go, it helps build confidence and gets the other lines involved in the games.
"But you have to have depth scoring. You can lean on things like special teams and goaltending, but secondary scoring gets you over the hurdle in our league. Every single team is well coached, so they all bring a tough challenge every night to everyone's top line. You overcome that by getting other players involved and getting depth scoring."
At the same time, the Falcons dramatically cut their goals allowed. In the four games before their streak, Bentley allowed five or more goals three times while posting a cumulative save percentage of .867 between senior Gabe Antoni and sophomore Jayson Argue. Over that same stretch, the defense held opponents to fewer than 30 shots only once.
Throughout their undefeated streak, they allowed more than three goals only once, posting a save percentage of .909. They've held opponents under 20 shots twice, pointing to the total team effort and two-way hockey stressed by their coach.
"Having two goalies is like having depth scoring," said Soderquist. "It gets the team going, knowing that if one guy is having an off day, they have another guy there to lift them up. Having both [Antoni and Argue] playing at a high level is a great benefit, so we take it game by game and day by day."
With five games left to play, Bentley is still within striking distance of the Lakers for Atlantic Hockey's final first-round bye, but the Falcons will need some help if they want a week off. They trail Mercyhurst by three points for fifth place but do not hold a head-to-head tiebreaker against any of the teams in front of them. That puts a premium on points, especially this weekend against a Canisius team one point behind the Falcons in seventh place.
"We definitely aren't thinking about [the playoff race]," said Soderquist. "We didn't think about it in October, we didn't think about it at Christmas break, and we're not thinking about it now. We need to be ready to play any game wherever against whomever. In our league, teams can finish first, win the league and get to the NCAA tournament, but they can finish sixth too [and do the same]. The key is just to be playing your best hockey at the right time."
Still unbeaten
Air Force's three-point weekend at home against Rochester Institute of Technology extended its unbeaten streak to 10 games. Now 7-0-3 in their last 10, the Falcons have their longest undefeated streak since they won 13 in a row during the 2008-09 season. Their unbeaten streak tied No. 1 Quinnipiac for the longest in the nation.
In the process, they snapped RIT's eight-game unbeaten streak. The Falcons' 4-0 win on Saturday was the Tigers' first road loss of the season.
Shooting bricks
Robert Morris and Sacred Heart had themselves quite the weekend with a pair of one-goal games. Although the Colonials swept the Pioneers, goaltenders Terry Shafer and Brett Magnus combined for 113 saves. Magnus stopped 62 shots, but Shafer, by virtue of his two wins, picked up weekly honors.
What gets lost in the shuffle is that they performed at such a high level despite an abundance of physicality. After the teams combined for 12 penalties and 24 minutes on Friday, Saturday devolved into a long day at the office, with 24 calls for 75 minutes whistled.
One game misconduct was handed out, with two additional 10-minute penalties assessed. Referees called five unsportsmanlike conduct or hitting after the whistle penalties. With emotions running hot, the goalies kept their cool and performed brilliantly.
Playoff update
As of the end of last weekend, Robert Morris, Air Force, RIT, Holy Cross and Mercyhurst all control their destiny for first-round byes. If the season ended today, Mercyhurst would travel to Holy Cross to continue what's become an incredible playoff rivalry over the past few years. The Lakers would finish for the second straight year as the fifth-place team with a bye but forced to go on the road.
Because Army West Point went 2-1-1 this year against Sacred Heart, it joins Bentley and Canisius as teams currently hosting in the first round. The Black Knights would host the Pioneers, with whom they're tied with 19 points, while Canisius would play Niagara and Bentley would play American International. Having won three games against the Yellow Jackets this season, the Purple Eagles hold that head-to-head tiebreaker.
We'll break down how that changes after the weekend and check in with what scenarios are clinched altogether since there are a number of scenarios in play this weekend that could result in first-round byes and first-round road fates being sealed.
Players of the week
Player of the week — Bentley's Andrew Gladiuk: Gladiuk took home POTW honors for the second time in three weeks thanks to two goals and two assists against Mercyhurst. His 70 career goals rank three behind Brett Gensler for the most in Bentley's Division I program history. His 142 career points ranks second behind Gensler's 167.
Defenseman of the week — Niagara's Niko Kovachis: Great to see a young Purp make this list after earning points in both games, including a game-winning goal on Saturday, in the weekend sweep of AIC.
Rookie of the week — Mercyhurst's Lester Lancaster: Lancaster had four points in the Lakers' weekend series against the Falcons, including a three-point game during Saturday's win. Mercyhurst's hard-earned victory on Saturday keeps it in fifth place on the inside of the bye bubble in Atlantic Hockey.
Goaltender of the week — Robert Morris' Terry Shafer: In what might've been the series of the weekend, the Colonials came away with a pair of one-goal victories paved by their goalie. Shafer stopped 51 of 53 shots on the weekend, lowering his GAA to 2.36 and increasing his save percentage to .933.