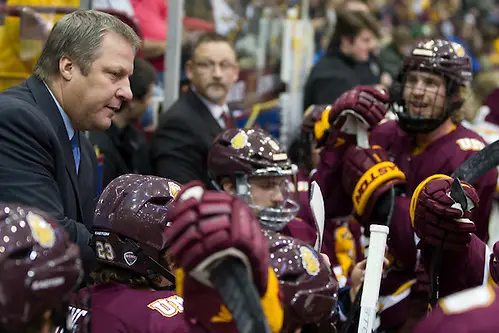 For Minnesota-Duluth coach Scott Sandelin, the past five days have been a microcosm of the Bulldogs' season. After rallying twice to beat Colorado College over the weekend to gain key points in the NCHC race, the offense disappeared Tuesday night in a 2-1 nonconference loss to Bemidji State.
Duluth has the 11th-best defense in the country, giving up only 2.18 goals per game, but its offense, while 28th overall and scoring 2.64 goals per game, has been feast or famine.
"That's why I always say the magic number is three for us to win games," Sandelin laughed. "It's just been weird, and again, when your power play is not scoring, it puts more pressure on five-on-five, which is always hard to score."
Duluth scored five and three goals against CC, but only one against Bemidji. In its losses and ties in January, Duluth scored on average 1.6 goals per game, including three games where it could muster only a solitary tally.
"We've had a lot of games where we've outshot and out-chanced teams and came away with losses," Sandelin said. "And again, when those things pile up during the year, I think sometimes your mindset isn't the same. I think that's a big part of it; I think it's more the mental part of it. You might start pressing a little or whatever, and in turn you might sacrifice some things at the other end of the rink. And I think there have been some games where we've got caught in that, where we've had pressure, we've had chances, and we couldn't score, and then we give up a goal at the other end from maybe poor defensive structure or a turnover and those things seem to get magnified when you're not consistently scoring.
"It's a combination of a lot of things. It certainly in a lot of games hasn't been from a lack of opportunities, but you just have to keep trying to do that. It's hard to put a finger on it, actually. Offense is hard sometimes, and you can't sacrifice the other end of the rink to score goals."
Despite the loss to Bemidji, the CC games showed some resiliency. On Friday, Duluth trained 2-0 before rallying, and on Saturday, after opening up a lead just 16 seconds into the game, the Bulldogs entered the third trailing 2-1 before scoring twice late.
"It's not how you want to play the game, playing catch-up hockey, but I thought the Friday night game, even though we got down a couple of goals, we were playing the game pretty well," said Sandelin. "I thought we were doing a lot of good things, had some chances, and once we got the first one it gave us a little bit of a spark. Saturday was different. We scored in the first 16 seconds and I don't know if we thought it was going to be an easier game. When you do that, sometimes it can be good, scoring the first goal early, and sometimes it can be maybe not so good."
One area of success for Duluth all season has been its penalty kill, which also helped in the CC series, killing off seven of nine chances the Tigers had on the weekend.
"I think, No. 1, we've had six or eight guys that have just been together and they take a lot of pride in that," said Sandelin. "Obviously, like we talk about, your goalie is your best penalty killer, and certainly he was for us on Saturday, but I think our guys have done a good job. It's something you have to work on. There's probably been a little more importance on it because our power play has struggled. There's probably more pressure on the PK, so those guys have buckled down and done a good job."
Duluth is off this weekend before closing the regular season with series against the NCHC's top two teams, North Dakota and St. Cloud State, and then a series with Miami, which trails Duluth by three points in a race for the final home-ice spot in the NCHC playoffs.
"It's a battle to get that, it is a goal of ours," Sandelin said of home ice. "We've got three very difficult weekends coming up. We have the top two teams after break and finish with Miami. We have our work cut out for us. They're good teams, and hopefully those teams will bring out the best in our team, and that's certainly a goal. We want to be trying to play at home. We need to find some consistency — that's the big thing right now."
Miami enjoys the process while turning around season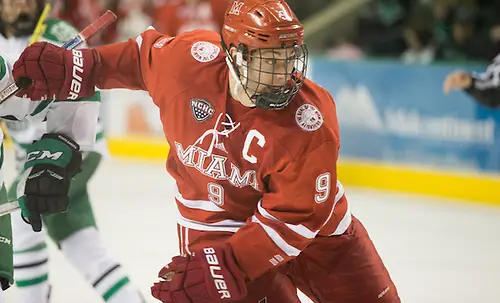 Facing one of the top teams in the country last weekend in St. Cloud State, the Miami RedHawks came out firing on Friday. They piled up a commanding shots advantage but the Huskies held on and then Ethan Prow scored at 19:21 of the period. Although Miami tied it just 15 seconds into the second, St. Cloud used the momentum of withstanding the first period as a spark in a 5-1 win.
On Saturday, it seemed like a repeat, as Miami outshot St. Cloud 11-5, but St. Cloud's Jimmy Schuldt scored at 18:15 to put St. Cloud up at the end of one. However, Miami this time used its early second-period goal as a spark. Josh Melnick scored at 5:54, and then in the next 4:37, Miami got two more goals and held on for a 3-2 win.
"I thought Saturday we maintained our composure and it was a hell of a game that clearly could have gone either way," said Miami coach Enrico Blasi. "They hit a few posts. We were opportunistic on our chances. We did a good job on the penalty kill. I'm not a big believer in just looking at the shots. You have to look at the quality of the play, and I thought it was pretty good hockey all weekend long."
Melnick, who has 18 points on the year, is one of two freshmen leading the RedHawks in scoring, the other being Jack Roslovic, who has 21 points.
"I think they aren't freshmen anymore; they are expected to go out and play hard every night and execute and play within their strengths and I think they are both doing that at this part of the season," said Blasi. "Part of our job is to continue to teach and develop. Both of them are working hard, not only on the ice but off the ice. It's nice to see that coming together at this time."
Miami is in fifth place, but the RedHawks' fortunes are looking up. After a disastrous 2-8-1 stretch to close the first half, Miami has gone 6-3-1 in the second half, and is only three points behind fourth-place Minnesota-Duluth for home ice in the first round of the NCHC playoffs.
"We've kind of played fairly well all year," said Blasi. "We had a couple of bad weekends where we didn't get results and all of a sudden it's a bad season for people who are looking at the standings and rankings and all that stuff. For the most part, we've been pretty consistent with our effort.
"We do have a young team, but our guys have been real good about playing hard and playing for each other. You eliminate a couple of weekends here and there and a couple games where we lose in overtime at North Dakota, overtime against Omaha early, and maybe that gains us a little more confidence and who knows. At the end of the day, we're a process-oriented program."
This weekend, Miami has a one-off with former CCHA rival Bowling Green before resuming its NCHC slate in two weekends against Western Michigan. Blasi and his team know how difficult Bowling Green is, as the RedHawks won 2-1 a month ago against the Falcons on a last-second goal from Anthony Louis.
"They're a well-coached team, very skilled, and they're as good as anybody in the country, really," Blasi said. "They have a lot of weapons up front, good D corps, good goaltending. And obviously on the road you have to play your best hockey and give yourselves an opportunity to be in the game."
NCHC players of the week
Offensive player of the week — Alex Iafallo, Minnesota-Duluth: Iafallo helped key an important sweep by Minnesota-Duluth of Colorado College. In a come-from-behind win on Friday, the junior scored two goals, his first multi-point game since his freshman year. He scored the go-ahead goal in the third, putting Duluth up 3-2, then sealed the win with an empty-net goal. On Saturday, he scored the game-winning goal with 2:42 left in a 3-2 win. He was named the game's second star in both games and posted a plus-3 rating.
Defensive player of the week — Andy Welinski, Minnesota-Duluth: Welinski got defensive honors for the second consecutive week for his play in helping Duluth sweep Colorado College. On Friday, he assisted on the Bulldogs' first goal in a come-from-behind win and also assisted on Iafallo's empty-net goal. On Saturday, he scored to tie the game 2-2 in the third. He was named the game's third star in both games and finished the weekend with a plus-5 rating and helped the penalty kill succeed on seven kills out of nine power plays.
Rookie of the week — Josh Melnick, Miami: Melnick helped his team to a key split with No. 4 St. Cloud State. In Friday's 5-1 loss, he scored Miami's only goal, tying the game at 1-1 in the second period. On Saturday, he again scored Miami's first goal, helping spur a rally in a 3-2 win. He was named the game's third star, and he won 12 faceoffs on the weekend.
Goaltender of the week — Charlie Lindgren, St. Cloud State: Lindgren helped the Huskies get a split with Miami by posting a .938 save percentage and a 2.02 GAA with 61 saves on 65 shots on the weekend. In a 5-1 win on Friday, he made 35 saves, including 17 in the first period, and made four saves on Miami's three power plays, helping kill all of the RedHawks' extra-attacker chances. On Saturday, he made 26 saves in a 3-2 loss and again helped St. Cloud's penalty kill go a perfect 4-for-4.