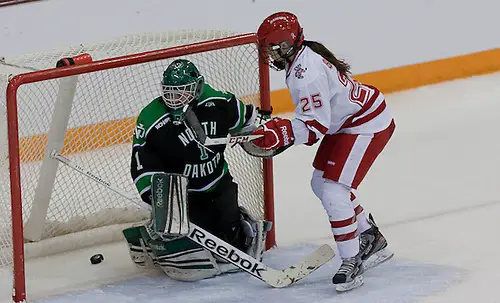 I've read a lot of student essays over the years written by seventh-graders through high-school students. Many of them use the five-paragraph essay format, and where they often tend to err is by being too formulaic, particularly in the introduction and conclusion. The essay will state a topic and list the three main points that will be discussed in the body. If this column was written in this manner, it might start out with a paragraph like the one below.
North Dakota is a problem that the rest of the country doesn't have to face. This is true because of the PairWise Rankings, geography, and the way that North Dakota plays.
What would follow next is a paragraph discussing each of the subjects: UND in relation to the PairWise, geography, and the Fighting Hawks' playing style. Admittedly, that likely doesn't look all that different from my usual writing style. Maybe I write like a seventh-grader.
It doesn't change the fact that No. 8 North Dakota has a better team than people many realize, one that would be a nightmare matchup for anyone in the first round of an NCAA tournament. If you're a fan of a team from ECAC Hockey or Hockey East with Frozen Four or NCAA Championship aspirations, should you be concerned? No, not at all.
Most of these fans aren't worried anyway. They see scores on UND's ledger like: Ohio State 3, North Dakota 2; Minnesota-Duluth 1, North Dakota 0; Syracuse 5, North Dakota 2; and Minnesota State 5, North Dakota 5. That's not the whole story, but let's save that one for last, and start with our old friend, the PairWise Rankings.
In most seasons, the PairWise has little love for a team like UND. It tries to give teams that play in a strong conference credit for doing so, but no matter how many kludges and tweaks get added to the formula for the Ratings Percentage Index, it has trouble looking past the mounting losses.
"The system is what it is," North Dakota coach Brian Idalski said. "We all know what it is. They made a positive tweak here, maybe, with the quality win bonus. At the end of the day, we're always, consistently as a league going to have top-five strength of schedule. There's a big difference between the top five, six-tier teams and team No. 15 and team No. 12. No one feels bad for us that our league is as tough and as competitive as it is. It's just the way it is."
In 2011, North Dakota finished fourth in the WCHA and, not surprisingly, its bubble popped. Obviously, UND had to find a way to climb into the league's top three.
Over the last four seasons, it has done just that. In 2012, third place allowed UND to get into the NCAA field. In 2013, North Dakota was back after winding up as the league's second-best team. Third place in 2014 and 2015 wasn't good enough, as UND fell short of the tournament picture.
Sometimes, the PairWise hasn't been the culprit. This season, the Fighting Hawks sit ninth in that ranking, at least two spots below a position that would do them any good. It isn't the only ranking that has UND short of the field. KRACH and WCHODR both slot North Dakota in eighth place. It fares best in Rutter's ranking, climbing to sixth.
The season where UND was most hurt by the use of the PairWise Rankings as the NCAA's official ranking system was 2013. While the other systems placed North Dakota in the top four and eligible to host a quarterfinal, the PairWise had UND eighth, and their tournament reward was a trip to top-ranked Minnesota. What would the reaction be if an Eastern team, rather than one from the West, were to be a comparable PairWise victim?
"When is that going to happen?" Idalski said. "I've been here nine years. Has that happened? The Eastern teams have the balance, and they're not going to vote to change it. Why would they? It behooves you to have a schedule in the mid-20s and to win a majority of your games."
Anyway, a partial change wouldn't do the Fighting Hawks much good. If they get into the field as the fifth, sixth or seventh team and the power structure at the top remains unchanged, they know where they'll be sent.
"We're coming back to Minnesota," Idalski said. "It's always gone through Minnesota for us."
As long as UND and the Gophers are both in the NCAA field, one as a host and the other on the road, then they'll always be paired unless some team like Bemidji State is also in the mix. Any other pairing results in an increase in the number of airplane flights, something that the NCAA avoids at all costs. This is part of the "geography" component of our five-paragraph essay.
"I don't know what the fix is," Idalski said. "It is what it is. We have to embrace it, and we have to get over the hump."
Geography also bites UND in the WCHA's schedule. Because most schools are so many miles apart, the teams play two-game series every weekend. In a league like the ECAC, teams only play two league games against the same opponent when it is a home-and-home with a travel partner — at most once a season.
"It's very difficult when you have teams like Wisconsin, and Minnesota, and Bemidji, and ourselves, and playing back-to-back like we do," Idalski said. "There's a lot of quality coaches. They're going to make adjustments. They're going to make a change. They're going to do what they need to do to make themselves competitive. So we play a game where Mankato has got four people in the neutral zone and a soft F1, angling and defending, and we come [to Minneapolis] and it's a track meet up and down. It's a challenge to prepare for both situations."
That brings us to the final topic in our seventh-grade essay, the style that the Fighting Hawks play. The perception may be that North Dakota packs it in, playing defense first, second, third, and beyond.
"I think our team would prefer to be aggressive, not sit back and trap," Idalski said. "I think we have a little more success when we're playing teams like [Minnesota] and it's up and down. A lot of our kids enjoy playing in a little more space."
So why do the losses mount? Sometimes, the goals just don't come.
"We just don't have a lot of kids, and I think it's overall in women's hockey, there's not a lot of kids who really can shoot and beat a goalie clean from the top of the circle," Idalski said. "Then you have a lot of teams who are collapsing and defending well and sitting back with people in the slot. It just makes it tough to get to the inside and tough to finish off plays."
That problem is compounded by the fact that many of the country's best goaltenders play for WCHA teams.
"Especially if they're defending well and keeping people to the outside, there's not a lot of second-chance opportunities," Idalski said. "Our league is solid. We say it over and over — a lot of quality coaches, a lot of good players. It's fun hockey."
In recent years, North Dakota versus Minnesota has consistently produced one of the best pairings.
Idalski said, "There was a great crowd [Friday], there was good energy in the building, and I don't know if there's anybody who would walk out of the building and say, 'That really wasn't worth the money to go watch.' That was super entertaining. That's a good product. If there's anything, I really wish as a league we could do a better job of promoting that, because it's good; it's good hockey. Up and down, that's a legit hockey game."
Entertaining or not, it's not always fun to coach. Consider a game like the first meeting in Grand Forks between the Fighting Hawks and Bemidji State, where the Beavers got a couple of friendly bounces, scored an extra-attacker goal in the last couple of minutes, and then won, 2-1, in the final seconds of overtime? How does a coach sleep after an outcome like that?
"Not very well," Idalski said. "Not very well at all."
However, real-life events off the rink do serve to put such things in perspective. The Fighting Hawks have had more than their share. For senior captain Layla Marvin, at the top of the list is the day her sister and teammate Lisa was struck by a car on a Grand Forks street.
"It was just over a year ago," Marvin said. "I think you think about things such as hockey as more of a privilege and an exciting thing that you're able to do, to have an able body. It's pretty special to be out there with your teammates. It was honestly an emotional time when my sister was in a wheelchair and we were out on the ice. It's just a tough time, and you have to be grateful for your opportunities and make the most of your time."
Players often describe teammates as sisters, and that is seldom more true than in a crisis situation.
"Team support was huge in Lisa's recovery," Marvin said. "It was something that's hard to explain, the amount of support that we got, not only from our teammates, but most of the hockey community, everyone around us, and everyone we've ever played with. They were there, every step of the way. They were in the hospital every single night with her. When it got late, my mom actually had to tell them to leave so that Lisa could sleep. There were teammates there the entire time, and that amount of support is something that we're very thankful for."
Some of these teammates have been together for quite a while. The Marvins, Shelby Amsley-Benzie, and Kayla Gardner were teammates on a dominant Warroad High School team that also included recent Wisconsin graduate Karley Sylvester.
"We had a lot of success at the high-school level," Marvin said. "We had a lot of good players on our team. It might have looked like we could buy goals then, but we worked hard for them."
Marvin has had to put in effort to get to where she is now, skating on North Dakota's top line with Amy Menke and Meghan Dufault.
"I struggled the first half of my time at North Dakota, and I had some growing pains," Marvin said. "I just think the most important thing is I worked through it to get where I am. I had an injury along the way, but overall, it's made me a better player and a better person."
Her seven goals match her total from her first three seasons combined.
"I think we do a great job of developing players because we let them play," Idalski said. "If I learned anything from [Dave] Haakstol and the men's team, you've got to trust your kids, you've got to let them go through the process and make mistakes, and you've got to develop them to be able to play the game. If I'm proud of anything, it's the fact that we've developed kids and our national-team players do well in world championships and Olympics because we've allowed them to make those mistakes to get better, to develop them."
The expectation of many was that once Jocelyne and Monique Lamoureux graduated, North Dakota would disappear from national tournament contention.
"The twins are good players, but we've had a lot of good players come through, also," Marvin said. "Right now, I feel like we're a pretty collective bunch, and we're getting some contributions from all the way up and down the lineup. You can't be successful in our league if you don't have that."
So with the development, the good players, and the contributions throughout the lineup, why the puzzling results?
North Dakota reminds me a little of a toy I had when I was a kid. It was similar to the Lego flyer that is sold now. It had a horizontal propeller with a ring around it, that sat on a small shaft with gears on it. You'd spin the propeller with a tool that was a cross between a roper starter and half of a zipper that had teeth that would engage the gears. When done correctly, the propeller would lift off and fly around the house, somehow finding all the fragile items and sending them crashing. But as a kid if you didn't pull the starter just right, it didn't turn fast enough and would sputter around on the floor for a second or two.
The Fighting Hawks need everything to be at top speed to fly effectively. Otherwise, they are vulnerable to crashing, but when there is enough energy in the system, UND is dangerous.
It has a win and a tie in four games against the country's second-ranked team, matched that versus the third-ranked squad, and has posted three shutouts in those eight games.
"We're a good club," Idalski said. "We're close. That's the hard part. We have to believe. We have to stay the course, because we're right there. It's just to manage pulling out a goal in these games, because we feel like we're right there with Minnesota. I really feel like we had the better of our games in Wisconsin. It's close; we've just got to keep battling to get healthy. It's really going to come down to our tournament."