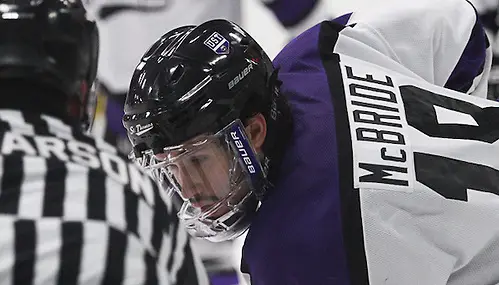 Connor McBride went into the season determined to play at the highest level possible.
That determination was fueled, in part, by the fact that he didn't feel as if he played up to his potential a year ago.
"I felt like I had a down year last season," McBride said. "I wanted to step up and have a really productive season. I've been able to do that and be a leader."
McBride is in his final season at St. Thomas and has been instrumental to the success of the Tommies, who are in contention for another regular-season MIAC championship. The talented forward leads the team in goals (11) and points (16).
A year has definitely made a difference. He has already doubled his point total from last season when he managed only six goals and two assists.
"I haven't really done anything different this year," McBride said. "I feel like I came into the season in great shape and that has really helped me out this year."
McBride had an opportunity to play right from the get-go. He scored five goals and dished out nine assists as a freshman before racking up seven goals and 10 assists his sophomore year.
"That was huge for me to get that experience," McBride said. "It helped me become a better player. Seeing the freshmen who are playing this year get experience reminds me of what it was like for me my freshman year."
McBride admits, though, it took time to adapt to live as a college hockey player.
"When I first got here, the speed of the game really opened my eyes," McBride said. "But the more I played, the more comfortable I became with the pace of the game."
One of the biggest challenges for McBride is dealing with the grind of the schedule that comes with being a student-athlete.
"It's not an easy schedule and there isn't a lot of down time because of practice, classes and games," McBride said. "It's a little bit of a grind, but I love playing the game. The time commitment is all worth it."
Playing at St. Thomas has been worth it as well.
"I had a friend play here and went for a visit and knew this is where I wanted to be," McBride said. "I have great teammates and get to play for a great hockey program."
McBride and the Tommies are hoping to keep their season going for as long as possible. They missed out on a trip to the NCAA tournament a year ago after a loss to Hamline in the semifinal round of the MIAC tournament.
The conference itself is a challenge and McBride is hoping the weekly tests the Tommies face pay off in the long run.
"Our conference is tough from top to bottom," McBride said. "You have to be able to bring your best every weekend."
McBride plans to bring his best the rest of the way. He knows time is winding down for he and his fellow senior teammates and he wants to make the most of every opportunity he has.
"This is our last chance to play college hockey," McBride said. "We feel confident about our chances of making a run. It's just a matter of going out and executing. I want to do whatever I can to help the team."
Standing at the top
Augsburg remains atop the MIAC standings this week after sweeping Hamline in a weekend series. The Auggies, winners of four in a row and unbeaten in their last six overall, are 14-6-1 overall and 10-1-1 in the conference. They own a four-point lead over second-place St. Thomas with two weekends remaining in the regular season.
Defense has been instrumental to the Auggies' success as of late. They have shut out two of their last three opponents and haven't given up more than three goals in any of their last six games.
Jordyn Kaufer has helped pave the way, starting 17 games. He is 13-4 on the year while fashioning a 2.05 GAA and a .926 save percentage.
The Auggies haven't been bad on offense either, scoring 80 goals, and Nate Flynn has been the catalyst of the offense, striking for 15 goals to go along with 10 assists.
Augsburg is a much better team than it was a year ago when it was just 12-14-0. The Auggies will be tested down the stretch, though, as they play this weekend against the Tommies and then close the year with a pair of games against St. John's, which is currently third in the conference with 21 points.
Coghlin reaches milestone
St. Norbert head coach Tom Coghlin won the 500th game of his coaching career in St. Norbert's 3-0 win over Northland Saturday.
Coghlin has coached in 680 games in his collegiate career and is the third fastest to reach 500 wins. He is in the midst of his 20th consecutive season of at least 18 wins.
Coghlin is in his 23rd year as the head coach at St. Norbert and his team has won four national championships, the last one coming in 2014. His team has appeared in 15 NCAA tournaments since 1997.
St. Norbert improved to 18-2-1 overall and to 14-2 in the league, the best mark in the conference. The top-ranked team in the nation has won its last five games.
The Green Knights have given up only three goals during their win streak and just 27 overall as Tony Kujava and T.J. Black have proven to be a formidable one-two punch in goal. They have combined to win 18 games and both own GAAs of 1.30 and 1.26, respectively.
Offensively, four players have scored at least 10 goals, with Michael Hill, Pijus Rulevicius and Roman Uchyn have come through with 11 goals apiece. The Green Knights have struck for 99 goals in all.
Pointers chasing championship
Wisconsin-Stevens Point plays its final two games of the regular season this week, hosting Wisconsin-Stout on Friday and fellow national power Wisconsin-Eau Claire on Saturday. The fourth-ranked Pointers are in a tie for first in the WIAC with Wisconsin-River Falls and are hoping to clinch the title this weekend.
The reigning national runner-up has won its last six games, scoring six or more goals in four of those games.
Saturday's showdown with the 10th-ranked Blugolds will be the most intriguing matchup of the weekend. In the last meeting, Stevens Point lost 5-4 in overtime to Eau Claire.
The Pointers have been tremendous offensively, striking for 121 goals. Four players have scored at least 13 goals, with Lawrence Cornellier and Kyle Sharkey punching in 16 apiece.
Best of the West
St. Norbert is the No. 1 team in the nation this week in the USCHO.com Division III Men's Poll. Adrian falls to third, while Stevens Point checks in at No. 4. Eau Claire is ranked 10th. Marian, which has won 10 in a row, is No. 12, while River Falls sits at No. 13 in the poll. St. Scholastica is 15th in the latest poll.