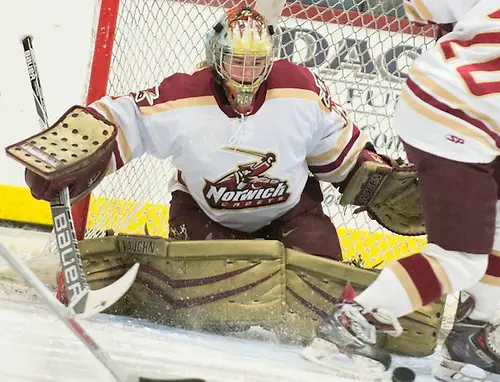 It's a good problem for any hockey team to have:  two No. 1-caliber goaltenders.
That's precisely the case with Norwich junior Céleste Robert and sophomore Laurie King.
Robert has played in 14 games this season and King has seen time in 10. In NEHC games, Robert is a perfect 8-0-0, which may give her the edge down the stretch.
Still, both say the internal battles the two wage with one another on a weekly basis are nothing short of a positive for the No. 8 Cadets.
"Personally, I always compete with myself; I need to be better and better every week, every day," said Robert. "Laurie and I have a healthy competition, I would say. Being only two goalies this year, I don't see her much during practice, [as] we both have our end. During goalie practice is when we watch each other more and I like that. There are things that Laurie does better than I do and I try to learn from watching her. We are supportive of each other. During games, we always have each other's backs. If there is a time out called, I always go talk to her. We talk about saves, scary plays, or goals that were scored. Off the ice we are friends. We're in the same major, so I pass down my notes.
"We often relate hockey to engineering and others on the team think we are a little weird, but what goalie isn't?"
King is in total agreement.
"Céleste and I are competitive on the ice, but also friendly," said King. "People always say goalies are a different breed and we can definitely relate to each other. When one of us makes a good save, the other is usually screaming or clapping their stick on the ice. We both want the other to succeed just as much as ourselves. Off the ice, we are actually close as well. Both of us being mechanical engineering majors, we tend to talk about certain classes and relate her struggles she had to the ones I am having now. She is always helping me and giving me tips to do better."
In the classroom, both are also finding what they need to succeed.
Last summer, Robert participated in research studies in material science at Norwich and enjoyed it. She's looking to partake in similar research this summer. An internship in the piping industry may lead to job back home in Quebec, and, she said, "If all else fails, I could do this type of job."
"I am not worrying about it yet," Robert said. "Things tend to work out one way or another and great opportunities tend to come when you least expect it, so I am open to pretty much anything at this point. I'm still young and I know no matter where I go, I will have my chance to succeed if I work hard, and that's something my parents embedded in my mind from a very young age."
For King, a native of Waddington, N.Y., she, too, sees her career options up in the air.
"After I earn my degree, I have not decided what exact area I will go on to, but for me, that is the best part," she said. "Mechanical engineering is such a broad field and being a woman, it provides me with so many options. This summer, both Celeste and I are hoping to participate in summer research projects where we will broaden our understanding in the field and enjoy learning and applying it."
Each goalie also mentioned how when looking at colleges during high school, Norwich was an easy choice for them, as the hockey and academics was the perfect combination.
"Personally, I chose Norwich because I knew I wanted to play at a competitive level and be in the running every year for a national championship – I knew Norwich was a school that could do that for me," said King. "Also, when considering the teams that could do that, I wanted a small school that would offer mathematics or engineering programs that were successful. Norwich had both my educational needs and athletic desires."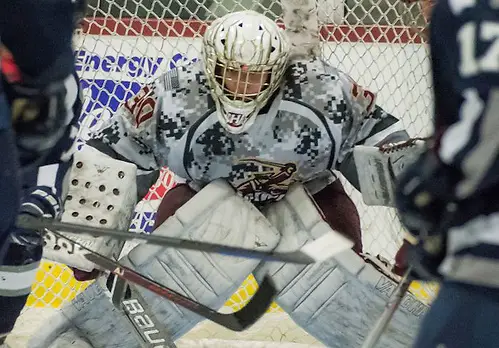 "I did a postgraduate year of high school because none of the schools that were interested in me had what I needed in a college," remembered Robert. "Since fourth grade, I've always said that one day I would become an engineer. There was a goalie that played junior hockey in my town that would coach me sometimes – Mathieu Poitras, he was one of my heroes – and when he left, he went on to McGill University (in Montreal), played hockey there, and studied engineering. That was the moment I decided that I wanted to study engineering and play college hockey. I went to small schools growing up and to prep schools where the class sizes were always small and here at Norwich, it's the same.
"The cherry on top is that the hockey program here is in the top of the nation, which makes Norwich perfect for me."
Now with just four games left in the regular season, all NEHC games at home, Norwich's goalies know the time is now to keep the momentum going. The Cadets have won six straight and eight of 10.
"I think this season has been pretty good in general," said Robert. "We've had some ups and downs throughout the season and personally, there are a couple of games I wish I could go back to, a couple of goals that would have made a difference, but they were all learning points for me. Some of the big games were pretty close, most of them were one-goal games, but we just have to be more consistent and play hard and we can beat the big teams. I believe we can go far this year and accomplish our goals. Teamwork, communication and hard work are the top priorities if we want to be successful. Our first goal is to finish the season strong, and then we have to win the NEHC.
"If we win NEHC, that will light a fire under us to grind out a few more wins to get to the NCAAs."
King called the present "the most important time of the year."
"Now is where every rebound I give up may cost us a goal or every time I let in a goal, it could be the game-winning one for the other team," said King. "This requires more focus and determination in both practice and every game. Working with our goalie coach, Cap Raeder, on a weekly basis helps both Celeste and I practice and learn how to make sure we are ready for whatever shot we face.
"Coming off of a couple big wins, I feel we are ready to keep this rolling into playoffs. Not to say that we are content with where we are, because we would all love to have had a couple more wins, but what I mean is we have learned from each of those losses and are ready to do whatever it takes to succeed going forward."
Norwich is currently 15-6-0 overall and leads the NEHC with a 12-1-0 mark. Games this weekend include Friday against Southern Maine and Saturday against the University of New England.
"To make this season a success, I believe it all starts with hard work and desire," added King. "Our team is young, but not inexperienced, and we have seen the best teams and had some struggles, but we know what it takes to be on top. Every day, we work closer and closer to reaching the best of our abilities, both mentally and physically. Throughout the season, we have shown the work ethic necessary and I have confidence in our leadership, both the upperclassmen and the younger half and coaches, that come playoff time, we will be ready.
"If we play our best every game, I will consider the season a success no matter the outcome."