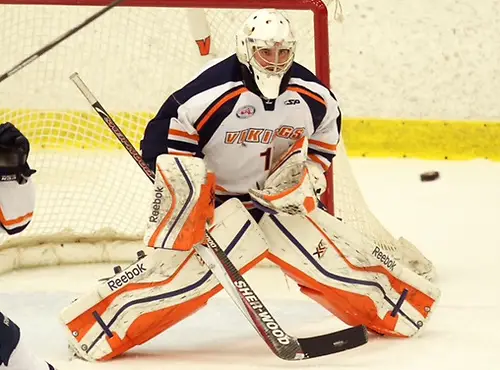 The end of the regular season is already upon some teams this weekend, while others have just two more weekends to control their destiny for playoff positioning.
Every game is critical, but the battles for home ice feel even more like it is already the playoffs.
The picks from last week saw a solid bounce-back week as I finished at 5-2-0 (.714) for the weekend. The season record now stands at 46-29-7 (.604), which lands me just above the 60 percent success threshold. No time to avoid the tough matchups or look for any easy games — there aren't any in February!
Here are my picks (including a bonus eighth game) for the East this week:
Thursday, Feb. 11
Plymouth State @ Salem State
The Vikings and Panthers are in a neck-and-neck battle for the top spot and regular-season title. This game likely goes a long way in determining the top seed in the MASCAC tournament, so expect a playoff atmosphere at Rockett Arena. Both teams are worthy and a tie would not shock or disappoint, but I think the home team wants to send a message – Salem State 3, Plymouth State 2.
Friday, Feb. 12
Williams @ Middlebury
This is the back end of an unusual weekday home-and-home series between the travel partners. Both teams have a lot to play for with Williams looking to hold on to the top spot, while the Panthers are in a battle for a home-ice berth. These rivalry games always go to the final buzzer and this time the visitors eke it out – Williams 3, Middlebury 2.
Geneseo @ Buffalo State
This game might be a tie-breaker in who nails down the second spot behind Plattsburgh in the standings. The Bengals have shown great balance offensively and are getting good goaltending. Yeah, and did I mention they are the home team that doesn't make the long bus ride? Home ice matters in this one – Buffalo State 4, Geneseo 3.
Utica @ Elmira
There seems to be a significant home-ice factor going on in the ECAC West this year, or maybe it's just with some teams. The Pioneers took four huge points at home against Manhattanville last weekend and they could be for naught if they don't keep the momentum going on the road – Utica 4, Elmira 2.
Saturday, Feb. 13
Plattsburgh @ Potsdam
The trip to play the Cardinals earlier in the season was a house of horrors for the Bears, who are in a battle for a top-four spot in the conference. Home ice is nice, but the Cardinals speed and balance is difficult for many teams to contend with at home or away – Plattsburgh 5, Potsdam 2.
Wentworth @ Nichols
The Leopards have found their game over the past few weeks and Joel Miller has been a key contributor in goal against the league's best. Nothing easy about playing Nichols and All-American Alex Larson, but that is just the motivation this underdog Wentworth team seems to thrive on – Wentworth 3, Nichols 2.
New England College @ Babson
The Beavers are still in the hunt for the top spot and aren't going to make it easy for Massachusetts-Boston to claim the regular-season title. To have a shot, they will need some help after they take care of the Pilgrims on home ice – Babson 4, NEC 1.
Sunday, Feb. 14
Trinity @ Bowdoin
This is just the kind of game head coach Terry Meagher would ask for in his final regular-season game behind the Polar Bears' bench. Trinity is in a dogfight for top spot in the conference, while Bowdoin has quietly moved into contention for a home-ice playoff seed. Do you believe in storybook endings? I do, and in overtime to add a little extra drama – Bowdoin 4, Trinity 3.
Time is running out on teams still searching for their game. It isn't about who played great all year, it's about who is playing at their best now, when it matters most – drop the puck!