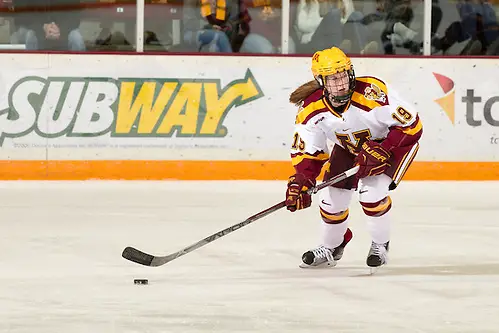 Candace: The regular season is in the books, and now it's heart attack time. So much happened in the last weekend it's hard to know where to begin. Harvard had seemed to lock up home ice in the first round by beating Colgate Friday, only to lose it with a surprise loss to Cornell the next night. New Hampshire leapfrogged over Vermont in the Hockey East standings by beating Connecticut while Vermont could only get one point against Merrimack. Boston College posted the second perfect regular season in women's college hockey history. Boston University beat Northeastern for the first time this year, adding more drama to their potential semifinal. In the CHA, Penn State finished ahead of Robert Morris. St. Cloud beat Minnesota-Duluth Friday to secure fifth place in the WCHA, while Ohio State upset North Dakota, whose scoring difficulties continue. Who knows which Fighting Hawks will show up in the WCHA tournament.
With all that said, I think the place to start for me is with two of the most storied programs in women's college hockey: Minnesota and Wisconsin. The Gophers hosted the Badgers this past weekend, and avenged their December losses by sweeping. The two wins moved Minnesota ahead of Wisconsin in the PairWise, and definitely threw some doubt into the Badgers' heads going into the WCHA tournament, especially since, for the first time all year, Ann-Renée Desbiens and Wisconsin gave up four goals in a game, and they did it twice. Amanda Kessel continues to get stronger, and she's historically hurt Wisconsin. She did so again by scoring twice in Friday's 4-1 win. Saturday, the Badgers rallied from a two-goal deficit, tying it on Annie Pankowski's penalty shot goal in the third, but Kelly Pannek scored at 4:06 of the OT to give Minnesota the win.
It was a three-point night for Pannek, and what I also found impressive is that Hannah Brandt was held without a point, Kessel was held without a point, and Dani Cameranesi was limited to a single assist, but Minnesota still put up four goals on Wisconsin's vaunted defense. You were at both games. What was your impression, and does this give Minnesota momentum heading into the WCHA tournament and put doubt in Wisconsin?
Arlan: I'm not a big believer in things like momentum when it comes to hockey. Confidence is a bigger factor, but I'm sure that the Badgers came into the weekend with fresh memories of winning the season title and all kinds of confidence after their series sweep in Madison, and what did that matter once the puck dropped? Wisconsin probably feels OK on the confidence front because of its rally on Saturday. That's a nice moral victory, but I'd guess the Badgers would have preferred an actual victory like those won in December.
When Minnesota was putting together its long unbeaten streak over Wisconsin that was snapped in Madison, it seemed like the goaltending was always either equal or in the Gophers' favor, the best skater in a particular game was wearing maroon and gold, and Minnesota had a longer list of people who could step up and be the hero at any given moment. Back in December that changed, in that Desbiens was fantastic, and Pankowski was the most-impactful skater in both games. The depth didn't come into play that much because that duo had such a strong series and the Badgers kept all the Gophers from really busting loose.
This weekend, Minnesota was really a different team than it was the first time. All the forward lines have been reconfigured. The addition of Kessel, who looks more like herself with each week that passes, is the obvious change, but now the Gophers have a proven national-team player in Cameranesi on Pannek's line and Cara Piazza to center the third line. Even though Wisconsin was able to limit Minnesota's dynamic power play to one goal in eight tries, the Gophers got production throughout the lines over the course of the weekend, although they lost Caitlin Reilly to a broken collarbone on Friday. In that game, the goal scorers were people who haven't scored that much during the season: Kessel with her second and third, Megan Wolfe tallying her fifth, and Sydney Baldwin netting her fourth. Saturday, the Minnesota goals came from people it has depended upon for scoring all season: Sarah Potomak, 12 goals; Kate Schipper, 12 goals; Piazza, 11 goals; and Pannek, 21 goals. The fact that Wisconsin kept Cameranesi (28 goals) and Brandt (24 goals) from connecting all weekend and still gave up eight has to raise some flags.
The bigger problem might be that Wisconsin was back to losing the goaltending comparison this weekend, particularly on Friday. Some detractors have faulted Amanda Leveille over the years for giving up rebounds, but in the first 10-12 minutes of the series, Desbiens wasn't handling anything cleanly. After the earlier series where she may have been in the heads of some of the Minnesota shooters, it set the tone for the entire weekend and reminded everyone that she is still human.
Saturday's game was interesting in that Pankowski almost was assessed a game misconduct for a hit from behind into the boards 30 seconds after the Gophers went up by two goals. For a time, it looked like that decision by the referees to let her continue would be pivotal, when she set up the first goal and tied it up with a beautiful move on the penalty shot. After being the overtime hero in Wisconsin, however, it was almost like she owed a debt to the hockey gods now. It's a thin line between hero and goat once a game goes to OT. Pankowski turned over the puck at center ice and that led to Pannek going in on what was almost a two-on-zero break with Cameranesi as a pass option. She said she was intending to pass the whole way, but Jenny Ryan was back-checking and Pannek must have spotted Desbiens sitting deeper in her net to give her a chance to recover if the pass was made, and Pannek finished top shelf.
Essentially, Wisconsin and Minnesota are back to even. Should either win the WCHA Final Face-Off, that team will be the second seed in the NCAA tournament. Should both be knocked out of the league tourney, the team with the better playoff record will finish higher. If both lose at the same stage, that likely favors Minnesota, because the Gophers will draw a tougher bracket by virtue of Wisconsin being the higher seed.
Top seed is out of the question, because even the worst-case scenario for BC would have it losing just once before selections are made. There are two recent precedents to the Eagles' just-completed perfect season. One is obviously Minnesota from three years ago, a team that was able to back it up with a perfect postseason. The other is the Harvard team that ran the table in the ECAC regular and postseasons and had only one loss prior to the 2008 Frozen Four. The Eagles have yielded more goals than either of those teams, but they are much more prolific offensively than that Harvard squad. That team's only loss during the season was a one-sided, 4-1 beating by UNH, a team that may have been robbed of a national championship by Kim Martin's heroics. I'm not sure that any team the Eagles have seen thus far is bound for the Frozen Four. Do you see BC's story playing out similarly to either 2008 Harvard or 2013 Minnesota, or something different?
Candace: I wish you hadn't asked me that. First, congrats to the Eagles on an amazing season. It's not easy to run the table, and BC had some challenges, but the Eagles always met them. I have a feeling that BC will take the Hockey East tournament, though it will be difficult. Whether they can then win three more games after that to match Minnesota's perfection of 2013 is something I think might come down to the tournament draw. I think hockey games sometimes come down to matchups, and they can also come down to intangibles. BC has the top seed, but if Wisconsin or Minnesota were to somehow drop to a four seed in the NCAA tournament, such that BC had to go through both Wisconsin and Minnesota, I think it would be neigh impossible to match Minnesota's 2013 season.
I see some differences from BC of this year and BC of last year. I think the Eagles are getting more balanced scoring. For instance, the Eagles trounced Providence Saturday, 9-1. You would think you'd find Alex Carpenter all over the score sheet, but she had a single point, an assist on the ninth goal. Haley Skarupa did better, with two goals and an assist, but that still leaves six BC goals where two of the top players in the game weren't responsible. Some of the other teams aren't nearly so balanced. For instance, Northeastern scored 148 goals this year; 77 of them, more than half, came from three players, and Kendall Coyne alone was responsible for nearly a third. Look at some of the ECAC teams, like Clarkson and Quinnipiac. The ECAC champion Bobcats scored 110 goals this season, and 43, nearly half, come from two players, Taylar Cianfarano and Melissa Samoskevich. Throw in Nicole Connery's 12 goals and half the scoring comes from three players.
BC has more threats. Its top seven scorers would be in the top two or three on many other teams, including powerhouses like Wisconsin. BC has 10 players with more points than Mercyhurst's leading scorer, Rachael Smith, and the Lakers are a possible first-round opponent. BC's power play is second in the country, much better than last year's unit, and its penalty kill is fourth. I said it last week too, but Katie Burt is no slouch in net. She's been overshadowed somewhat by Desbiens, but she matches up well with many goaltenders.
Even with all those advantages, it will be really hard for BC to win out. Minnesota in 2013 went to triple OT in the NCAA tournament quarterfinals against North Dakota, and then OT against Boston College in the semis before walking away with a win over Boston University in the championship.
I mentioned Clarkson and Quinnipiac, who took the top two seeds in the ECAC. There are many surprises after that though, with Colgate and Princeton on home ice and Cornell making the tournament on the last day. Looking at the first round matchups, I don't see any sure things. No. 8 seed Rensselaer lost 4-0 to Quinnipiac on Saturday, but the Engineers did tie the Bobcats back in January. No. 3 Princeton split the season series with No. 6 St. Lawrence. No. 5 Harvard beat No. 4 Colgate twice, including this weekend, and No. 2 Clarkson had a tie with No. 7 Cornell just last month. It wouldn't be too much of a shock if every home team lost. What do you see when you look at the ECAC?
Arlan: I don't see quite as homogenous a pool of teams as you do, apparently. Granted, it is more compact than the other leagues, with only 15 points separating Quinnipiac and Rensselaer in the standings. Still, I'd be shocked if RPI was to knock off the Bobcats. I don't mean any disrespect to the Engineers, who are a legitimate playoff team, but they don't score much, and they didn't score at all against Quinnipiac in two games and 125 minutes. As you pointed out, RPI was able to get a tie in the first meeting despite not scoring, but with only 15 shots on goal in the first head-to-head and 14 in the second, it doesn't feel like the Engineers were right on the verge of breaking through against Quinnipiac. Though neither team commits many penalties, special teams can be huge in the postseason, and Quinnipiac ranks third in the country in both power play and penalty kill. RPI is in the middle of the pack on the kill, but its power play is second-worst after Union. Can RPI frustrate Quinnipiac and take the Bobcats to the limit and make it a long, tough series? Yes, but I have trouble believing that a team that lost only twice all season, and not at all at home, is going to lose twice in three days.
Cornell has a tough matchup as well. The Big Red also were able to get a tie from this pairing on home ice, but as in the previous discussion, Cornell lost 4-0 in the building where the quarterfinal will be played. For sure, Clarkson was eliminated from the ECAC tournament by Cornell in each of the last two seasons, but this isn't anywhere close to the same Big Red roster. Statistically, Cornell is at a big disadvantage, yielding twice as many goals per game as the Golden Knights do and trailing Clarkson by more than a goal in scoring average. Cornell is on a four-game winning streak. It had one other such stretch this season, and coincidentally — or not — it was broken by that 4-0 loss in Potsdam.
St. Lawrence at Princeton shapes up to be a very close battle. They played a pair of one-goal games during the season, each winning at home. The Saints match up fairly well, although allowing exactly one more goal per game is worrisome. Still, it's been 10 years since the Tigers made it past the quarterfinal round, so I'd agree with you that a series win for SLU would not be a shock.
Harvard is an enigma from game to game. At this point, nothing the Crimson do or fail to do will be able to shock me, because I've given up on trying to guess what they'll do next. The teams are rather even statistically. Harvard is a little better defensively, the Raiders score more, but the net of that is a small edge to Colgate. The Raiders are young, they're inconsistent, but while Harvard is probably a favorite despite being on the road, I don't have a ton of belief in the Crimson after they've played at a .500 clip over the last 20 games. A surprise might be this series finishing in 120 minutes. I'd expect that we'll see overtime and/or a third game here.
While we're talking about shock or lack thereof, what was the biggest surprise among the non-playoff teams in the ECAC: Yale missing the playoffs, Dartmouth's free fall out of the playoff picture and Mark Hudak's decision to retire, or Union failing to win a single game?
Candace: I'm going with Dartmouth completely collapsing. Union not winning a single game is a mild surprise, but sometime in January, we saw it coming. Yale I felt was always marginal to make the playoffs. The Big Green meanwhile, started their season pretty well, defeating Harvard and tying Clarkson in the first two weeks and ascending to No. 10 in the USCHO.com poll. They had a puzzling result against Maine in mid-November, losing 4-1, but still going into Thanksgiving, the Big Green were 4-2-2 with some pretty respectable results.
Then they traveled to Wisconsin, got shut down pretty hard twice in 4-1 and 4-0 losses, followed that with a 7-1 blowout loss to Quinnipiac, and it seemed they never recovered. Starting with the first Wisconsin loss, Dartmouth went 0-14-1. The Big Green then beat Brown and Union back to back before closing with three straight losses. A season that had a lot of promise fizzled abruptly. It's hard not wonder if that played into Hudak's retirement. He's been the coach of the Big Green for 13 years, and has been with the program for 18 years. His teams won two ECAC tournament championships, one regular season ECAC title, and two Ivy League titles, and made the NCAA tournament eight times, including twice reaching the Frozen Four. He's been one of the best coaches, compiling a record of 224-143-33, so we wish him the best.
Unless Dartmouth gets a decent recruiting class, the Big Green could have a hard go of it next season too. The good news is they will have a senior netminder next season in Robyn Chemago, and almost the entire blue line corps will be back. The bad news is Dartmouth struggled to score this season, and three of its top four scorers graduate. Like many teams, goals can sometimes be hard to come by, and Dartmouth will either need more production from its current players or better young scorers to come in next season if it wants to make it back to the playoffs.
So, let's turn to the CHA. Mercyhurst won the league title, as it has done every year the CHA has been in existence. There have been two years where Mercyhurst has shared it, but the Lakers are always the big dog. This year, they finished one point ahead of Syracuse. The two split their season series, so a potential CHA championship game between the two, with a berth in the NCAA tournament on the line, would be intense. Of course, before that happens, they'd have to get past their semifinal opponents. The first round pits Penn State against RIT and Robert Morris against Lindenwood. Penn State leapfrogged Robert Morris in the league standings when the Colonials lost to RIT Saturday while Penn State tied Mercyhurst
We've seen RIT get hot the last two years to win the CHA tournament and last year advance to the NCAA tournament, but somehow I don't see it happening this season. Penn State took three of four from the Tigers this season, including two shutout wins at home at the end of January. Robert Morris, meanwhile, continues to puzzle me. I really had expected more from the Colonials at one point this season. Robert Morris hosts Lindenwood. In their four games this season, two went to overtime, so upset potential certainly exists there, especially with Nicole Hensley in net for the Lions. These two faced each other in the first round three years ago, and Hensley set a record with 90 saves in a 2-1 triple overtime loss. Given that two games went to OT this season, at least one extra session seems likely.
What did you think of the CHA finish, and what do you think the playoffs promise?
Arlan: After the loss to Syracuse to close out January, Mercyhurst certainly did what it needed to do to hold onto its lead over the Orange, winning five straight games before the final tie with Penn State. The Lakers' 14-3-3 conference record, while still strong, is the lowest winning percentage of any of the four conference champions. I think the final game was a perfect metaphor for Meryhurst's season, that it had a battle on its hands the whole way and nothing came easily. Ironically, Mercyhurst had a lower winning percentage last year when its conference mark was 14-5-1, but it won the league by seven points. I guess the takeaway is that the race was closer this year because Syracuse was improved.
As for Robert Morris, the Colonials had their struggles defensively, yielding 57 goals in their 20 conference games. Compare that to the CHA totals of the three teams that finished above them: Mercyhurst, 26 goals allowed; Syracuse, 28; Penn State, 35. That helps explain why RMU seemed to have greater potential in its lineup but was rather inconsistent. The Colonials are quite young, with only three seniors, none of whom are in the top eight of the team's scoring leaders. Maybe they are a year away from contending?
Once the playoffs start this weekend, I expect both of the CHA road teams to be pesky and tough to put away. Three-game series, overtimes, or both wouldn't be a surprise. If anything, I'd say that Robert Morris might have an easier time advancing over Lindenwood. The Colonials have a top-10 offense, so I'd expect them to be less likely to wind up in a series where games are stalled at 0-0 for long stretches. That can produce upsets, because the longer the score stays tied, the more the pressure and the frustration mount for the favorite.
Lindenwood and Penn State have scoring offenses that are tied for 29th, averaging a goal less than the Colonials, and RIT is even less potent. The kicker is that we've seen the Tigers find a different gear in the postseason, and that might be enough to steal a series from a PSU squad that only has two people with 20 or more points. Admittedly, RIT doesn't have anyone that has reached that threshold, but the Tigers have a couple of seniors in Jess Paton and Carly Payerl who provide a lot of the same spark that Amy Petersen and Laura Bowman do for the Nittany Lions. Since she returned from injury, senior goaltender Jetta Rackleff has been playing well for RIT. If you asked which CHA matchup is most likely to produce an upset prior to the championship game, I'd go with RIT over Penn State. I don't think Lindenwood can beat Robert Morris twice, and Mercyhurst and Syracuse look better than the teams playing this weekend. For an upset in the first couple of rounds, I'm looking toward the Tigers versus Penn State.
One team that had a nice season despite not moving on to the playoffs is Merrimack. For a first-year team, the Warriors did some nice things. They won five games, all against full-time D-I opponents, and they avoided the awful losses. Their worst defeats were by six goals, and for a new team sharing a league with BC and Northeastern and the offenses that they possess, that's not bad. They have some nice pieces in place, including a solid goaltender in Samantha Ridgewell, scorers with some upside, and a decent power play, and end on a positive note, unbeaten in their last three games. What did you think of the team Erin Hamlen assembled in year one?
Candace: I think the Warriors have a lot to be proud of, and I think Hamlen has assembled a team that can have success in the future. The Warriors had some good results. They beat New Hampshire, they beat Vermont twice, they tied Connecticut, and they beat Colgate, which is in the top 10 of the USCHO.com poll. They played high-flying Boston College well twice, losing 2-0 and 4-1. Considering some of BC's explosions against other Hockey East teams, those results are nothing to sneer at. Ridgewell is a freshman, and she posted a strong save percentage of .915. She made 52 twice against BC.
What's especially of note regarding the Warriors is that save for one player, the entire squad is composed of freshmen. There's a lot to grow with there. Paige Voight, Katelyn Rae, and Paige Sorensen scored at a decent clip for freshmen, and if their skill at scoring can improve while the rest of the team does, I wouldn't be surprised to see the Warriors in the Hockey East playoffs next year. Being in the playoffs this year was probably too much to expect.
As long as we are talking about teams trying to find the positives, what are we to make of Union not getting a win this year? The Dutchwomen came close, getting a few ties, including tying Colgate and also Minnesota State, the latter of which didn't get a win in the WCHA. What's interesting is that Union had six ties, and all were on the road. The Dutchwomen went 0-15-0 at home, and while some of those games were close, they just weren't able to get there. Scoring was an issue. The most goals Union scored in a game was two. They were shut out 17 times, half their games, and then had a lot of games where they only scored one goal.
Minnesota State meanwhile, did win out of conference, but went 0-25-3 in the WCHA. The Mavericks lost twice in OT, once to Minnesota-Duluth and once to St. Cloud. Ironically, outside the ties, their best results may have been against Minnesota, where the Mavericks lost by a single goal three times. Again, scoring was an issue for John Harrington's team, which means the Mavericks will likely be swept in Madison this season and end their season.
Do you see much potential for improvement from Union or Minnesota State?
Arlan: Earlier, you responded to one of my questions with, "I wish you hadn't asked me that." Now it's my turn to feel that way. I'll take the easier side of that question first.
Minnesota State improved over the course of this season. I thought it was a much better team after the holidays, and the results seem to support that, even if there weren't any league wins to show for it. All three of MSU's WCHA ties came in 2016, and there were other positive results, like a pair of one-goal losses in Minneapolis. The Mavericks started the season behind everyone else, with very little scoring and no starting goaltender returning, and a roster that was largely freshmen and sophomores. Everyone has gained experience. The team will graduate only one senior, albeit Katie Johnson is the team's leading scorer with 21 points. Under Harrington, the Mavericks will be better next year. The question is, how far will they go? A number of teams like Minnesota, Bemidji State, North Dakota, and St. Cloud State will get hit hard by graduation, but is Minnesota State within range to take advantage of wobbles by any of those teams as they fill holes? Probably not. I think the Mavericks will be closer to the rest of the pack, but I don't know that they are poised to leap ahead of anyone.
I can't muster the same optimism regarding Union. It does have greater opportunity to make strides, in that it has teams near it in the ECAC standings that are dealing with struggles of their own. Brown has rebuilding to do, and you mentioned Dartmouth graduating a lot of its scoring, but the Dutchwomen actually returned a couple of forwards coming off of 20-point seasons, Kathryn Tomaselli and Jessica Kaminsky, and looked like they might finally be able to mount some offense. Instead, that duo didn't reach 20 points combined, and the offense overall was dismal, scoring just 25 goals all year. Melissa Black had a great freshman season in net, and I imagine she'll anchor Union for the next three seasons, but what does it even matter if the team can't score once a game? Freshman Jacyn Reeves was second on the team with nine points, so that's a start. However, the highest career point total next year will be current junior defenseman Kathryn Davis with 14 points. None of the other returnees are in double digits in career points.
Should I have just answered, "No," and moved on?
We still have a couple more leagues where we haven't talked about quarterfinals, but I don't see many upsets in the making. So before we look at the Hockey East and WCHA playoffs, do you have any thoughts regarding who might emerge as player of the year or rookie of the year in each of the four leagues? There aren't as many slam-dunk winners as there are in some seasons.
Candace: I think there are actually a few slam-dunk winners, especially in the ROTY category. So let's get to the slam-dunks first. Sarah Potamak of Minnesota is the easy choice for ROTY in the WCHA, and Makenna Newkirk of BC is just as easy a choice for that category in Hockey East and Karlie Lund of Princeton the same in the ECAC. In the CHA, it's a little more up for grabs, but I think you have to choose Sarah McDonnell of Mercyhurst, whose play in net is a big reason for the success of the Lakers in the second half. I suppose you could argue for Northeastern goalie Brittany Bugalski in Hockey East, but I think Newkirk is having a better season.
You are right about player of the year being a little harder. In the ECAC, I think it comes down to Quinnipiac, and either Taylar Cianfarano or Sydney Rossman. The former has provided a great deal of the offense for the Bobcats, while the latter has been a reason that Quinnipiac can win even when it doesn't score. She has the second best goals-against in the country, the second-best save percentage, and the second-best shutouts, so I'll go with her. I'd also argue for a goaltender in the WCHA with Desbiens, who leads all those categories, her uncharacteristic lapse this past weekend not withstanding. While Dani Cameranesi and Hannah Brandt of Minnesota are having outstanding years up front, I think Desbiens is more of an impact player for her team than either of those two.
For the CHA, POTY comes down to Stephanie Grossi of Syracuse or Brittany Howard of Robert Morris. The latter has more points, but the former has been more effective in helping her team have success, so I'm going to say Grossi. That leaves Hockey East, which comes down to Carpenter or Coyne. Either is a worthy choice. Carpenter leads the country in scoring, again, though only one point more than Coyne. While Northeastern as a team isn't as deep as BC, Coyne's line has players who can score, and would be top players in any league. You can say that Carpenter has more support, and I know you said earlier in the year that without Coyne, we wouldn't be talking about Northeastern as an NCAA tournament team, but you could say the same about Carpenter. As deep as BC is, Carpenter is the player that helps the entire team, because every other team needs to focus on her when she's on the ice. I'm going to punt on that; I'd be tempted to name them co-players of the year.
As for upsets in the WCHA and Hockey East, the only place I can see it happening is in the 4/5 matchups. In Hockey East, Maine won't beat BC, and Providence will be overwhelmed by Northeastern. Boston University has been more up and down, but the Terriers aren't going to be surprised by Vermont. That leaves Connecticut versus New Hampshire; the two split this past weekend. I see that series going three games, though I think Connecticut hangs on.
Out in the WCHA, Wisconsin will defeat Minnesota State in two, and Minnesota will do the same to Ohio State. Bemidji State plays tight defensively, which could make it more vulnerable to an upset, but the Beavers did sweep all four games against six seed Minnesota-Duluth, with one going to OT. The Beavers also shut out Duluth twice in those four games. It might go three, but I see Bemidji advancing.
That leaves North Dakota against St. Cloud. Both teams have struggled with scoring at times, with North Dakota in particular being very hot or cold. North Dakota won the season series between the two, going 2-1-1. St. Cloud goaltender Katie Fitzgerald is capable of playing at a very high level, and could help shut down North Dakota. I anticipate this series also going three games, but am not sure of who will win it.
Do you see either my playoff picks in those two conferences, or my rookies and players of the year, differently?
Arlan: I think that the seeds hold in both of those conferences, with UNH being the only road team that has much of a shot at advancing. For the other seven, the home team is just too strong to be losing twice at home now that the postseason has arrived.
Before I get to the more complicated issue of players and rookies of the year, are you implying that BC would not have made the tournament without Carpenter? I disagree. Even without her, the Eagles would have been the best team in the league. They likely wouldn't still be perfect, but given they won Hockey East when she was gone for the Olympics, I can't agree that the Eagles are dependent on one player to the extent that Northeastern is.
That said, I may as well start my rookies and players of the year comments in Hockey East, and I do think these questions are more complicated. I like your suggestion of Carpenter and Coyne being co-players of the year. While Carpenter has more national points, Coyne leads nationally in points per game, and conference awards often go more by conference games. In Hockey East play, Coyne has four more points despite playing in one fewer game, and she scored 11 more goals. Skarupa is actually second in goals. Freshman of the year in Hockey East is close as well, as BU's Sammy Davis is only a point behind Newkirk in league action and has a couple more goals, but I agree that Newkirk will get the nod there. Still, a nice accomplishment by Davis, given she skates on the Terriers' third line.
The ECAC awards are very tough. For rookie of the year, I think Lovisa Selander deserves at least a mention. She's the biggest difference between Rensselaer missing the playoffs one season and getting in the next. Her .942 save percentage in conference action trails only Rossman and Emerance Maschmeyer. Samoskevich had a huge year and leads the country in game-winning goals. However, I don't think Lund can be denied as top rookie when she has the most points of anyone in conference action, not just rookies. Despite that, I agree that player of the year comes down to Rossman and Cianfarano, and because scorers usually win such awards, I'll go with Cianfarano.
The CHA isn't clear cut. Rookie could be McDonnell, but there's a 50/50 chance that it is her teammate Smith. CHA player of the year is a real logjam. Grossi and Jessica Sibley are one point ahead of Howard, but she missed two games. Either the two Syracuse players share it, or it goes to Howard.
In the WCHA, I agree on Potomak for rookie. Desbiens is a possibility for player of the year, but historically, goalies don't win. For example, the year Jessie Vetter won the Patty Kazmaier Award, Hilary Knight was player of the year. The only precedent for a goalie winning any such award in the WCHA was 2010 when Zuzana Tomcikova was a co-winner. If it's not Desbiens, then Cameranesi won the league scoring title by 10 points, and she leads in goals, is second to Potomak in assists, and leads in power-play points and power-play goals. Normally, the awards don't go too far away from the team that won the conference, but given the Badgers won on the strength of one shootout, it isn't the usual mandate.