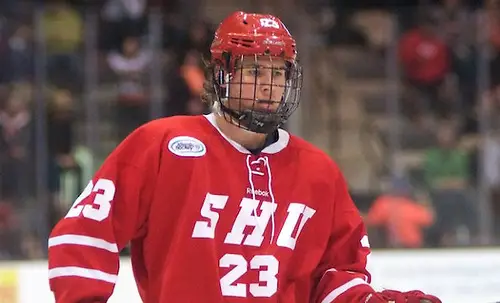 One week remains in Atlantic Hockey's regular season. In order to know what that means, look through the lens of two different teams in two different situations.
Throughout the season's second half, Sacred Heart found itself on the outside looking in at home ice in the playoffs. After a split with Mercyhurst in mid-January, the Pioneers embarked on a five-game winless streak in conference games, their only win coming in a 7-4 decision over Hockey East's Connecticut.
Then came last week and a four-point weekend on the road at Canisius, their first road sweep in Buffalo since 2006. Just like that, a team teetering on the verge of a first-round road series found itself with an inside track to home-ice advantage.
Now in seventh place, the Pioneers are also within striking range of sixth place, potentially finishing as the highest-seeded first-round home team.
"We knew we would have our hands full with Canisius," said Pioneers coach CJ Marottolo. "They're a team with some really dynamic players. We were much better around the net, and we made key saves at key times. Our mindset was good, and we had a weekend where we played really well."
While Sacred Heart jumped into a driver's seat for first-round home ice, first-place Robert Morris clinched a first-round bye. Splitting its weekend with Air Force, the tape-to-tape first-place team in Atlantic Hockey sealed itself into having the first-round series off.
Now 8-3-1 in their last 12, the Colonials will look to complete their second straight regular season crown this weekend against a Canisius team with whom they split a home-and-home series in December.
Being at the front of the pack is nothing new for the Colonials, a team that won the conference tournament championship two years ago and finished first in last year's regular season running away.
"Every night is a challenge because we know we get everyone's best shot," said coach Derek Schooley. "Having been to the NCAA tournament, having finished first, we know that we're not going to get a down game, and that's something that's challenged us."
On one hand sits a defending league champion zoning in on a second straight regular season crown. On the other hand sits a suddenly hot team in position for a home playoff series. Both have reason to be supremely confident … until you actually ask them about the road ahead.
"To be honest, we're only worrying about this Friday night [against Holy Cross]," said Marottolo. "We took the positives from Canisius, hit the ice and continued working on it. That's really the only mindset you can have because you can't get too far ahead. It's our way to approach every week, and it's the only way to do it. There's top-to-bottom parity in this league, with great coaches and great players. If your focus isn't on the next game, you wind up on the other end of the ledger."
"You have to be ready for everyone," said Schooley. "The season isn't about any one weekend; it's about the entire body of work. There's tremendous parity, so you have to be ready for everyone on any given night. Nothing is guaranteed."
Atlantic Hockey enters its final weekend as unpredictable as ever. Robert Morris clinched a first-round bye but could still mathematically finish as low as fourth. Sacred Heart is within striking distance of Canisius for sixth place but could mathematically finish as low as ninth, which would send it on the road in the first round.
All 11 playoff positions are up for grabs in some capacity, and matchups aren't likely to be settled until the final buzzer of the final game on Saturday night.
"The regular season prepares you for the playoffs," said Marottolo. "It's the most fun time of the year because every game is so tight. Every year, the parity and competition gets better and better. It makes for a crazy finish."
"You can only worry about yourself," said Schooley, "and you can only focus on what you can control. You put your own fate in your hands, so you can only worry about what you're able to control. It makes [the last weeks] fun for Atlantic Hockey."
What's next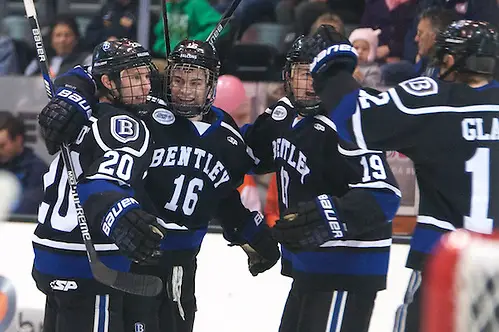 Bentley plays American International on Wednesday night before the final weekend series. With the Falcons tied with Army West Point for the final home playoff slot and a home-and-home set up with the Black Knights over the weekend, two huge points are at stake when they head to Western Massachusetts to take on the Yellow Jackets, who are playing their season finale.
If AIC wins, it'll vault one point over Niagara into 10th place with the Purple Eagles hosting Air Force over the weekend. An AIC tie or loss clinches Niagara into 10th place with the Yellow Jackets finishing in 11th.
Beyond that, here's a look at where all of the other AHC teams can finish, starting with the top of the league. We'll update scenarios over the course of the weekend.
Robert Morris: Clinched a first-round bye and second-round home series. Needs only one point to clinch the regular season championship.
Air Force: Can finish between first and fifth.
Holy Cross: Can finish between first and fifth.
Rochester Institute of Technology: Can finish between first and fifth.
Mercyhurst: Can finish between second and fifth.
Canisius: Can finish between sixth through eighth. Although three points up on ninth, Bentley plays Army West Point, meaning both teams can't come away with three points.
Sacred Heart: Can finish between sixth and ninth.
Bentley: Can finish between sixth and ninth.
Army West Point: Can finish between sixth and ninth.
Niagara and AIC are outlined above. We'll know how those spots finish out by the end of Wednesday night.
Series of the weekend?
There's going to be a ton of drama for fans this weekend, but a series to key in on will be the Sacred Heart-Holy Cross series in Fairfield County on Friday and in Worcester on Saturday. This year's Holy Cross senior class is 7-4-1 against Sacred Heart, but the Pioneers are 3-3 at home. That means the margin for error is razor thin.
"Holy Cross is a fast and disciplined team," said Marottolo. "They're well coached, and they've played well throughout the entire year. We're going to have to play to our strengths and utilize what we do well. Every team at this point of the year knows their strengths, so you have to play to what you do well. These are going to be really fun games to be a part of between a couple of teams that have confidence in their ways of playing."
Experience matters
With a win this weekend, Robert Morris can eclipse the 20-win barrier for the third time in four years. If the Colonials are able to do so, they'll become the first team since Air Force to accomplish the feat.
The Falcons Class of 2014 won at least 20 games in their freshman, sophomore and senior years, compiling 79 victories along the way. They'll also become the fourth team to accomplish the feat.
"We have tremendous experience in big games," said Schooley. "We've been to Rochester two straight years, and our seniors have won a lot of games. The least amount of wins they've had in a single year is 19, so that experience in big games is something that they've earned throughout the past few seasons."
Mercyhurst is still the only Atlantic Hockey team to win 20 games in four consecutive seasons, having accomplished it with the Class of 2004. But that Lakers team won only 86 games and is still behind the two RIT teams to accomplish the feat.
RIT won 20 games in three out of four years twice with a year overlap of the magical Frozen Four season of 2009-10. The Class of 2010 won 20 games in three of four seasons after the team entered Atlantic Hockey in 2006, and the Class of 2012 doubled the feat in their senior year. That Class of '10 was better by one game than the Class of '12, accumulating 91 wins to their successors' 90.
Ironically enough, the one time the Colonials didn't win 20 games? They won the Atlantic Hockey championship and went to the NCAA tournament.
Players of the week
Player of the week — Sacred Heart's Evan Jasper: Jasper scored three goals in the weekend sweep over Canisius. He's put together a 40-point season, breaking the threshold in the Pioneers' two victories.
Defensive player of the week — Holy Cross' Johnny Coughlin: Coughlin picked up his first career goals with a couple of strikes against AIC, including a game-winner late in the third period on Saturday. In the process, he posted a plus-4 rating against the Yellow Jackets.
Goalie of the week — Mercyhurst's Brandon Wildung: Wildung played in only the second game of the weekend series against Army West Point, but it's all he needed. He stopped 36 of 37 shots faced as the Lakers won 3-1 and clinched a first-round bye.
Rookie of the week — RIT's Liam Kerins: Kerins posted a four-point weekend with two goals as RIT defeated and tied Niagara. Over a four-game point streak, he has accumulated six points.