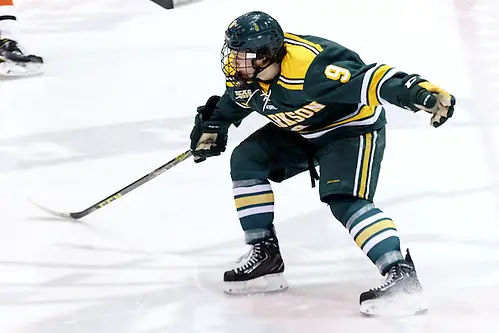 A month ago, Clarkson was one of the hottest teams in ECAC Hockey. But entering the final weekend of the regular season, the Golden Knights aren't even guaranteed a home playoff series.
A three-game losing streak has dropped Clarkson to eighth place, three points ahead of ninth-place Union. Despite the skid, the Golden Knights can clinch the eighth seed with a win or a tie this weekend or a tie or loss by the Dutchmen. Clarkson can also finish as high as fifth.
Last weekend didn't get off to a good start for the Golden Knights, as Brown scored four goals in the first period on Friday.
"We just had a little bit of a flat start [against Brown] and that probably cost us the weekend," Clarkson coach Casey Jones said. "I thought our compete level for five periods was good, but looking back, we'd like that first period back, for sure."
The Golden Knights outshot Brown 28-26 and held a 1-0 lead against Yale on Saturday before the Bulldogs scored three times in the third period. Clarkson simply didn't have the puck enough against Yale's stingy defense.
Injuries contributed to Clarkson's five-game losing streak around Christmas, and they hit the Golden Knights again last weekend, as second-leading scorer A.J. Fossen was out both games.
"We're banged up; we're battling through some stuff and just have to try and get healthier for the playoffs," Jones said.
Jones said he was unsure of Fossen's status for this weekend, when the Golden Knights end the regular season at home against Harvard and Dartmouth.
Plenty at stake as the regular season draws to a close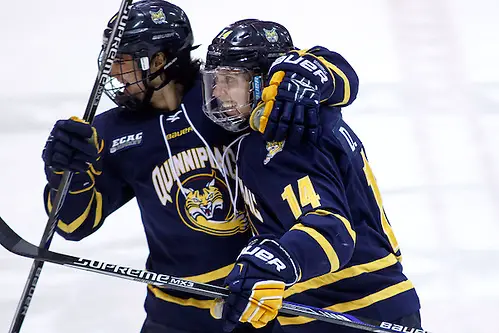 Elsewhere in the ECAC, there are plenty of possibilities for playoff seeding in the final weekend.
Quinnipiac and Yale are the only two teams to clinch a first-round bye, although the regular season title has yet to be decided. The Bobcats can clinch the team's third Cleary Cup in four years with a win or tie against Brown on Friday. However, if Quinnipiac loses and Yale beats Princeton, that would give the Bulldogs a chance to clinch a share of first place entering Saturday's regular season finale against the Bobcats.
This is the fourth straight season that the Bobcats have earned a first-round bye, while Yale has accomplished the feat in three of the last four seasons. Despite that, both teams have plenty to prove in the conference playoffs.
Neither team has won the Whitelaw Cup in that span; the Bobcats have made it to the championship weekend twice, while Yale failed to win a game during its only trip in 2013, although the Bulldogs still made the NCAA tournament and ended the season as national champions. Yale won the league championship in 2009 and 2011.
"Unfortunately, we haven't had a very good run in our tournament the last few years," Yale senior Stu Wilson said. "We really want to make some noise, and securing that bye is a step in the right direction."
The Bulldogs clinched a bye and have a national-best seven-game winning streak despite only recently overcoming a rash of injuries, in addition to a two-game suspension to senior defenseman Rob O'Gara.
"I think it will pay off in the long run," Wilson said of Yale skating short-handed. "One guy that in particular that I don't think gets enough credit is [defenseman] Dan O'Keefe."
O'Keefe, a junior, played in only six games in his first two seasons but has been a mainstay in the lineup the last month and saw time on the power play in Saturday's win against Clarkson.
"He's really stepped up on the back end," Wilson said. "I thought our whole defensive corps really stepped up but [especially] a guy like Dan who doesn't get a lot of publicity."
Here's a breakdown of where the other teams stand heading into the final weekend, courtesy of withoutapeer.com.
Harvard has clinched a home-ice playoff series and can clinch a first-round bye on Friday with a win, tie or Rensselaer loss. The Crimson will finish between second and fifth.
St. Lawrence has clinched a home-ice playoff series. The Saints can clinch a first-round bye on Friday with a win and a Rensselaer loss or tie.
Dartmouth has clinched a home-ice playoff series and will finish between fourth and eighth. The Big Green cannot clinch a first-round bye on Friday but would be eliminated from contention with a loss to St. Lawrence.
Rensselaer has clinched a home playoff series and will finish between third and eighth. RPI cannot clinch a first-round bye on Friday, but the Engineers would be eliminated from contention with a loss to Colgate, or a tie and a St. Lawrence win.
Cornell has clinched a home playoff series and will finish between fourth and eighth. The Big Red cannot clinch a first-round bye on Friday but would be eliminated from contention with a loss or tie against Union or a St. Lawrence win.
Union will play in a first-round playoff series and will finish either eighth or ninth. The only scenario in which the Dutchmen do not finish ninth requires a road sweep of Cornell and Colgate, with Clarkson being swept at home by Harvard and Dartmouth.
Brown, Colgate and Princeton are guaranteed to play on the road in the playoffs, although each team's seeding could change this weekend.
Phinney standing tall for Princeton
It has been a struggle for Princeton in Ron Fogarty's second season as head coach. The Tigers enter the final weekend in last place in the league and are 5-20-2 overall.
One of the bright spots has been the play of junior goalie Colton Phinney, who made 39 saves in Friday's 2-1 loss to Rensselaer to set the single-season school record with 892 saves. The previous mark was held by Erasmo Saltarelli, who stopped 870 shots during the 1997-98 season. Phinney has a .924 save percentage while averaging just over 34 saves per game, the most in Division I.
Opposing teams have been complimentary of the Tigers' work ethic this season, a sign that the players are buying into Fogarty's system. While Princeton might not win a playoff series, the Tigers shouldn't be counted as an easy out, especially with Phinney in net.
Around the league
• It hasn't taken former Union defenseman Shayne Gostisbehere long to make an impact in the NHL. The Philadelphia Flyers player had his point streak snapped at 15 games in Tuesday's 3-1 loss to Carolina. That stretch was an NHL record for a rookie defenseman as well as a franchise record for any rookie. Gostisbehere has four overtime goals this season, an NHL record for any rookie and tying the league record for any defenseman. Overall, he has 12 goals and 22 assists in 41 games this season.
• Dartmouth's Corey Kalk only played one game last weekend due to the flu, but he made it count. The sophomore had a career-high four points on two goals and two assists in Friday's win over Colgate. Yale's Joe Snively (rookie) and Cornell's Mitch Gillam (goalie) were also recognized by the league. It's the fourth time this season Gillam has been named ECAC goalie of the week.
• And finally, Yale and Quinnipiac conclude the regular season this weekend in Hamden. Nothing like a little smack talk between rivals:
Looks like Quinnipiac is making shirts for Saturdays game vs us. We'll counter with our own #shirtsdontraisebanners pic.twitter.com/qoYN9Jm7Mj

— Yale Hockey (@Yale_Hockey) February 24, 2016